When another person's trash… Becomes my treasure
For most of my life, passing a Maserati dealership did not bring tears to my eyes. But all that changed on July 10, when a teeny, adorable, grey and white kitten arrived at my house. We named him Maserati, because just one week earlier someone found him in a dumpster behind a Maserati showroom.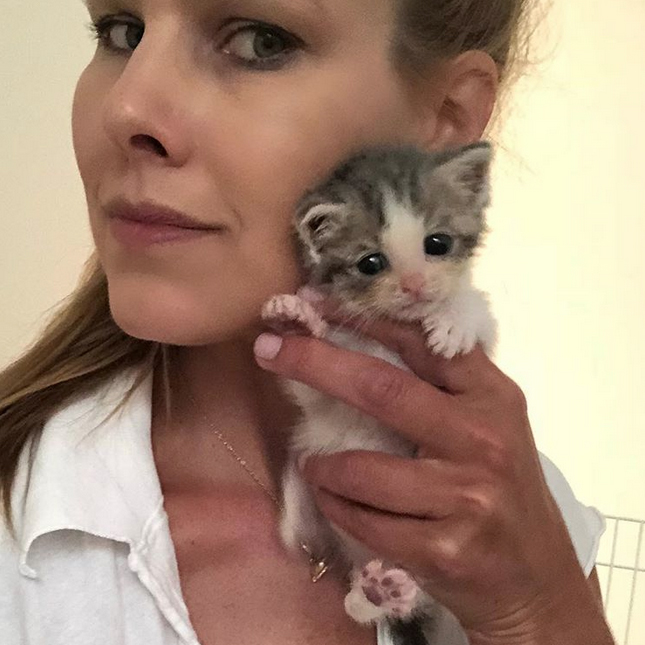 Maserati, with the teeniest toes and the sweetest soul.
How could this happen? He certainly didn't climb in there on his own. And while it's heartbreaking to think about, there's only one answer: Someone carried this helpless little being to the dumpster, felt his little heart beating in his/her hand, and simply tossed him away like a piece of garbage.
That's the moment that makes my head spin. How could anyone do that?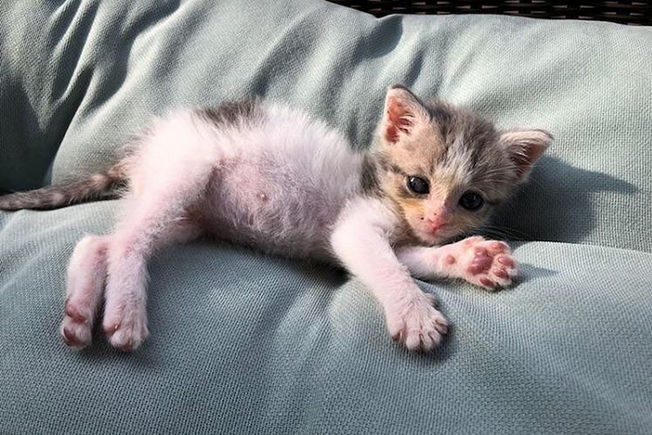 The tiny face of trust: Maserati!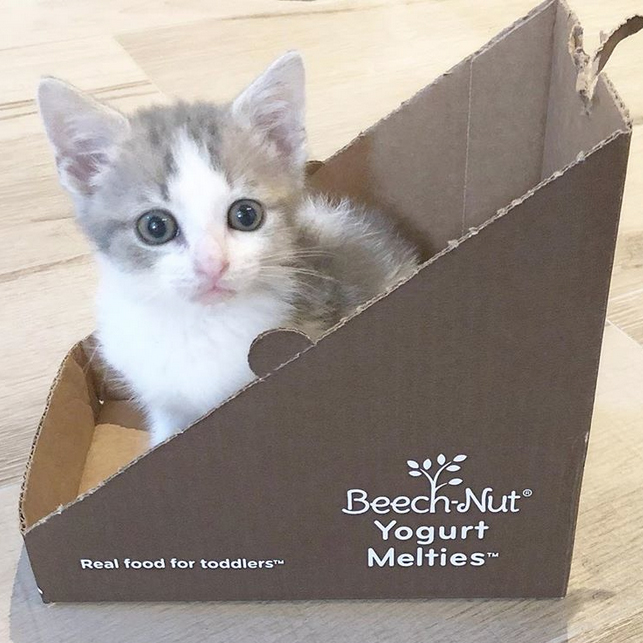 Maserati just 26 days after joining us. What a beauty!
To animal lovers like us — and to most decent people regardless of how they feel about animals — such brutality is incomprehensible. And yet I cannot tell you how many times I wake up to emails about similar situations.
In June I shared the story of the Bag Survivors: Zac, Xander, Chloe, and Teddy. Just one day old — with their umbilical cords still attached — they were sealed in a garbage bag and abandoned in front of a fire station.
After spending their first iffy weeks at Long Island Veterinary Specialists, where Dr. Jackie Holdsworth and her brilliant team bottle fed and nurtured them, they came to me, healthy and sweet. From me they went to the best homes in the world. My lucky little Bag Survivors!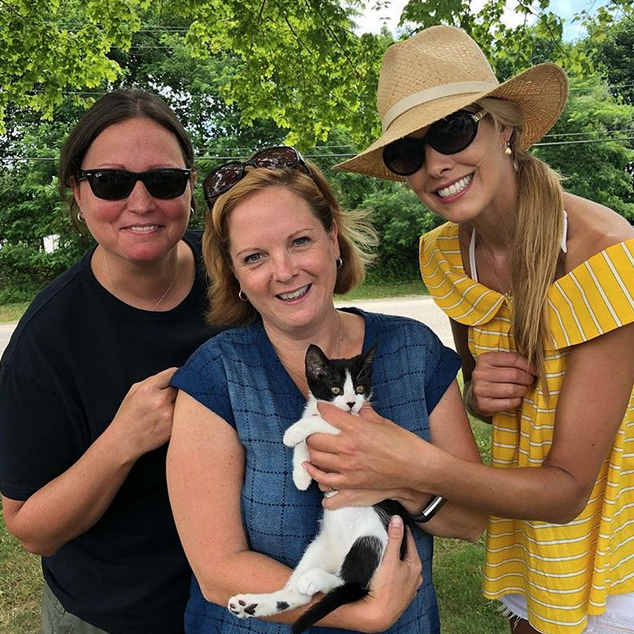 July 5: Teddy, the last bag kitten to go home, meets his wonderful moms.
From trash to treasured.

Then earlier this month, someone found a zipped duffel bag on the side of the road. The bag was moving. When it was unzipped, a mama cat and her two babies plus two additional adult young males were discovered inside in the scorching heat. Three of these are now in my care: Purity (below left) and Lovely (right), two of the most beautiful, elegant, and charming kittens ever, and their very young, gorgeous mother, Charlize. (I wonder who Howard was thinking of when he named her.) When the two young males are over their kitty colds, they'll join us.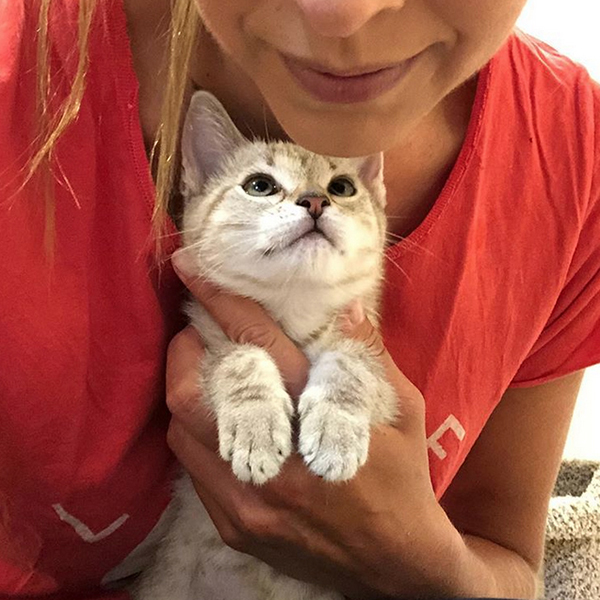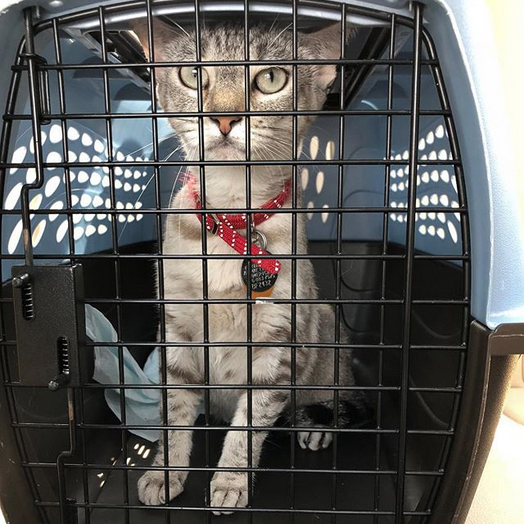 Charlize on her way to me!
One way or another, this scenario plays out all the time, over and over. Tuxedo Mallomar (below), who's as sweet as his name, was rescued from oncoming traffic by a young girl (with the help of a lovely police officer) in the middle of a busy highway, with cars and trucks swerving to avoid him. Was he dumped by the side of the road like the Duffel Bag Survivors? Left to die alone and suffering?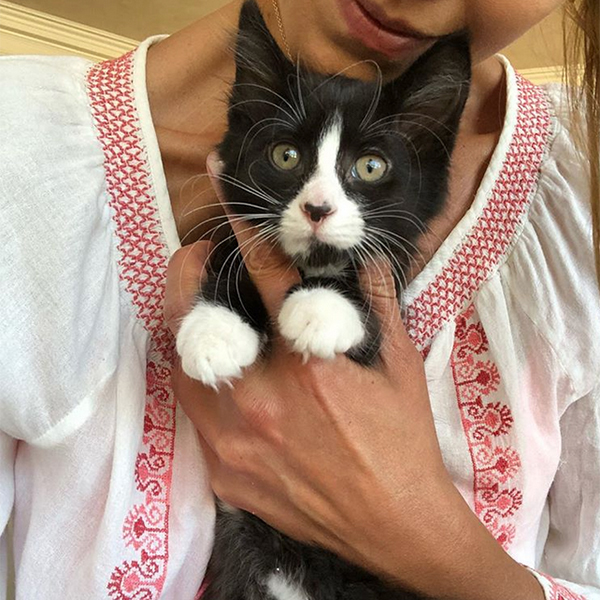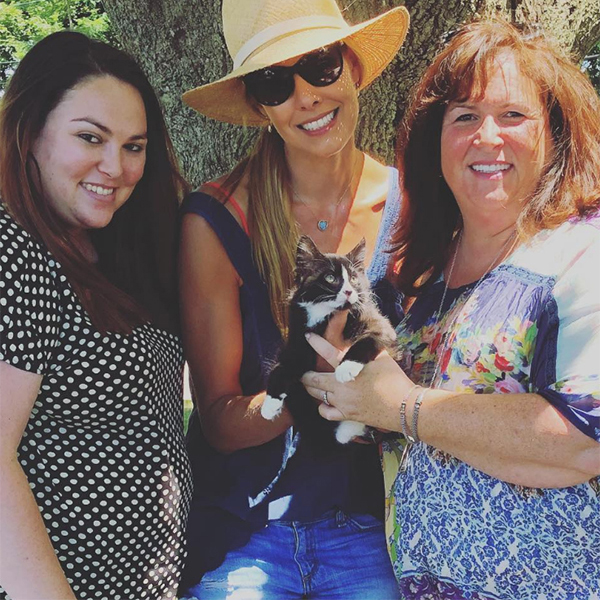 Mallomar, rescued from a highway, sweet as can be, joins his wonderful new family.
And then there's young adult Daniel (below), a perfect lap buddy. I can't imagine how his heartless family could have thrown him outside and just moved away. But that's what happened. He's clearly an indoor cat who should never have had to experience the anxiety of fending for himself. Now that he's found a loving new home, he'll never be alone and terrified again.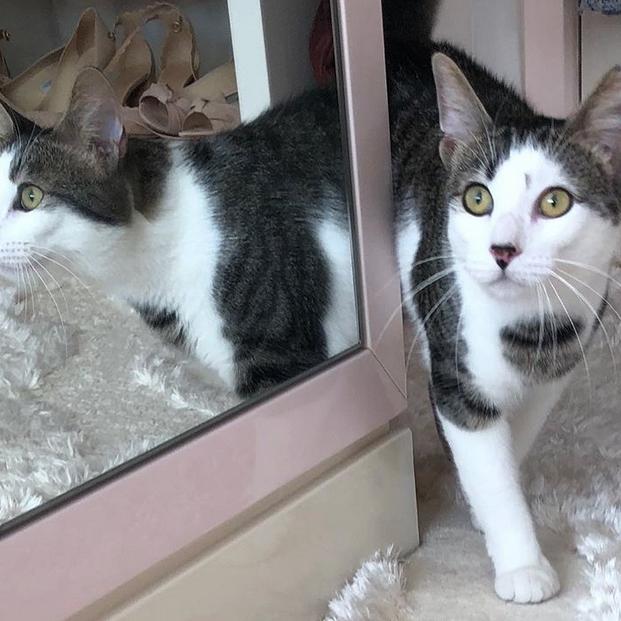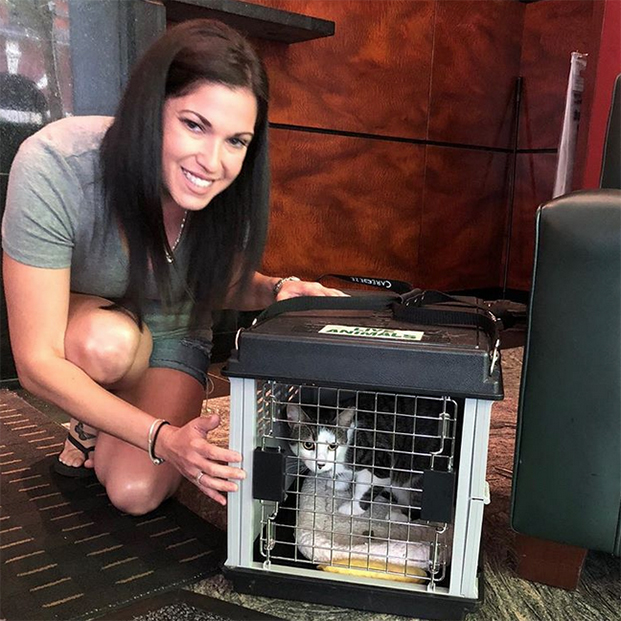 Daniel: Now treasured forever.
When these awful things happen, we ask ourselves, what goes through the minds of the people who dump animals like garbage? What are they thinking? What part of themselves is dead to the suffering of defenseless, harmless, trusting animals?
Sometimes I think we're better off not understanding such mindless, casual cruelty. It stems from a very dark part of human nature. But because animal abuse happens so often, we must pay attention, even if our first impulse is to look away. So if you see animal cruelty, speak up and report it. And if you're dealing with friends or family who are in abusive relationships, help their pets, too. More and more, we're understanding the terrible link between animal cruelty and domestic abuse.
One of the most effective things that we can do is volunteer to help animals. I'm so grateful to North Shore Animal League America for giving me a chance to be their national spokesperson and to serve as a volunteer foster parent.
You, too, can make a difference for animals in need — we can do it together!
If you live nearby, Animal League America needs volunteers right now. You can learn more about the available volunteer opportunities by visiting animalleague.org/volunteer. Or call your local animal shelter to find out how you can help in your own community.
If you need more motivation, think of the photo below: feisty, inspiring, adorable little Maserati making his power statement to Yoda. Just five years ago, somebody tossed Yoda aside too, neglecting him to the point of abuse. It almost broke his heart. Now my nuggets adore him and he loves being their doting uncle. Their wonderful spirits — and their remarkable journeys from trash to treasure — are all the reason in the world to get involved and save lives.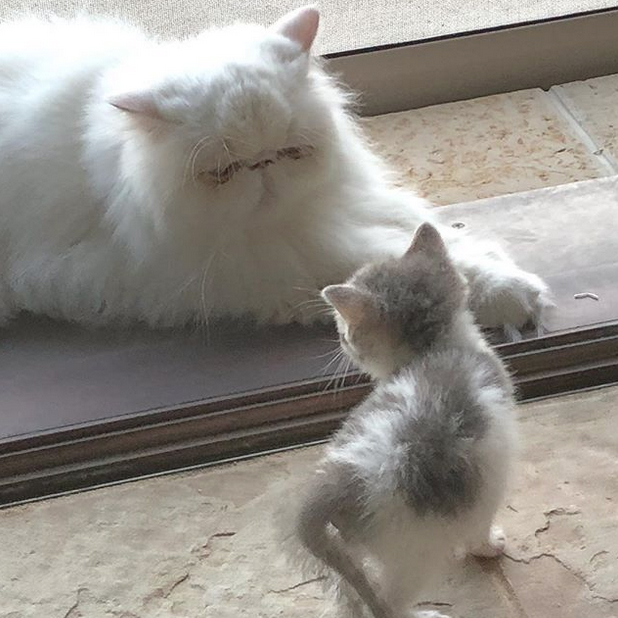 Teeny Maserati flexes his itty-bitty muscles for Yoda,
who's seen it all a hundred times over.

P.S. Wednesday, Aug. 22, is "Take Your Cat to the Vet Day." If you live near Animal League America, please make an appointment at our Pet Health Centers, which provide outstanding medical care and comprehensive preventive services.
But no matter where you live, this is a great time to make sure your feline treasure gets an annual checkup.
NEWSFLASH
Owner moved and didn't care to take them along.
Glorious Fitzgerald, the sweet sleepy orange male, below left, and Winnie, the equally glorious female, at right. They're 3 years old. They deserve so much better. And they're going to get it.
We'll find them a forever family that will never leave them behind again.
Trash to treasure. Stay tuned