I posted a picture on my Instagram page recently that has absolutely nothing to do with cats or kittens. It's not a photo of people, either, yet it's one of the sweetest images I've ever seen.
In a muddy, grey river, a mother elephant gently supports her newborn, teaching the baby how to stand against the water's currents, how to be confident – how to be an elephant. Meanwhile, this vulnerable baby nuzzles into mom's trunk, his little body covered with downy hair, his ears still pink and shiny, his eyes wide with wonder, and his tiny trunk arching high out of the water. (I wish I knew the photographer's name so I could give her/him credit.) It's an image full of love, hope, and promise, and so were the comments from my Instagram friends and followers, who not only melted at the sight of these glorious animals, but also spoke about poaching, ivory, and the plight of elephants and other wild animals in today's world. Knowing the depth of their concern gave me hope and joy, two important feelings to help all of us begin another year of caring for animals.
Since before Thanksgiving, my Instagram page has been filled with images of family, especially Mama Maggie, a beautiful young Tuxedo cat, and her six perfect nuggets. Every time I watched Mama Maggie patiently nurse her babies, I was so moved and grateful to have a chance to help these particular beings on their life journey. Like that elephant mother and her baby, Maggie and her kittens were at the start of a great adventure.
I'm so lucky to work with the outstanding people at North Shore Animal League America, which has made my life a great adventure, too. Fostering these cats and kittens and seeing them to their responsible, loving homes has given me purpose – along with some of the most tender memories of my life. And although I'm lucky, I'm not unique. There are people across the country doing the same work I do, some of it much more challenging.From California to Long Island, there are thousands of rescue organization that would love to welcome you into their hardworking communities. I hope 2017 is the year you Get Your Rescue On and get involved, hands on, with your local shelter. Volunteer, foster, or adopt a dog, cat, puppy, or kitten. Whatever you do will bring joy and hope to desperate companion animals who want nothing more than comfort, company, and homes they can feel safe in. Many of these shelters will be taking part in Kitten Bowl Parties on the weekend of Sun., Feb. 5. That's Kitten Bowl IV, which will broadcast at noon CST (check local listings for time in your area). Once again, this fur-filled extravaganza is a collaborative production with our fantastic friends at Hallmark Channel. And speaking from personal experience, this clash of tiny titans surpasses any cuteness you've ever seen before.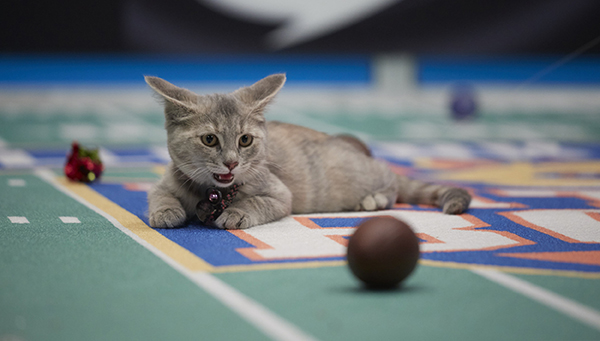 Since we launched this great series with Hallmark Channel four years ago (Kitten Bowls I, II, II, Paw Star Game, and the Kitten Summer Games), more than 4,200 dogs, cats, puppies, and kittens have been adopted across the country, as a direct result of our nationwide promotional efforts, like the Kitten Bowl Parties. So join me in some of the most satisfying, joyful, and meaningful work you'll ever do. Become a lifesaving volunteer or foster parent for homeless animals in your community. Donate your time, and if you can't do that, make a monetary donation to help. Your life will be so much richer for it, and honestly, you'll thank me forever!
xo Beth