hopeful and promising Welcoming a New Year for Shelter Pets
When the ball dropped in Times Square, 2018 became 2019, just like that.
Photo courtesy timessquarenyc.org.
But for people who care about animals, a lot changed besides that number.
Across the country, from Illinois to my home state of Pennsylvania, laws went into effect that will improve life for pets. The most dramatic is California's law that requires pet stores to sell only dogs, cats, and rabbits who come from local shelters and rescue groups. By putting the welfare of animals before profits, this landmark law will spare animals tremendous suffering in breeding mills. It also reinforces the fact that pets are valuable individuals, not commodities like shoes or cell phones. Pets are not products to be bought and sold. They're feeling friends and family members to be loved and cared for.
I'm so excited about this new law because banning the sale of pets will not only save animals in California, it will also raise awareness of rescue pets everywhere. And as a bonus, it will reduce the number of unwanted pets and strays, because shelters and rescue groups know better than anyone how important spay/neuter is.
Another new law in California makes pets legally and officially members of the family, subject to custody just like children. The Golden State is definitely moving in the right direction. This is encouraging on its own, but add the fact that similar laws are under consideration in Connecticut, Florida, Minnesota, New York and England — and it begins to feel like a new start for pets.
2019 also marks North Shore Animal League America's 75th anniversary as a leader in animal rescue and the no-kill shelter movement. A small group of volunteers founded the organization on Long Island in 1944. Since then, it's become the largest no-kill rescue and adoption operation in the world. Those volunteers could never have imagined that what they began would grow into a global movement. Nor could they envision the widespread influence their idea would have. No-kill is at the heart of progress for pets, because when you say no to killing healthy, adoptable pets, you're saying that each of those lives has value.
Another reason to celebrate 2019 is Bianca's Furry Friends Feline Adoption Center, or BFF as we call it. This summer we'll open the doors to BFF, now under construction on our Long Island campus. This project is so close to my heart. This cage-free, state-of-the-art facility will help us save the lives of so many more cats and kittens. It will also inspire other rescue organizations to expand their mission for felines.
I'm thinking about what all these changes will mean for cats and kittens like some of my recent fosters. Mama Christmas is one. A baby herself, she and her five newborns arrived just before the holidays. We named her nuggets Sugar Plum Mary, Sleigh Belle, Peppermint Stix, Eggnog, and Alabaster Snowman. They are healthy and sweet and have all flown to wonderful new homes.
Tiny, beautiful, hopeful Mama Christmas.
Mama Lavender (above) wasn't as lucky. She was rescued sick and pregnant. When her rescuer asked for help I had her admitted to Long Island Vet Specialists. An ultrasound showed seven nuggets. But poor Mama had caught a virus from living on the streets, and it took a devastating toll on her body. She lost all of her babies in one day, one after another. Her life was in jeopardy, too, but she pulled through. And when she finally came to me, she was ready to be a kitten again.
While I was picking up Lavender, a woman came into the hospital with a cat in a trap and asked my vet to euthanize him. Really? Ah, no! He's healthy and sweet and he came home with me! He's not even a year old, and he's a stunner — but he's also scared. He was obviously born outside and has been outdoors since birth, but after just one day with us, he's looking at me and letting me know that there's hope for him to be an indoor kitty. I can touch him. He's perfect with his litter box. I'm going to give him all the time he needs. I will he naming him soon. For now, he's my Work In Progress.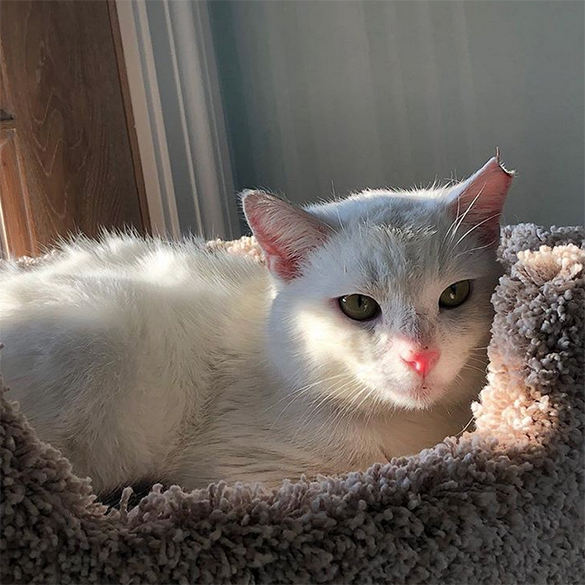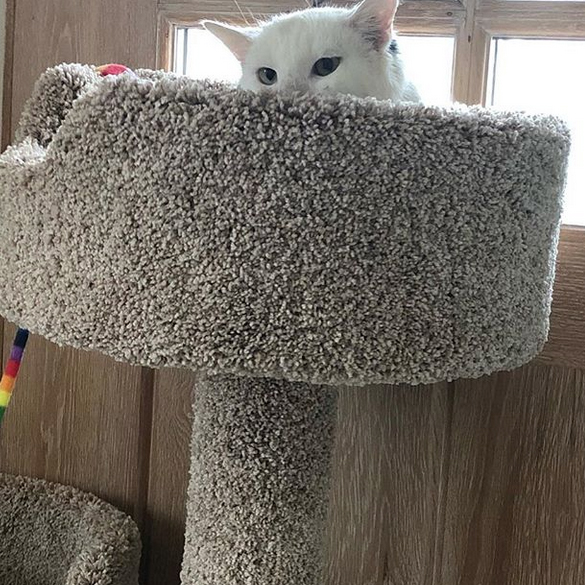 My beautiful Work In Progress.
Abigail (below left), an adorable Tuxedo, was rescued from a dumpster. And my Christmas angel, gentle 5-month-old Clarence (below right) was found abandoned and shivering. Both these darlings are safe and warm in their new homes. Even after more than 700 fosters, I'm still shocked at how much these animals are at our mercy — and how merciless we humans can be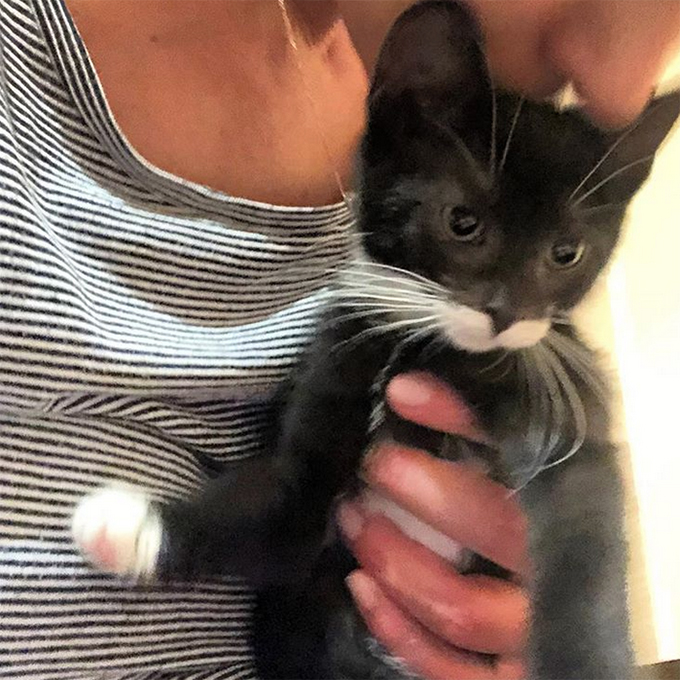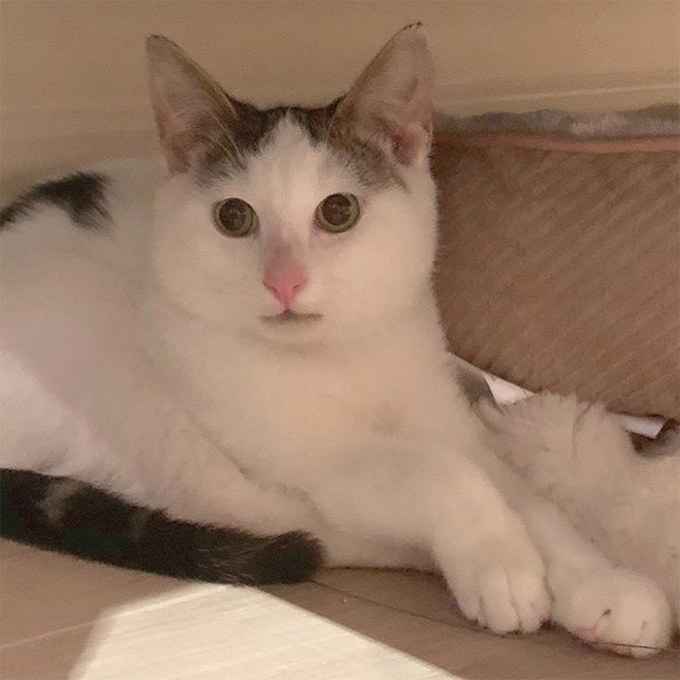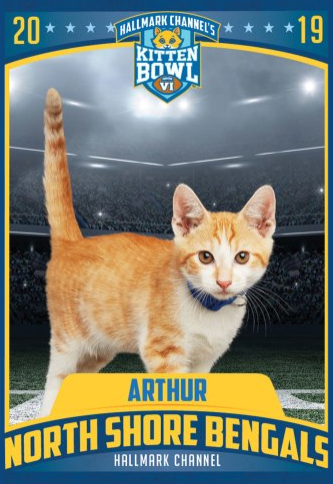 Still, despite so many sad stories and challenges, I feel optimistic. One thing that encourages me is that rescue pets are getting a lot of media attention, and my pals at Hallmark Channel are making a big difference. On Saturday, February 2, they'll debut "Cat Bowl," featuring adopted adult felines, including Xena, one of my wonderful fosters. Then on Sunday, February 3, be sure to tune in to my very favorite, "Kitten Bowl VI," starring many cat-letes rescued from last year's hurricanes.
I had a fantastic time taping this joyful special, and once again this year all the kittens were adopted into great homes. I'm so grateful that North Shore Animal League America is Hallmark Channel's partner for all feline-related specials. And I'm also grateful to Animal League America for coordinating more than 500 Kitten Bowl Parties at shelter partners from coast to coast, so even more pets will find homes. Check animalleague.org/kittenbowl for one near you.
Then, later in February, Hallmark will air the second annual "American Rescue Dog Show," which features competition in the most adorable categories ever: Best in Wiggle Butt, Best in Snoring, and many more. Last year, the ratings for this special topped those of the biggest dog show in America. Rescue rocks!
I urge you to find a way in your community to make 2019 the best year for rescues yet! You'll love how good it makes you feel.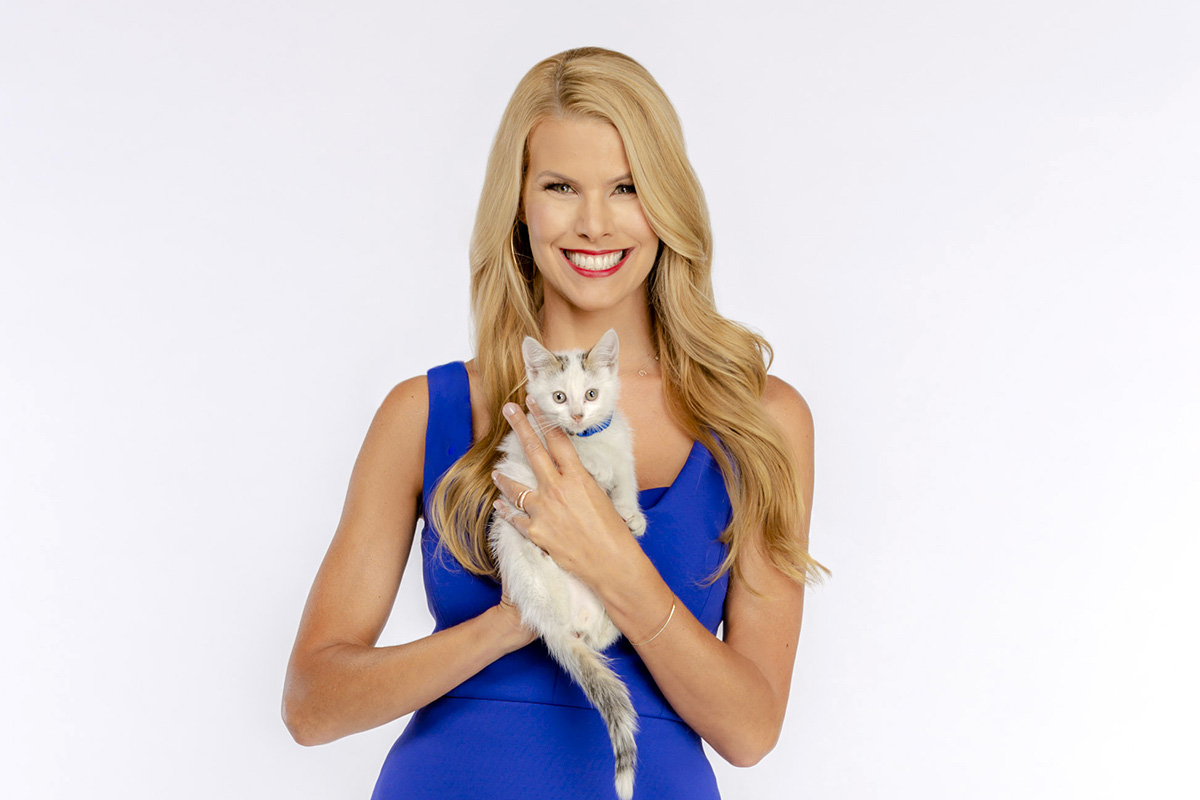 Join me for Kitten Bowl VI, Sunday, February 3, on Hallmark Channel.