When I began fostering felines with North Shore Animal League America more than two years ago, I felt like everyone feels in the presence of adorable, helpless, wide-eyed kittens. A part of me wanted to keep them all. And my Instagram followers were always there to tempt me: "You can't let Buddy go? He loves you so much!" or "I've never seen a cuter kitten than Gidget. You're going to keep her, right?"
Sorry, but no. I'm not going to keep them, because each one deserves a perfect home of his or her own. Of course it's hard to part with my nuggets, but it's a "sweet sorrow," as Shakespeare would say, because I know the life ahead for each of them will be filled with love and care — and I also know that finding them responsible, loving homes makes room in my heart and life for a fresh batch of needy nuggets.
That's why Howard and I decided from the start that we would adopt adults — and with one sweet exception, our blind kitten Sophia, we've stuck to our plan. We're also drawn to adults with special needs, like our blind Bella and our magical Yoda, who came to us with a serious heart condition and only months to live. That was two years ago, and today he is the thriving king of our household. Our other adult adoptions are Charlie Boy (aka "Chunk"), Walter, and Leon Bear. We lost our beautiful Apple in December.
So given my commitment to adult adoption, nothing makes me happier than to see that so many others agree. In fact, I got goose bumps not long ago when I received an Instagram message, complete with a photo of a gorgeous Tortie. "Hi Beth. I wanted to let you know that you inspired me to adopt an adult cat. Her name is Piper and she reminds me of Miracle! [One of my Tortie nuggets who came to me brutally abused and left healthy and loved.] Thanks so much for all you do for animals."
Of course, this made my day. Maybe my month! But it's really that wonderful adopter who deserves thanks. And I'm happy to report that this person is not alone in realizing the importance of adopting adult companion animals. Many people now know that kittens and puppies stand a much better chance of finding homes than adult pets do, and so, like Howard and me, they've chosen to love the "grown-ups."
I've been thrilled to see how often this has happened this spring, during Animal League America's two major adoption events, Tour For Life® and Global Pet Adoptathon®. By the end of the Adoptathon kickoff weekend on Long Island, 577 Mutt-i-grees had found homes, including 198 adult cats and dogs — that's more than one-third!
And just a glance at the Tour For Life's "Tails From the Road" blog provides more examples of adult adoptions. In Port St. Lucie, Fla., an adorable, blind, 7-year old Shih Tzu named Cupcake went home with a family that had recently lost a beloved Greyhound. And in Cincinnati, a woman traveled more than an hour to adopt Sadie, an 8-year old Black Lab.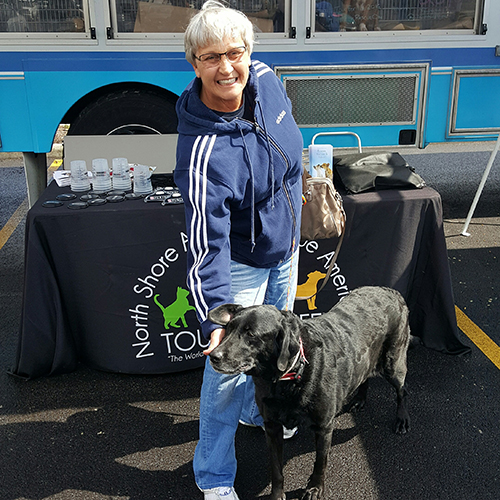 These adopters recognize the many benefits of adopting an adult pet. First of all, these lucky animals know what you've done for them, and they'll never stop thanking you. Also, you know who you're getting. No surprises, so you can be sure you and your new best friend are a good fit. Most adult pets are already housebroken and litter trained, saving you a lot of work and worry. Older cats and dogs are calmer but still have plenty of energy for play. And the majority of adult shelter animals are also well socialized, because more than half are surrendered due to problems that have nothing to do with them — irresponsible families moved and left them behind, they were allowed to wander and got lost, a guardian died, new baby, new boy/girlfriend, new job, allergies, bad landlord.
There are so many rewarding reasons to adopt an adult pet, though the best reason of all is this: You might be that sweet animal's last chance. Only you can provide what these abandoned, heartbroken, homeless cats and dogs need most: your love, your understanding, and your caring acceptance.
In other words, home.
xo
Beth