Well, it happened, and it was pure gold!
The inaugural Kitten Summer Games, broadcast by my friends at The Hallmark Channelon August 5, was a spectacular success: One hundred kitten cat-letes, who had absolutely no idea they were competing, no idea they were beyond adorable, and no idea that millions of people were watching them cavort, stole hearts from coast to coast.
And best of all, they had no idea that after the competition, they'd all be going home to responsible, loving families who would spoil them and treat them like champions for the rest of their lives. And all they had to do was be themselves — play like crazy and live in the moment.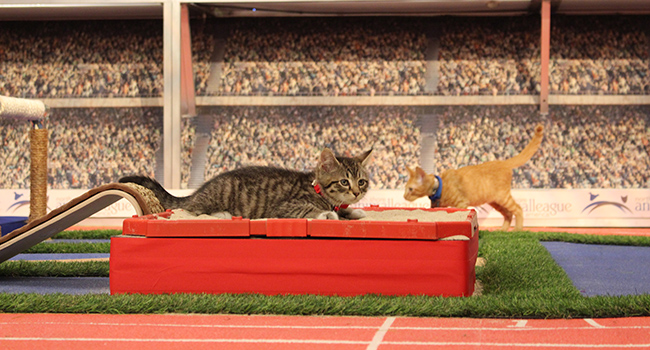 Our kitten-medalists came from North Shore Animal League America and Last Hope Animal Rescue and Rehabilitation, both on Long Island, and the video shoot took place in April. So it was easy to imagine those same kittens, now four months older, snuggling on comfortable laps and dozing through their own breathtaking performances, while their lucky families spotted their nuggets on screen and enjoyed the show.
And what a show it was. I have to admit I'm a little jealous of the people who work at Hallmark. They're so creative, and sometimes I think they have maybe too much fun at the office. Honestly, what great jobs they have, coming up with cat-lete names like Nadia Come 'N Scratch Me — one of our top gymnasts — and Felina Williams, John Macnmeow, and Pawdre Ag-Hissy, three of our tennis greats.
I was so lucky to host the Games, while Mary Carillo joined David Frei to handle commentary. Mary did a pawsome job suggesting adorable competitions, including the "boxing" event. You know… kittens jumping in and out of boxes? It was hilarious.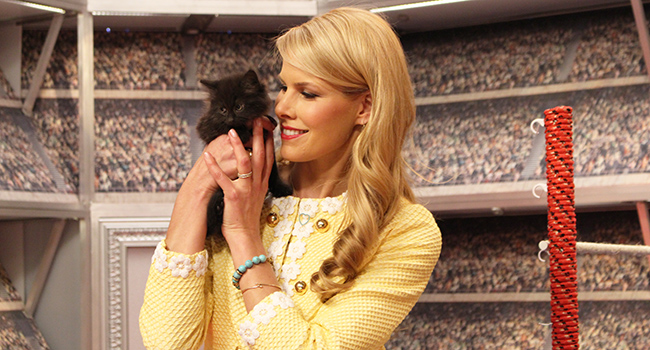 Greco-Romping Wrestling was my personal favorite, because no one does it better than kittens. But the bottom line for all this cuteness was a chance to showcase kittens and cats just like those waiting for homes at North Shore Animal League America and at shelters across the country. And I'm happy to report the message got through.
To coincide with the broadcast, Animal League America organized Kitten Game Parties at more than 50 shelters coast to coast. At last count, those parties generated more than 1,000 adoptions, with more totals to come! That's what I call the thrill of victory!
In Houston, Citizens for Animal Protection (CAP) waived cat and kitten adoption fees and and offered a discount on their already low-cost vaccinations — plus two days of fun activities. The result: 117 adoptions, including 37 kittens and six adults who'd been at the shelter for months. Jo-Anne Jackson, CAP's Director of Operations, said seeing the adults go home was the best! Besides felines, CAP adopted 44 dogs, 17 puppies, and 13 rabbits and hamsters!
In Philadelphia, the Pennsylvania SPCA adopted 81 cats and kittens during its two-day Summer Games festivities. Among them was a sweet senior cat named Max. Angela Schmitt, the group's Lead Adoptions Counselor, told me all about it.
"Fifteen years ago, a stray kitten came to us needing a home. We found him a loving adopter who named him Max. Unfortunately, after all that time, his owner could no longer care for him and had to bring him back. Max is a super senior, despite minor medical issues. He is a cuddle bug and won over our volunteers in no time — one in particular, who came to visit him every day. He'd always wait for her at the front of his cage. During the Kitten Games, people were adopting kittens as Max watched, waiting patiently for his turn. Luckily, his favorite volunteer came in that day and decided that this would be the last time she'd visit him in the shelter, because he was going home with her as her new family member. Max was not the only senior who went home that weekend. We had a total of 10 senior cat adoptions, along with 71 others — all thanks to the Summer Kitten Games."
And these are just two stories among so many — and they all prove that every life at every age is worth loving and saving. Nothing is more moving to me than a senior or adult feline getting another chance. I'm so pleased that the Kitten Summer Games helped Max and other adult cats find homes.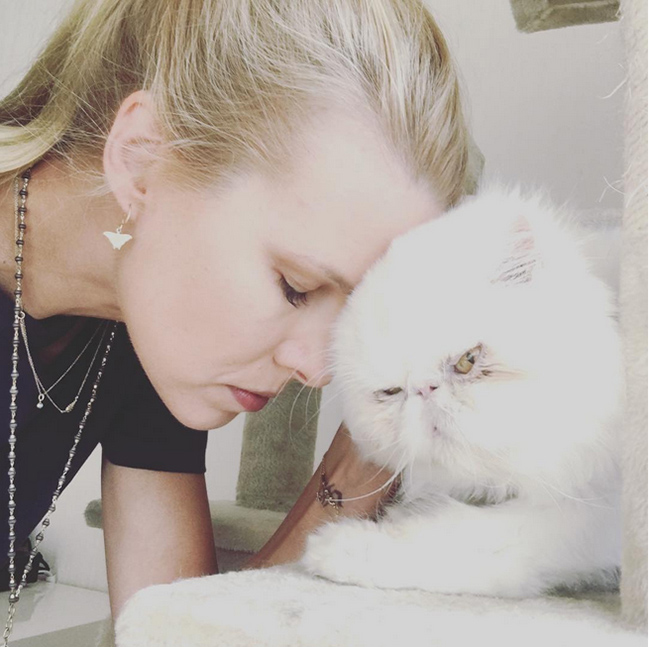 Many of my own adult nuggets found homes this summer, too, like our beautiful Sparrow. And I can't forget Yodette (I'll never forget Yodette!), a girly Persian Yoda look-alike whose previous family moved abroad and left her behind. We found this girl a great new home, and I could not be happier for her and her family. My Instagram photo of Yodette in the arms of her new people dazzles me.
Several of my blind nuggets also found loving homes, like kittens Ollie and Wonder, who will be together forever as a double adoption. Some people feel leery of special-needs pets, but to tell the truth, I think Bella and Sophia, my two blind Calicos, are the smartest of all my resident felines. (Don't tell Chunk, Yoda, Leon Bear, or Walter I said this.) And one of our best toy mousers is a little blind Calico Howard named Marzipan. What these kittens lack in sight they more than compensate for in every other way, especially in courage and resourcefulness.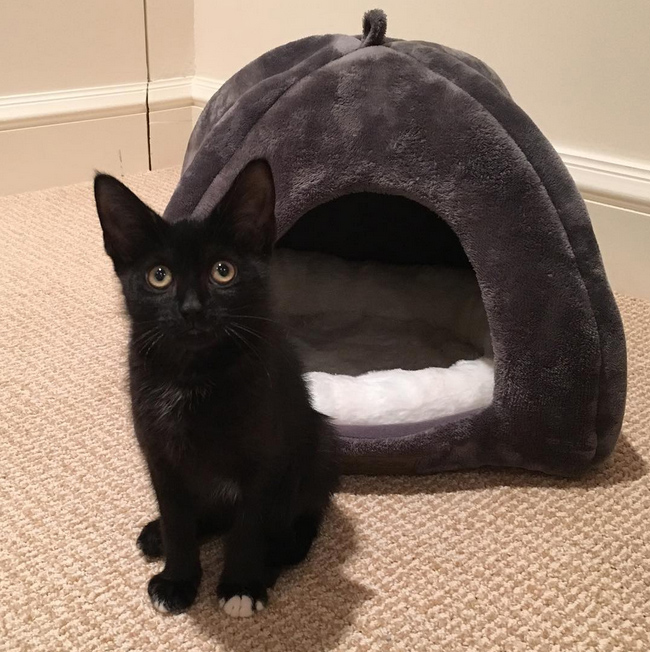 And then there's Dear Prudence, who suffered a hip injury before being rescued in the middle of the Brooklyn/Queens Expressway. She had successful surgery in early August and I took her directly to her new family so she can recover in peace…with beautiful former foster Whisper to help.
This truly is my life's calling, and I'm so grateful for all the love and support I receive from North Shore Animal League America and from my amazing husband, whose ability to choose just the right name for each cat and kitten is simply uncanny.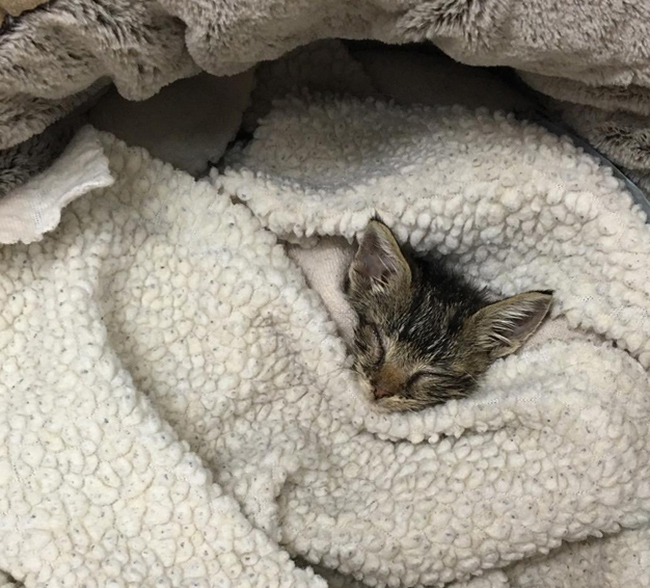 But…there's one more thing I must mention. I wouldn't feel right talking about all the joy we've experienced this summer if I didn't tell you about River, a tiny Tabby baby rescued from the street in Astoria on August 11. Many people tried very hard to give this little guy a fighting chance, but he just wasn't strong enough, and we lost him on August 13. He was going to join my fosters when he was ready, but that didn't happen. I loved him even though I never met him, and I've asked Bianca to watch over him. She was such a good dog. I know she's by his side.
xo,
Beth
P.S. If you're thinking about adopting an adult cat, please contact my friend Dorit at [email protected]. And if sponsoring a special-needs pet has meaning for you, please visit animalleague.org/sponsor to meet some of the sweetest Mutt-i-grees in the world.