Legacies of love How friendship mends the heart
One gift that animals give us is the friendship of other people who love them as much as we do.
I met Julia Belle Mason in June 2017 when she traveled from her home in Mississippi to New York for her Make-A-Wish dream come true. Her wish was to visit Animal League America, spend time with me, and meet lots of cats and kittens. I was thrilled when Julia and her family went home with one of my fosters, Cricket, who joined their two cats, Marigold and Sophie.
Julia and I stayed in close touch. I was heart-sick when I learned that she'd lost her battle with cancer on September 1 at the age of just 14. She told me not long ago that when she went to Heaven she'd find Charlie and Sophia and Garfield to make sure they're okay. Julia touched many hearts with her courage and sweetness. Like everyone who knew her, whether in person or through her Instagram account, @_cricketforever, I will always treasure her beautiful spirit and the joy our friendship brought to both of us.
With Julia (snuggling Cricket) and her sister, Elise, June 2017.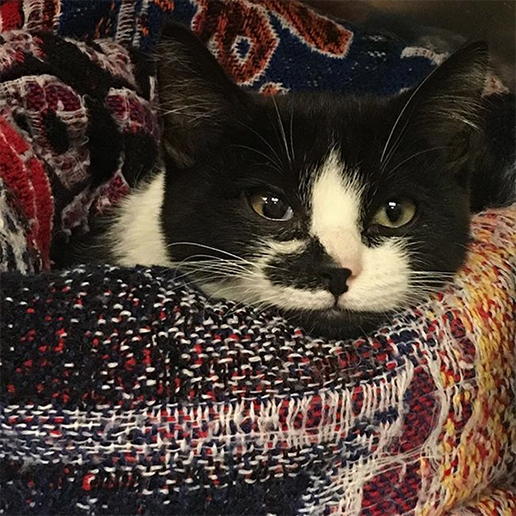 Our adorable new foster Julia Belle, named in honor of a beautiful little girl who left us a legacy of love.

Julia knew that friendship can enter our lives in many forms. Like Julia, I grew up with close animal friends — cats, dogs, guinea pigs, and chickens. And now that I'm fostering so many cats and kittens, I get to watch friendships take root between my nuggets. Many arrive as total strangers and leave as double adoptions. I can't explain the magic that sparks these beautiful friendships, but the effect is always sweet.
Sometimes littermates love each other, though sometimes they don't. Two siblings in the first category are Elsa and Sherbert, who are almost inseparable — literally. (Note the morphing going on in the photo below!) In fact, they seem slightly indignant when I intrude on their privacy to take a photo.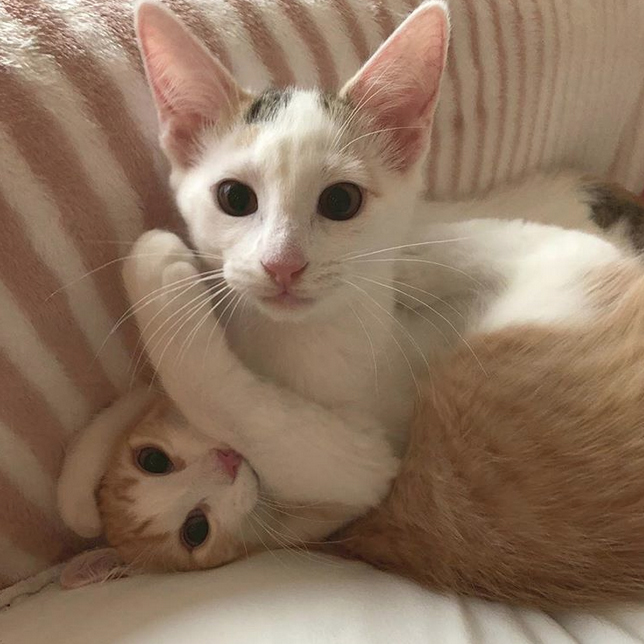 Elsa and Sherbert, aka"Elsbert."
Another loving couple, Ocean and Sunflower, may be the two most beautiful kittens in the world. They were orphaned in my backyard earlier this summer. I'd started feeding their mother when she showed up a few months earlier. Then she was killed — most likely hit by a car. I believe she brought her babies to my doorstep because she knew I'd take care of them. They were a double adoption since the day they were born.
Ocean and her Sunflower.
Then there are Maserati and Cubby Bear, whose friendship took root and blossomed during the summer. I think it was kismet; they were simply destined to be friends for life. I'm always happy when I find families who want a double adoption as much as the cats and kittens do.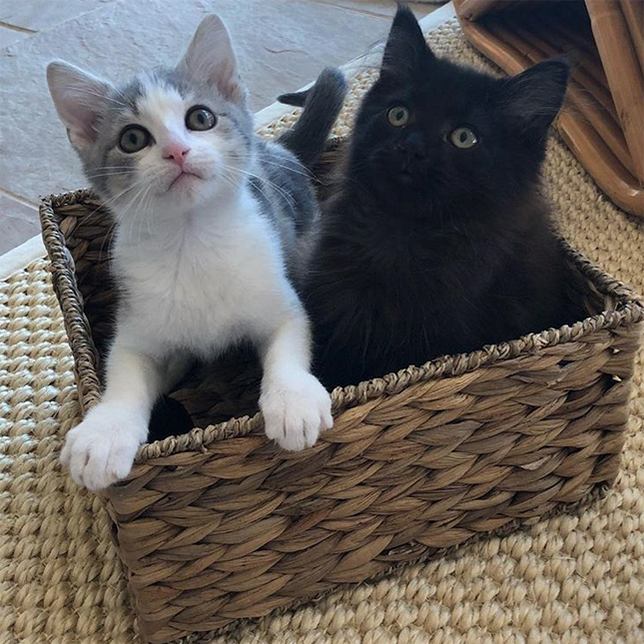 Maserati and Cubby Bear discovered a lifelong friendship in front of my eyes.
These are just three of the many feline-to-feline friendships I've watched evolve. And it happens all the time. My colleagues at North Shore Animal League America recently told me about two adult cats, Poppy and Susie, who arrived separately in late 2016. They were placed next to each other by chance in the Adoption Center, where they created a strong bond. They were adopted separately. But as fate would have it, Poppy was returned recently when her family couldn't care for her anymore. At the same time, the couple who'd adopted Susie, the senior Calico, came looking for a companion for her. Match made! These two old friends were reunited and will be together for the rest of their lives. I love this story! Read Poppy and Susie's story now.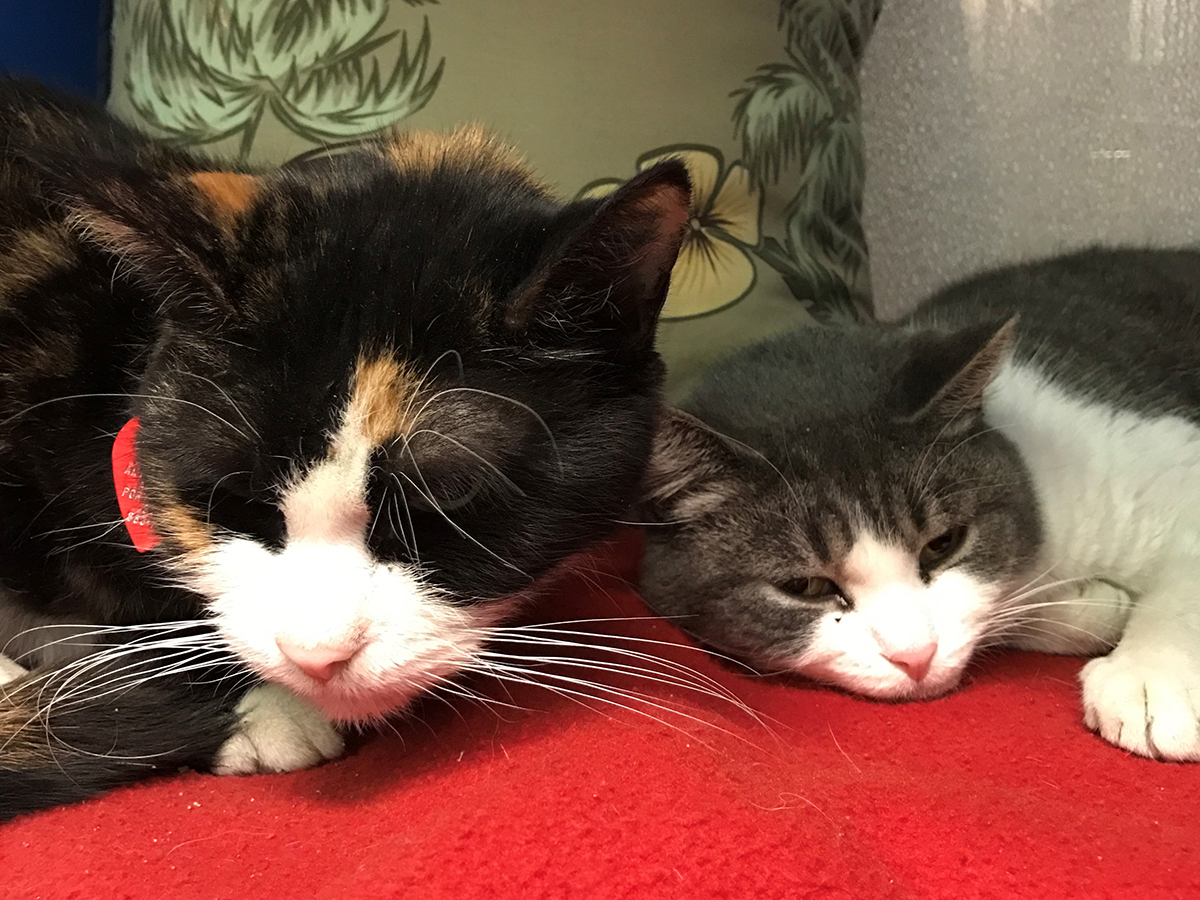 Susie and Poppy: Reunited and it feels so good.
As for cat-to-human friendships, I have to tell you about the powerful connection between my husband, Howard, and Walter, one of our sweet resident cats. We adopted Walter in 2010. Right from the start, he had eyes only for Howard. Their morning ritual is all about brushing, reading the newspaper together, and just hanging out. It's wonderful to see how much they mean to each other.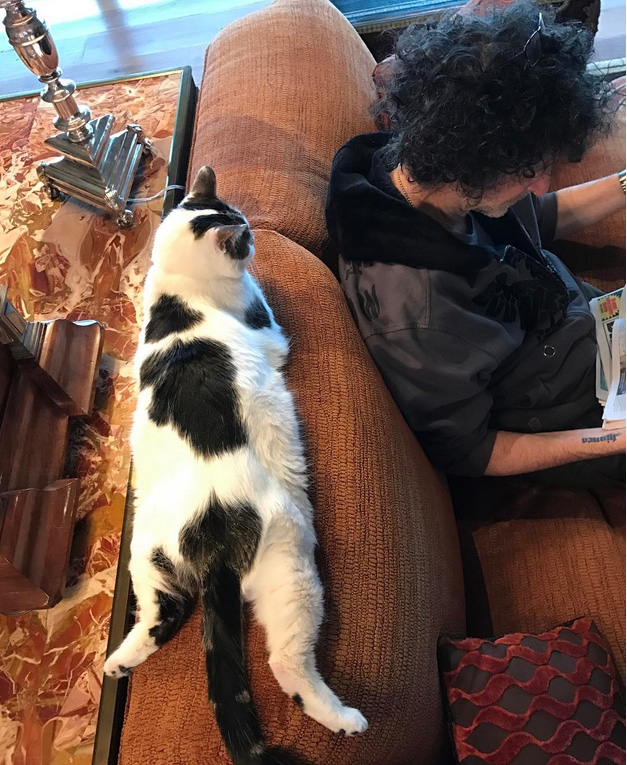 Walter reading over Howard's shoulder.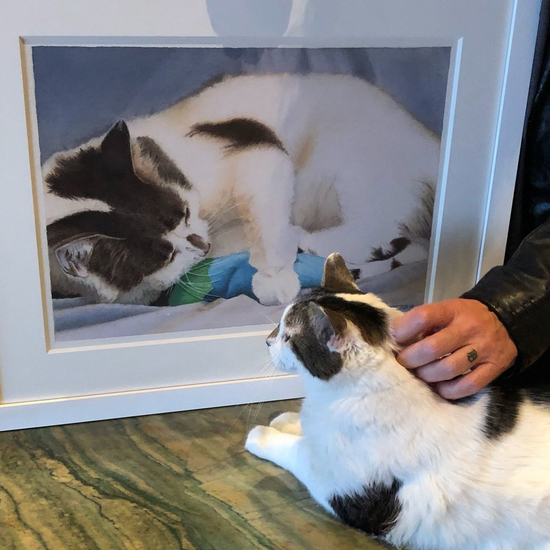 My multi-talented husband's beautiful watercolor of Walter.
But the most magical friendship I've ever seen was between two of our resident cats, Charlie Boy, adopted in 2010, and our blind and beautiful Sophia, adopted in 2014. They were a true couple. He adored her, and she felt safe with him. Charlie would groom her eyes for hours and then they'd curl up together. They were always touching each other. Charlie died on August 12, 2017. Sophia was heartbroken. In fact, I believe she died of a broken heart just eight months later, on April 9, of this year.
Our wonderful Charlie Boy and his beloved, the sweet Sophia.

We were devastated. At moments like this, the pain of loss is so intense you don't know if or when you'll ever adopt again. But eventually you do: not because they can ever be replaced, but because they teach us what it is to embrace the present and to be open and kind. Like Julia, they leave us a legacy of love.
So in July Howard and I decided to make a crazy Tortoiseshell kitten we named Pebble part of our resident clowder. Pebble was dropped off at my vet's office in a shoebox as a teeny, tiny kitten with a severe eye infection. We had to have her damaged eye removed, and she is healthy and doing just fine. She is perfectly imperfect.
But… she is a very naughty kitten. She body dives Yoda and Walter, yet she gravitates toward Bella, our adult blind Calico, as if she knows they have a connection. Bella cannot see anything and Pebble can see out of her one existing eye. It's so interesting to observe the dynamics in this little group.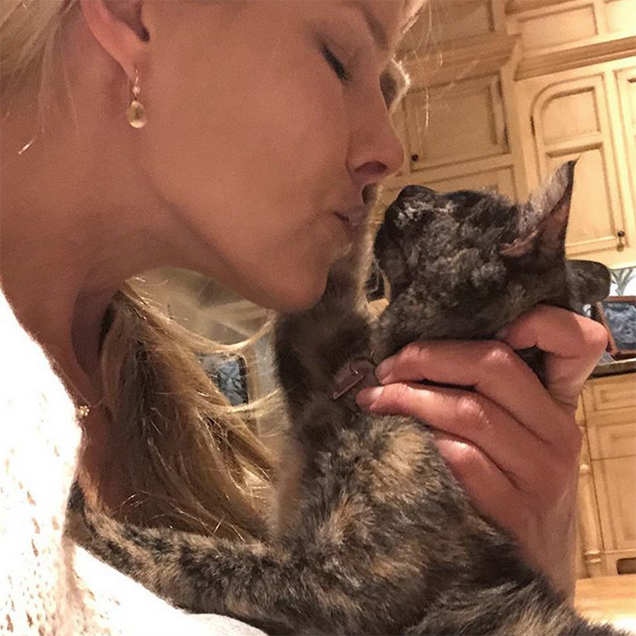 Will naughty Pebble bite my face off?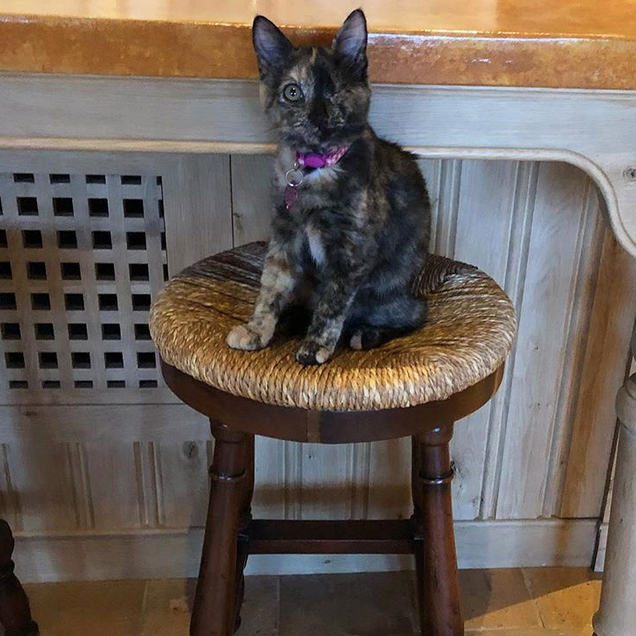 Or win me over with her amazing cuteness?

We're all adjusting more and more each day to Pebble's shenanigans. I remind myself, "time and patience!" But she's so adorable that I can't stay mad at her for long. And it's been nice having her kitten energy mixing with our adult resident cats…and knowing she isn't leaving anytime soon, the way the foster kittens do.
Humans often marvel at the bonds between animals of different species — gorillas and kittens, horses and goats, rhinos and lambs. What we forget is the most familiar bond of all: the one we share with our own companion animals and the power of that connection to expand our worlds and bring us joy.
xo
Beth
P.S. I had a surprise visit from a former canine foster, Spanky, earlier this month. She reminds me so much of our Bianca, who died in 2012. There's nothing like walking with a buddy to mend the heart. I hope you'll join my colleagues at North Shore Animal League America for our second annual Walk & Wag fundraiser on Saturday, September 29, at North Hempstead Beach Park. If you can't get to Long Island, you can create a Virtual Walk any time from any place. You'll save lives and make friends! To learn more visit animalleague.org/walkandwag.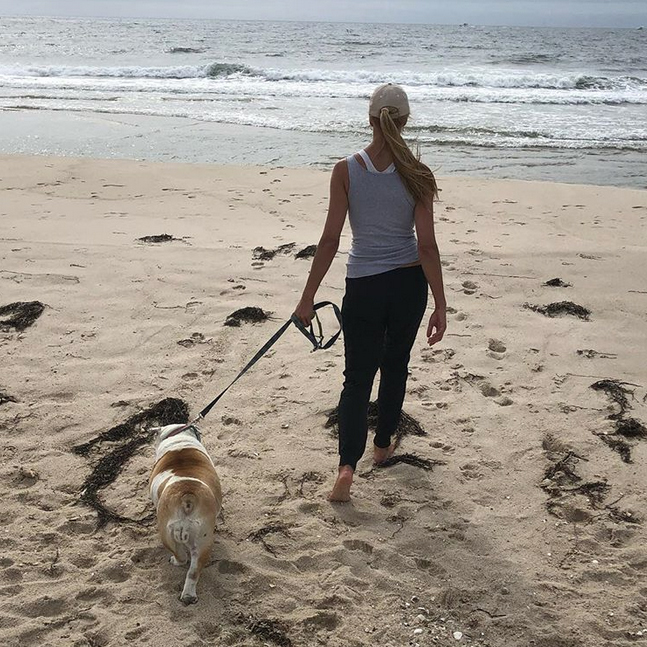 Spanky and I take a walk on the beach.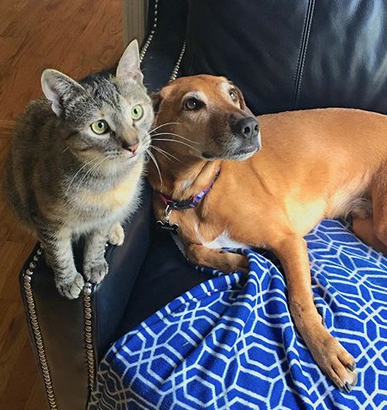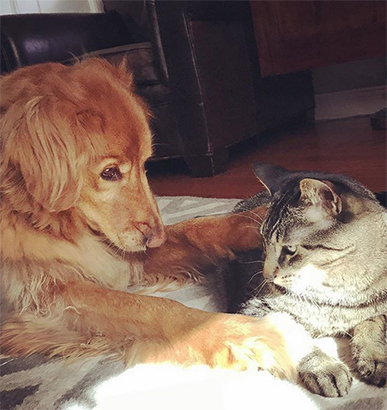 P.P.S. I love knowing that my former feline fosters have made new friends. Marble (left) is in love with her forever dog, Xander. So is former foster Rudy (right) with his forever dog, Maggie. So cute!