With a Lot of Help from their Friends How magical connections create beautiful futures
I've been thinking a lot about friendships lately. It all started as I watched some magical relationships develop among my foster nuggets. I say friendship, but love is a better word for what bloomed between Moonrock and Mr. Gray, two adult kitties who had traumatic eye injuries. Moonrock was shot through the eye with a BB gun (and that BB is still lodged in his skull).  What does that say about someone who could do such a thing? Mr. Gray had an unknown trauma that caused his eye to pop out of its socket. My wonderful colleagues at North Shore Animal League America pulled him from a to-be-killed list and saved him. Sadly, his eye had not been cared for and couldn't be saved.
The minute that Mr. Gray came to me as a foster, Moonrock raised a paw and volunteered to be his nurturer. Now they are inseparable. After they'd endured so much, I was thrilled when an adopter stepped forward who would take them both. For all the people who neglect or abuse animals there are so many, many more like you who care about them.
Another unlikely friendship has developed between a black, polydactyl kitten named Beans and Brimley, an eight-year-old Persian gentleman. It took Brimley a while to settle into my house and it was a struggle to find a food he would eat. He'd gone through several moves already, poor guy. He'd been given up by a family in Kentucky and taken in by a rescue there, then he traveled to another rescue in Rochester, New York, and then to me!
Brimley needed a friend and that's when Beans walked in. Beans just follows Brimley everywhere. And even though he's older, Brimley loves to play. He's so sweet and easy going that he tolerates all of Beans antics even at naptime. The best news is that although they arrived as strangers, they left here together as friends forever to a wonderful family.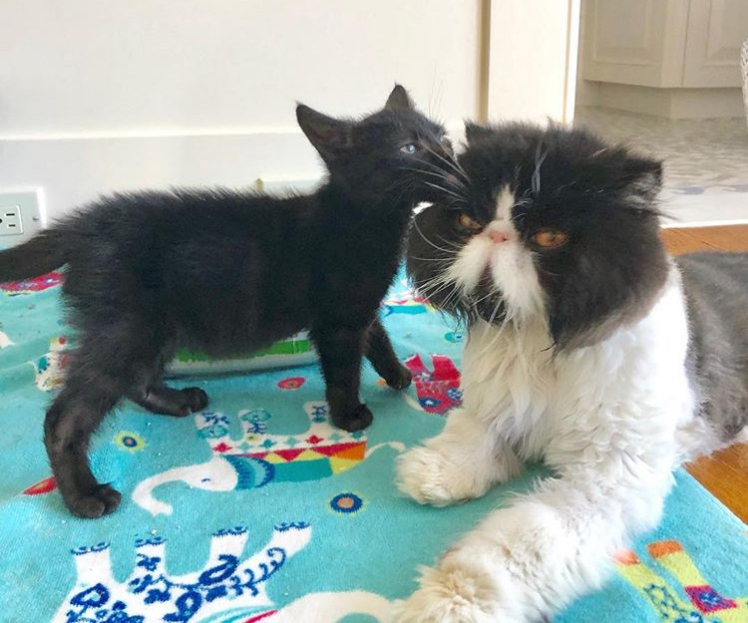 You know that I have a great big soft spot for special-needs animals, particularly who are visually challenged. They're just always so precious. Among my permanent residents are my blind Bella, who is the love of my life, and now I have naughty Pebble who has one eye. Suddenly I seem to have many visually challenged animals under my care. There's Martha, a lovely Tabby who might be able to see some shadows and light. Also, a recent arrival is Confetti, a kitty who is blind due to an abuse incident overseas. Last, but not least, is a gorgeous, one-eyed black cat, Mazie (the eye had to be removed due to a puncture wound) who was recently adopted.
Confetti and Martha, getting to know each other.
Beans is the only young kitten I've fostered for a while BUT that is changing now. "Kitten Season" is here already. I've taken in three kittens in Florida who will be coming to New York soon and now have a mama cat, Sophie, who just had three beautiful babies under my care. I'd like to encourage all of you to get out there and volunteer to help your local shelter by fostering as many kittens as you can — an orphaned litter or a mama cat with babies or whoever you can manage. Shelters, and adoption centers like Animal League America, will soon be overflowing. They need help to save as many as animals as possible. Being a foster parent is so fulfilling as you'll see the kittens grow and blossom into cats with incredible individual personalities. Every animal lover should have this experience. Sign up now — you won't regret it!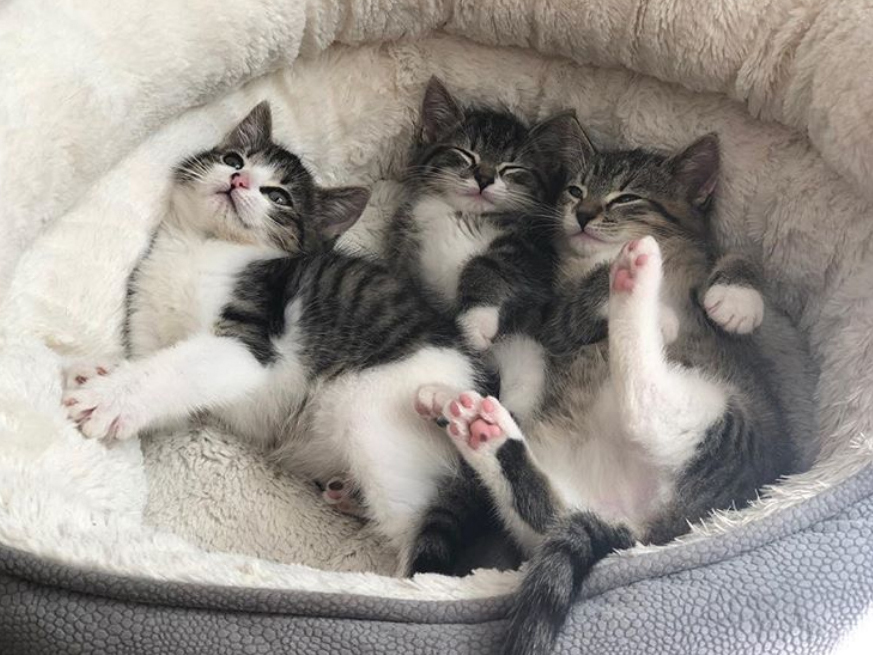 Florida Tabby Trio

Mama Sophia just had three gorgeous nuggets!

Of course, that makes me think about adoptions again, and Animal League America has already hit the road for the 19th annual Tour for Life®. The world's largest cooperative lifesaving pet adoption event is crisscrossing America to help dogs, cats, puppies, and kittens find loving, responsible homes.  We've teamed up with shelter and rescue groups in 51 cities and 38 states, thanks to sponsorship by Purina® and additional support by Swiffer®. So go to animalleague.org/tourforlife and check out when there's an event happening near you!