Strangers to the rescue… Abandonment is animal cruelty …So is declawing!
At first this story broke my heart. Then it gave me hope.
The owners of a 7-year-old FIV-positive cat named Toby gave him away. Toby must have thought they'd made a terrible mistake. So, at the first opportunity, he escaped and walked 12 miles back to his original home. But instead of welcoming him, those people betrayed him again.
They took him to a municipal shelter and asked that he be euthanized.
He wasn't.
Instead, that shelter contacted the Wake County SPCA in nearby Raleigh, N.C., where the staff took him in and promised to find him a loving home. He spent 45 days in the shelter, waiting. I read his story online on April 12 and immediately posted this photo and his story on my Instagram account, asking friends in North Carolina to spread the word.
Well, one of my followers in New Hampshire told her sister in North Carolina, and on April 13, Toby went home with Michele Pucket and her two daughters. Toby now has 39,000 followers on his own Instragram account, @a.cat.named.toby, and is part of a caring family. I still marvel at the power of the Internet to help save lives.
Toby's happy ending lifted my spirits when I really needed it, and I'm so grateful I could help. But I know there are many, many other Tobys out there, just as sweet and just as desperate. In fact, the past several weeks brought a surprising number of adult fosters into our home, most of them abandoned, and I've realized that cruelty to animals takes many forms, including abandonment, and it happens to cat and dogs alike.
I know I've told you about two of these resilient adult felines before, but in the context of abandonment their stories bear repeating.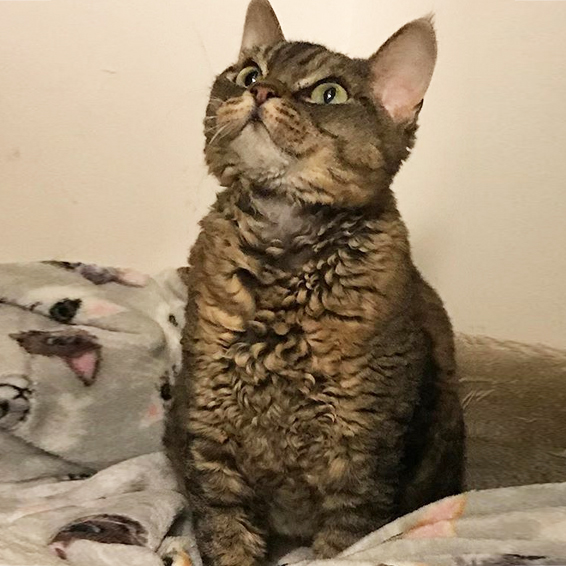 Belle, a sweet Devon Rex, dumped at a municipal shelter by the family of her recently deceased human. She's home now.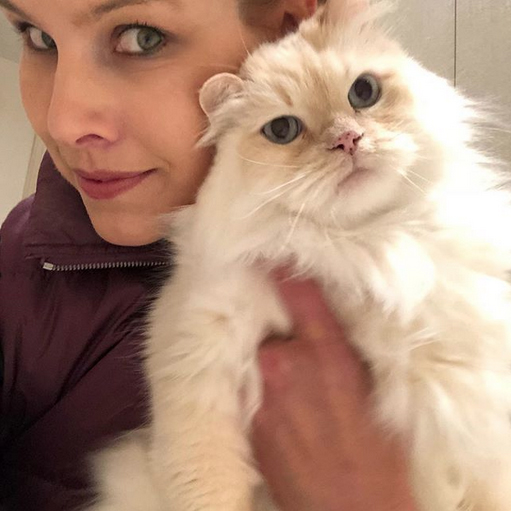 Six-year-old Mr. Beautiful, abandoned when his family moved. I'll never understand how people can do this. He's home now.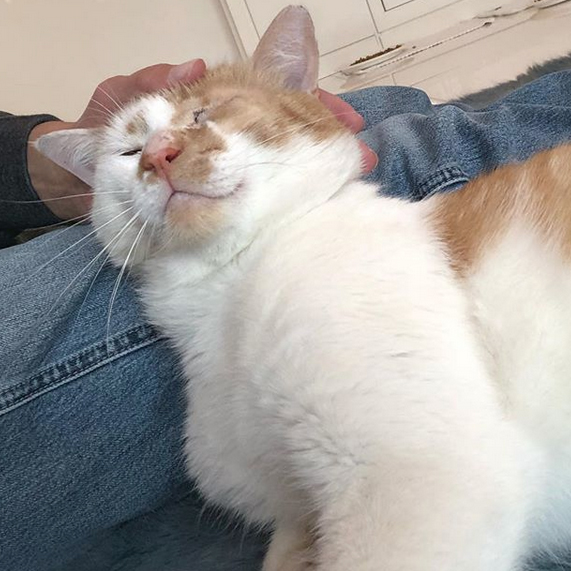 Hot Mess Max, a 4-year-old mush of a guy, was found on the streets of NYC, purring and rubbing up against his rescuers. He had to have an eye removed. He's perfectly imperfectly, and he's home now.
Big ball of love Sweetie Boy, about 7 years old. Breaks my heart that he was abandoned when his human had to go into a nursing home facility an no one wanted him. But he's home now. Five-year-old Dawson, another sweet ginger adult, lost his home because his human mama passed away and no one in the family wanted him. Yes, he's home now.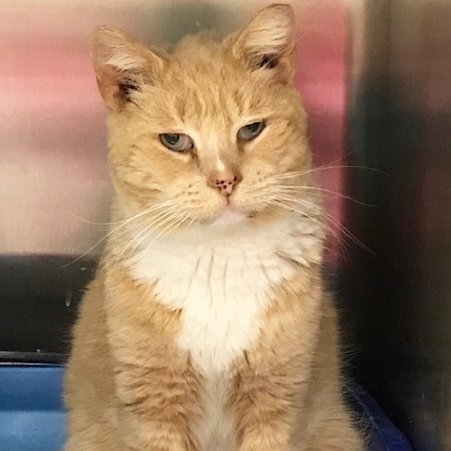 Sweetie Boy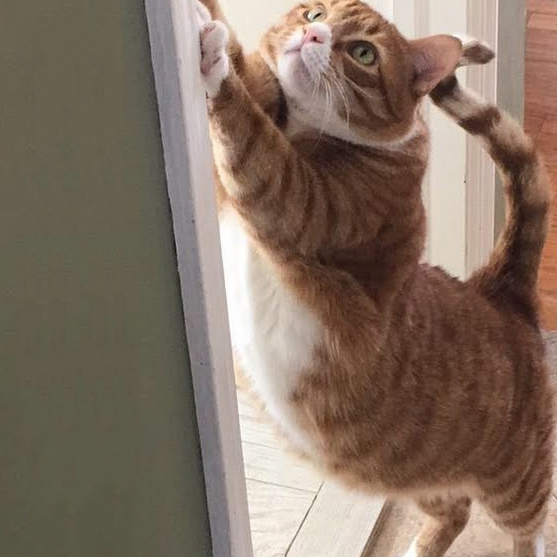 Dawson
And Ross and Rachel, two of my own precious former fosters, came back to me when the couple that adopted them divorced. I was grateful the adopters hadn't abandoned them, but instead had done the right thing and returned them to me.
Then I learned that they'd declawed these two perfect nuggets, and my gratitude changed to rage.
In fact, I am still absolutely devastated. I have all my adopters sign a contract saying they will never subject their cats or kittens to such an inhumane, cruel act. There is absolutely no need for it. All you have to do is work with your cat and provide fun scratching places around your house. Declawing is not a nail trim. It's a mutilation of the animal's paws. Besides being painful and traumatic, it can change a cat's personality, causing fearfulness and even aggression. I am so sad for my nuggets. Please, never do this to a cat, and tell everyone you know that declawing is a horrible, grotesque surgery. Declawing is animal cruelty and should be banned. Period.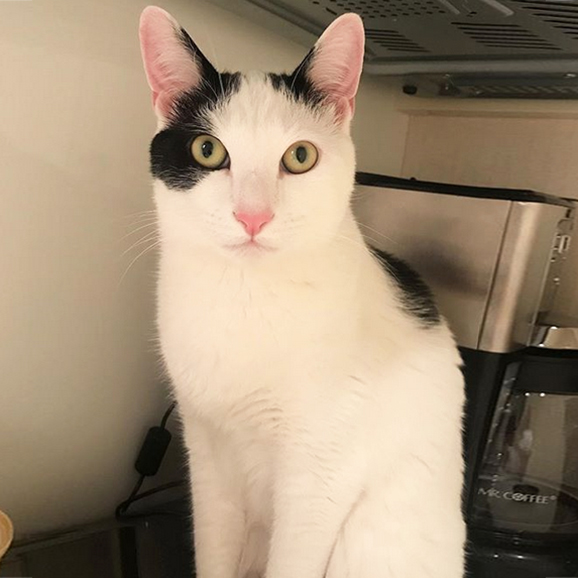 Ross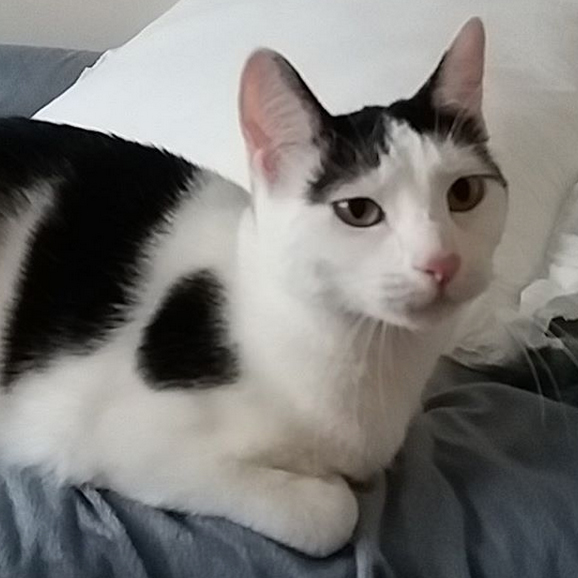 Rachel
Fortunately, the perfect adopter came forward for Ross and Rachel. I'm so happy they're home now, together.
I admit that what happened to Ross and Rachel was heartbreaking and made me so angry that I almost lost faith in human nature. But more often than not, just when people seem irredeemably cruel, others stand up for compassion and kindness.
And so, welcome 5-year-old Willow, who has lived at the power plant on Riker's Island her entire life. The kind-hearted employees there fed her since she was a kitten and a few years ago had her spayed and ear-tipped. She has always been affectionate and sweet and everyone there loves her.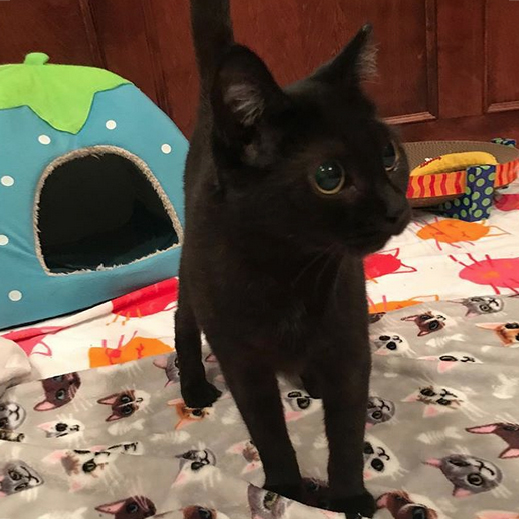 When she began losing her eyesight, her friends realized they had to find her a safer situation. One of the employees who loves her very much contacted me. I had him bring Willow to us after he welcomed her into his own home for a few days. (His resident kitty wasn't so welcoming or he would have kept her.) Even though she has very limited vision, Willow's litter box etiquette is perfect and she's thriving as an indoor kitty. She's now with us and I am excited to find her a real home for the first time in her life. She is such a little darling and she does well with other kitties.
With adult rescue, it's all about second chances. Thank you to everyone who makes it possible for adult cats and dogs to learn to trust again.
Of course, the house is filled with kittens like Rocky Road and Cookie Dough, with more on the way. After all, it's kitten season.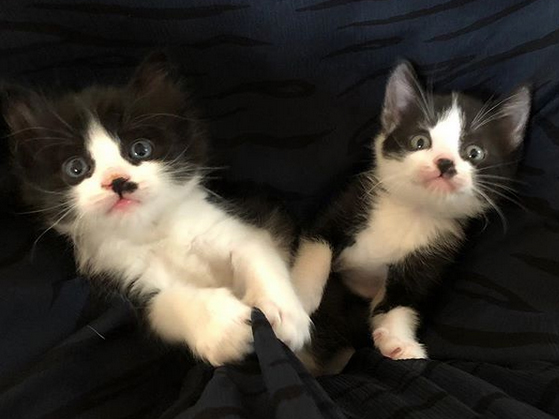 I'm sure more adults will come along, too. But with the help of friends near and far, and with support from North Shore Animal League America, we'll do all we can to find them loving, secure homes.
 xo
Beth