In the world of animal rescue, the idea of victory can be both sweet and bittersweet, often at the same time. The last several weeks really drove this home for me, especially in the case of a cat named Quincy. I still have trouble talking about Quincy – the tears come quickly – but his story, though sad and brief from my perspective, matters so much.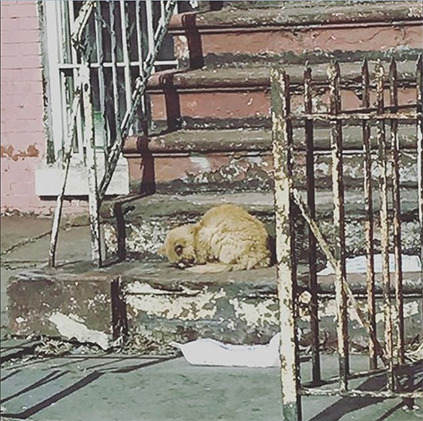 In late February, one of my Instagram friends contacted me about an adult orange cat huddled on a stoop in Bedford Stuyvesant. This cat was very sick. I called wonderful Cindy Szczudlo at North Shore Animal League America, who, amazingly, found this poor kitty and was able to trap him. He was a mess, but so sweet. And he was safe at last and on his way to North Shore.But sadly, "safe" does not mean "saved." Quincy was a handsome cat with the longest whiskers and a once-lush, gorgeous coat. But he was weak and broken, the light was leaving his eyes, and at the Alex Lewyt Veterinary Medical Center at North Shore, Quincy tested positive for feline leukemia. He was very, very ill. All we could do was love him, give him a name, and keep him comfortable. The suffering was ending. I felt such tenderness for this little soul that when I wrote about him on Instagram, I felt I had to speak to him.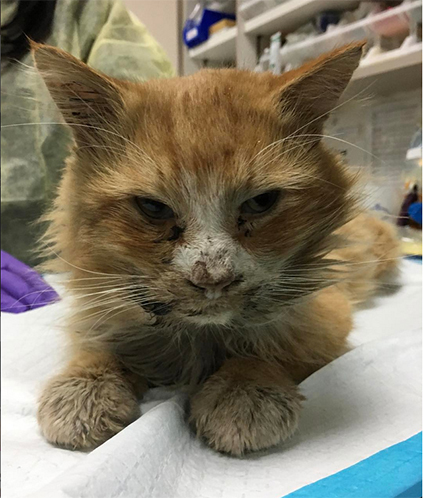 "RIP, Quincy. We tried. Oh, goodness, we tried. You were rescued. You were fed. You were out of the cold. And you were loved. And then you took your last breath. Goodnight, and God bless."All of this happened in a single day, one that I will never forget. At about the same time, I received an email from a small rescue group, Project Precious Rescue, in Stamford, Conn., asking for help. They were utterly desperate. They had three blind Chihuahua mix puppies from the same litter – Noelle, Jingle, and Chestnut – and an adorable Black Lab mix named Bruce Wayne, and all four of these young dogs had parvo, one of the most dreaded, deadly, and contagious viruses that shelters deal with. The rescue group had already spent its last penny saving two other young dogs, and now they needed help.I called Joanne Yohannan, Senior Vice President of Operations at North Shore, who generously said "Yes!" Thanks to North Shore's new Freed Special Recovery Center, which provides isolation care for pets with contagious diseases, she thought the North Shore could help.
It was a whirlwind. Two volunteers from the Connecticut group arrived with the pups. Members of our medical team, wearing full protective garments over their scrubs to prevent cross contamination, unloaded the crated pups and brought them to the Emergency Care Unit. After complete exams, the four dogs were taken to the new recovery center, where the real treatment began.Fluids, nutritional support, antibiotics, medications to treat symptoms, and blood/plasma transfusions were at the ready, if necessary. I was encouraged to hear Dr. Mark Verdino, Senior Vice President and Chief of Veterinary Staff, say that although the prognosis with parvo is always guarded, Animal League America has a 90 percent survival rate when it's caught early and treated aggressively.

 As one of the Connecticut volunteers said, "We needed a miracle." I'm happy to report, they got one. The four puppies recovered beautifully and were soon healthy, happy, and playing together. Then, two more puppies, Grayson and Alfred, who were in foster care with Project Precious Rescue, came down with parvo. They, too, were admitted to our special recovery center and also did well.At last count, all six puppies were healthy and back in Connecticut. Chestnut, Alfred, and Grayson have been adopted. Bruce Wayne is also headed home. Only the two blind puppies, Noelle and Jingle, a bonded pair, are still waiting for the right family. As the mother of blind felines, I know it won't be easy to find them the home they deserve, but the hardworking volunteers at Project Precious Rescue are determined to try.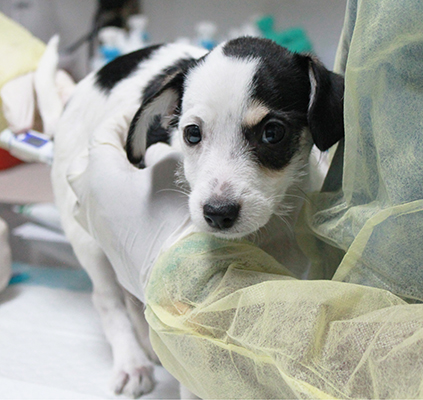 So. Six darling puppies saved. One beautiful cat lost forever. That's what I call an emotional rollercoaster. I'm so grateful to the teamwork that saved the pups and gave Quincy a gentle death. In both cases, North Shore Animal League America made all the difference. I'm proud to be part of this courageous organization that deserves every ounce of respect and support it gets – and more. And I also appreciate the role that social media played in these stories.Victory is hard to define. But with kitten season starting again, I can't help but think about Quincy and all the felines like him who are homeless in this world. We must continue to work together to end the suffering that comes from pet homelessness. That will be our ultimate victory. And we must do it in the name of Quincy and all the nameless ones who need us.
xoBeth
Breaking News from our Friends at Hallmark Channel: "The Road to The Final Fur" will be broadcast on Hallmark Channel, exclusive home for kitten sports and the highly rated Kitten Bowl franchise. The network's latest pet-centric programming buzzer beater, Meow Madness, a Hallmark Channel Original Special Event, will premiere on Monday, April 3, 2017. Meow Madness features author and animal advocate Beth Stern as host and Peabody Award-winning reporter Mary Carillo as commentator. Joining Mary is John Salley, four-time NBA champion, author, TV host, and animal rights activist. The special will showcase adoptable kittens in the most competitive tournament the basketball world has ever seen.