A Salute to All the Small Ones
When I saw this photo online recently, my heart skipped a beat.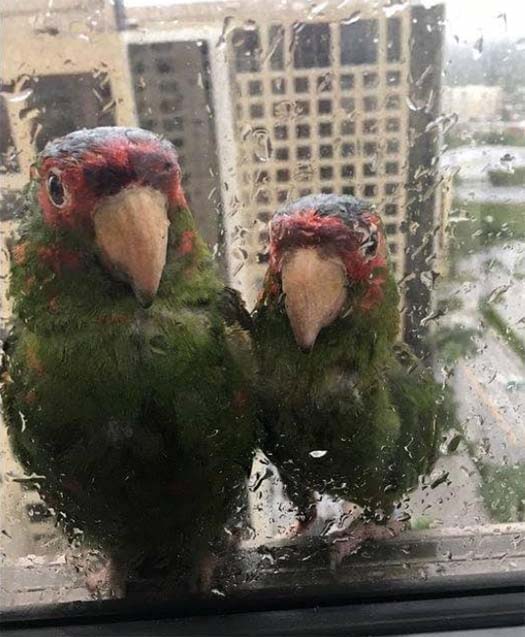 The Telegraph/Facebook
The stoic faces of these two storm-soaked parrots, who'd flown to the 22nd floor of a hotel in Florida to find shelter from Hurricane Irma, seemed to represent all the animals, wild and domestic, whose lives, habits, and habitats were thrown into chaos by this year's horrific hurricanes.
Manatees and dolphins were stranded in shallow water, sea turtles lost their nests, and migrating birds were blown off course. And people from Texas to Florida to Puerto Rico and the Caribbean lost their homes, their loved ones, the basic necessities of life, and, in so many cases, their beloved pets.
In the face of such catastrophe, I often feel overwhelmed. What can one person do? How can I help?
Then I remember that there's strength in numbers. I count myself lucky to be part of North Shore Animal League America, the world's largest no-kill rescue and adoption organization, whose many members include generous people who make our lifesaving work possible.
Shortly after Harvey and Irma made landfall, our Emergency Rescue Units left Long Island loaded with food, water, cat litter, carriers, blankets, plastic bags, towels, paper goods, and basic medical supplies, all donated to help our shelter partners cope with catastrophe. (Later, we welcomed puppies and dogs from the Turks and Caicos Islands, which suffered damage from both Irma and Maria.)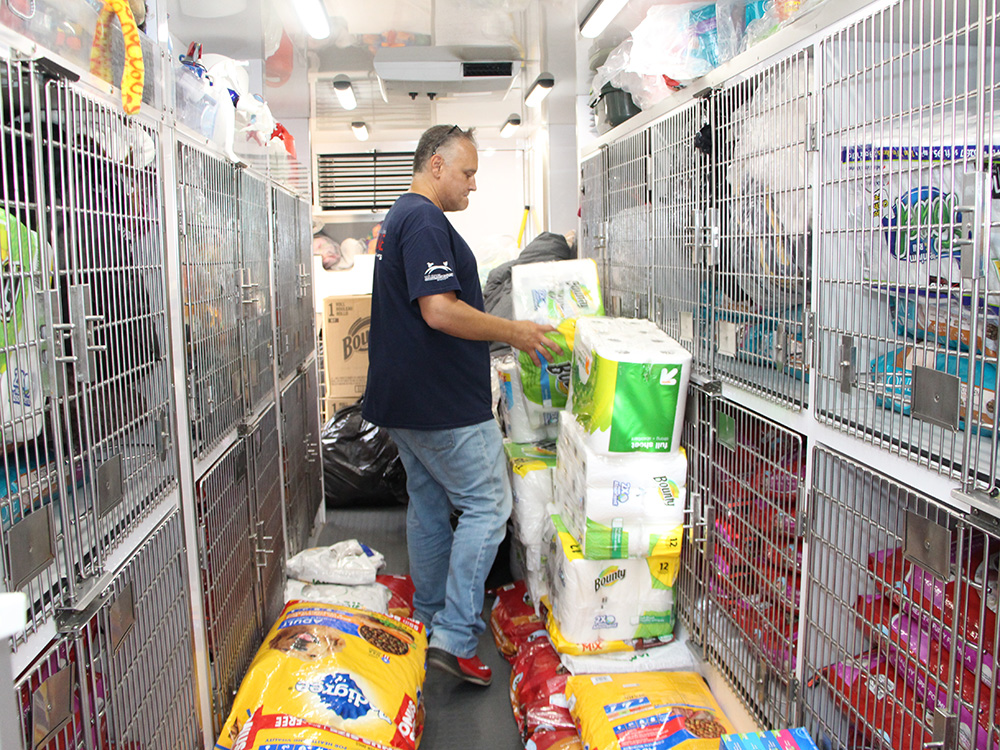 Mobile Rescue Unit loaded with supplies for Houston shelters
hit by Hurricane Harvey.
Our emergency units made their first stop in Houston, where the team delivered much-needed supplies to make room in our air-conditioned mobile unit for dogs, cats, kittens, and puppies who were ready for adoption. By "clearing the shelter," of adoptable animals we freed valuable space for the influx of pets displaced by Harvey — so they could wait safely to be reunited with their families.
In Dallas we did the same, pulling 87 pets from the Dallas Animal Services and Adoption Center and placing them in the transport unit for the safe journey to New York.
While we were in Dallas, something heartbreaking and unforgettable happened. Two men approached Cindy Szczudlo, North Shore's Director of Rescue Services, who was onsite overseeing the transport. When Cindy told me this story, she described the people as desperate. One had a carrier with an adult cat inside. The other held an adult cat in one arm and carried bag of cat food in the other. The cat in his arm was "dangling," Cindy said. She was afraid he might lose his grip and drop the cat.
So Cindy gently took the cat in her arms, and they talked — traffic buzzing around them and the sun bearing down. The man said they had to surrender the cats, Dusty (male) and Dahlia (female). They were 8 years old, he said, and had been together their whole lives. They were spayed and neutered, and Cindy noted they were in pretty good condition, considering. The man also said they were declawed.
He looked at our Mobile Rescue Unit parked nearby and turned to Cindy, asking her, please, take his two cats and find them a good home together. So that's what she did — no questions asked, no answers necessary. Those cats needed us and those people needed to know their beautiful friends of eight years would be safe, no matter what happened to them.
That's how I met Dusty and Dahlia.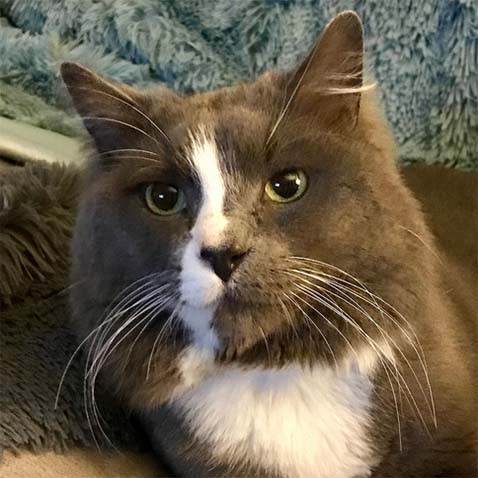 Dusty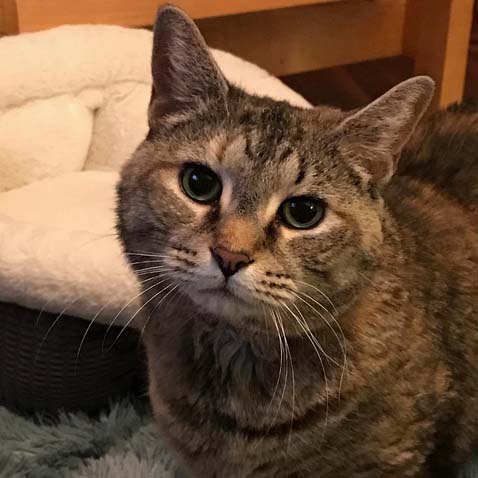 Dahlia
Both spent time at Animal League America and then came to me. The most amazing thing is this: Just a little more than one week after they landed in my life, they were adopted into a perfect home. In less than a month after being surrendered to our care, they'd gone from loved but homeless to loved and safe…together. I know they'll have a wonderful life. I thank their former family and wish them peace and safety. And I thank Cindy and all my Animal League America colleagues for their dedication to the lives of so many pets like Dusty and Dahlia.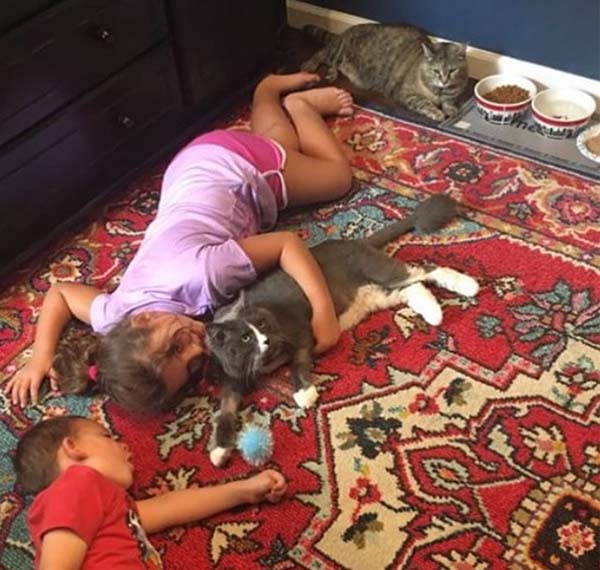 Dusty and Dahlia, at home and surrounded by love.
Then, on October 8, we welcomed a very special, beautiful black kitten to our nest of nuggets. Howard and I love black cats, and this one is especially easy to love. Howard named her Thumbelina. This is her story: A local cat rescuer in Florida found her in the aftermath of Hurricane Irma, her little leg caught in a fence. (Imagine surviving that hurricane while being stuck?) Her rescuer freed her but her leg was severely injured and dangling. He couldn't find a vet clinic open. He was carrying her and feeling hopeless when he rounded the corner and saw… Animal League America's Emergency Rescue Unit parked in front of an animal clinic. We'd just arrived in Miami, where we rescued more than 60 cats and kittens!
Thumbelina traveled back to New York on an airplane with one of our team members. When the incredible veterinarians at Animal League America examined her, they quickly realized her leg was beyond repair and had to be amputated. She's safe with us now. We love her.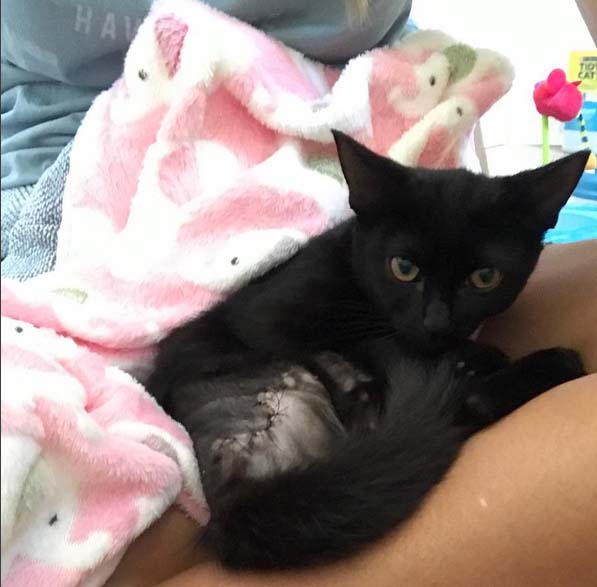 Welcome Thumbelina!
In early October, in the midst of these dramatic stories, I had the thrill of taping our fifth Kitten Bowl with our great friends at Hallmark Channel. (The show will air on Feb. 4, Super Bowl Sunday.) Several of the Cat-letes "trained" with Howard and me, working out (aka playing), toning (aka playing), and, of course, chowing down and bulking up.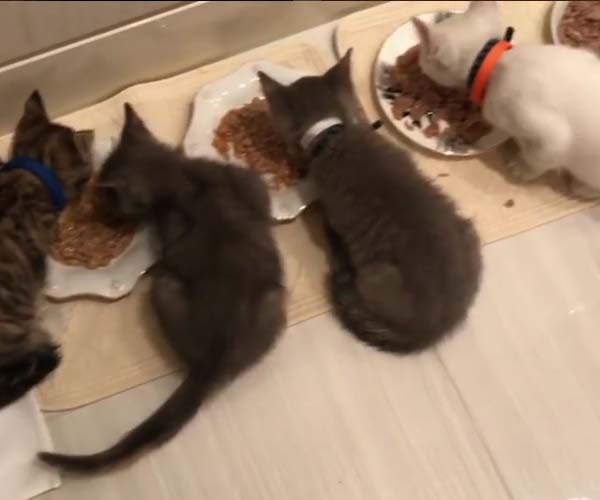 The Cat-lete Buffet.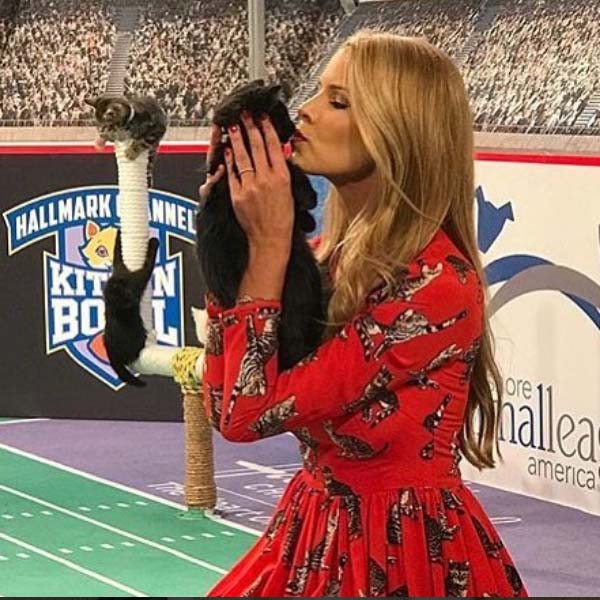 I had such a mad crush on foster Mini Leon Bear, who
was adopted at Animal League America on Oct. 7.
Always in my heart…
Besides the fun and puns, the best part of Kitten Bowl is knowing that all 100+ cats, kittens, and puppies (from the adorable halftime show) will find their loving homes. This year, we're doing something extra special on this show — sharing the rescue stories of some of our players and even their adoptions. Many are hurricane survivors, and my foster Bowie, who came from Animal League America's North Country Initiative in Warren County, N.Y., was adopted on the spot, as was foster and Irma survivor Stardusty.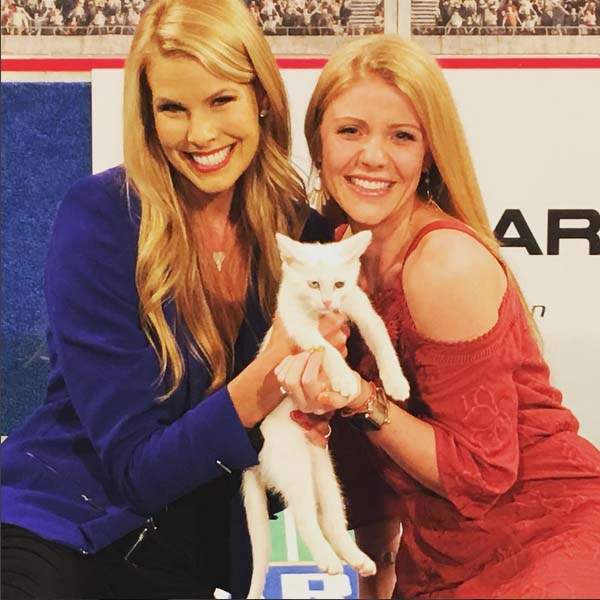 Beautiful Bowie, with one blue eye and one green eye. I will never forget him.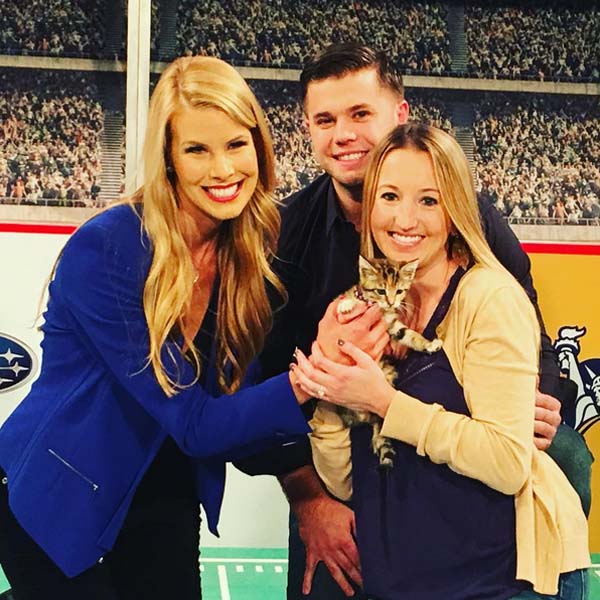 Perfect foster Stardusty, another Irma survivor, headed home at last!
Now I'm eagerly awaiting the arrival of my next pair of fosters. First, we have sweet Stormy, another tiny Irma survivor. I cannot wait to smooch that belly! And this little beauty queen, Pineapple. She's six-weeks old, she's scrumptious, and she's blind. She's doing amazingly well. My blind cats are smarter than my others…but shhh! That's just between us.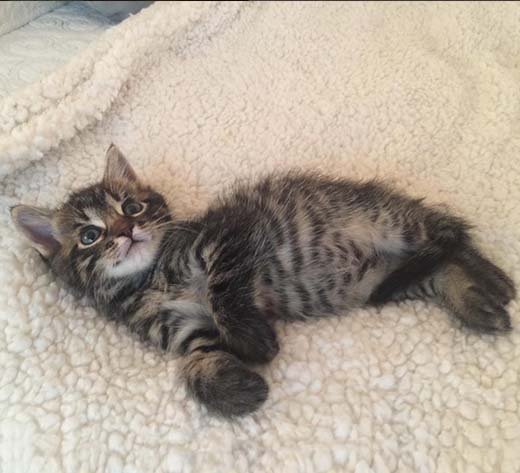 Stormy
Pineapple
For all pets, whether they come from hurricanes, abandonment, or abuse, homelessness itself is a kind of disaster, a state of overwhelming uncertainty and fear. And yet, they abide and endure. I'm so grateful to know that with partners like North Shore Animal League America and Hallmark Channel, I can play a role in helping these resilient, inspiring animals move forward into happy lives, leaving disaster, loneliness, and fear behind.
In fact, we all can play a role in our local communities by adopting, fostering, volunteering, and advocating for the no-kill shelter movement.
Every life rescued, nurtured, and adopted is a disaster overcome.
Thank you,
XO
Beth
P.S. Kitten Bowl V will broadcast on The Hallmark Channel on Super Bowl Sunday, Feb. 4, 2018. Animal League America will coordinate Kitten Bowl Parties at local shelters coast to coast. (Special thanks to our shelter partner Last Hope Animal Rescue and Rehabilitation for also providing Kitten Bowl cat-letes!) We've got a great game plan to get cats and kittens adopted across the country. So visit your local shelter and be a champion for a fortunate feline. Let's do this!
To support North Shore Animal League America's Emergency Pet Rescue and Disaster Relief efforts, visit animalleague.org/hurricanerelief.
You can also follow Dusty and Dahlia's story on Instagram under their new names @ace_and_annie.