It's been said to choose a job you love, and you'll never have to work a day in your life. For Ikumi Nakajima, Mutt-i-grees Outreach Coordinator at North Shore Animal League America, this well-known proverb couldn't ring more true. Every morning when he makes the five-minute walk from his apartment in the heart of Port Washington to Animal League America's campus on Lewyt Street, he can't help but to have a slight pep in his step.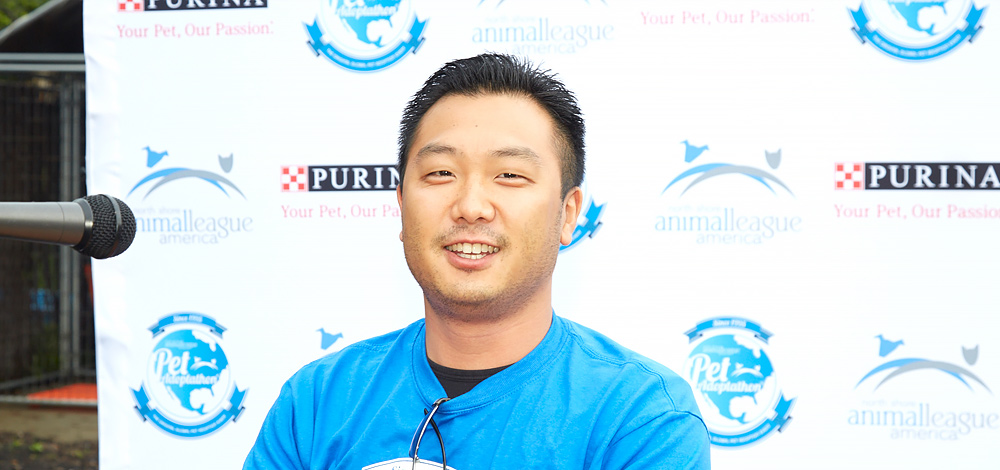 The transplanted Demarest, New Jersey native gets to come to work each day for a local organization that prides itself on providing compassion and care for homeless animals in need. As a member of the Mutt-i-grees team, Ikumi is able to bring that same type of support to our human friends, more specifically children. Guided by the research on resiliency, social and emotional learning, and human-animal interaction, the Mutt-i-grees Curriculum actively engages students and promotes social and emotional competence, academic achievement, and awareness of the needs of shelter pets. Today, the program is in more than 4,000 schools and libraries and has enrolled more than 3,000,000 students. The goal is to build calm, confident and caring kids, and something Ikumi said he makes sure to remember every day that he comes to work.
"Working with the Mutt-i-grees Curriculum, I get so much satisfaction knowing that we're making a difference in the lives of children. Going out and visiting school and libraries is my favorite part of the job because that's when I actually get to see the impact we are having on the children. It's also the best time to see how the kids gravitate to our dogs and puppies," he said. "My first day on the job I went to an event at Middle Country Public Library out in the Centereach area and got to see, firsthand, what Mutt-i-grees was all about. I knew right away that this was something I wanted to be a part of."
When Ikumi was first hired in March of 2013, he was presented with the task of helping to expand the outreach of Animal League America and the Mutt-i-grees brand on an international level by introducing other shelters and rescue groups to Pet Adoptathon, the largest cooperative adoption event in the world. After successfully tackling that trial-by-fire introduction and becoming more familiar with the daily operating practices of the world's largest no-kill rescue and adoption organization, he was able to dedicate more of his time and energy to the Mutt-i-grees Curriculum. He quickly began assisting senior members of the team during professional development assemblies in schools, libraries and any other educational facilities, taking full advantage of his opportunity to take a more hands-on approach.
"He's invaluable. Not only to me, but to the entire Mutt-i-grees team. He's devoted himself to learning everything there is to know about the curriculum and North Shore Animal League America, so he can tie it all together for people who may not know what we are all about. I can't say enough about how hard he works and how he's dedicated himself to the job," said Jayne Vitale, Director of Outreach & Youth Development Programs. "Now he's out at PD's (Professional Developments) with us. He's working with the shelter staff to pick out puppies when we travel. He's leading tours around campus. He's doing it all. I'm so proud of him."
When Ikumi isn't tirelessly working to spread the Mutt-i-grees Movement across the country and around the globe, he can be found at another staple of the Port Washington community; Restaurant Yamaguchi, honing his skills as a sushi chef. As the nephew of the owners/operators of the restaurant, Yasuko and Akira Yamaguchi, he developed a passion for the craft as a young adult and has been working on it ever since. He spent years learning the restaurant industry, paying his dues and learning under the watchful eye of his uncle and head sushi chef, Mr. Yamaguchi. Now, most nights of the week he can be found behind the sushi bar at the popular restaurant preparing sushi for very satisfied patrons. "Although I'm there a lot working I'd never consider that a job because I truly love it. It's more of a hobby to me, a real passion," he said. "Preparing good food for good people at a great restaurant; what else do I need?"