A New Beginning for Katara
Every animal that comes through our doors has a story. Each tells us about their journey before arriving at North Shore Animal League America looking for a new beginning. Katara's story starts here, and her journey has been one of many challenges.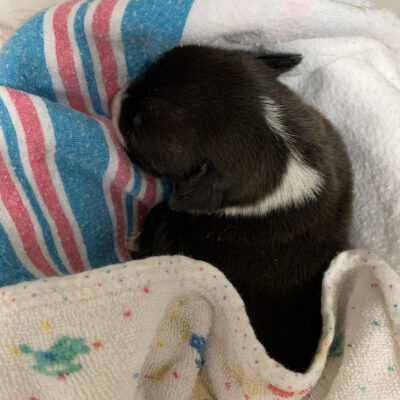 Katara was the smallest in a litter of six puppies born in the Nursery at our Pet Health Centers on Christmas night in 2020. While her siblings took to nursing immediately, Katara did not, and she seemed lame and lethargic. While the staff opted to bottle-feed Katara, she soon started to gain weight. However, she did not seem to be progressing in other areas – such as standing or walking.
Eventually, Katara began having seizures and was diagnosed with hepatic encephalopathy, a disorder caused by a liver shunt that allowed a portion of her blood to bypass the liver and not get filtered properly, resulting in a build-up of dangerous toxins. Katara was then placed in an oxygen cage, which seemed to work well for a short time, but Katara would need to have surgery to correct the liver shunt if she was going to survive.
To add to her challenges, Katara also developed a carpal (wrist joint) tendon contracture in both front legs. This can occur when the tendons and bones grow at different rates. Katara wore braces on her legs to help straighten them and had physical therapy to help with her mobility and strength.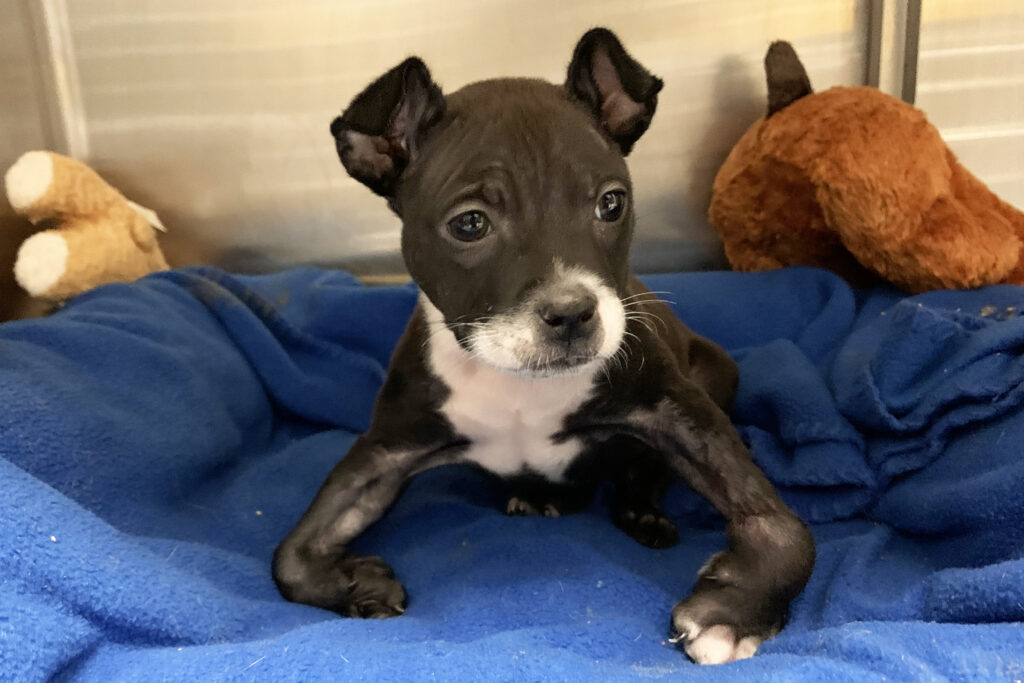 At just 6 months old Katara underwent a successful surgery on her liver and was placed in one of our dedicated Foster homes while she recovered. Katara would spend the next year with her Foster mom, Marilyn, who had fostered many special needs animals before. Marilyn had provided Katara with so much love and compassion, it's likely that she would never have gotten this far without her.  Even while the issues with Katara's mobility increased, Marilyn continued to do everything she could to help keep her comfortable, while keeping up with her medical care, physical therapy regimen and, as any growing puppy needs, much need socialization.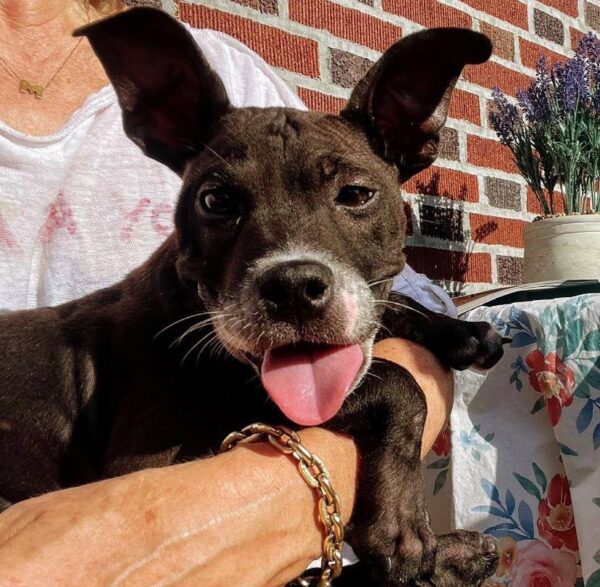 Unfortunately, in late 2021 Katara had persistent gastrointestinal problems and needed to return to our Pet Health Centers. Scans would later reveal multiple shunts that once again allowed the blood flow to bypass the liver. Additional testing would confirm a diagnosis of pyloric mucosal hypertrophy – which is an excessive thickening of the lining of her stomach in the outflow tract making it difficult for food to exit her stomach normally, leading to the very frequent regurgitation. In most cases, surgery would be needed to remove the obstructive portion, but Katara has already been through so much and has several other chronic conditions that it was determined to manage this new condition with special diets and medication.
Katara's wrists continued to be painful, and after a specialty orthopedic consultation she was confirmed as a good candidate for an arthrodesis procedure, which is a surgical fusion of a joint. This would stabilize the wrist joint and make it much easier for her to get around. After undergoing one surgery at a time and continuing to recover after each at home with Marilyn, Katara was like a new dog. Much more active and playful, still a little slower than most dogs her age due to her other medical issues, but a vast improvement.
Now, almost 3 years old, Katara finds herself as a full-time resident at our Port Washington, NY campus. She's bigger and stronger, much too big for Marilyn to handle anymore. Even with her special needs, it is time for Katara to find a home of her own. As part of our Help Me Heal Program, Katara's medical needs will always be covered through our Pet Health Centers. Katara would do best in an adults only home, with adopters who can give her the care and compassion she needs. Katara is a sweet and loving dog whose story of survival has many chapters still to be written. If you would like to learn more about how you can become part of her story, please contact Sean-Patrick Malloy at 516-373-3467 or [email protected].