The celebration of North Shore Animal League America's 75 years of animal rescue and adoption continued with 250 friends and supporters coming together at our 2019 Lewyt Humane Awards Luncheon on June 12, 2019 at Leonard's Palazzo in Great Neck, New York.
We took our guests on a journey looking back at our history of innovation and then brought them up to date on how we are moving towards a no-kill future. Highlighted were our previous groundbreaking work as the first organization transporting rescues from the South and an update on how we are moving toward the future with the completion of Bianca's Furry Friends Feline Adoption Center.
For the sixth consecutive year, our friend and respected philanthropist, Sandra Atlas Bass, served as chairperson of the luncheon. The host was Dan Mannarino, anchor for PIX11 Morning News from 6am to 9am and winner of 12 regional Emmy Awards. During the cocktail reception, guests could bid on silent auction items and participate in a chance auction as well as visit vendor tables with pet products, jewelry, clothing, and more. Special guest, Ellie Lee—actress and TV host—provided comic relief after luncheon was served.
This year, the Sandra Atlas Bass Philanthropist Award was presented to Ingrid Arneberg in recognition of her compassion and respect for all animals and her generous support of the capital campaign for Bianca's Furry Friends Feline Adoption Center. Beth Stern, Volunteer, Foster Parent, National Spokesperson, and Board Member, presented the award and called Ingrid "a rescuer at heart" who has been a staunch supporter of Animal League America and its no-kill philosophy. This annual award is named after the luncheon's chairperson, Sandra Atlas Bass, who is a well-known community philanthropist and passionate advocate for the humane treatment of cats and dogs.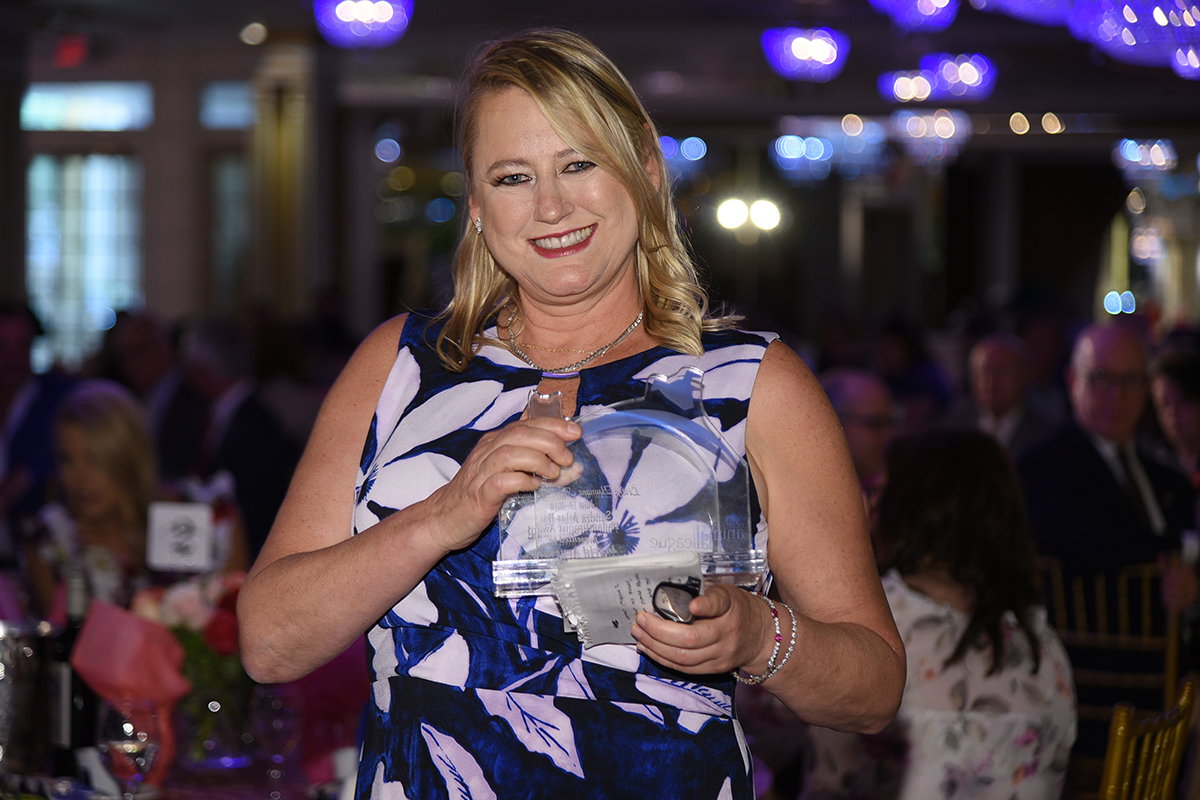 Little Man, a puppy mill survivor, who is blind in one eye and has paralyzed hind legs, came up to the stage, with his mom Peggy Kruger, to receive the Scarlett Award for Animal Heroism. Little Man, a Sponsor Pet, has never let his physical handicaps stop him from living or affect his loving personality. He zips around with his mobility cart, loves his walks, and chases squirrels and birds.
Our corporate honoree, Blank Slate Media, was given the Crystal Collar Award in acknowledgment of their donation of thousands of dollars of advertising to publicize our rescue and adoption efforts. Their many features and news stories that about our lifesaving programs helped educate the community about the plight of homeless animals.
As the luncheon program concluded, friends and supporters left with a better sense of the incredible history behind our organization and an understanding of how Animal League America is poised to move toward the no-kill future of animal rescue.
Images courtesy Lisa Anselmo and Rob Rich
We extend special thanks to our sponsors: