It goes without saying that one million is a large number. Whether you're quantifying dollars, people, or social media followers, it's an impressive tally. So, when North Shore Animal League America reached the milestone of more than 1,000,000 lives saved since opening its doors in 1944, it was quite an accomplishment.
Our idea of saving lives isn't just rescuing abandoned animals from overcrowded municipal shelters, or pulling them from the cruel and inhumane conditions of commercial breeding facilities. At the world's largest no-kill animal rescue and adoption organization, saving lives takes on a whole different meaning. Every animal that finds itself at our Port Washington headquarters is treated like family. From our state-of-the-art medical team and the compassionate and knowledgeable shelter staff, to the experts on our Pet Behavior Team, our animals truly get a second chance.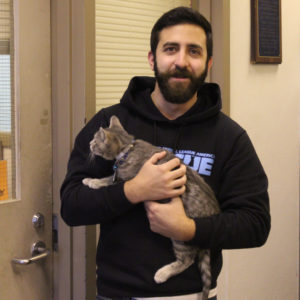 Even when one of our shelter pets are adopted, we still make it a top priority to ensure they are getting the most out of that second chance in their new home. This is where Animal League America's Quality Care and Control Department and its manager, Ronny Martorelli come in. It's the responsibility of him and his team to ensure that the animals that were previously adopted from our organization, are living safe, happy, and fulfilled lives with their new families.
"My team and I try to visit a couple hundred homes each week, trying to hit a different region of the tri-state area and beyond each day," said Ronny. "Many times our visits go great and the animals are thriving in their new home, but unfortunately there are times when that's not the case. That's when we have to step in and do everything in our power to do what's in the best interest of everyone involved. Our care for the animal doesn't end when the adoption is approved. It extends beyond that."
Ronny's team of road warriors, who spend most of their days on the road checking in on all of the animals that were adopted from Animal League America. He said that the majority of home visits are within the tri-state area, but the team can also expand its reach to other areas where we have done adoptions. On a good day, Ronny said each member of his team should be able to make at least 20-25 home visits.
"The five boroughs, New Jersey, Connecticut, Upstate New York, if the Animal League has done an adoption in the area, our team will eventually make our way out for a visit," said Ronny. "The members of the team make it their mission to ensure that all animals are in a safe and loving environment. We are all passionate and make the safety and well-being of the animals our top priority."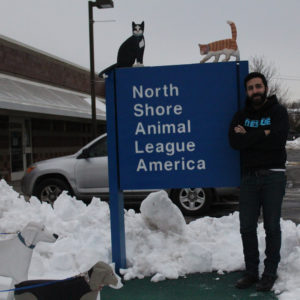 Ronny first came to Animal League America in 2008 as a college student looking for a part-time job, working in animal rescue. He was originally hired as a part-time kennel associate, which quickly transitioned into a full-time position after earning an English degree from Queens College. He would work as a full-time kennel associate for close to two years before taking over as lead shelter cashier.  After spending time working behind the scenes in the organization, Ronny decided that he wanted to be back to having a more hands-on role, and what better way to do that than working in the shelter? He was hired as a Team Leader and eventually worked his way up to a kennel manager where he was responsible for juggling several responsibilities throughout the day. During that time, he helped develop and grow his staff into a very knowledgeable and compassionate group.
In December of 2013, Ronny was presented with the award for "Best Team Player" in the entire organization. This honor, which was bestowed upon him by his peers and superiors, is presented each year to the team member who regularly goes above and beyond his or her job description.
"Ronny is truly a pleasure to work with and a real asset here at the Animal League. He can always be counted on to make great decisions and do the best job possible, all while doing so with a positive attitude," said Shelter Director, Christina Travalja. "It's a big reason why he has worked his way up the ladder here and has taken on so much responsibility."
Another important part of Ronny's current role is managing the Adoption Counseling/Admitting department. Each day, this department receives many phone calls on a variety of topics ranging from past adopters needing behavioral advice for their pets, having questions about their pet's daily habits, to concerns about their ability to keep their pet. It's the job of Ronny and his team to do their best to guide the adopter in the direction that will lead to a positive outcome for all parties involved. The main goal is to prevent as many relinquishments as possible by further educating adopters and giving them every possible outlet to make their experience of giving a shelter pet a loving home, a positive one. Whatever the outcome, our organization always has the animal's best interests in mind when assisting in these sensitive cases.
"We want people to know that we're here for them; that if they are having a problem with their pets that they can call us for help," said Ronny. "We don't forget about our adopters or any of the animals that we rescue. We'll do whatever it takes to make sure that the adopter has all the resources they need to ensure their pet lives a happy, healthy life."