About Walk & Wag
Be a part of our lifesaving mission and join us for Walk & Wag!
Now in its sixth year, Walk & Wag will take place both in person and virtually! Walk & Wag encourages both the local NY community and communities nationwide to get active while raising critical funds for our no-kill mission. Grab your sneakers and leash …and get wagging!
We encourage all who register to participate in fun contests, qualify for fundraising rewards, and take part in activities along the way! All participants will be asked to share their story on social media and tell us why they joined Walk & Wag – whether it's for their furry pal, in memory of a devoted animal lover, or for animals EVERYWHERE!
We are counting on our corporate friends and donors to consider showing their dedication to saving homeless pets – either by sponsoring this lifesaving event or by forming a team to help raise funds!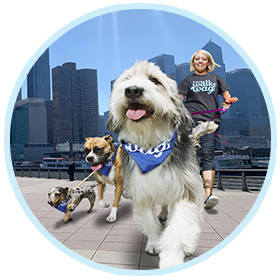 In Person Walk & Wag at Hudson River Park, NY, NY
Walkers are encouraged to bring their pups to this dog friendly event! Starting location is Pier 84 where walkers will enjoy a vendor fair, fun activities, delicious food and drinks, and our adoption unit with adorable adoptable puppies and kittens.
Along the 3-mile route, enjoy breathtaking views of the city and Hudson River Park landmarks including the Historic Baltimore & Ohio Railroad Float Transfer Bridge, the Intrepid Sea, Air & Space Museum, the stunning Entry Garden, the Pier 62 Carousel, the Empire State Building, Freedom Tower, Lady Liberty, and much more!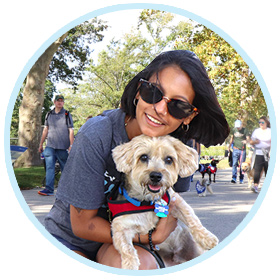 Virtual Walk & Wag
This option is for the animal-loving community who wish to support our no-kill mission, but are not able to attend Walk & Wag in New York City. Virtual Walkers can participate individually or with a team and walk on a trail, treadmill, or around an office building while raising important life-saving funds anytime, anywhere!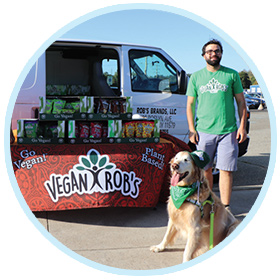 In Person and Virtual Vendor Village
Visit our in person Vendor Village on September 17th at Pier 84! There will be dog friendly vendors, delicious food and drinks, fun activities, sponsor tables, fun activities, and our adoption unit with adorable adoptable puppies and kittens!
Not able to attend our in person walk? No problem! Visit our sponsors by visiting our Virtual Vendor Village – this village allows sponsors to share information about their products, provide discount codes, and show the animal-loving community that they are committed to our no-kill mission.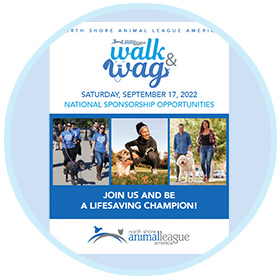 Become a Walk & Wag Sponsor
Want to help save more lives? Consider sponsoring Walk & Wag – in addition to supporting our no-kill mission, you'll also receive many benefits which may include being a part of our In person and Virtual Vendor Village, being noted as a sponsor on email blasts, and on our event's homepage. To learn about sponsorship opportunities, check out our sponsorship packet.