How Can My Company Get Waggin'?
We are counting on our corporate friends and donors to consider showing their dedication to saving homeless pets. There are so many ways to help! Companies can help by becoming a sponsor of this lifesaving event, support an employee who is participating in Walk & Wag, or by forming a corporate team.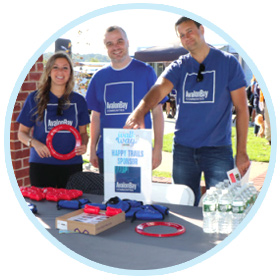 Become a Walk & Wag sponsor
Want to help save more lives? Consider sponsoring Walk & Wag – in addition to supporting our no-kill mission, you'll also receive many benefits which may include being a part of our Virtual Vendor Village, being noted as a sponsor on email blasts, and on our event's homepage. To learn about sponsorship opportunities, check out our sponsorship packet.
Support an employee by donating on behalf of a walker or by providing a corporate matching gift
Is an employee at your company registered for Walk & Wag? If so, you can help them reach their fundraising goal by searching for their personal fundraising page and making a donation. It's a great way to show that you support your employees and their efforts to find responsible, loving homes for rescue pets.
We also encourage walkers to ask their company if they have a matching gift program. A company will sometimes match a gift when an employee makes a donation. Matching gifts can make a huge impact in fundraising totals and is a great way for companies to support their employees.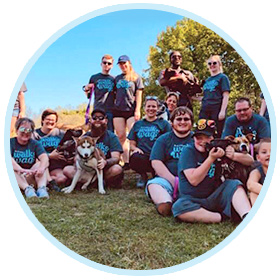 Form a team
Forming a team is easy! It's also a wonderful way to build team morale and work together to do something positive. Corporate teams are increasingly important, especially when so many employees are working from home.
Here's how to form a team
Teams should consist of 3 or more members.
Ask potential team members to register by emailing them the registration link once you have created your team.
Involve your company and employer. Ask your co-workers who share your love of animals to join your virtual team and invite your boss to engage your company. This is a great activity to keep co-workers connected if they are working from home.
Set a team goal of at least $500 and help individual team members to set their own goals.
Make sure all of your team members are aware of the fundraising prize levels to help keep them motivated.
Share your passion for rescuing animals, your love for pets, and your enthusiasm to raise funds for a cause you feel strongly about with your coworkers.
Highlight your team's progress through email alerts, company newsletters, your Facebook group, or memos to employees and managers.
Make it a challenge to see who can raise the most money – everyone loves a little friendly competition! The winner could receive an extra half day off of work, special parking spot, or bragging rights during the next Zoom meeting!
Encourage your team to download the Walk & Wag app. You can download this app by visiting your app store and searching NSALA Fundraising.
Congratulate your team for fundraising and joining your team.
Thank all of your team members and donors for their support and dedication to saving lives.
Celebrate your team – acknowledge your top fundraiser, or the person who walked the longest distance.