NORTH SHORE ANIMAL LEAGUE AMERICA'S 23RD ANNUAL
GLOBAL PET ADOPTATHON™
SATURDAY, MAY 6TH at 9AM THROUGH
SUNDAY, MAY 7TH at 9PM
25 DAVIS AVENUE, PORT WASHINGTON, NY
Come to the world's largest Pet Adoption event! In addition to hundreds of adoptable pets, there will be plenty of fun for the whole family to enjoy. Featured will be special performances by Purina's Incredible Dog Team, fun vendors, delicious food trucks,
and a Family Corner with fun activities for kids.
Adoption fees are waived for the first 100 approved adopters on Saturday and for the first 50 adopters starting on Sunday at 12AM.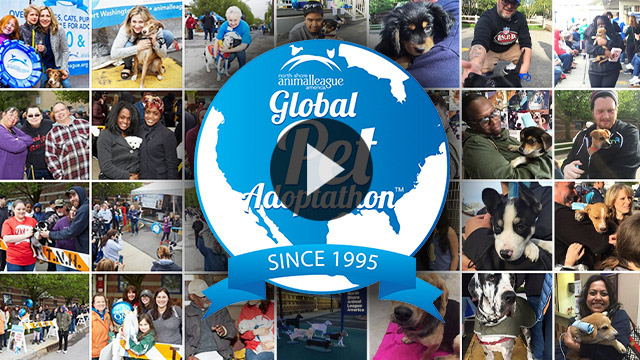 Hours &amp Directions
Get Pre-Approved & Save
Hours & Directions
Adoption Center
25 Davis Avenue
Port Washington, NY 11050
516.883.7575
Adoptathon Hours:
Saturday, May 6th at 9:00am to Sunday, May 7th at 9:00pm
Directions:
By Car Take the Long Island Expressway (I-495) to Exit 36, Searingtown Road. Go North approximately 4 miles on Searingtown Road (Searingtown Road becomes Port Washington Blvd. after you cross Northern Blvd.). Turn left onto Davis Avenue. North Shore Animal League America is located on the right hand side of the street at the end of the block.
By Train We are located within walking distance of the Long Island Railroad Port Washington branch, Port Washington station. Exit the front of the train station and turn right onto Main Street. Walk one block to Gino's Pizzeria and turn right onto South Bayles Avenue. Go straight on South Bayles Avenue and turn left onto Lewyt Street (about 4 blocks). Our shelter is located on the middle of Lewyt Street on the right hand side of the street.
Thank You for Registering to Attend a Pet Adoptathon Pre-Approval Day
Don't forget to bring:
2 forms of ID (photo ID and credit card/utility bill)
If renting, please bring a copy of your lease/rental agreement stating Pet Policies
If applicable, veterinary paperword from previous pets
Read our Pet Adoption Preparation tips to help you find the perfect pet.
Find A Pet Adoptathon Near You
There are over 2,000 shelters, rescue groups, schools, community groups and more participating in the 2017 Pet Adoptathon! To find an event near you, please search or browse the map within the United States via zip code. For international groups, please click here.