It's just another typical day at North Shore Animal League America. With up to 300 animals residing at our Port Washington facility at any time, it's safe to say there's always work to be done. Cages to be cleaned, animals to be cared for, adoptions to be processed – the life-saving mission to "Rescue, Nurture and Adopt" never stops.
For the last 34 years, Animal League America's jack-of-all-trades, Chris Miller, hasn't stopped either.
Her official job title is Medical Support Service Liaison, but she's much more known for her tireless work ethic and unwavering passion for the Animal League's no-kill mission. Since 2000, Chris has been stationed in the rescue/intake building, better known as The Lewyt Ark, but the odds of finding her in the office would be that of hitting the lottery. The long-time Animal League veteran spends most of her day dealing with anything and everything that's medical related. She might be in foster care checking in on a new mother dog and her puppies, in the isolation units tending to sick animals, or cleaning cages, doing laundry or making room for yet another rescue transport in the Ark; there's no telling where you might run into her.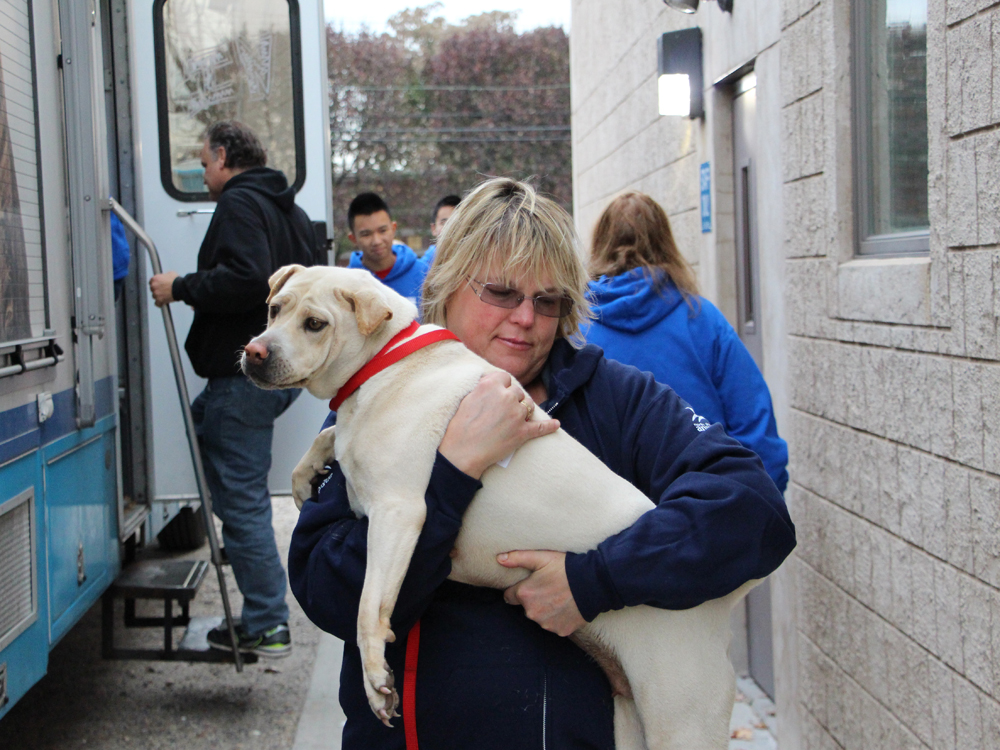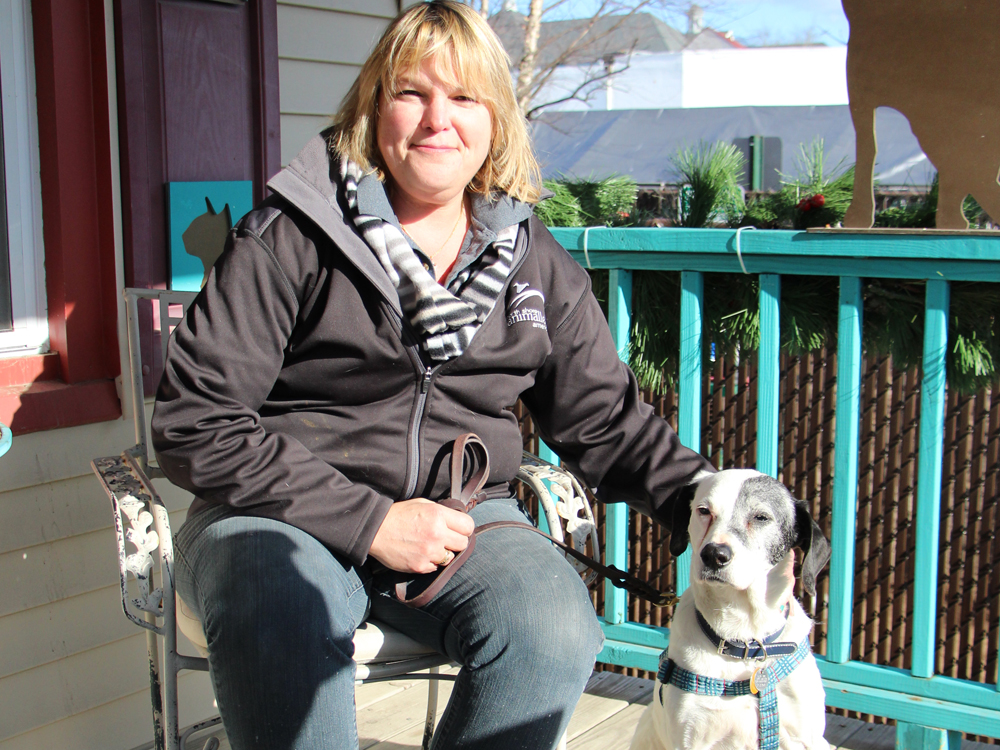 "It's definitely a physically demanding job, I'm not going to lie about that. Most days I'm not in my office for more than a few minutes and I'm eating lunch on the run," said Chris. "But if I'm exhausted at the end of the day and my feet are throbbing, it means the animals are taken care of and I did my job."
Chris' journey at the Animal League began in 1980 as a part-timer in admitting. By the end of the week, she was promoted to a full-time position, and the rest is history. Over the past three and a half decades, you could say Chris has held her fair share of positions, each seemingly preparing her for the next phase of her career. She's held so many positions over the years that her resume goes on to read like a never-ending scroll of job titles. It's been the years of hands-on experience that has helped mold her into one of the many vital assets the Animal League relies on to carry out its life-saving work.
"I've worked with Chris for a very longtime and she's always been a step ahead on everything we encounter here. She is a fountain of knowledge and enjoys sharing it with other people," said Sylvia Ottaka, Senior Director of Operations. "She is the person I will ask to team up with a new staff member or volunteer because I know she will take her time to teach them everything they need to know about shelter pets."
It wasn't difficult finding people around the Animal League who wanted to share their professional experiences about Chris. She on the other hand would prefer to talk about anything but herself. Those who know her well wouldn't call her shy, but patting herself on the back for work she considers her life's passion isn't something she's comfortable with. She'd rather be in her jeans and Animal League Rescue shirt, getting her hands dirty caring for the animals, who truly need her help.
"This is who I am. There's nothing else for me. Caring for animals has been in my blood since I was kid," said Chris. "This isn't just a job, it's a chance to save lives and improve the lives of these animals who have had some bad luck. Being able to be a part of the transformation process and see them get adopted makes it all worth it."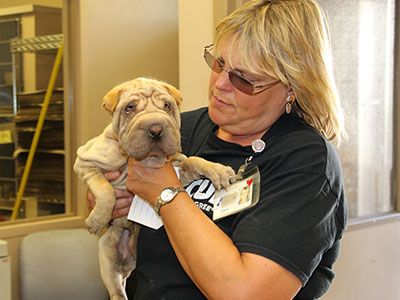 A typical day for Chris starts at 9am. Once she opens the door to her office in the Ark, she's all business.  After tending to Ivan and Domino, the two senior dogs who have become her unofficial office pets, Chris makes her rounds through the facility. She checks in all 10 of the larger dogs that stay predominantly in the "run" of enclosures in the front of the building. These are the longer tenured dogs, who have remained at the Animal League for an extended period of time after being rescued. Whether it's for medical reasons, behavioral issues, or just bad luck, these dogs rely heavily on Chris and her staff to be their main caretakers while they wait to find permanent homes.
After making her way around the rest of the building, which can hold up to 200 at maximum capacity, they begin walking the dogs and cleaning cages. Beginning with the larger dogs and eventually finishing with the small breeds, it's a revolving door of shelter pets. This process goes on for about two hours until it's time for another round later in the day. At 3pm, after Chris checks in on sick or injured animals in "med hold," it's nap time for the four-legged residents of the Ark. She shuts the lights and allows the dogs time to decompress. She uses this time to check e-mails, weekly rescue schedules, and work with the shelter managers on figuring out which dogs are ready for the adoption floor. She does this to prep for the weekend, the busiest adoption days here at the Animal League, so she can work on pairing adopters with their perfect match.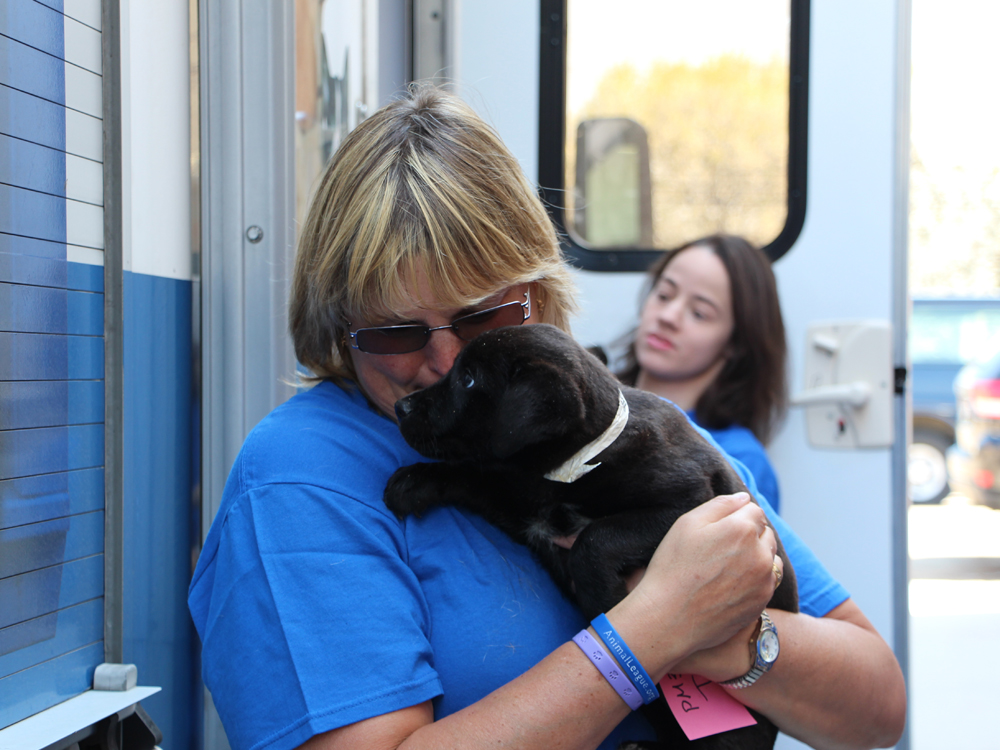 "Chris is an amazing woman, who has dedicated over 30 years of her life to the Animal League," said Shelter Director, Christina Travalja. "She cares deeply for the animals, and her passion for our mission is apparent on a daily basis."
Diane Johnson, Vice President of Medical Services, and a long-time colleague of Chris, shared a similar sentiment.
"Chris has always been a hard and dedicated worker. When I started here at the League, she was already here and knew everything there was to know about caring for our animals. She was always on top of taking care of all of the animals' medical needs. She is someone I've always looked up to," she said.
From 4:30-6pm, it's time to go through one more rotation of walks and cage cleanings before feedings begin. Then the volunteers begin carrying over dogs that were recently spay/neutered at the medical center, and Chris checks up on each one as they are brought into the building. She makes one final trip around the facility to ensure each animal is comfortable before she heads home for the evening. But, even when she gets home to her family, Chris says her mind is still with the animals.
"When I get home I'm cooking dinner for my husband and my daughter, doing laundry, taking care of my animals, checking in on my son up at college," she said. "Maybe around 10pm I'm able to sit on the couch, watch Netflix and finally relax a little. Even then my mind is racing thinking about the animals and what I have to do when I get in tomorrow. It's not something people who work here can just turn off."