North Shore Animal League America recently rescued blind Kitna and her four tiny kittens from uncertain futures at an overcrowded municipal shelter.
Kitna and her kittens were originally discovered in a junkyard, with the devoted mother nursing her newborns. A Good Samaritan brought the family to a shelter.
Sadly, Kitna is blind, and that put the sweet cat in grave danger of being destroyed, and it also meant her kittens' future was uncertain. Overcrowded municipal shelters often lack the resources to care for all the animals who enter their doors, let alone those suffering from disease or disabilities.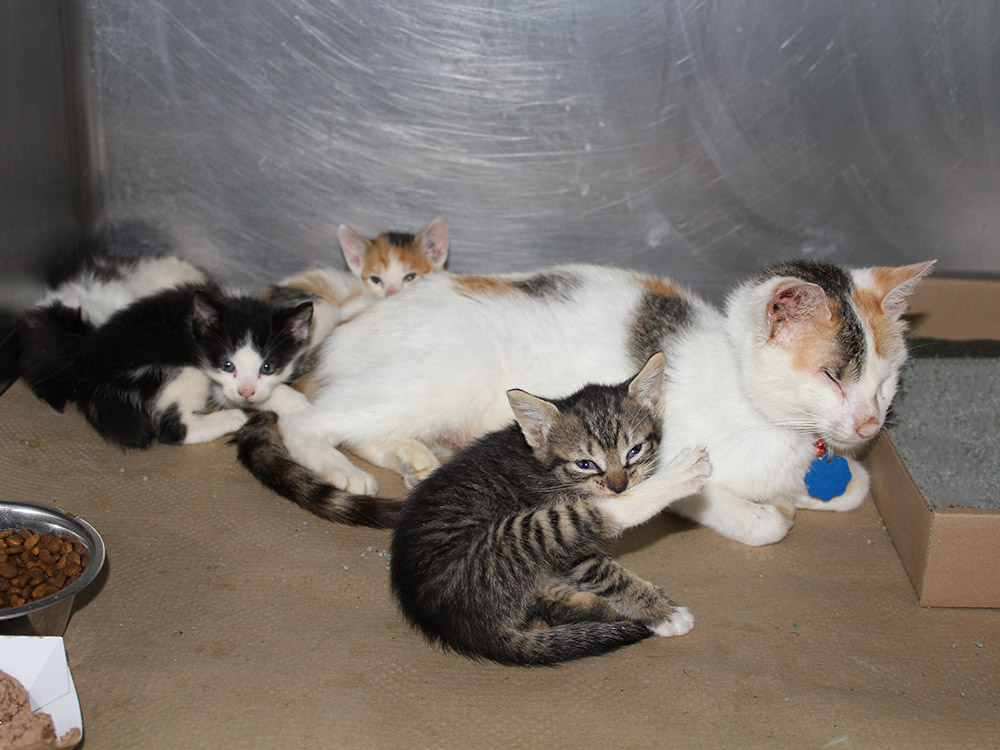 When they arrived at Animal League America, our veterinary team determined that Kitna suffers from microphthalmia, a congenital disease characterized by a small or absent small eye. Both of Kitna's eyes are affected, which means she is blind. It is also possible that the severity of her condition was compounded by trauma, but we will never know for sure.
She is not apparently in any pain at this time, but it is possible that enucleation (or removal) of her eyes may be necessary in the future.
Our medical and nursery teams have been tenderly caring for Kitna and her babies, and they are deeply moved by the mother's devotion to her young ones. Despite her disability, she is a very loving and attentive mom, and the kittens are flourishing. We are diligently working to help Kitna stay strong.
Once the kittens are weaned and Kitna is ready, we will keep our life-saving promise to help them all find loving homes.
Kitna and her four adorable babies are safe in our care because of people like you, the generous animal lovers who contribute to our mission to rescue, nurture and adopt nearly 20,000 homeless dogs, cats, puppies and kittens each year.
Please donate today so we can continue to help Kitna, her kittens and all the precious animals in need like them.
Thank you for your life-saving support.
Published by Animal League America on July 20, 2013