Supporters Nationwide Join Our Virtual Celebration of Rescue
On November 18, 2021, North Shore Animal League America held the second virtual Celebration of Rescue. The celebration showcased our inspiring rescue efforts, in addition to a variety of entertainment that included celebrity guest appearances, an auction with a range of unique items and one-of-a-kind experiences, a cooking demonstration by vegan chef Matt Korsky, an original performance by The Pretty Reckless, and a video from the Grammy Award-winning band Train, inspired by Animal League America.
The Celebration of Rescue was hosted by longtime supporter Will Ganss from ABC's World News Now, who was joined by his adorable dog, Archie, a rescue from Animal League America. Making the night's specialty cocktail — Tito's Meowy Mule — was celebrity mixologist John Cusimano (The Rachael Ray Show, Board Member, Adopter). Other celebrities we heard from throughout the evening included Beth Stern (Animal League America National Spokesperson, Board Member, Foster Parent), Joe Gatto (global star of Impractical Jokers and The Misery Index, Adopter), and Edie Falco (American television/stage actress, Adopter).
The virtual format enabled 655 friends of Animal League America from across the country to participate, bid, and donate. Viewers tuned in from 41 states, and even from Canada and the UK. An inspiring evening was had by all, while raising significant support for our incredible dogs, cats, puppies, and kittens!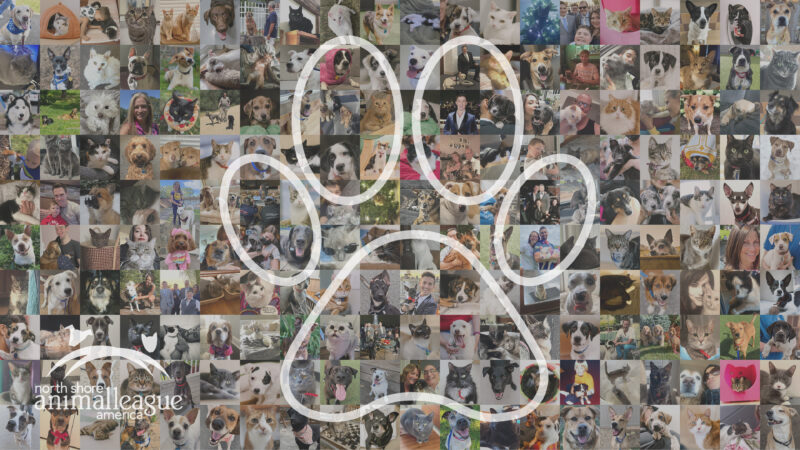 Special Moments from our Virtual Celebration of Rescue
J.John Stevenson, President & CEO, discusses our no-kill mission during this past year.
See our mission in action as earlier this year we welcomed 50 neglected and abused dogs who were rescued from Puppy Mills.
Joanne Yohannan, Senior Vice President of Operations, talks about the success of Bianca's Furry Friends Feline Adoption Center and the incredible involvement of our spokesperson, Beth Stern.
Vegan Chef and owner of Greenstreet Eatery, Matt Korsky shows us how to make a delicious sweet potato and black bean quesadilla.
Joanne Yohannan, Senior Vice President of Operations, talks about our lifesaving year in Rescue.
Collaborative rescue effort saves 150 dogs from extreme hoarding situation in Tennessee.
Learn about Aja, the resilient young mama who beat the odds and charmed hearts.
Dr. Mark Verdino, Senior Vice President and Chief of Veterinary Staff, discusses the importance of spay/neuter and our nationwide SpayUSA program.
Thank You to Our Sponsors