North Shore Animal League America's commitment to animals doesn't end when our four-legged friends are adopted. Most behavior issues and concerns can be modified and/or controlled with proper guidance. We provide affordable, quality services that can help families struggling with behavioral and training issues, or assist new pet parents looking for some guidance in raising their new canine family member.
We are currently offering private behavior consultations and training sessions with our certified dog trainers from our Pet Behavior team at our Port Washington, N.Y. campus. With proper training your furry friend will be the best canine companion they can be.
What You Will Learn
Imagine arriving in a foreign country where nobody spoke English and you were asked to perform a task based on a 15-minute lecture outlining what was expected of you in intricate detail. Are you starting to get anxious? Now think about how your dog feels – English, Spanish, Hebrew, Chinese – it's all foreign to them. He or she speaks Dog, which is a much more simplistic language. And it's a language, our Pet Behavior Team will help you understand so that your dog can communicate better with you, and you can communicate better with your dog. Depending on the behavioral issue, we can use behavior modification techniques or basic training to address your concerns, including:
Excessive Barking
Destructive Chewing
Housetraining
Separation Anxiety
Shyness and Fear
Counter Surfing
Jumping on People
Begging for Food
Pulling on Leash
You will also learn about canine body language so you will be able to better read your dog's signals preceding reactive behavior, the right kind of equipment to help manage your dog's aggression, and behaviors to teach your dog how to defer to you rather than react. We can address concerns such as:
Leash Lunging
Aggression towards people and other dogs
Food Aggression
Possession Aggression
Territorial Aggression
Body-Handling Issues
Fee for private sessions is $75 per hour.
To learn more about the Professional Behavior Training Program, call 516-883-7900 ext. 342 and ask to speak with a Behavior Specialist.
Dorit Shevach-Shani
Feline Behavioral Specialist and Enrichment Manager
Dorit has been with the North Shore Animal League America for over 16 years and has a wealth of hands-on feline experience. Throughout the years, Dorit has honed her skills in various areas of cat handling and behavior, and is responsible for writing and implementing individual feline behavior protocols for all the cats in our care. Dorit is a Certified Cat Behavior Consultant, and has successfully rehabilitated thousands of cats with behavior challenges throughout her years at Animal League America. In addition, as our Feline Enrichment Manager, Dorit ensures that all felines in the shelter experience the most happy and stable environment while they wait for their forever homes. Dorit also helps match potential adopters to the perfect cat or kitten for their home and family.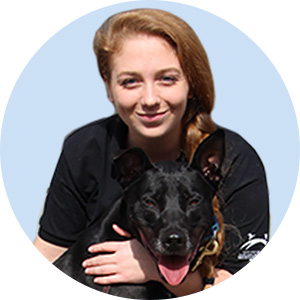 Erica Knors
Canine Enrichment Manager
Erica has been with North Shore Animal League America since 2010, first joining on as a volunteer, then transitioning into a kennel associate, and eventually a trainer. Currently she is Animal League America's Canine Enrichment Manager. In her current position she is responsible for providing enrichment activities (play, relaxation, brain games, etc.) to our canines.
"I love seeing progress when training dogs, making placements, and providing comfort for the dogs having a hard time adjusting. My favorite thing is a tired dog. I love to see them play hard, work hard, then sleep hard!"