North Shore Animal League America is proud to participate in Petplan's  fifth annual Tournament of Tails and we need your vote to win a share of the $10,900 purse, and a shot at the $5,000 grand prize!
We are among 32 shelters, rescue groups and humane societies from around the country competing in this online tourney. A Champion will be chosen from each group to go head to head in friendly "one-on-one" matchups throughout the single-elimination tournament. Fans can view the furry contenders' pictures and stories before voting to decide who advances to the next round.
No matter who comes out on top, every pet is a winner, earning their shelter a donation based on where their tournament run ends: $100 for "Terrific 32" finalists, $200 for the "Spirited 16," $300 for the "Eager 8" and $500 for the "Final Fur."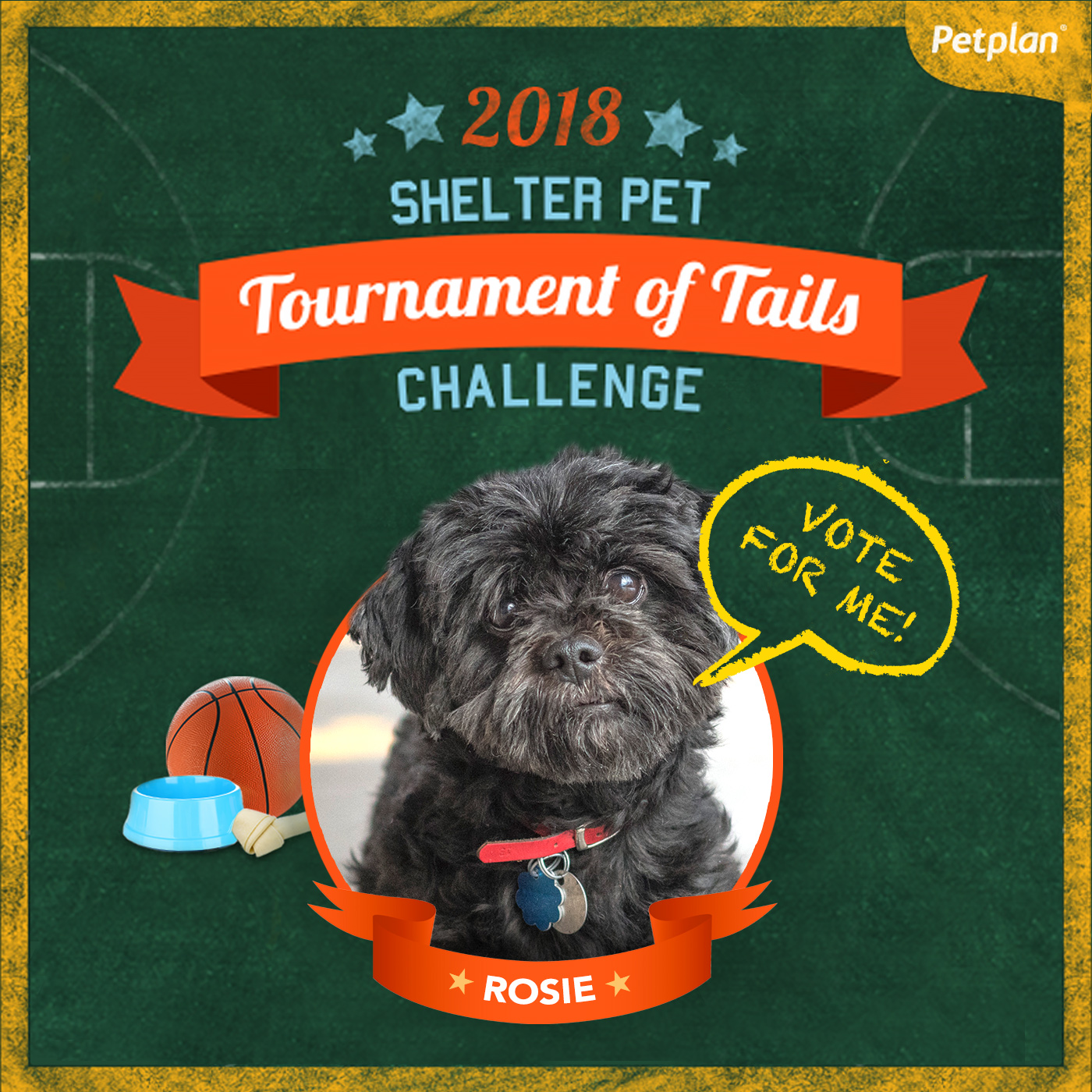 Rosie is an adorable Shih Tzu mix who was rescued from a Puppy Mill in the South, where she spent almost 10 years in the commercial breeding facility having litter after litter after litter, without even the most basic care or compassion.
Rosie's life changed when she was brought to the safety of our Port Washington, NY campus. After being examined in our Pet Health Centers Rosie was diagnosed with a fractured jaw. A tape muzzle and wire were set in place to secure her jaw into correct alignment. For the next six weeks Rosie enjoyed life outside a cage in the home of one of the dedicated members of our Foster Program. When Rosie came back, the tape and wire were removed and she has been smiling ever since!
Even though she's a senior, Rosie is definitely our MVP – Most Valuable Pup. That's why she's been selected as our Champion for this year's Tournament of Tails! When you vote for Rosie, you're voting for all her friends at the shelter and all the rescues to come.
First Round – The Terrific 32
Rosie is facing off in her first round of the Tournament of Tails. Voting will be open until 11:59pm on Monday, March 12.
Cast your vote today and help Rosie advance to the next round in hopes of making it to the Final Fur!
Petplan has built an industry-leading pet insurance policy for pet parents who demand a higher pedigree of care for their best friends. With 40 years of global experience to create completely customizable coverage pet parents can feel confident in, and world-class claims service that operates 24 hours a day, every day. As a longtime supporter, Petplan provides 30 days of FREE pet health insurance for every pet adopted from North Shore Animal League America. Pet medical insurance can help make sure you'll always be able to give your pet the best care possible.
Cast your vote for Rosie and help advance her to the next round.