Circle of Hope Membership
The Circle of Hope program is made up of a very unique and special group of people. They're special because "hope" is certainly what they have given to countless deserving animals.
Joining this vital program will show your commitment to the hands-on, life-saving mission that defines North Shore Animal League America. Join this elite group today with your donation of $1000 or more, and enjoy exclusive member benefits.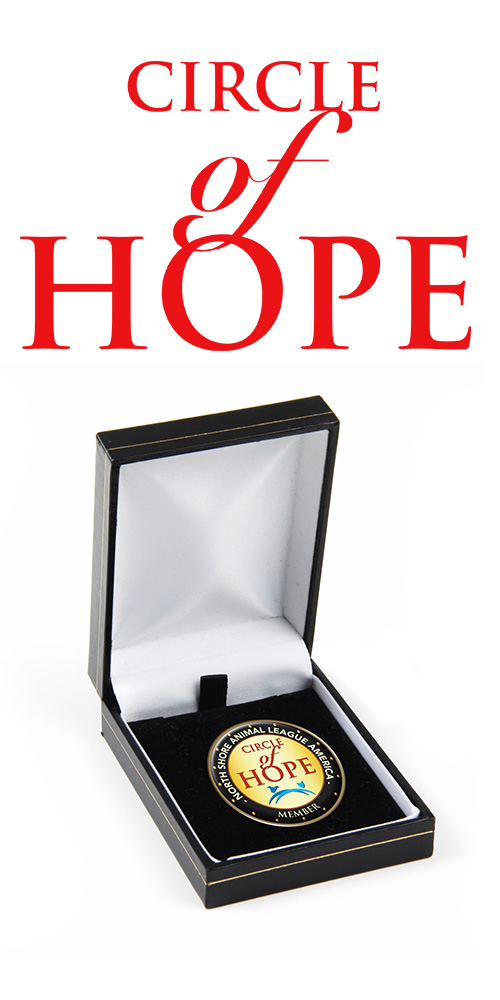 Circle of Hope Membership annual benefits include:
Circle of Hope Personalized Member Certificate, suitable for framing
North Shore Animal League America quarterly newsletter, Pawprints
Animal League America holiday ornament, annual limited edition collectible!
Private Animal League America guided campus tour, by appointment
Early Bird Discounts and advance notice to Animal League America Special Events
Preferred Animal League America Gala seating, with ticket purchase
Toll-Free Donor Services Hotline, 1 (877) BE-MY-PAL
To join the Circle of Hope with a major gift contribution or to learn more about matching our unique giving opportunities with your desired level of charitable support please:
Other Ways to Join
Contact our Major Gifts Department at (516) 883-7900, ext. 833
Email our Major Gifts Department at

[email protected]

Use the Major Gift online donation form here
Mail donations to North Shore Animal League America, ATTN: Major Gifts, 16 Lewyt Street, Port Washington, NY 11050
10 Steps of Hope
To give you an idea of how the Circle of Hope members are helping us, we created the 10 Steps of Hope, which highlights many of the activities that are making a big difference in the lives of homeless animals.
Other Ways to Join
To join the Circle of Hope with a major gift contribution or to learn more about matching our unique giving opportunities with your desired level of charitable support please:
Contact our Major Gifts Department at (516) 883-7900, ext. 833
Email our Major Gifts Department at

[email protected]

Use the Major Gift online donation form here
Mail donations to North Shore Animal League America, ATTN: Major Gifts, 16 Lewyt Street, Port Washington, NY 11050