A New Year's Resolution Change a pet's life!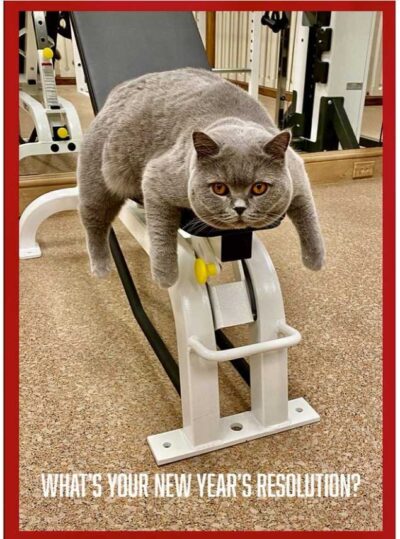 I recently saw a news poll about changing trends in New Year's Resolutions. In 2020, for example, 43 percent of those polled said they would make resolutions for 2021. This year, that number dropped to 29 percent. But some things never change. As usual, the top resolution for 2022 is to lose weight and get fit. Helen Rose may not have the best technique, but she's got the right idea.
Experts speculate that we're hesitant to plan too far ahead because of all the disruptions we've experienced with Covid. Still, despite the pandemic's ongoing challenges, we have the power to make the world better for animals in ways both large and small.
January 24 is national
Change a Pet's Life Day.
So, let's get started!
ADOPT!
Number one, of course, is adoption, especially of senior pets and those with special needs, which brings to mind 10-year-old DeeDee Sunflower, the ultimate lap cat.
She was rescued in October from outdoors where she'd been abandoned. She then spent two weeks in total isolation while being treated for hypothyroidism by Dr. Jackie at Long Island Veterinary Specialists. She was completely cured! After having eight teeth extracted, she came back to me weighing only five pounds and ready to gain much-needed weight — and to take possession of any available lap.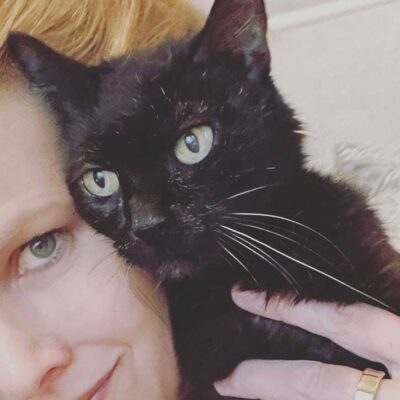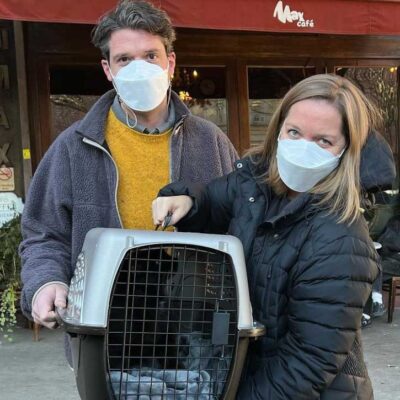 In December, DeeDee went home with the loveliest couple (above right) who clearly understand the joy that comes from adopting senior cats. Their post below says so much so eloquently.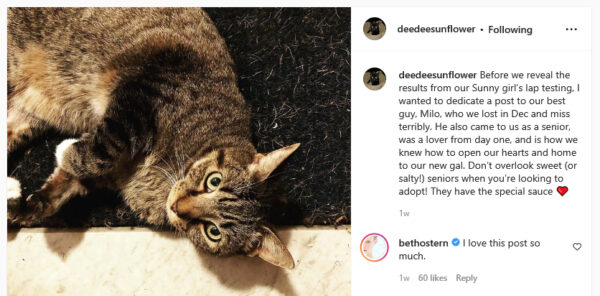 A lot of my blind fosters have found families too. It was a bittersweet moment to say goodbye to darling youngsters Zinnia and Lotus who found a home with some wonderful new humans. These two had been discovered at three weeks of age with two other kittens in a box in an abandoned house in Puerto Rico. They came first to Animal League America, then to me, and finally to a great home where they joined another perfectly imperfect tri-pod kitty named Gingerbread. My heart is full.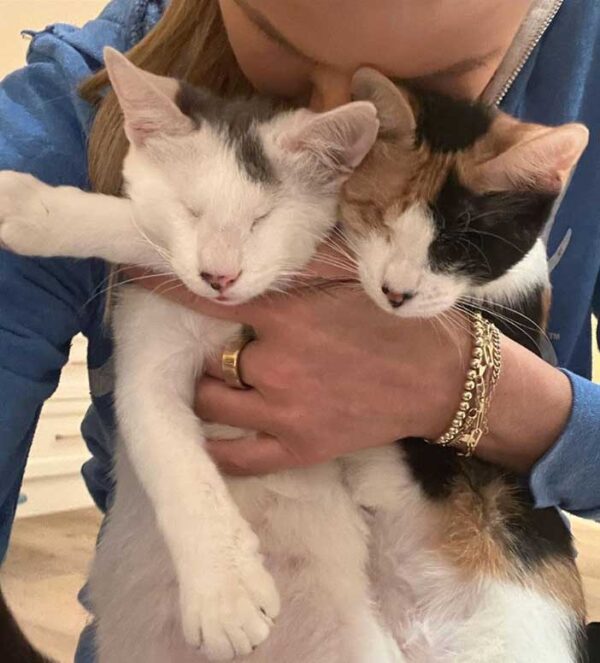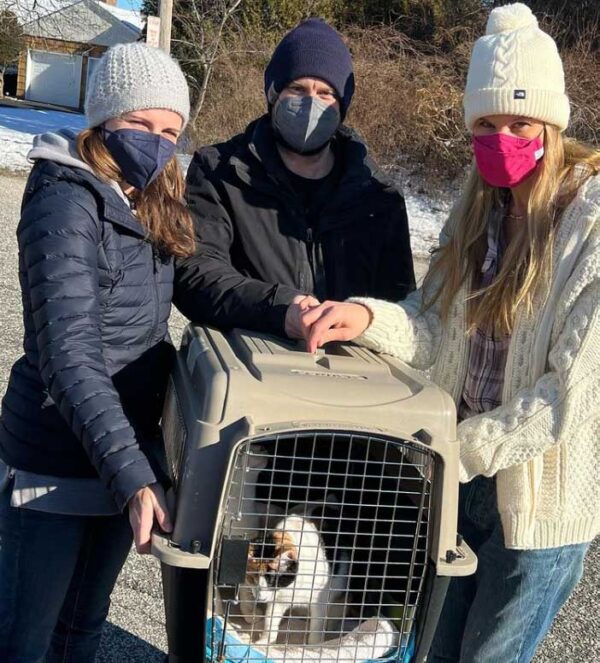 Blind Winni (below left) went home in early January. From the moment she arrived she seemed to look directly into my soul. And then there's Baby (below right) who found a knowledgeable and compassionate family to help her in her fight against cancer.
I can never say THANK YOU often enough to adopters like these who give special animals like Winni and Baby, and so many others, a chance to experience love, comfort, and happiness.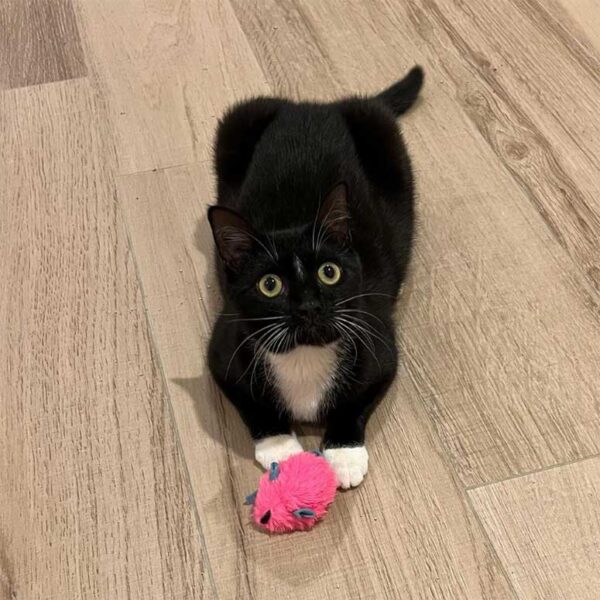 CAN'T ADOPT? FOSTER!
You know how much fostering means to me. It's my passion, my bliss, and my purpose, even though it often breaks my heart to learn about all the hurt that homeless animals must endure. For me, the only way to mend my heart is to counteract cruelty with love. That's what fostering does for me.
But besides in-person fostering, there are other ways to care for shelter pets without ever leaving home, an important consideration in these times of virtual everything. I'm talking about programs like North Shore Animal League America's Pet Sponsorship Program, which enables monthly donors to provide special needs pets with a lifetime of compassionate care, even after they're adopted! There are currently 30 cats and dogs enrolled in this program, including the newest member, Keke. Here's what my colleagues at Animal League America say about Keke:
"Keke has what is known as Mega colon. He has difficulty processing food since it doesn't go through his intestines properly. He needs a prescription diet and medications. He'll have regular trips to the vet and possibly go through hospitalizations from time to time due to his condition. You can see that Keke has 'clouding' over one eye that doesn't seem to be problematic at this time. At least he landed in the very place he needed to be: North Shore Animal League America's Pet Sponsorship Program. Now he's assured of the best possible medical care and a loving staff to tend to him and find his ideal home."
MAKE A PLAN!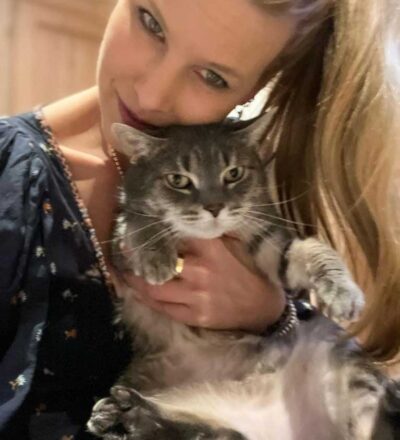 And then there's Queenie's story, a cautionary tale about the importance of planning for your pet's future if something happens to you — a concern made even more urgent during the pandemic.
This seven-year-old beauty was adopted from Animal League America in 2016. Her human passed away unexpectedly in December, and no family member was able to take her, so she returned to Animal League America, which has a fantastic no-questions-asked return policy for all their adopted pets!
So, if you possibly can (and I realize that not every good pet person has the resources to do this), please create a financial plan for your pet(s) care. Talk to your attorney or estate planner or visit the Internet, which provides a lot of advice on how to set up a trust for your pet or include him or her in your will.
In addition, some organizations provide special programs for surviving pets, including Animal League America's Safe Haven Surviving Pet Program, which is open to all pets. For details, visit animalleague.org/safehaven.
CLOSE TO HOME!
Are there things you've been wanting to do for your own pet but have been putting off until "next year." Well, next year is here. So, if you haven't already, now is the time to act. These are just a few of the ways you can resolve to make 2022 even better for your pet:
Microchip your pet.
Make that vet appointment for medical and dental care.
Keep up to date on vaccinations.
Plan daily playdates with your pet that include grooming and brushing.
Make a pet preparedness plan and bag in case of an emergency. Make sure to include IDs, vet info, a first aid kit, medications, and possible calming supplements and aids. And don't forget food, water, and even a favorite toy.
And don't neglect yourself, either. Find ways to care for yourself and renew your spirit, whether through exercise, yoga, meditation, or settling down with a good book, because taking care of oneself also benefits the pets in our lives.
Photo: NBCUniversal via Getty Images
WHAT WOULD BETTY WHITE DO?
When thinking about how to help animals live better, safer lives, ask yourself this simple question: What would Betty White do? Because for decades, this legendary television pioneer, actress, and animal lover inspired compassionate people to make a difference. When she died at the age of 99 on New Year's Eve, she left us a lifetime filled with examples of how to change a pet's life, day after day.
Happy New Year,
xo
Beth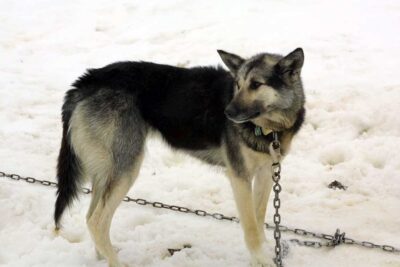 P.S. It's winter. So, keep your pets indoors. As you know, I am adamant about keeping cats indoors all the time, but especially in these frigid temperatures. And even though many dogs like a romp in the snow, dog tethering in extreme weather is outright cruelty. If you see a dog chained outside in the cold, check with your local animal control officer. New York, New Jersey, and Connecticut, for example, have laws prohibiting this cruel practice. Remember, they depend on us!