So Many Lives at Stake…So Much We Can Do April: A Month of Mixed Emotions
I love April for the cherry blossoms, daffodils, and the sense of a fresh start filling the air.
What I don't love about April is kitten season, which is in high gear everywhere, including at my house.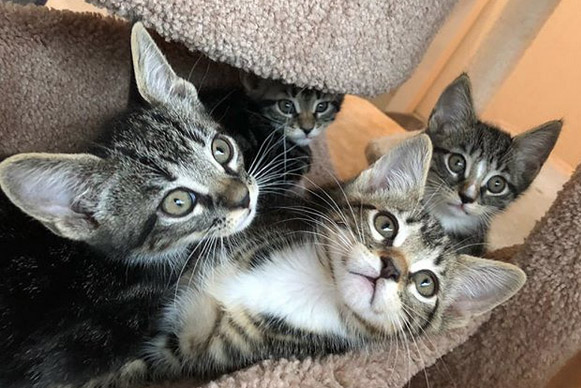 Ebbylu, Bobaloo, Toodaloo, and Timbucktoo are Mama Dulciana's babies.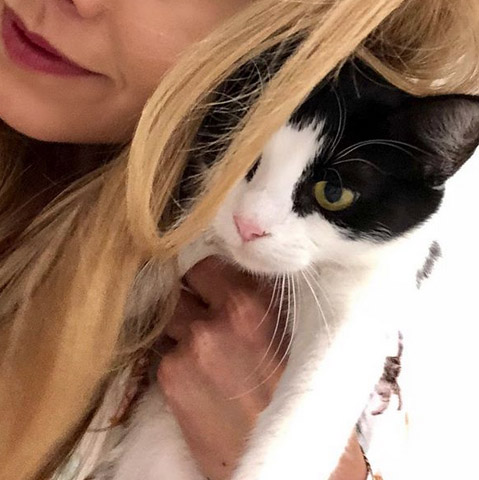 Mama Dulciana is the sweetest. Like most of my Florida fosters, she came to me from my friend Gretchen, the cop in Boca Raton who rescues so many felines. Mama Dulciana wandered into a woman's yard with a very pregnant belly. The woman could not take her in but did post her picture on Facebook looking for someone to take her before she gave birth. Gretchen met the woman and took Mama, who gave birth in Gretchen's home. Gretchen is a hero!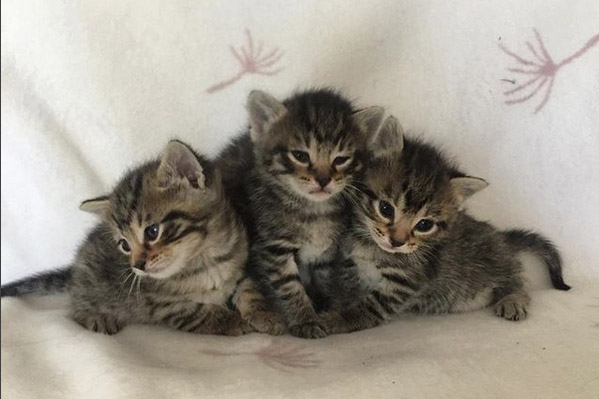 Mama Millie, who is only a kitten herself, gave birth to these three kittens, Sudan, Fatu, and Najin. We named them in honor the last three northern white rhinoceroses on the planet. Sudan, a male, died in March. Only his daughter, Fatu, and his granddaughter, Najin, remain, which means this subspecies is functionally extinct.
This news broke my heart.

Although I cherish all these nuggets, I worry about the countless others born without homes and hope. Please advocate for spay/neuter in your community. It's the only way to prevent this annual tragedy. (Visit North Shore's SpayUSA® at www.spayusa.org for low-cost spay/neuter info in your area.)
But for the cats and kittens who are here and in need, I want to remind you that April is National Volunteer Month. Volunteering at North Shore Animal League America means so much to me. In fact, it's one of the most important experiences of my life. And being a volunteer foster family has brought incredible of joy into our home.
One amazing thing about volunteering is that you can make it fit your schedule and abilities. No matter how much time you can give or where your interests and talents lie, most shelters will welcome you. And sharing your passion with likeminded people will enrich your life tremendously. Even better, you'll have a chance to see your compassion for homeless animals blossom in ways you never expected. So contact your local shelter. Get involved. It's the best "job" in the world.
I'm the first to admit that when it comes to helping homeless cats and kittens, I'm very lucky — and very grateful. Not only do I have the resources to care for many fosters, I also have a network of dedicated people eager to give neglected or abused pets another chance.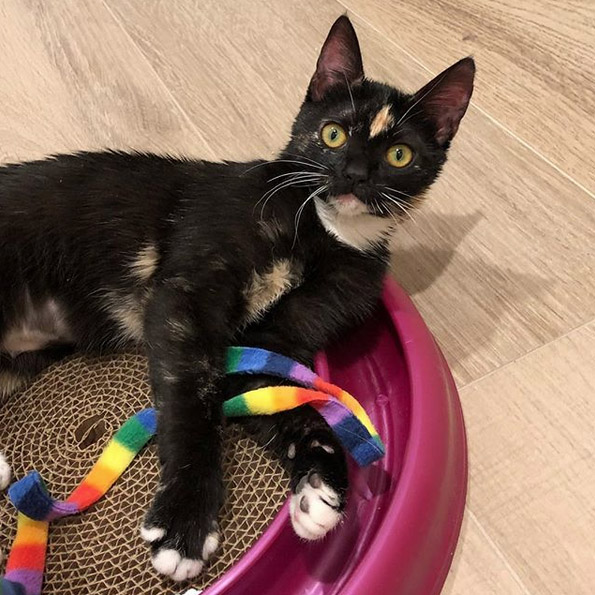 Irresistible Olive, the most interesting kitten in my world.
Speaking of lucky and grateful, here's an update on Olive. (Olivia to me!) Last month I told you about this homeless Tortico kitten who wandered into an apartment in California, was horribly abused, made headlines that appeared on Howard's newsfeed, and then made her way to New York as my personal rescue. Well, despite suffering a broken leg and serious trauma to her chest, she is a thriving, playful, loving, mischievous, perfectly healthy, spayed, and adorable kitten. She'll make someone the love of a lifetime. I'm so grateful I had the chance to help this bright spirit.
Crazy-endearing kittens are one thing; resilient adults are another. This spring I'm honored to care for several whose stories are all too similar. (By the time you read this, most will be in their safe and loving new homes!) Isabella (below left) and Picasso (below right), both 7 years old, arrived after their person suddenly passed away. No one in the family wanted them. Today they are loved by a wonderful woman and have a sweet future to look forward to.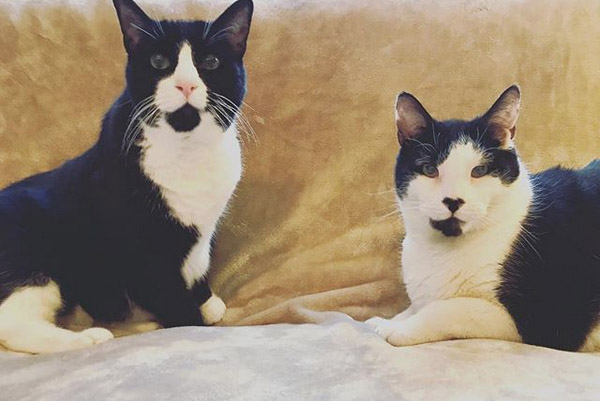 Same story for petite 8-year-old Mitsy, below. When her 29-year-old human passed away unexpectedly, Mitsy was left to fend for herself. The family did nothing to care for this beloved kitty. A neighbor came to the house and found Mitsy starving and scared, hiding in the attic. During her time with us, Mitsy was nothing short of wonderful. Now she's begun her new life with a family who will love and care for her always. Nothing is better than adopting an adult pet and giving that sweet soul another chance.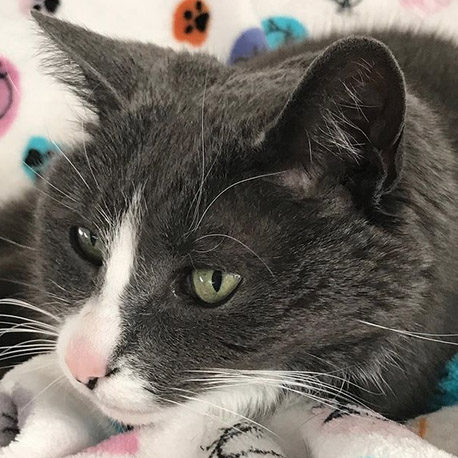 For 5-year-old Belle, below, the scenario is a sad replay: Her adoring dad died suddenly and his family took grieving Belle, a Devon Rex, to a public shelter where she faced euthanasia. Though she's a bit timid here in her new upside-down world (her two feline siblings also died not long ago), she's getting better every day. And that face! That curly coat! What a doll she is.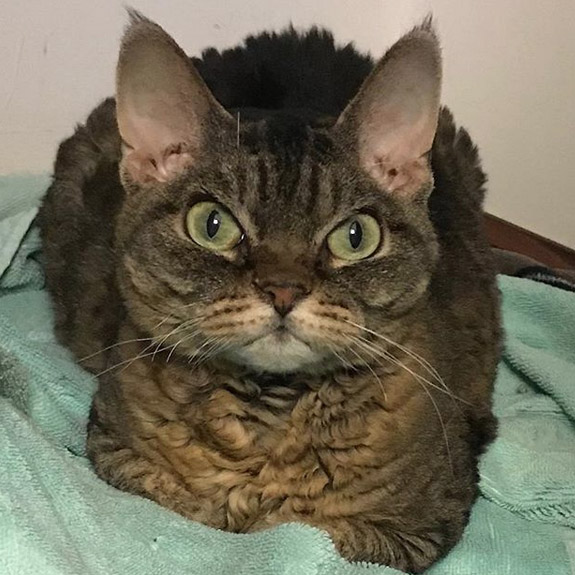 As for Max, it's a different story, but one that's all too familiar. He was found on the NYC streets, purring and rubbing up against his rescuers. Lots of scrapes and bruises on this guy and he had to have his badly damaged left eye removed, but he's a perfect gentleman, head butting and charming everyone he meets. Outdoor life certainly wasn't kind to him (or to any cats), but I believe he belonged to someone once because he's the biggest mush and only wants to be near us. We're on our way to finding Max a safe, responsible home where he can love and be loved.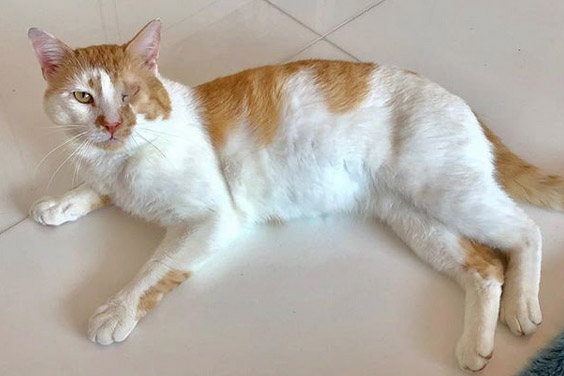 Mister Magnificent Max!
Through no fault of their own, cats and dogs like these — of all ages and in all conditions — find themselves in need of our help. The good news is that each of us, no matter our circumstances, can provide that help and make their lives whole, healthy, and happy.
First, of course, adopt, and encourage your family and friends to do the same! Right now, my colleagues at Animal League America are wrapping up their 18th annual Tour For Life®, the world's largest cooperative adoption event — 50 cities in 37 states! — with more than 500 adoptions across the country. You can read about just a few of those happy adoption stories in our #TourForLife gallery.
Next month they'll launch their 24th annual Global Pet Adoptathon® with shelter partners in more than a dozen countries on every continent except Antarctica! Just imagine, last year more than 40,000 pets were adopted worldwide during this incredible event. Learn more at animalleague.org/petadoptathon.
And on June 13, I'll join my friends on Long Island for the Hats Off to Rescue Lewyt Humane Awards Luncheon. I'm super excited about this event because I'll have a chance to answer questions from luncheon guests in a presentation we're calling Conversations With Beth. Please join us if you can and help support our ongoing fundraising for Bianca's Furry Friends Feline Adoption Center. To learn more, visit animalleague.org/lewytluncheon.
XO and Happy Spring!
Beth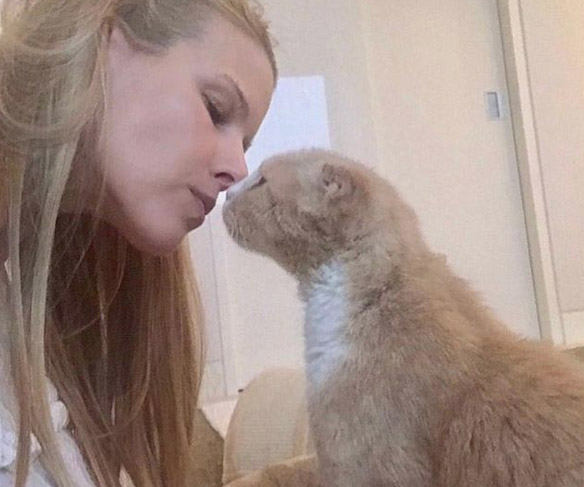 P.S. RIP Sammy Crinkles. There are some fosters who leave a permanent mark on our souls. Sammy was one of those. Sammy died on March 19 in the arms of a special family who, for almost a year, cared for him and loved him completely. He touched many. RIP, beautiful boy.