Back to School Learning how to heal the heart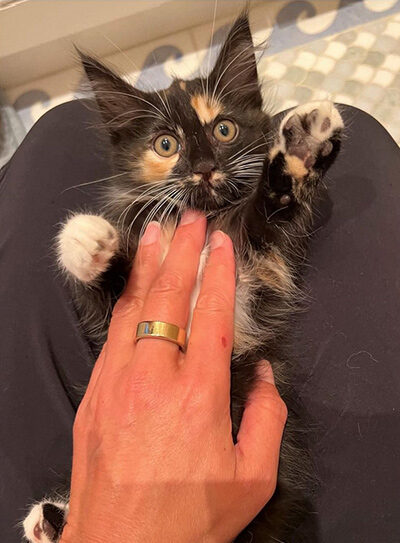 The Beth Stern Socialization School for Feral Nuggets was briefly in session again this month, and this year's freshman class was well…fresh! Still, it seemed to take no time at all for my four pupils to go from naughty to nice. I expected to collect many wounds like the one on my left index finger, but there was just the one and it healed quickly. It will take longer for these babies to heal my broken heart.
We lost our precious Grogu on the afternoon of August 4, and although I knew it was it coming, I'm devastated. That same morning, I'd taken what was to be his last photo. I didn't know it at the time, of course. How could I? But there he is, in all his floofy splendor, so majestic. My little boy. I am still numb.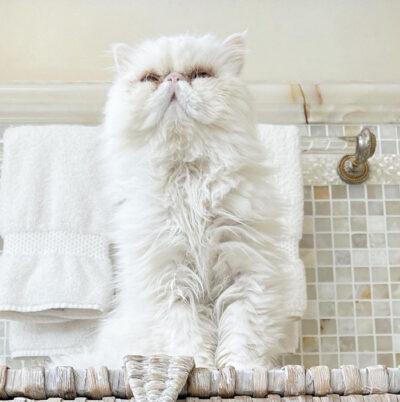 I'll never regret welcoming Grogu into our family. We knew when he arrived last October —smelly, neglected, and so badly matted he could barely walk — that he had severe heart disease and that his prognosis was not good. Still, we hoped against hope that, like Yoda, he'd beat the odds. But that was not to be, and now all I can do is wish we'd had more time to continue to love him. Howard and I are a mess.
And I'm so worried about Yoda. It was he who alerted me that Grogu was in active heart failure. He yelled for me when I was by the pool and took me to Grogu. I rushed Grogu to my vet but he died in the car. Yoda didn't want to leave the room where Grogu had been dying. They were very good friends. He's been blue ever since. Like us, he's grieving.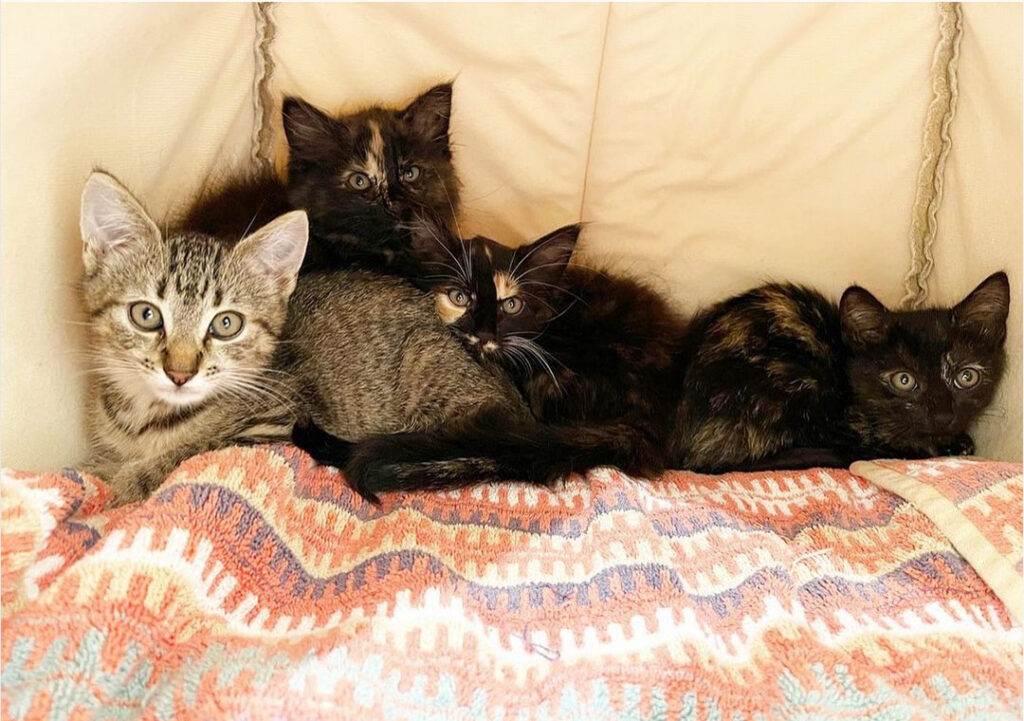 The Hamptons Four
I'm hoping that the arrival of more kittens like these in our home will help Yoda, just as I believe it will help me. Yoda loves kittens and is always eager to help me get them ready to fly. Their mama was caught as well but she is feral and she was spayed and released back to her safe outside environment where she will be fed regularly. No more kids for her. Besides this crop, we have Lucy and Lois, and Curly and Larry, plus Mama Meadow and her three cuties.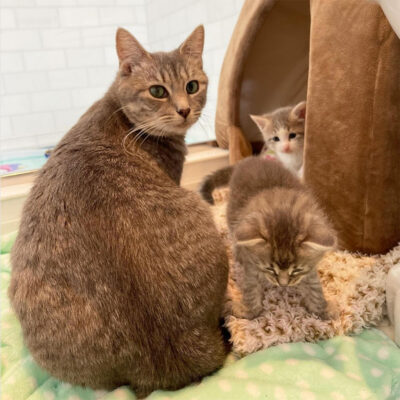 Speaking of pretty Mama Meadow, she has a dramatic cautionary tale to share. When she was admitted to Animal League America with her 9-week-old kittens, the vets examining her for her spay discovered that she was pregnant again! That's how quickly an unfixed female cat can get pregnant again. She successfully gave birth to three more nuggets and now she and her new babies are with me. Her older kittens have all been adopted into loving homes. If there ever was an argument to spay, Mama Meadow is it!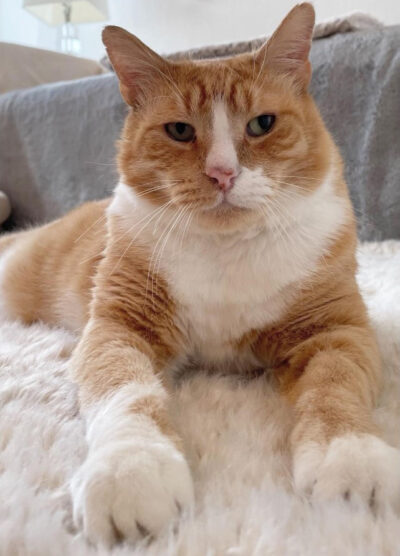 Since healing hearts seems to be the theme in this blog, I have to tell you about my longest foster to date, Sammi Sam Sam, who was with me for me for seven months. Someone callously dumped him at a horse barn, where a woman who boards her horse asked the owner of the barn if she could let Sammi stay in the barn because it was nearing winter. The barn was unheated, but better than being outdoors. When she contacted me, I sent a cat house for her to place in the barn and assumed Sammi was feral due to the fact that she said she couldn't really touch him.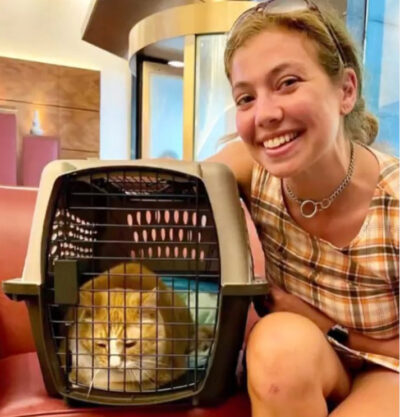 Months later, she sent me videos and pictures of her petting him. I asked her to bring him to me, and the rest is history. He was seen by my vet and proved to be heathy despite some bad breath. He had a full dental and immediately felt great. He is a quirky guy who loves being massaged, but just do not pick him up, which is what took him so long to find his special adopter. But good things come to those who wait. And even though we had to give him Gabapentin to get him into his carrier (thank you @sendkarlaandteddy), we did it and it was worth the effort. His new mom is a truly caring woman who recently endured tragedies of her own. She told me that the only thing that brought her comfort was seeing Sammi on my feed.
He's still hiding in his new home but eating a little. (He loves his food!) I knew he'd need transition time. I so hope they have a happy life together. He needed a very special adopter and I think she is the one.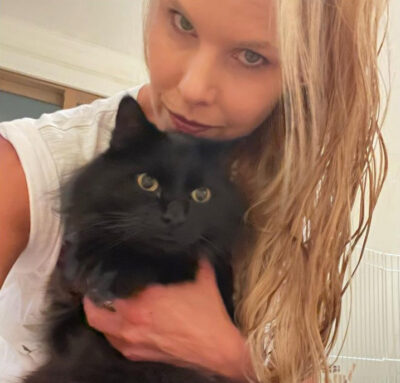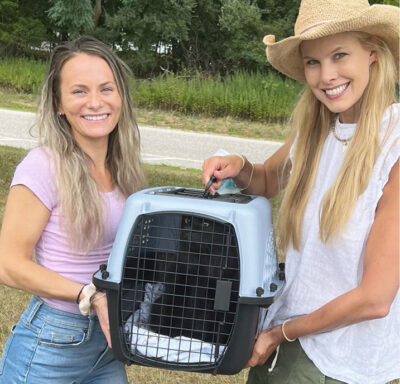 I had several other very sweet adoptions recently. Herman, my super friendly, big, loveable mush man, went home to join three "brothers," and so far the introductions are going well. I was worried that his kidney condition might mean that his new mom would have to feed him separately, but just before he left, I took him to have an ultrasound and new bloodwork to determine if his kidney values had changed. Turns out that while his numbers aren't perfect, they're nowhere near his having to be on a special diet or medications! Gosh, I love Herman so much! He's like a dog/cat. And he so reminds me of our Leon Bear whom we miss so much.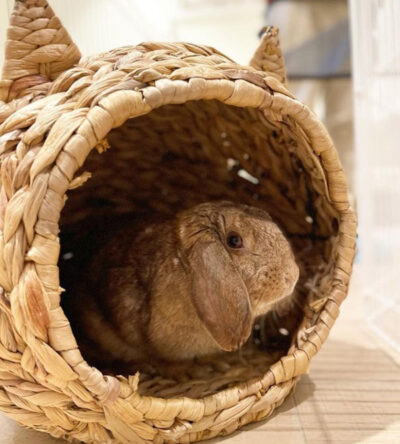 Meanwhile, I'm learning a lot about bunnies, thanks to my teacher, Jessica Rabbit. Jessica was rescued when a nice woman saw her for three consecutive days in a park and realized that she's a domesticated rabbit who should never have found herself in the wild. She was able to grab her and place her in her bathroom, and that's when she reached out to me. The next thing I knew, there was a rabbit in MY foster room.
Jessica has been a delight. We love her. I keep turning down applications for her because she's a big girl and needs a situation where she would have a lot of room, not a small hutch/cage. She is sweet and fun and active and loves watching and interacting with the kittens. She even jumps up on the furniture like a cat. She also loves her Romaine lettuce and carrot tops. And just like all domesticated animals, she craves human affection, thrives on attention, and returns love with lots of her own.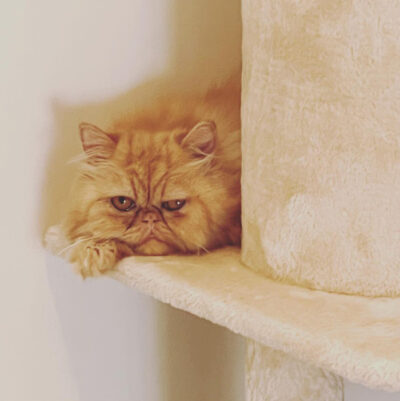 Finally, there's Lolavie, who'll need someone special to heal her little heart. She spent five long years as a breeder cat living in a cage in a horrible hoarding situation — where she never once felt a loving human touch! She was adopted from another rescue group several times but returned for being "too difficult to socialize," "too skittish," "barely in the present," and for "chronic loose poop." We have not witnessed any of that behavior and whether she's on a tummy sensitive diet or regular cat food, her poops have been perfect little logs! She's a purring little girl who loves chin scratches and back rubs. It's taken her quite a while to decide that she likes me, but she's finally following me around. She's cautious, though, and stays in a small area, even though she has free access to all the foster rooms. She is fine with kittens and loves to watch Jessica. She likes to share Jessica's room and there was never one moment I was nervous about her being aggressive towards Jessica. Lolavie will need a very patient adopter who has Persian experience. She feels safe and loved now and will soon be ready for adoption…forever this time. She deserves a home where nobody will give up on her.
So many hearts to heal. But I know that love and purpose and the bliss that comes from nurturing these valuable little lives is the heart's best medicine
We will miss Grogu forever, and he will be forever in our hearts.
xo
Beth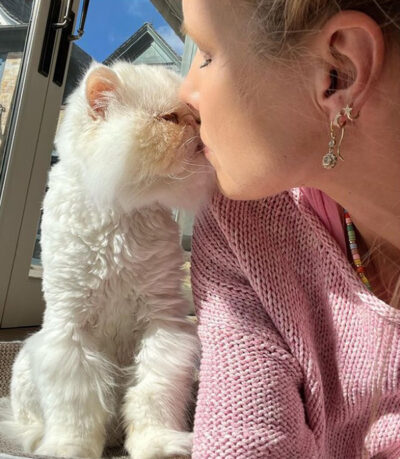 I loved every minute of being Grogu's mom.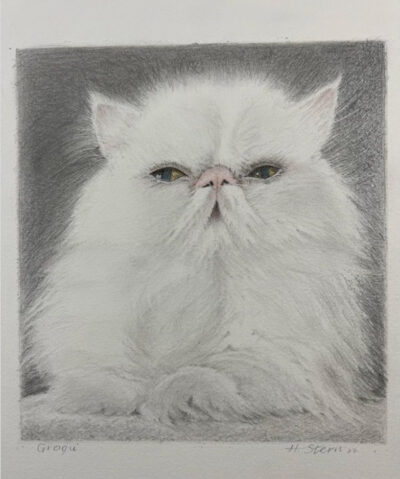 Howard's beautiful watercolor of Grogu, his gift to me for my 50th birthday.
P.S. August 22 is Take Your Cat to the Vet Day. Enough said!