A Shelter at Home
Social distancing not required
Life has never felt as fragile as it does right now. Everything has changed, and I keep wondering what the world will be like a year from now.
But it doesn't pay to look too far ahead these days, so I'm trying to stay "in the moment." And with every moment I give thanks that I'm safe in a home that I love, with Howard, our sweet resident cats, and all of my beautiful fosters. To be honest, I'm jealous sometimes of how innocent these cats and kittens are, blissfully unaware of the terrible state of the world.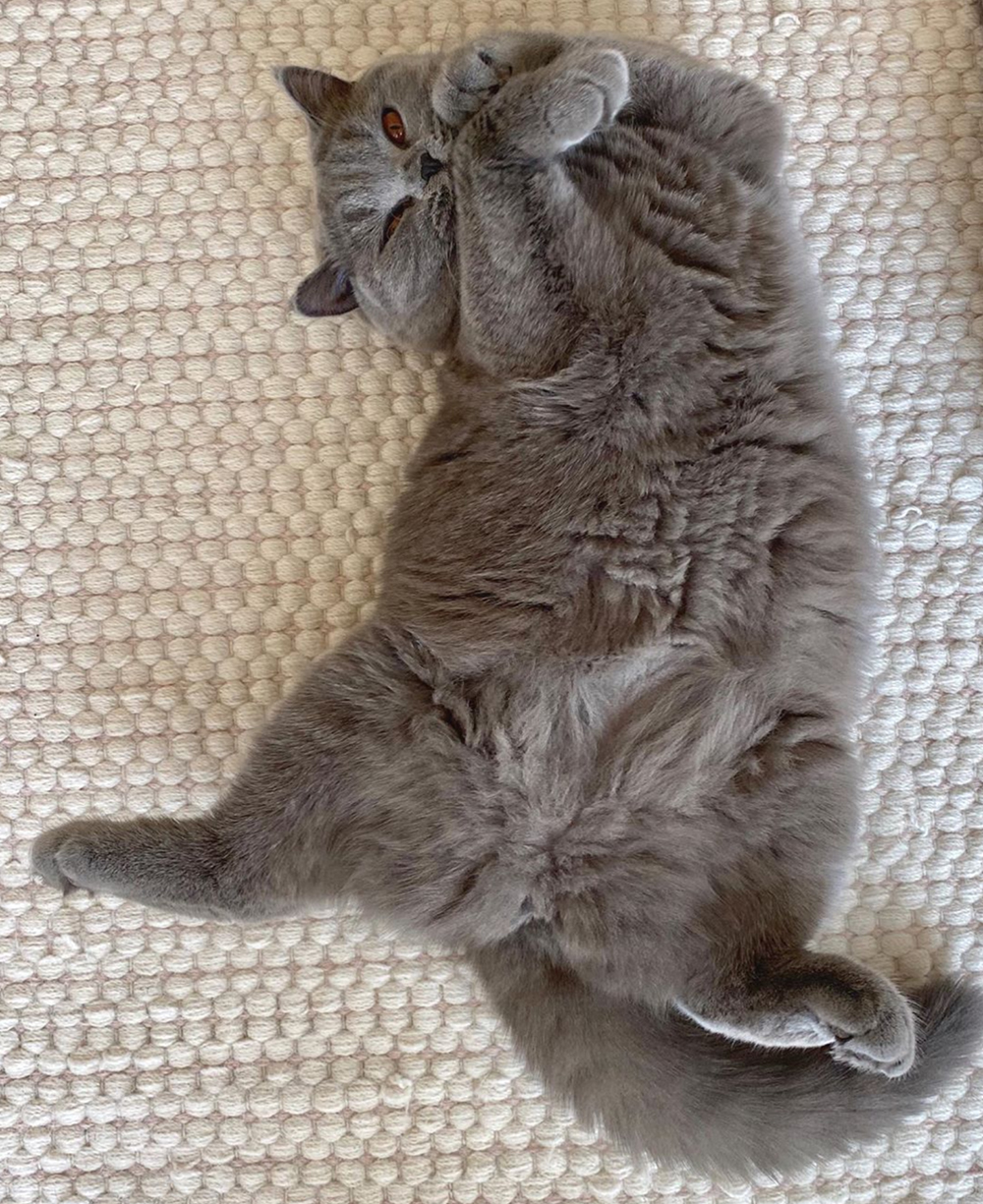 Helen Rose demonstrating the fine art of obliviousness.
Then I think of all the animals who are still in shelters, waiting for homes and families of their own. I imagine they're wondering why it's suddenly so quiet in their world. Where are all the people?
What they can't know is that the COVID-19 pandemic has forced many animal shelters to close their doors to the public and handle adoptions by appointment only. At the same time, shelters are trying desperately to cope with unprecedented challenges: fewer — if any — volunteers, cancelled adoption and fundraising events, reduced staff.
And as more people get sick with this horrible disease or face economic hardship because of so many shutdowns, many of their pets will end up in shelters.
The picture is bleak, and meanwhile, there you are, stuck at home, watching too much news, tired of organizing your sock drawer — again — and generally feeling passive and helpless in the face of this worldwide nightmare. But as grim as this situation is, there is something you can do that will help save a life and at the same time bring joy, comfort, companionship, and purpose into your home.
I bet you know what I'm talking about: Yes! Foster a shelter pet!
You might have thought about fostering or volunteering in the past but decided against it because you didn't have time and weren't home enough. Obviously, that's changed. While you shelter at home, you can turn your home into a shelter for one very lucky cat or dog. Any animal you choose to foster will deeply appreciate time with you and your family, but I especially hope you'll think about fostering an adult or older cat or dog.
I'm thrilled to tell you that my adoptions continue, even during this pandemic. Beautiful adult Shadow went to his new home on March 13. He'd been traumatized when his owner was brutally murdered in front of him. It took this gentle foster a while to recover, but fostering helped him learn to trust and love again.
For all of its stresses and fears, staying home to help flatten the curve is an amazing opportunity to do something you always wanted to do anyway — provide a temporary home to an animal in need until the animal is ready for permanent placement. And if you're thinking of adopting, fostering gives you a way to ensure a good fit. It's a real win-win.
During this difficult time, cats and dogs give all of us something positive to focus on. Their energy, playfulness, and cuddliness keep us calm while their needs and habits help us form new routines, now that the old ones are on hold. They make us smile and give our days structure. You might think you're helping an animal — and you are! — but they help us at least as much, making our lives richer and happier in so many ways. For those working from home, a foster pet makes the perfect co-worker who'll never indulge in office gossip or talk on the cellphone too loud, though you can expect adorable interruptions now and then.
And if your children are home, missing their friends and getting bored or anxious, imagine the joy and togetherness a foster pet would bring. Fostering also teaches kids great lessons in generosity, responsibility, and patience.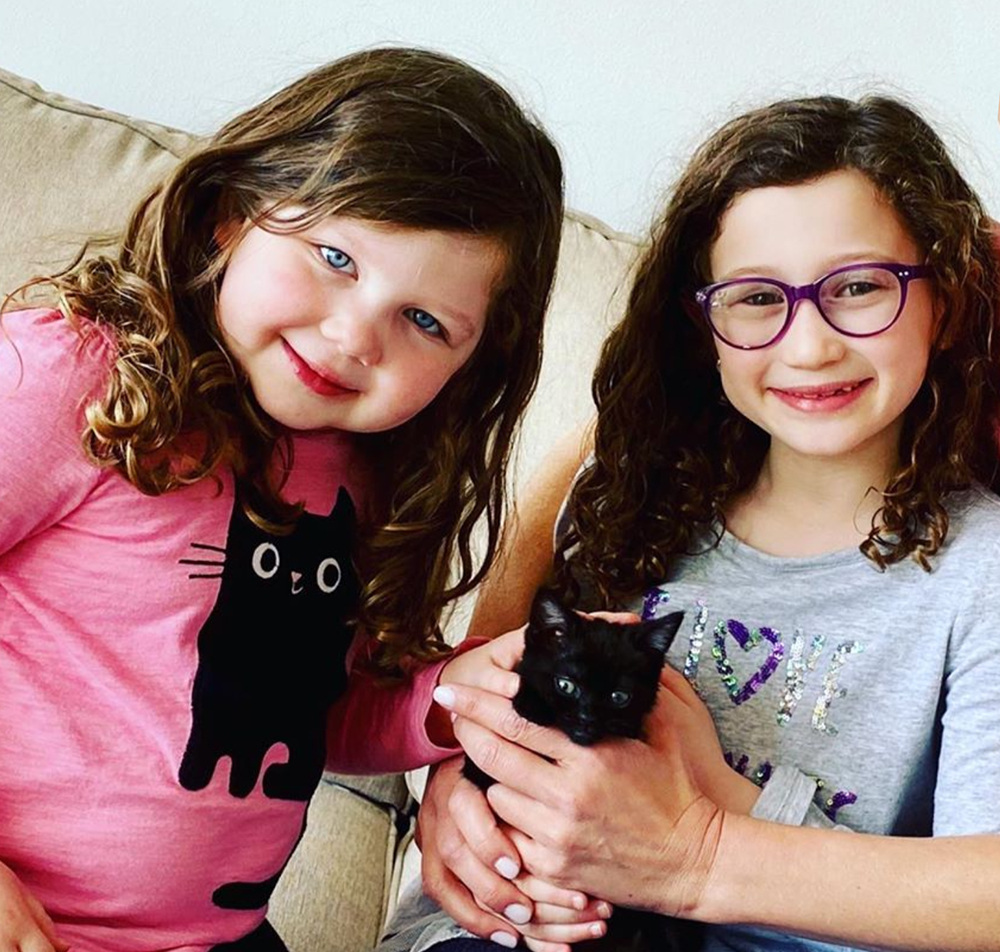 Adopted kitten Sparkle is going to make her new big "sisters" a fantastic quarantine partner.
Speaking of lessons, my colleagues at North Shore Animal League America have something wonderful to share with you. They're making their digital Mutt-i-grees® Curriculum material available for teachers and parents to download free until June 30, 2020. This award-winning program, designed by Yale University, combines humane education with social and emotional development for kids from preschool through high school. The activities are fun, and the lessons are so worthwhile. And, there's a special part of the program that I really love, called "Cats Are Mutt-i-grees 2." Find out more at education.muttigrees.org/shop.
I miss my friends and family all the time — and I miss my beautiful, vibrant New York — and I truly cannot wait for the day when I can take an Uber to meet friends at a restaurant and just hang out, the way I used to when I took such things for granted.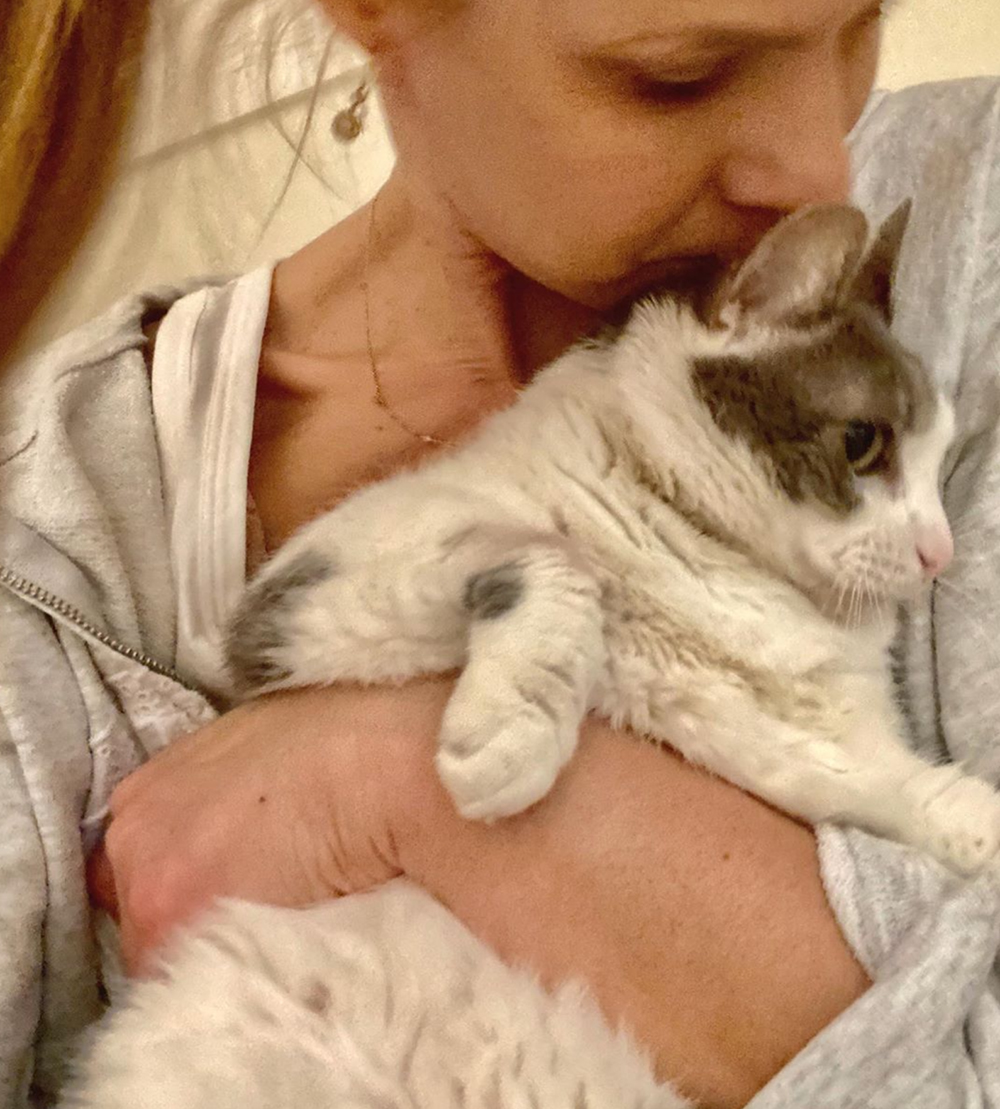 Fosters like Riley Girl inspire me with their courage, dignity, and gentleness.
I know that we'll get through this, and I believe we'll do it together. One thing that makes it so much more meaningful is the companionship of a grateful, loving foster cat or dog. Call your local animal shelter today and tell them that you're ready for some company.
Stay healthy and safe,
xo
Beth
P.S. I want to share this powerful message with you, at right, courtesy of the Monmouth County SPCA, Eatontown, New Jersey.