Beginning the Year Right!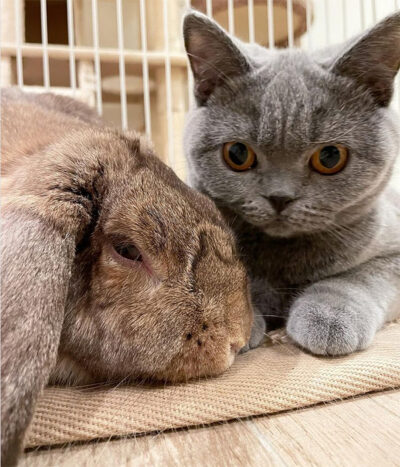 News flash: January 24 is Change a Pet's Life Day, and in my opinion, it ought to be a national holiday. Close the banks, hold the mail, and only essential workers need to show up for work. Everybody else gets a paid day off to make the world better for pets, including Jessica Rabbit and Cocomelon who, like all of our nuggets, have returned the favor and changed our lives forever.
I wish I had a magic wand or Aladdin's Lamp so I could change life for every animal on the planet. But alas, I don't, which means we all have to work hard and have great ideas to get the job done.
You might think this is too big a task and wonder where to begin. The good news is that regardless of your situation in life, you can make a difference for pets. The key is to find what works for you.
First, adopt! If you can't adopt, foster. If you can't foster, then sponsor or donate. And if you can't afford to donate, volunteer. You can also change a pet's life by helping educate your community, family, and friends about issues from cruelty to spay/neuter to veterinary care.
This year is off to a promising start for pets. Here in New York, Governor Kathy Hochul signed the Puppy Mill Pipeline Bill into law on December 15. The bill, which passed in May, will ban the retail sale of dogs, cats, and rabbits statewide, effective December 2024. I wish it were going into effect sooner — like today! — but it's a big step forward nevertheless and will spare thousands of animals tremendous suffering. (Although puppy mills get the most notoriety, there are hundreds of equally awful kitten mills in this country too!)
This historic event happened because compassionate citizens like you contacted legislators, donated to organizations fighting for the bill, wrote letters to the editor, and volunteered to do whatever local groups needed to make this change for pets. Six states have now banned the sale of pets in pet stores: California, Maine, Washington, Illinois, Maryland, and New York. Other states are working toward this goal, including Connecticut and my home state of Pennsylvania. And many cities large and small, from Carmel, Indiana, to Washington, D.C., have enacted bans, too. Wherever you live, I urge you to find out the status of similar legislation in your community. Then do whatever you can to help eliminate pet factories everywhere.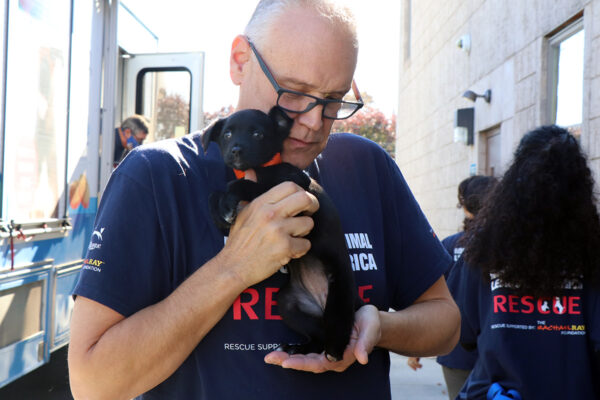 November 2022: One of the thousands of puppy mill survivors that NSALA has brought to safety since we launched our Mill Dog Rescue program in 2007. I am proud to be part of this effort.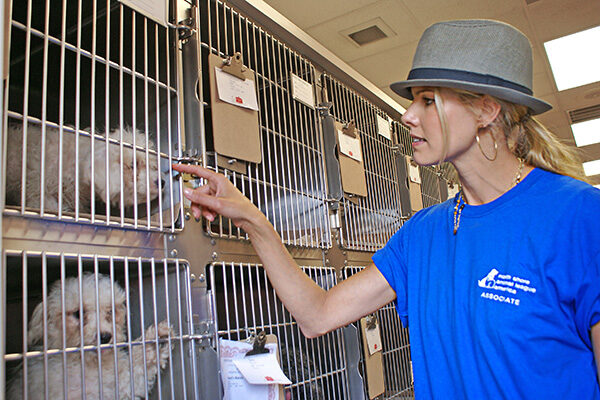 This photo was taken on August 10, 2010, when I joined my colleagues at Animal League America to welcome a group of puppy mill rescues to our Long Island campus. We've been fighting to end the cruelty of pet mills for many years and are beyond happy to see this historic legislation become law here in New York. Now it's time for other states to do the same.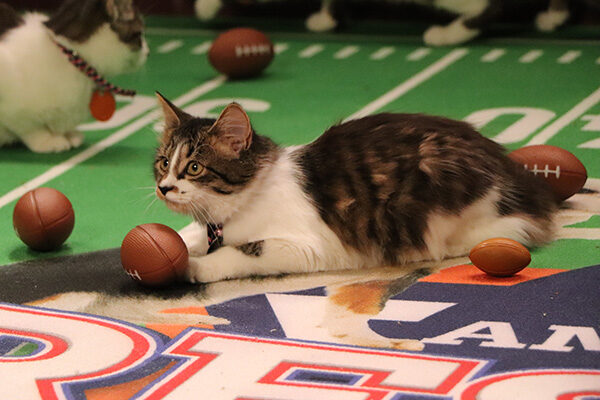 And here's some more great news: Feline Football is Back! I'm thrilled to announce that the pet-loving people at the GAC Family network will broadcast the Great American Rescue Bowl on Super Bowl Sunday, February 12. I'm delighted to be hosting this new version, which will feature not only kittens, but also dogs, cats, and puppies — all from Animal League America. Once again, my partners at NSALA worked closely with the production company to create a delightful program and to make sure that all the "players" find loving forever homes. They are also coordinating Rescue Bowl Parties with shelters across the country to generate even more adoptions. Please join me on the sidelines for the first annual edition of the most adorable sporting event of the year!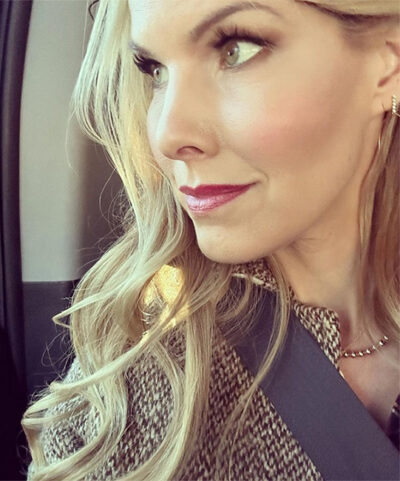 The day I pulled myself together…lipstick, blush, lashes, the works!…and headed to the shoot for the first-ever Great American Rescue Bowl. Tune in on Super Bowl Sunday, February 12, on the GAC Family network.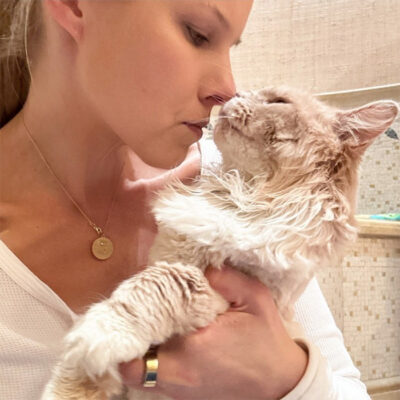 Sadly, not everything has been positive for the fosters in my life. Senior Soleil, who is 10 or 12 years old, came to me after she was found alone in a filthy, cluttered apartment where her person, a hoarder, had died. She was severely matted, flea-infested, and very skinny. After dental care, a veterinary check-up, and grooming, she is making herself at home and is beyond sweet. She has the most beautiful golden fur and the raspiest little voice. I can't explain it, but something about her makes me very emotional. I'm so grateful that her rescuers found her when they did.
If you recognize mental illness in a person who has pets, please make sure the pets are being taken care of properly. It's just so tragic.
And then there's the very special nugget Angel Taylor, a rescue from Oman. When I learned about this horrifically abused kitty who'd been beaten, lost an eye, and had her ears chopped off, I reached out to @street_cats_of_oman to ask if I could assist in her journey to much-needed medical help and a forever family. After almost 20 hours in cargo, this lovable Tortie was met at JFK by my partners at NSALA — on the very day that the amazing Taylor Swift sent a sizeable donation to Beth's Furry Friends in honor of her own birthday and to help me rescue even more cats and kittens!
And that's how a little cat from Oman got the unique name of Angel Taylor.
After being assessed at my specialist vet hospital, she came to me, and I can honestly say that I've never met a sweeter kitten. All the cats we've fostered from Oman have been special! I can't even fathom how she can be docile and loving after the abuse she endured.
I often wonder what that monster human who cut off her ears is doing right now. That hideous person should know that the animal he/she tortured is living a better life than he/she will ever have.
Sweet Angel Taylor went to her forever home with a young couple who'd also adopted another Oman kitty, and the two are getting along beautifully.
It breaks my heart — and makes me furious! — that there are so many monsters in this world. But then I take a deep breath and realize that there are so many more angels among us, people like you and Taylor Swift, who counteract evil with compassion and generosity — and change the lives of countless pets every day of the year.
I'm forever grateful to have all of you on my side — the side of the angels.
xo
Beth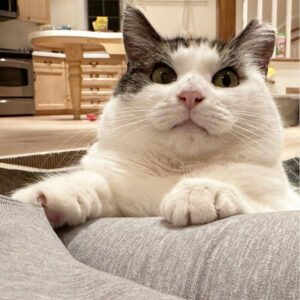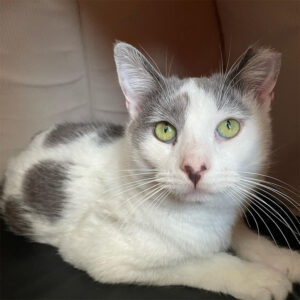 P.S. Right now, I'm caring for two fosters who have had their ears "tipped," Miss Petunia and Moby. What this suggests is that at some point, these friendly cats were dumped and found themselves in a feral colony where they were bullied and had to struggle to survive. Some people think if they release (dump is my preferred word) their cats in colonies where they're being fed, it's okay. Well, it's not okay. It's a HORRIBLE act of cruelty.
When the heroes who tend to these colonies trap cats for spay/neuter, they also have about one centimeter of the cats' ears surgically removed while they're under anesthesia to identify them as "fixed." (To be clear, this procedure has absolutely nothing to do with what happened to Angel Taylor!!!!) The people who care for these colonies are simply the best and deserve our support and admiration. So I'm thrilled to introduce you to NSALA's exciting new Community Outreach Program, which provides all kinds of training, education, and support for community cat caregivers. Please visit this website to learn more and share this information with the good people in your community who are doing this fantastic work. Miss Petunia and Moby thank you!