For Better or Worse adoption is a lifetime commitment
What were you doing in 2003? Howard and I were dating, so I remember 2003 pretty well. But two decades is a long time in any life; for a cat, 20 years is about five years more than the average lifespan. Tazz was born in 2003 probably around this time of year…kitten season…when most felines come into the world. This spring, his humans decided he was too old and brought him to a vet to be killed. Thankfully, that did not happen.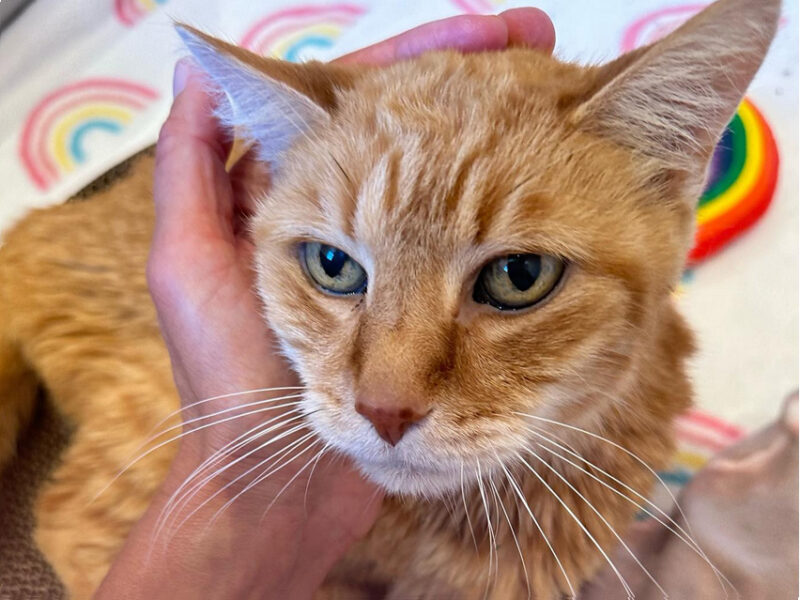 Instead, this happened: The compassionate people at an animal hospital in Miami realized that this sweet old man did not deserve to die. When I heard about him, I brought him to stay with Howard and me — and our resident cats and rabbits — until we return to New York in mid-May. Tazz does not need the stress of air travel (he's successfully fighting an upper respiratory infection at the moment), so when I leave, I'll hand him over to my fellow rescue partner and good friend Kelly, who will continue to care for and love him until we find him a forever home. (We already started his own IG, which Kelly will take over soon. @tazzconqueso).
Howard and I fell in love with him immediately, and because he came to us on May 5, Cinco de Mayo, Howard started calling him "Guacamole." Tazz has a strong purr and an adorable raspy voice, which he uses a lot. We both love chatting with him and agree that it's simply unbelievable that anyone could be so cruel to such a gentle family member at any time, never mind after 20 years!
Tazz is asking for very little from life these days: a warm spot in the sunshine, some brushing, kissing, tasty meals, and most important of all, time. He is a great house guest, perfect with his litter box, and easy to please. He's a treasure.
Tragically, I'm finding more and more people are giving up on senior pets like Tazz, and it's absolutely devastating and angers me to my core. The commitment we make to our pets must be for life — for better or worse, in sickness and in health, to love and to cherish, until death — not boredom or whimsy or arbitrary euthanasia — do us part! It really is just this serious. It's a vow, a promise, and a commitment.
I cannot tell you how many people have said to me that they would have given anything to have been able to love their beloved cat for 20 years. For most of us, a pet's life is much too short, never too long. Each day is a gift and to cut those days short…well, it's reprehensible, heart-breaking, and mind-boggling!
Obviously, we can't always predict who our pets will become once they're in our homes. You might go to adopt a new cat and meet an easy-going, lively little friend who is all adorability in the shelter. But once home, she turns into a frightened, anxious, suspicious little worrywart, and stays that way even after years of patience. Mooshu Peaches (left), for example, is still very afraid of us when we're standing and will come close only when we're sitting down. It took ages for her to allow me to pet her. And look at my Poopy Pebble Stern! So naughty but I love her so much. You end up falling in love with any quirks that make your cat different.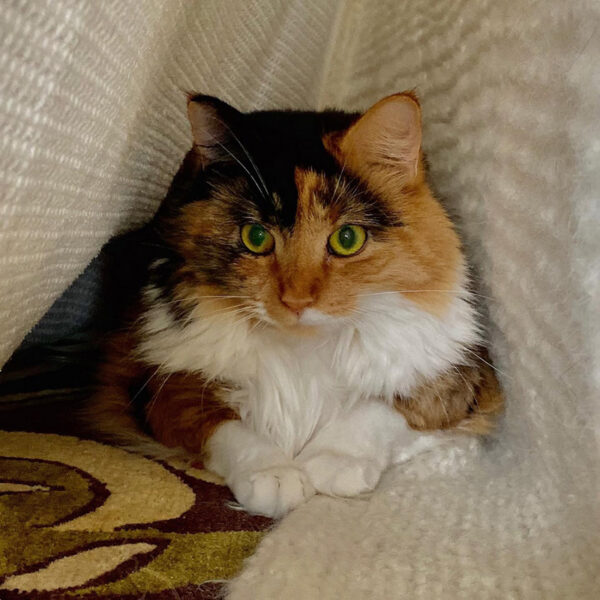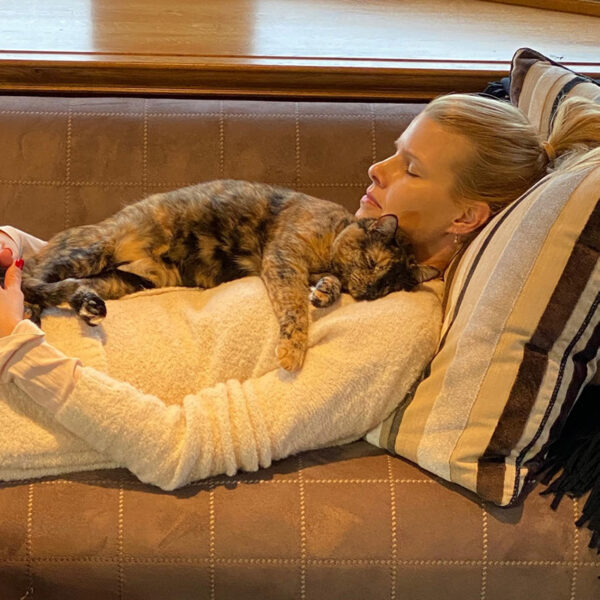 Moosh the Magnificent (above left) and Pebble,
sweet when she wants to be.
I always encourage people to adopt special-needs pets if possible, and I include pets with special emotional needs, like Moosh and Pebble, in that category. When you adopt a pet, you never really know. And if the pet doesn't meet your expectations, you might feel frustrated or even disappointed. But as the song says, "You can't always get what you want, but if you try sometimes, well, you just might find you'll get what you need." And sometimes what we need are the lessons that our pets, especially the "difficult" ones can teach us: patience, acceptance, respect for differences, and how to step back and realize your expectations can't be imposed on another being.
I also encourage people to get health insurance for their new pets. Veterinary care can be surprising and shockingly expensive, and no one wants to face impossible life-and-death choices based on finances alone. Pet insurance helps cover a wide range of medical issues and can relieve anxiety about unexpected bills. There are accident/emergency-only plans, accident and illness plans, and some that cover routine wellness and preventive care. Deductibles, limits, and premiums vary. You'll have to do some research, and you can even ask your vet for advice, but it will be worth it if your pet ever faces a medical emergency or serious illness.
I'm thinking of this in particular right now because besides being National Pet Month, May is Pet Cancer Awareness Month and Responsible Pet Guardian Month. Having lost precious pets like Yoda to cancer, I can verify how devastating this is. Being responsible for our four-legged family members who depend on us for everything means doing whatever we can to ensure their health and safety, which includes pet health insurance.
An important date on this month's calendar is May 20, National Rescue Dog Day, so I want to tell you about Kody. This guy is so special He's a gorgeous 9-year-old Golden Retriever rescued in Missouri by the great team at North Shore Animal League America. He spent his first nine years in a disgusting cage as a breeder in a horrific puppy mill. Despite his past, he's gentle and trusting but gets scared around other dogs, even if they're gentle. He's housebroken, very sweet, and loves to play fetch!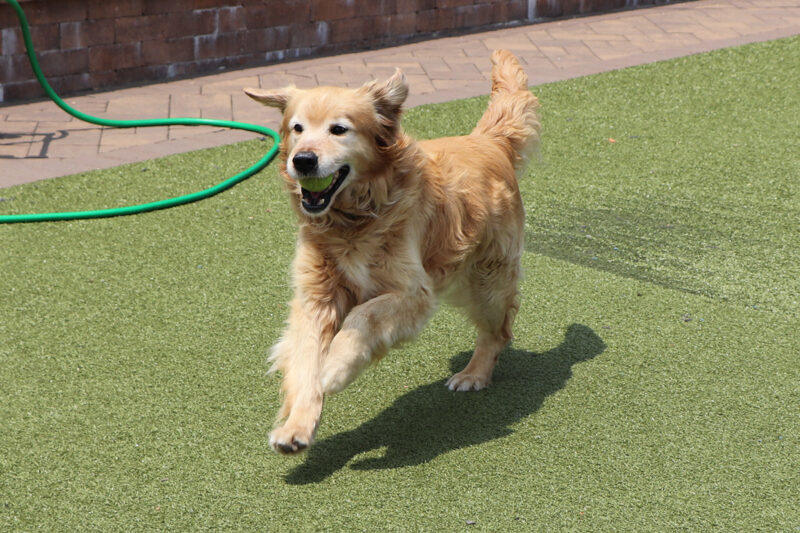 We've received hundreds of inquiries for him since I first posted him on IG earlier this month, but we're being super picky. We want him to be the only pet in the household with children older than 12, due to his flinching when he's touched, the result of trauma from being caged and treated horribly for nine long years. We want him to get all the love he's missed out on, and he absolutely loves LOVE. We also want him to have a fenced-in yard and stay in the tri-state area: New York, New Jersey, or Connecticut. We won't be traumatizing him again by flying.
I'm shocked that this one-of-a-kind gem hasn't been scooped up already, but then I think he's just waiting for the perfect home, maybe yours? If you go to NSALA's campus on Long Island to meet Kody, tell the volunteer "Beth sent you!!" or email me at [email protected] to set up a time to meet him. He is just the most wonderful, deserving dog ever!
xo
Beth
P.S. May is NSALA's Global Pet Adoptathon Month. Launched in 1995, this unique event has coordinated the adoptions of tens of thousands of homeless animals. This year, more than 2,000 shelters across the country and around the world are taking part in this incredible event. From Adelaide, Australia to Dubuque, Iowa, groups of all sizes have banded together under the leadership of Animal League America to get thousands of animals into loving new homes. To learn more and to find a participating shelter near you visit animalleague.org/petadoptathon.

P.P.S. Kitten season is here! Right now, four nursing mothers are in my home. I love them, but oh how I wish this weren't the case. I urge you to have your pets spayed/neutered and to encourage others to do the same. NSALA offers invaluable information about low-cost spay/neuter through its powerful SpayUSA program, a nationwide referral network for affordable spay and neuter services. For more than 20 years SpayUSA has helped hundreds of thousands of people find affordable, quality spay and neuter services for their cats and dogs. Spread the word, save lives, and prevent suffering.