My Special Needs Nuggets And the special privilege of loving them.
If you think about it, all of my fosters have the same special need: the need for a loving home. But some face extra challenges too. By most standards, these cats and kittens are not "normal." Something is "wrong." Amazingly, they don't seem to notice their differences. Instead they are full of life, love, and energy. I'm often moved to tears by how resilient they are and how they meet their challenges with such extraordinary grace.
At the moment, there is Ariel, a beautiful 2-month-old Tortie kitten who has a neurological disorder called cerebellar hypoplasia (CH). She and her Tabby sister, Maqueda, who does not have CH, are the babies of Mama Bessie, who came into my life in early August, and were rescued in West Virginia by my fantastic colleagues at North Shore Animal League America.
I was so excited for Bessie to deliver her babies in the "kitty birthing suite" in my home, but upon arrival on Long Island, it was clear that she was in respiratory distress and an X-ray showed she had an enlarged heart. She was rushed to Long Island Veterinary Specialists under Dr Jackie's care, where she had an emergency C-section. Poor Bessie was emaciated and horribly run down, so she did not produce milk and was on a feeding tube. She needed lots of positive energy to survive. But she recovered and thrived with my other nuggets and was adopted into an incredible, loving home.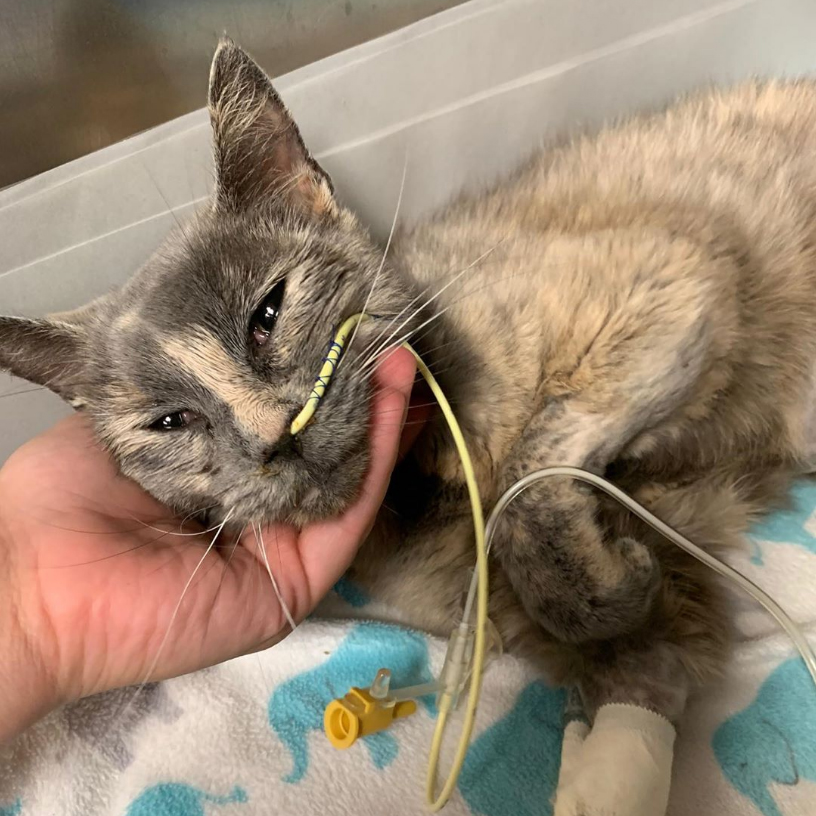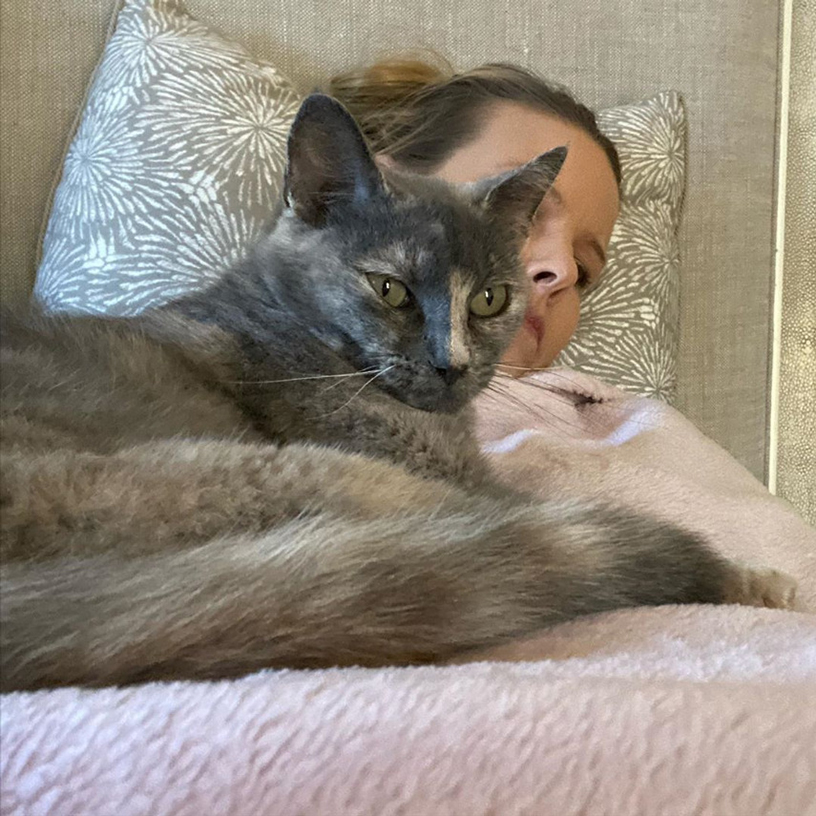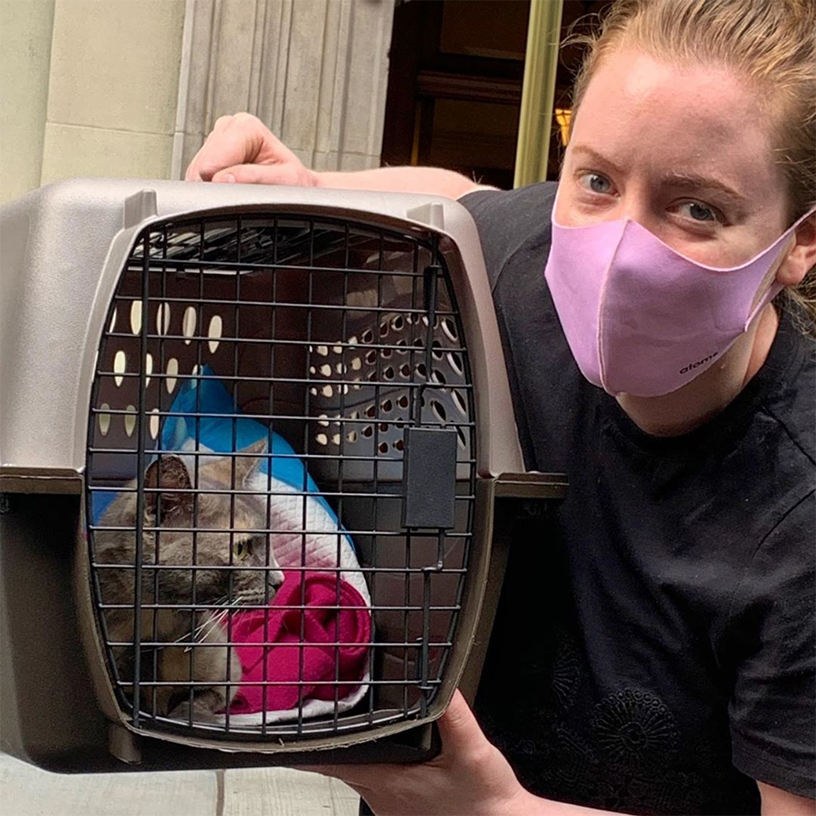 Mama Bessie's Journey, from Dr. Jackie, to me, to home!
Of Mama Bessie's four babies, only Ariel and Maqueda survived. (They're named after Dr. Jackie's amazing nurses who helped in this lifesaving effort.) Because of her CH, Ariel weebles and wobbles, and does indeed fall down. She cannot jump, and stairs are impossible for her. So the ONLY requirement I ask is that their adopter not let her use steps. Otherwise, these two mushes are the best. And the crazy thing is that Ariel uses her litterbox beautifully. In fact, of all my 19 foster kittens, she and Maqueda always have the tidiest litterbox area. Plus, these bonded sisters are the most people-friendly, happy nuggets.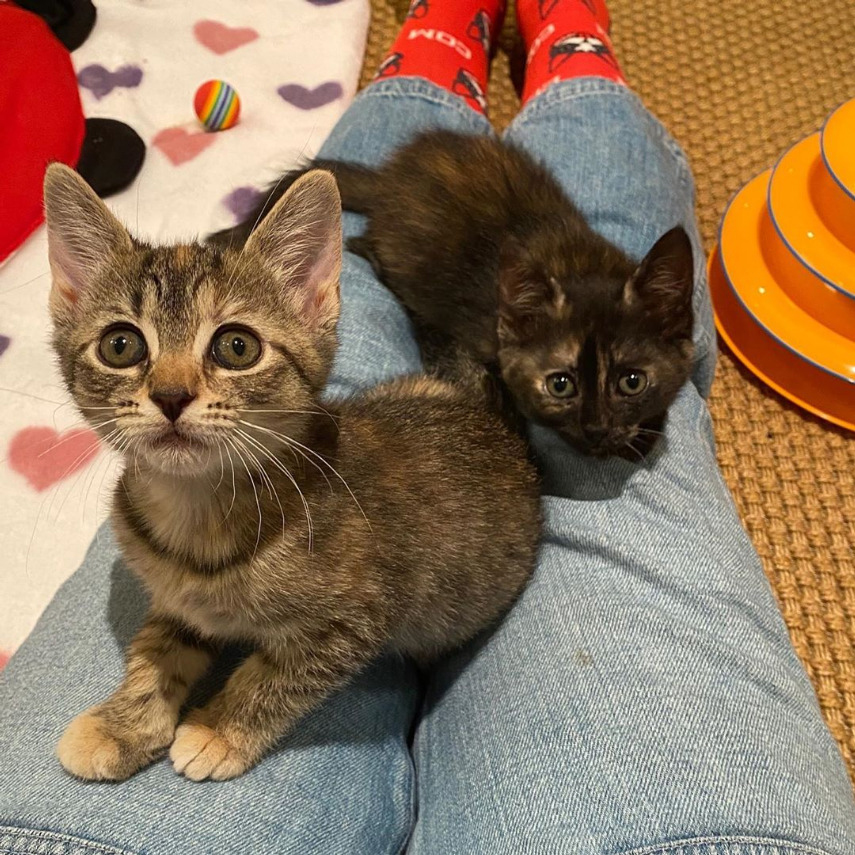 Maqueda (front) and Ariel, perfect lap kittens!
Two more special residents in my program are siblings Monkey and Bunny. These "perfectly imperfect" 5-month-old kittens were dumped on the street by their breeder because they were born with spinal cord deformities. There was a third sibling who was hit by a car and killed because she wasn't able to run fast due to her spinal deformity. How cruel can people be? Well, these two were lucky and were rescued shortly after being dumped. They are so delightful!
Despite walking a bit differently — I call it scampering and it's pretty cute — they're sweet as can be, very talkative, and require nothing special. The have great litterbox habits, are perfectly socialized, and just a bundle of fun. And they love each other, which is so touching.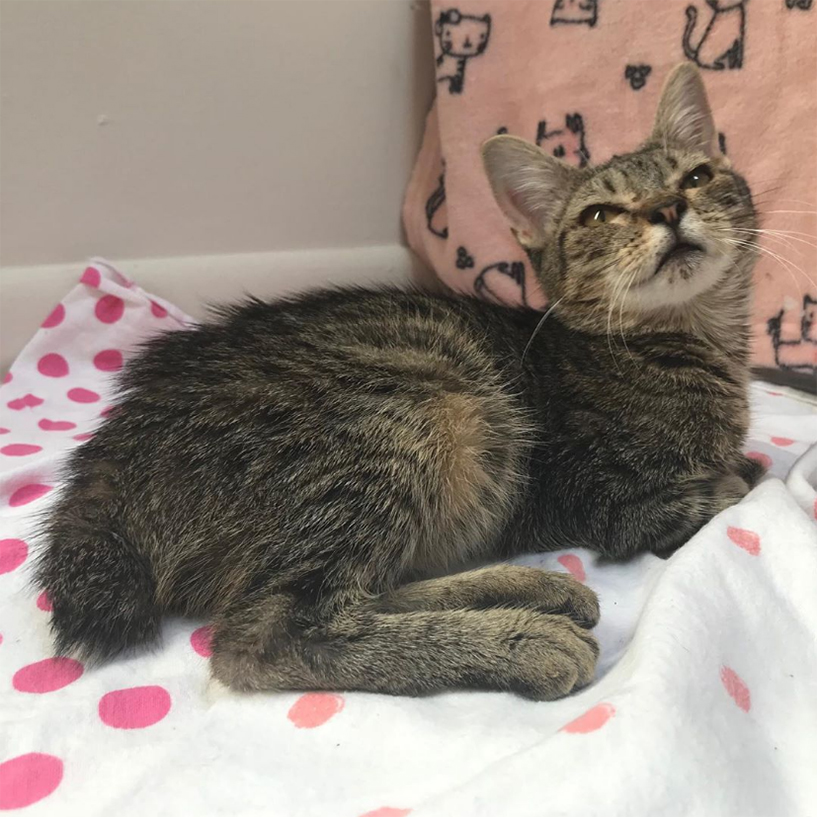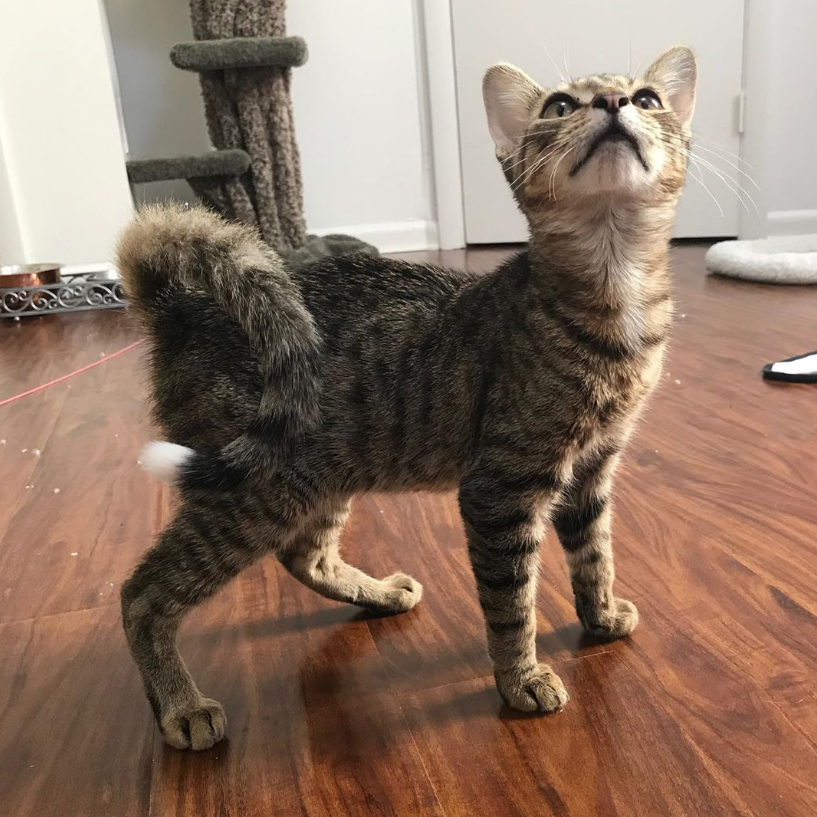 Bunny is the bob-tailed girl and Monkey is the one with the curled tail.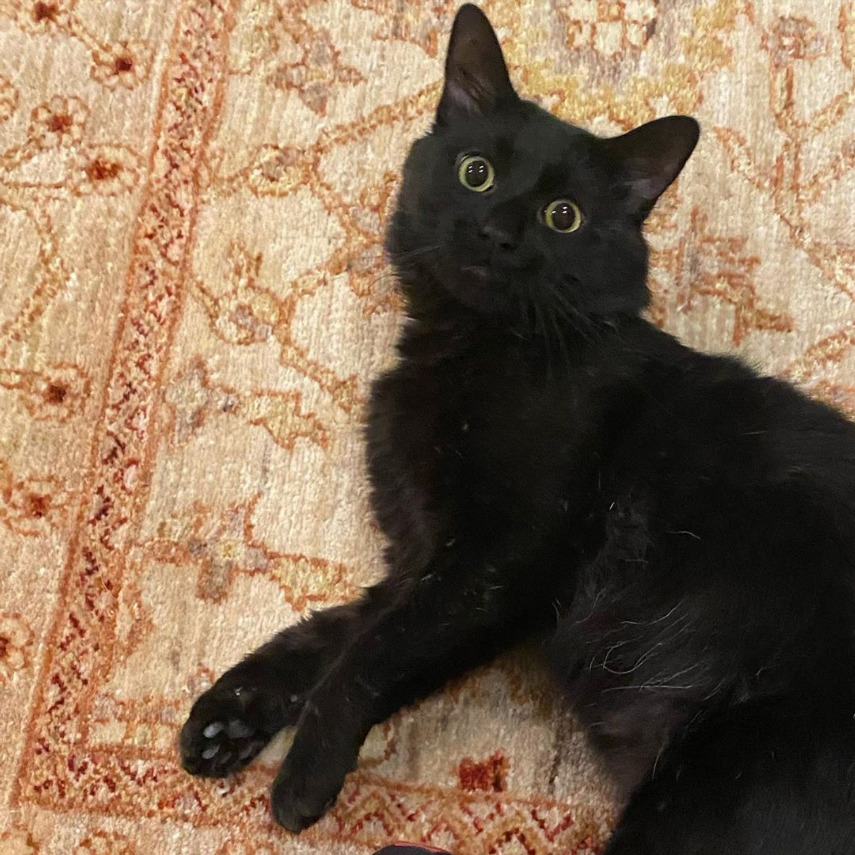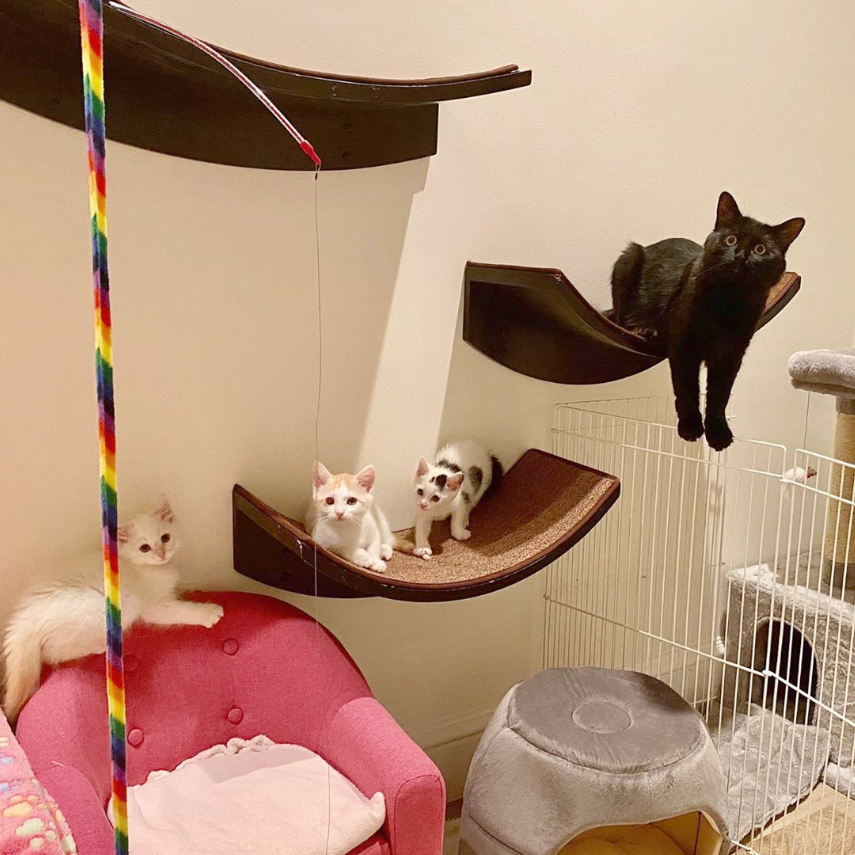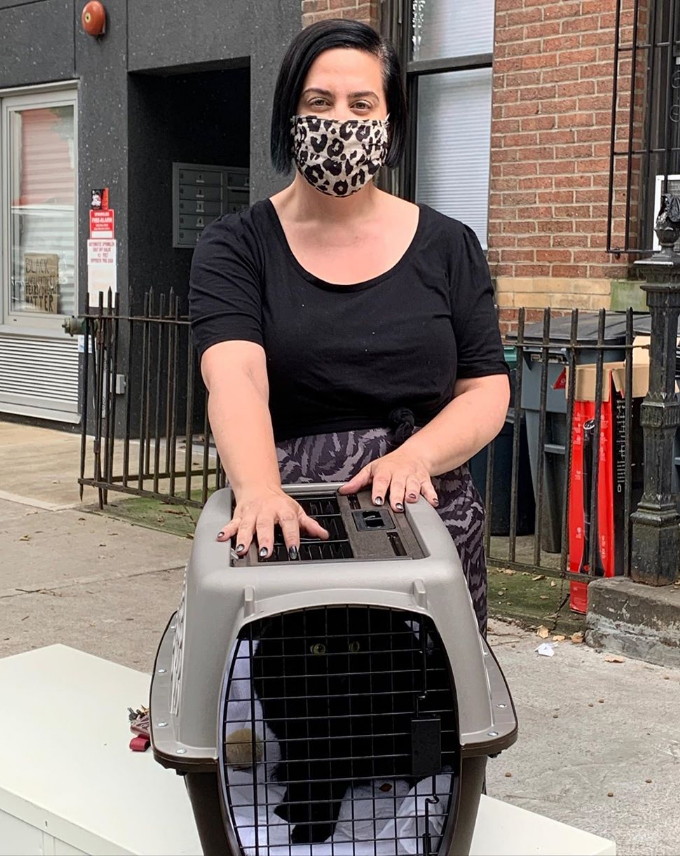 Uncle Jake, above, looking gorgeous, and hanging out with some kittens.
At left, going to his wonderful new home.
On August 31, wonderful Uncle Jake, (photos above) who loved nothing more than watching over the kittens, went home and took a big chunk of my heart with him. So what do I do to fill the empty spot? I pick up someone else who needs me. On September 4, it was a 19-year-old Calico. (I named her Grammie Sweetpea after my own grandma who loved animals so much.) This Grammie's owner had to go to a nursing home and her heartless family dumped her beloved cat at a local animal control facility. She was there for two weeks, petrified in a tiny cage between two barking dogs. (I hate to imagine their stories…) As soon as I learned about her, I had her pulled and brought to a safe and quiet space at North Shore Animal League America. It's truly shocking that a family could do this to a family member's beloved 19-year-old pet. And they didn't even tell the local animal control facility this sweet old kitty's name.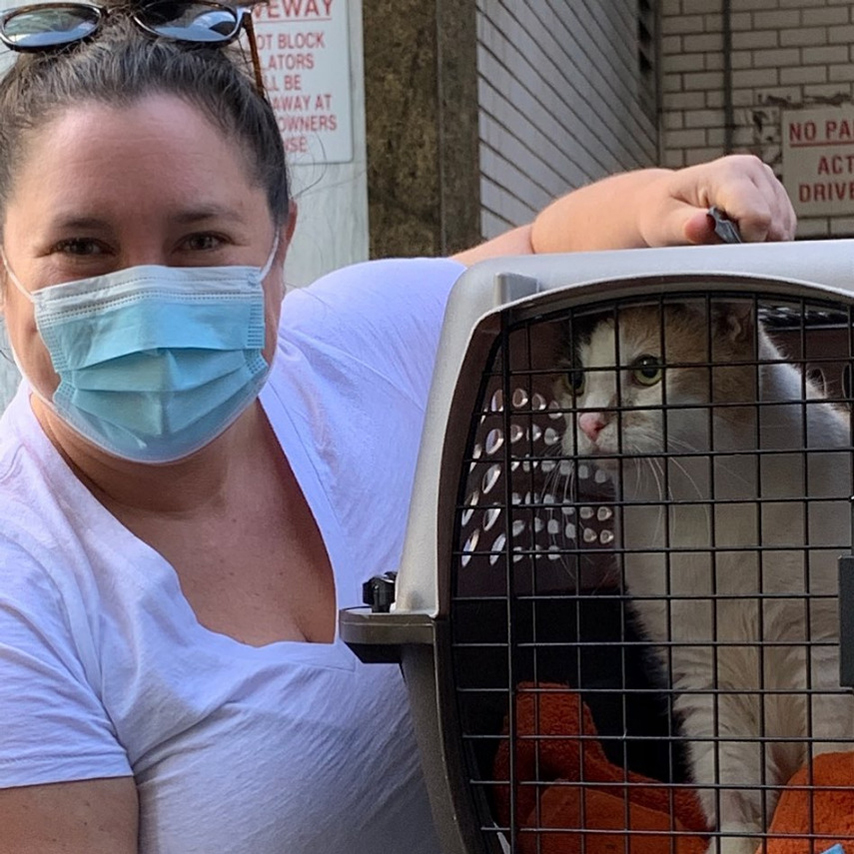 Grammie, the tenderest, sweetest of all, goes to her loving new home. Oh my heart!
She has a few medical issues and she's slowing down. Dr. Jackie removed four painful teeth as well as a small growth on her chin, and although she is definitely old, Dr. Jackie doesn't think that she's 19. She also has an inoperable mass on her side, but no matter what, she deserves to be loved to the end. She has become a favorite of my current fosters, and while she was with me, we developed a sweet ritual, where she gently taps my hand with her paw to ask me to pet her. The videos I post on IG make me want to cry…it is so sweet. And I'm so happy that she's found a wonderful home with someone who will always love her.
Franki Fluff was found alone and near death, starving, emaciated, and with horribly infected eyes, mouth, and tail. A fellow rescuer brought him to her vet who said the most humane thing to do was to end his suffering. But the rescuer recognized Franki's will to live, and boy was she right! I told her to take Franki to Dr Jackie immediately. After nearly a month of treatment, he got stronger and gained enough weight to have his one painful eye removed. He's super sweet, a complete lovebug, and he can see a little from his one "good" eye.
I posted the little guy only one time, and the number of emails I received from potential adopters was overwhelming! We chose a wonderful, animal-loving family, who named him Marvel, the perfect name for this little marvel of will and care.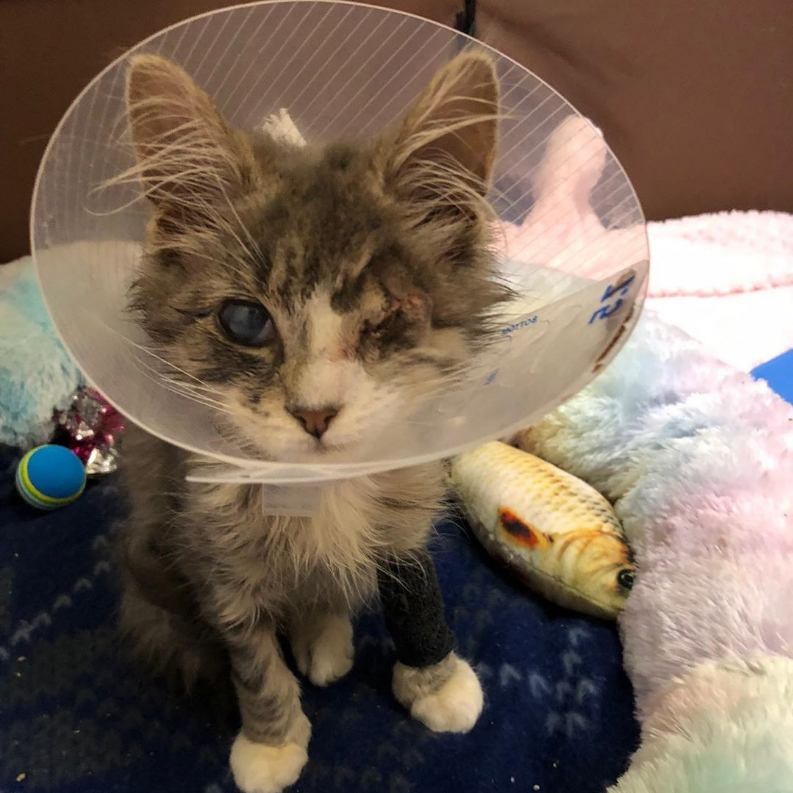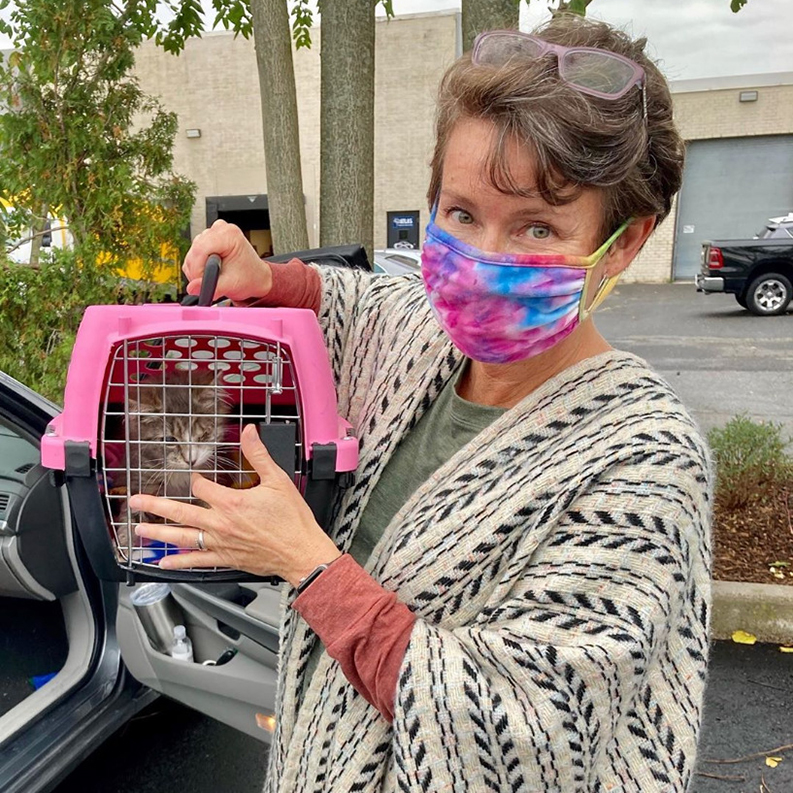 Franki Fluff, now Marvel, shows what gumption and TLC can accomplish.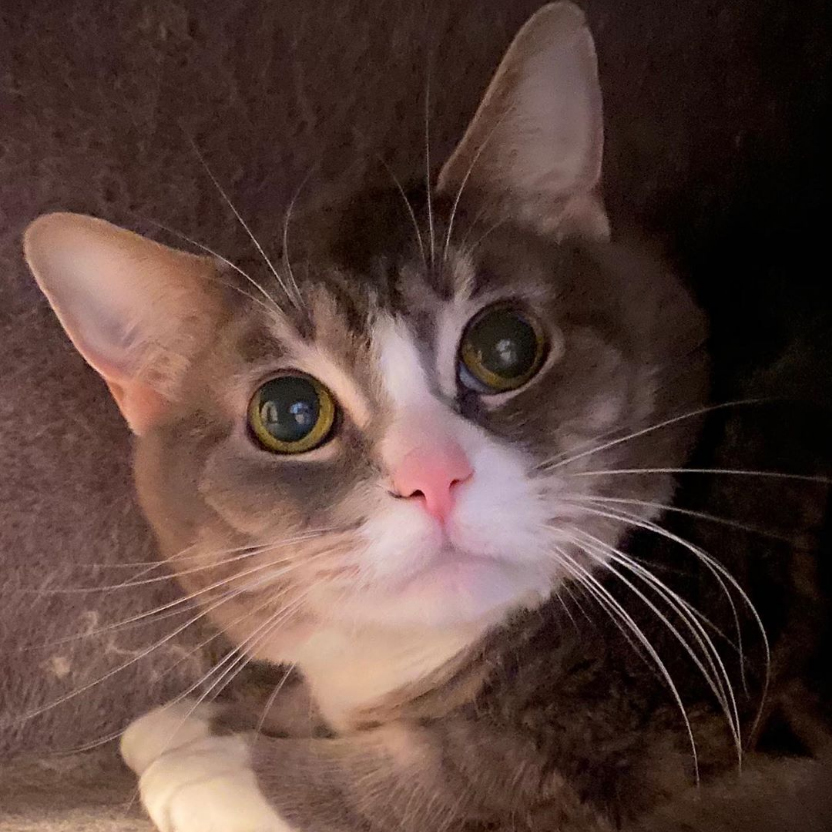 And as I write this, into my life comes Shay-Shay, (above) a 7-year-old beauty whose spirit has been broken by a family who completely neglected her to the point that she doesn't understand human love. It's almost as if she's vacant… her soul is lost and needs to be found again. It's like having a living, beautiful stuffed animal. I just want her spirit back. She has absolutely no aggression, but she does not seek human comfort. Not yet! She loves her head pets and being hand-fed treats, but only in the safety of her tent bed. I leave her food beside her "tent" and she'll eat in private; the same goes for her perfect litter box etiquette. She is totally fine with other cats (I believe she finds comfort in them). This special girl will need a patient and special adopter. What a wonderful moment it will be when she finally reaches out for love.
This is the brief, sweet story of Patches My Darling and Lilly. Beautiful Patches, age 11, was adopted on February 2, 2019, and lived surrounded by incredible amounts of love until the day she died, this past September 3. Her family decided that the best thing they could do to honor Patches was to adopt another senior kitty in need of the perfect home. So on September 8, they adopted Lilly — 12 years old, just six sweet pounds, and reeling from the death of her lifelong owner. I'm happy to report that Lilly is happily butting heads, lapping up the sunshine, and loving her new life. (Below, left to right: Patches and her adoption day; Lilly and her adoption day.)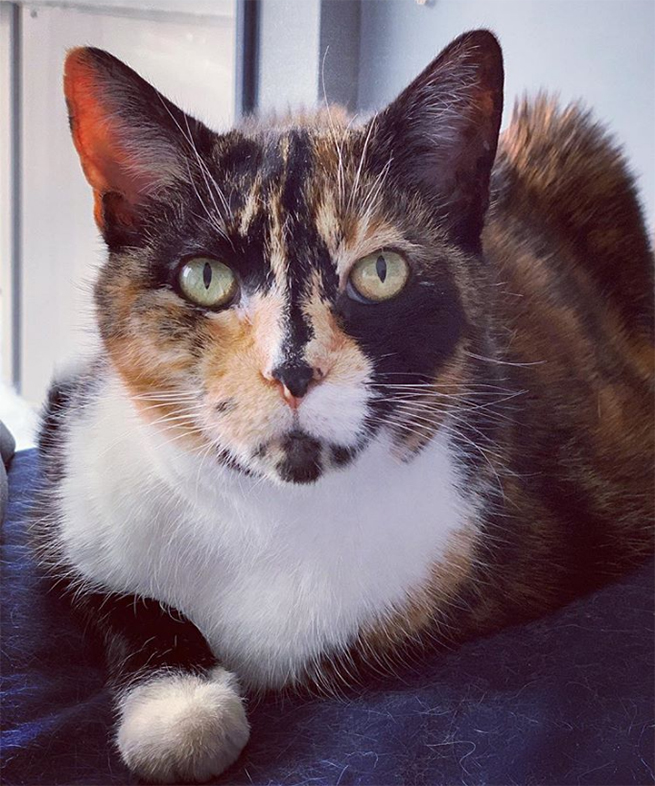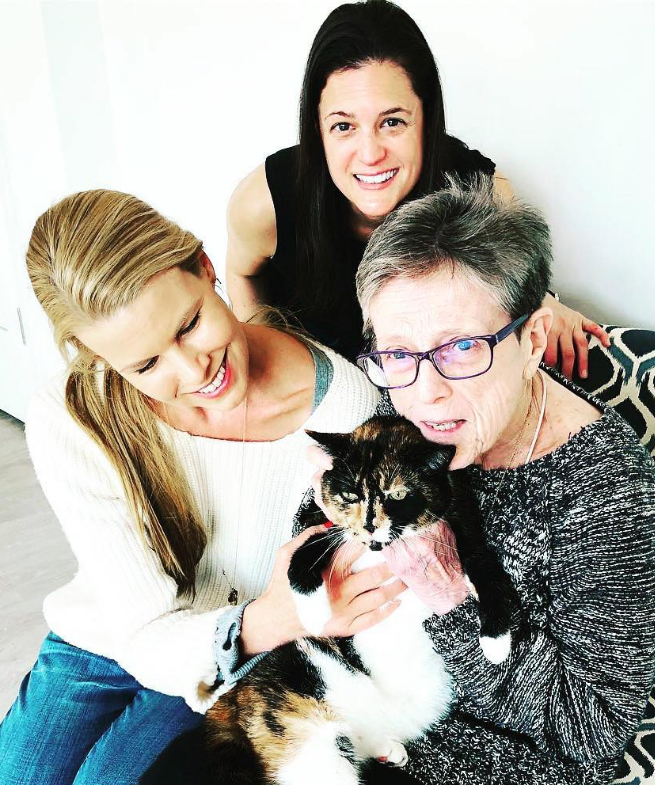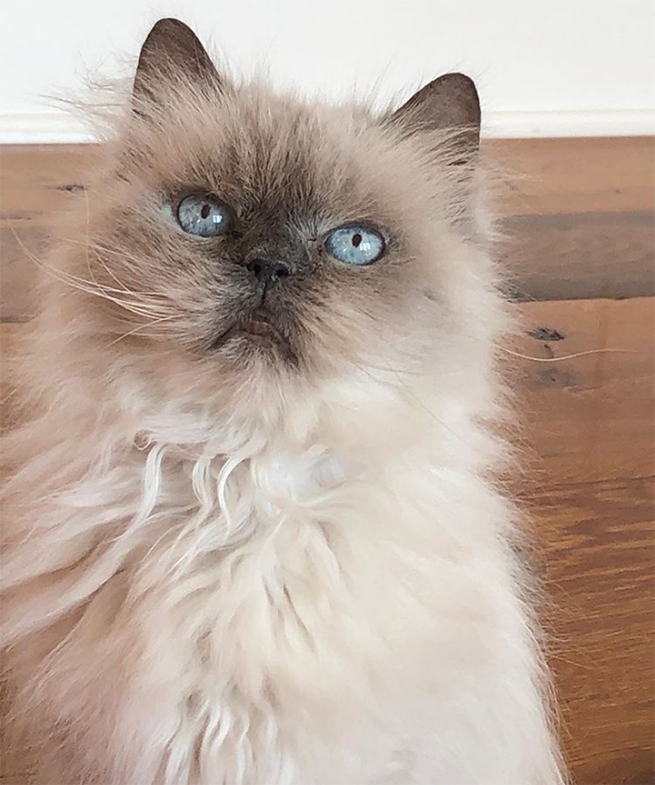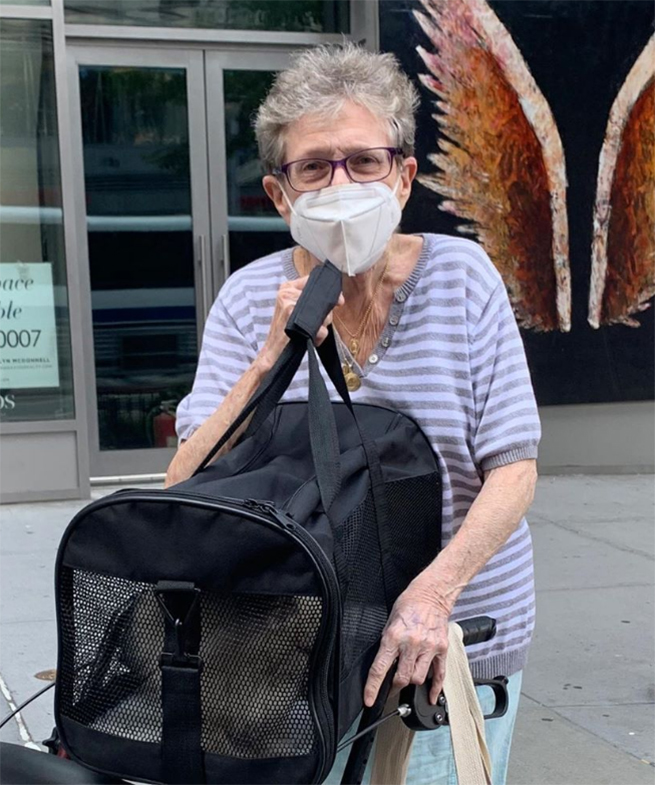 Sometimes people tell me to keep cats…especially cats like Grammie. And yes, of course, I would keep them all if I could, especially the adults and geriatric ones. But it wouldn't be fair to them. Each deserves so much attention and love, and I wouldn't have the time to keep saving more…and I'd end up spending less time with my six resident cats who need me, too. To tell the truth, I get very upset when I read comments from people saying, "YOU HAVE TO KEEP HER." I realize that they mean well, yet it tears at my heart. But then, later, when they see the kitty thriving in the care of a new family, they seem to forgive me.
The point is, I love them all, but especially the special ones — the ones who need us most.
xo Beth
P.S. By the way, October 19-23 is National Vet Tech Week. Be sure to say a special thank-you to these hardworking medical professionals who do so much, especially behind the scenes, to nurture and heal our precious pets.
RIP
Little Noah
You fought so hard.
We'll never forget you.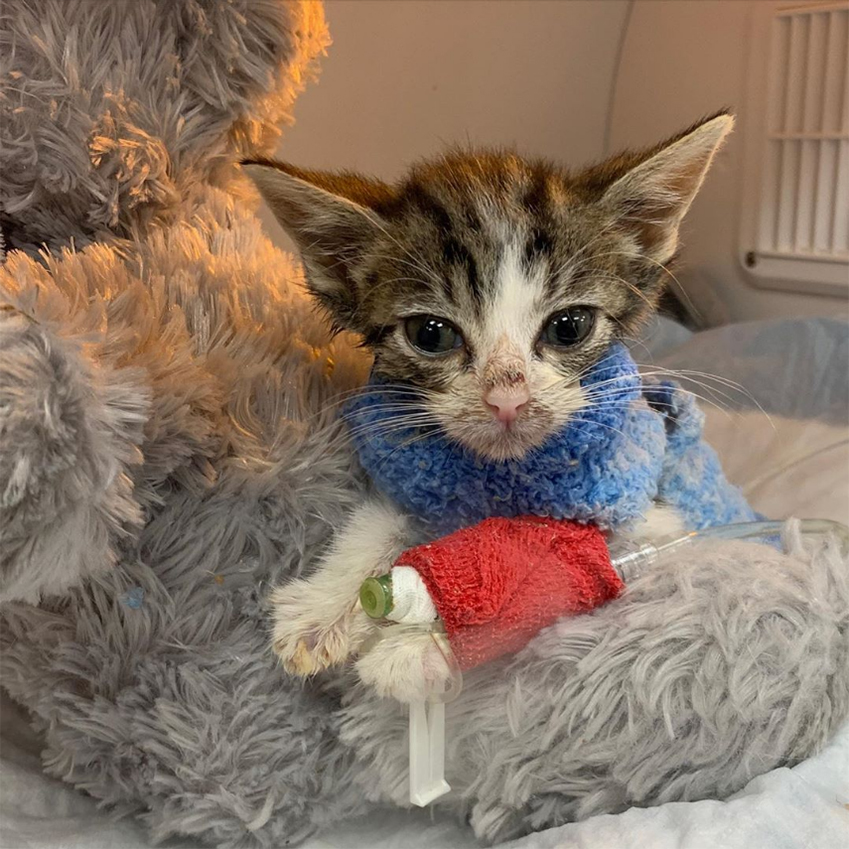 RIP
Lucky Lou
At the end you knew love.
We'll never forget you.