Going to the Dogs and loving it!
October! The first full month of fall. The days grow shorter, leaves turn vibrant hues, and the cooler air seems almost to sparkle. It's a month of migrating birds, harvest celebrations, and trick-or-treat. And for those of us whose lives involve animal rescue, it's also a time dedicated to dogs and pet health and safety. So join me in celebrating Adopt A Shelter Dog Month as I introduce five sweet pups who are waiting at North Shore Animal League America for a new start in life.
I've loved dogs since I was a little girl, from our family Collie-mix Suzie-Dog to wonderful Bianca, the dog whose love I shared with Howard until she died in 2012. I cannot believe she's been gone for a whole ten years. She will always be with us.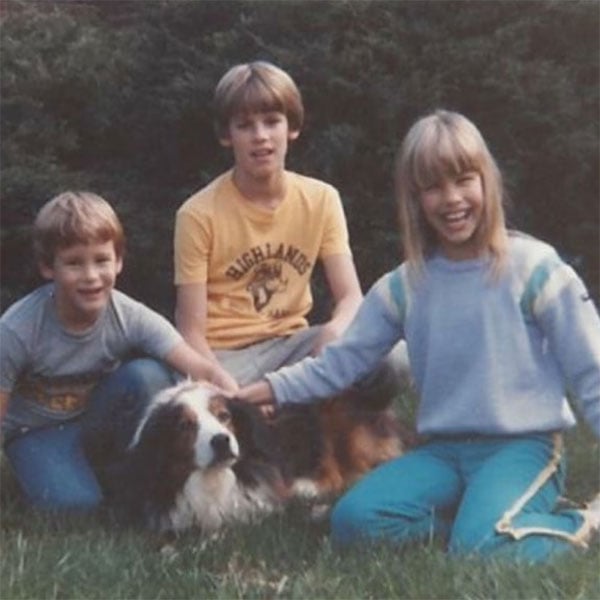 Suzie-Dog, surrounded by love: my brothers, Dave and Doug, and me.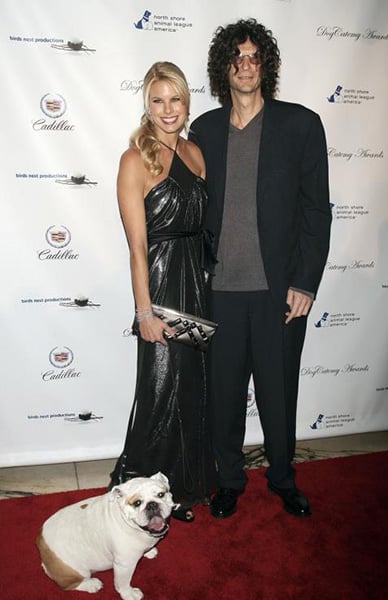 Howard and I walk the red carpet with the real star, our Bianca.
Every day I thank Bianca for inspiring me to help create Bianca's Furry Friends Feline Adoption Center and to expand my fostering work at North Shore Animal League America, where I've had a chance to meet so many loveable dogs. I'm always thrilled when my IG posts help some of them find great forever homes. So in the hope that something wonderful can happen for the five deserving dogs you're about to meet, here they are! (I haven't met these cuties, but my colleagues at NSALA have written charming bios so you can get to know them.)
Before arriving at NSALA a year ago, Arnie (G25619) lived in sad conditions in Georgia in a backyard breeding situation. UGH! At NSALA, Arnie is learning that people can be kind and caring. Now Arnie is looking for an experienced adopter with older children in a private home in a quiet area with a fully fenced-in backyard. Despite being small, Arnie would not do well in an apartment setting. Once he gets to know you, Arnie is a snuggle muffin. He enjoys walking on a leash, playing fetch, and being scratched on his hind end! With patience, routine, and training to build his confidence, Arnie will become a wonderful companion. Watch his special video here.
October is also National Pit Bull Awareness Month. These loyal, sweet-natured dogs have been stigmatized because of terrible owners. But this breed has been a family dog for decades and deserves respect and love.
Alice (G25956), for example, is a playful Pittie mix looking for a home of her own now that her litter of pups has left the "nest." Alice is house-trained and is good on a leash but would benefit from the guidance of an experienced adopter. Due to her size, apartment life is not for this girl. She needs to be the only pet in a suburban home with a fenced-in yard, with children over 16 years old who can keep up with her energy. We recommend a meet and greet for the entire family to ensure a perfect match. To see Alice in action, visit her adoption profile page.
Buddy (V33791), another Pittie mix, is a shy dog with a lot of love to give. Adopted as a pup, Buddy lived a happy life for four years until his owners were forced to return him when they could longer care for him. The transition has been hard on Buddy as he tries to acclimate to his new surroundings. The ideal future for Buddy would be in an adults-only home with experienced adopters who can continue his training and confidence-boosting exercises. Buddy needs time and will open up slowly, but when he does you'll have a loyal Buddy for life! Get to know Buddy today!
One thing I cannot bear to think about is senior pets who had loving homes and then suddenly find themselves in shelters. No matter how amazing those shelters are — and NSALA is truly amazing — the animals still feel confused and sad. This just breaks my heart.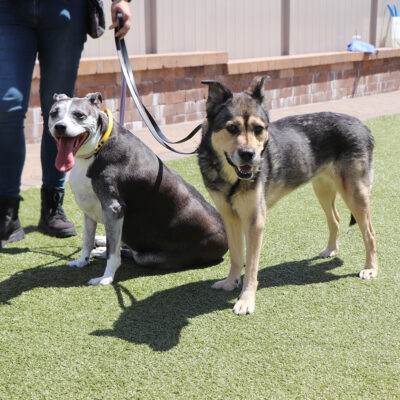 A sweet example is Roxi (T83110) and Gemma (V27080) and who are looking for a new life as a double adoption. Nine-year-old Roxi, a Terrier mix, and 10-year-old Gemma, a German Shepherd mix, are bonded "sisters" who have spent their whole lives together. They've been through thick and thin, including the recent loss of their owner. Transitioning to life in the shelter is never easy, but these two have always had each other to lean on, which has helped them learn to trust their new friends. Gradually, these sweet seniors have begun to show their playful side, and while they won't be doing many adventure walks they do enjoy a stroll together with their favorite humans. These golden girls are looking for a home they can retire to together and make new friends with a sweet family. Take a look at their video on their adoption profile.
One thing I want to stress is this: Please, Do Not Force Your Pet to Wear a Halloween Costume! We do this for ourselves, not for them, and although we might think they look cute, and they probably do, we're putting them under stress. Costumes can affect body temperature and balance and can irritate the skin. Above all, it can make your pet feel trapped and stressed. Some pets — I'm looking at you, Helen Rose — might be so agreeable that they can tolerate a couple of minutes in costume.
But you know your pet better than anyone, and if you have any doubts, skip the costume. The only time you should put "clothes" on your pets is for their protection — walking your dog in bad weather or after sunset or protecting wounds and stitches post-surgery. Otherwise, "naked" is the best outfit our pets can wear!
I SHARED THESE SEASONAL TIPS LAST YEAR, AND THEY BEAR REPEATING:
DO NOT throw away pumpkins. If you can, find some woods nearby and smash the pumpkin open for wildlife to eat. It's safe and the seeds are a natural dewormer. Plus, you are recycling a good food source and not feeding the landfill!
DO NOT bleach your pumpkins to make them last longer. Please remember, pumpkins are food to lots of wildlife — deer, squirrels, raccoons, possums, mice, rats, chipmunks, birds, and insects. Use vinegar instead: one part vinegar to 10 parts water. It works as well as bleach and will not hurt wildlife.
SPECIAL ANNOUNCEMENTS FROM NSALA
As a board member and the National Spokesperson for North Shore Animal League America, I want to tell you about two ways you can support our no-kill mission this fall and, at the same time, have some fun!
Please join me on Wednesday, November 16, for our Celebration of Rescue, an evening filled with incredible rescue stories, online auctions, and lots of surprises. You can attend this unique event live at the Royalton Park Avenue Hotel in Manhattan or virtually in the comfort of your home. Comedian and animal lover Joe Gatto will host the event live and I'll make a virtual appearance to talk about how we can care for our pets no matter what! For details, please visit animalleague.org/celebrationofrescue.
In June I had the pleasure of posing with a wonderful group of dogs and cats for NSALA's limited edition 2023 Calendar. Please visit animalleague.org/2023calendar to order your copy with a minimum $15 donation. They make thoughtful holiday gifts, with net proceeds benefitting the operation of Bianca's Furry Friends Feline Adoption Center.
RIP SWEET, LOVELY TABULLAH
Senior kitty Tabullah lost her human and lost her spirit. Her thyroid, kidney, and heart issues went unnoticed by her ailing human, and I tried my best. I had no idea she'd be gone so soon. What a beautiful kitty she was. One thing I know for sure…she was grateful. I saw it in the way she looked at me. I will never forget her. So many people loved Tabullah, including her new mom who was ready to bring her home forever. Adopting a senior or a hospice animal is so rewarding. Thinking about the alternative they face — dying alone in a cage in a shelter — breaks my heart. Yes, it's emotionally difficult doing what I do but I won't stop and I will welcome the next one.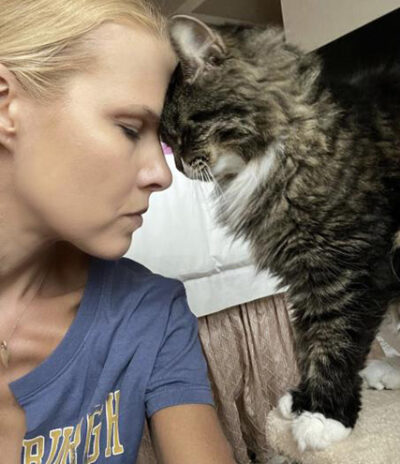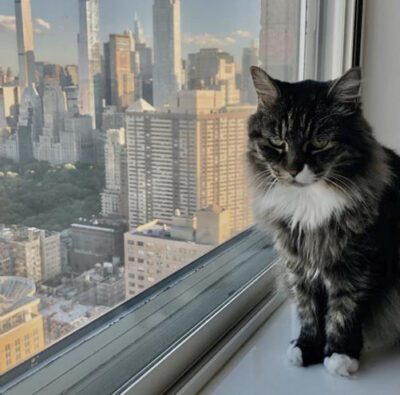 On September 17, Tabullah's little heart gave out. Two days later, a rainbow appeared in her favorite view from our windowsill.
Xo
Beth