A Good-Neighbor Message for Valentine's Day

Few things haunt me more than the sight of a cat huddled in the freezing cold, alone, hungry, and afraid — or a shivering dog, tethered to a stake, trapped and helpless, with nothing but a bowl of frozen water nearby.
Every season presents its own hardships for homeless pets, but right now winter seems like the cruelest. So many animals stranded in the relentless cold and wind. How hopeless they must feel.
But as brutal as this is, it's not hopeless, not if we realize there's something each of us can do to help animals like these. As a friend said to me recently, "Many are the tethered dogs and 'outdoor' cats who were saved because of a good neighbor."
I know from experience that feral cats sometimes refuse to be helped. Many are so trap-savvy and afraid that any attempt to help them backfires. From their point of view, your help is an all-out attack. Take Muffin, for example.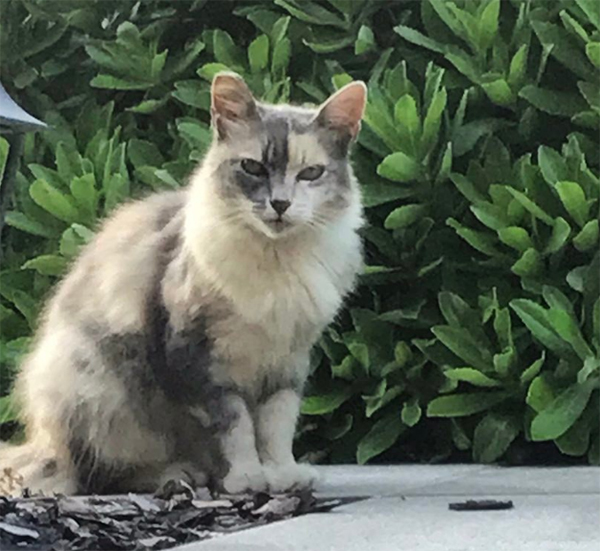 For the past 10 years, Howard and I have been caring for this particularly determined feral, the beautiful grouch shown above. She's gorgeous, all right, a feline princess, with long, luxurious hair, the bushiest tail, and delicate grey and white markings. She's perfect, except for one thing: she hates us!
Muffin has been spayed, has five heated kitty houses on our property, and is fed two times a day. We've tried repeatedly to bring her indoors, but no way. She is clearly much happier outside. When I hand-deliver her food, the best I get is a hiss. And she always waits until I'm at least 10 feet away from her food bowls before she'll even consider eating. Muffin is truly feral, and after such a long time caring for her and loving her from a distance, I appreciate and respect her for who she is. I'm grateful we can feed her and keep her warm on these frigid days.
But most feral cats are not nearly as lucky as Muffin. Right now, my colleagues at North Shore Animal League America are working very hard to save Magoo, a cat found frozen in a snowbank in Upstate New York on one of the coldest days of the year.  I'm sorry to have to show you such a graphic image, but Magoo is a prime example of the cruelties animals endure when they're left with no shelter!
A good Samaritan discovered this boy unresponsive and suffering terribly from severe frostbite to much of his tiny body. The kind stranger rushed him to a nearby veterinary hospital, which fortunately works with our Adirondack Region Cat Rescue and Adoption Center, in Glens Falls, N.Y. Magoo suffered not only frostbite and serious nerve damage to his back legs, he was also so dehydrated that his kidneys began to fail. The worst part, though, is the damage to his sweet face. He lost part of his nose and much of his upper lip on the right side. It breaks my heart to think about how much he suffered.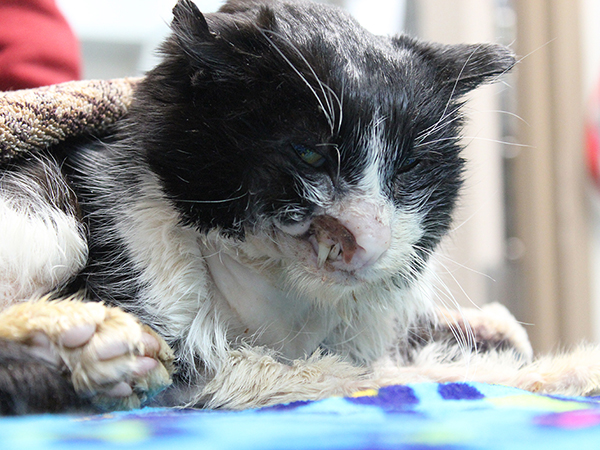 Magoo began his recovery in Glens Falls, where, miraculously, with IV fluids and critical veterinary care, he began to eat on his own and his kidney values improved.
Once he was able to travel, he came to the ICU at North Shore's Alex Lewyt Veterinary Medical Center. He has a lot of surgery and healing ahead of him, but we're committed to doing whatever we can for this courageous cat.
As awful as it is, you can bet there are cats like poor Magoo in your communities, too. The problem is so common that some towns have taken a constructive approach to this situation. For one thing, they don't call these precious animals "ferals" — they prefer the more positive term, "community cats." Nonprofit trap/neuter/release (TNR) programs are springing up across the country, staffed by volunteers who can show you how to build safe, inexpensive, insulated kitty houses. These good people can also trap and evaluate cats to determine if they might eventually be able to find responsible, loving homes. Many cats who act feral are just horribly frightened strays. All they need is time at a no-kill shelter, a foster home, or a rescue organization to rediscover their inner house cat.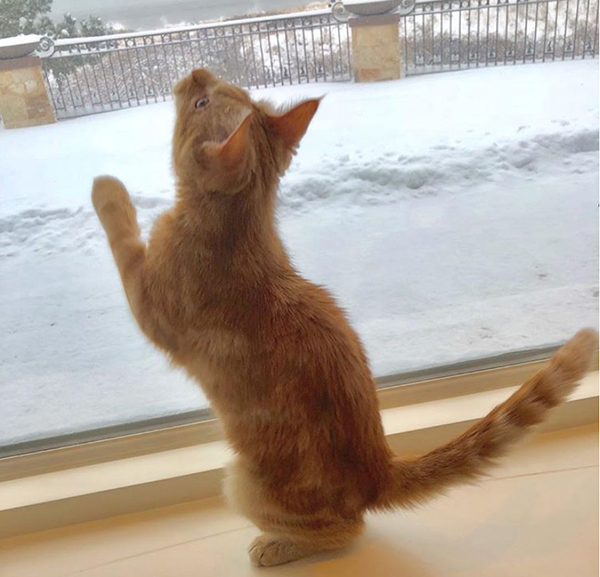 Post-eye surgery, little Merry Bug can enjoy the snowflakes and never have to feel the cold.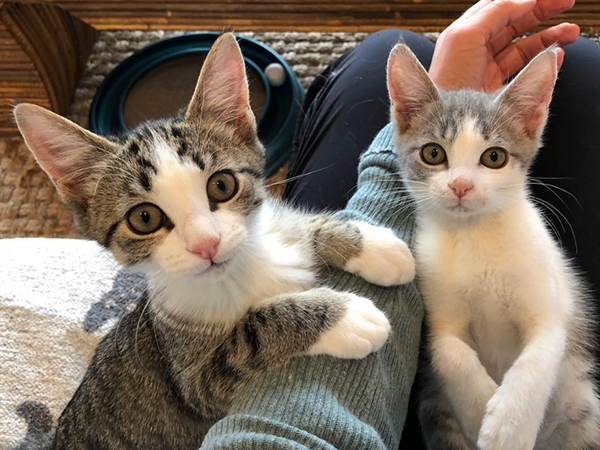 For house cats, love is a warm lap shared with friends. Just ask my little girls Jeff and Larry.
And I really want to stress the term "house cat," because if you have a cat, or if your neighbor, cousin, or friends have cats, remember, there's no such thing as a safe outdoor cat. For all we know, Magoo belonged to someone who thought he could take care of himself outside. And then he got disoriented in a snowstorm. And then he almost froze to death.
(There's something else: Strays or cats left to roam in winter will seek spots away from the wind and cold. Often, they climb into warm car engines to escape the weather. If you see strays or roamers in your neighborhood, be sure to check around your car, honk the horn, and bang your hand on the hood a few times before starting the engine.)
If you can't become directly involved, do what you can to support your community's T/N/R programs with supplies and donations. They're providing a vital and humane service and need your help to save lives. And with kitten season soon approaching — once again — the "N" in T/N/R is essential to preventing more animals from enduring the pain, loneliness, and fear that Magoo experienced.
As for neighborhood dogs staked outdoors and left to suffer the bitter cold, there's something you can do about that, too. First talk to the owners, if possible, and let them know how dangerous this is for their pets. Twenty-two states, plus Washington, D.C., have recognized the cruelty in tethering and passed laws that describe what's acceptable and what is illegal. Don't hesitate to contact animal control about a tethered dog. Even where no anti-tethering laws exist, tying a dog outside and leaving him/her there to suffer in the cold is animal cruelty, and your animal control officers should hear about it!
I truly believe that "love your neighbor" applies to our nonhuman neighbors, too. Cats and dogs who don't enjoy the ideal warmth and companionship of hearth and home need and deserve our attention and help. Whatever you can do to make them more comfortable and safe will mean everything to them — and will warm your own heart this Valentine's, too.
xo
Beth
P.S. To follow Magoo's story and get some expert advice about protecting neighborhood strays from the cold, please visit animalleague.org/helpmagooheal.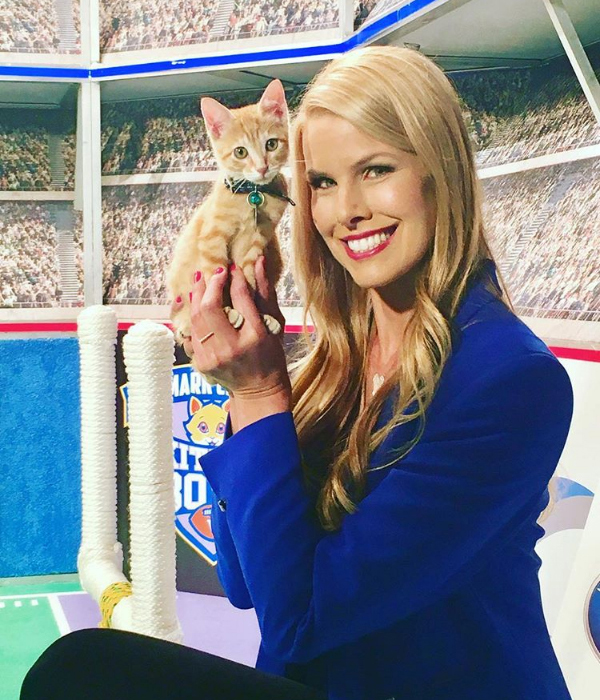 Some people know it by another name, but for millions of animal fans from coast to coast, Sunday, Feb. 4, was Hallmark Channel's Kitten Bowl Sunday. In fact, it was Kitten Bowl V, and once again it was an honor to host this hilarious, adorable, lifesaving event.
This year was extra special because we featured the rescue journeys of several kittens, including Star, one of my own foster nuggets. Animal League America rescued Star and many other kittens from a shelter in Florida just after Hurricane Irma. The shelter had lost power and the heat was becoming dangerous, with many of the cats and kittens needing medicine and care. Our Rescue Team collected all of these felines, just as they had in Texas after Hurricane Harvey, and brought them to New York.
That's how Star came to live with me, and ultimately how we found this precious little one the perfect home.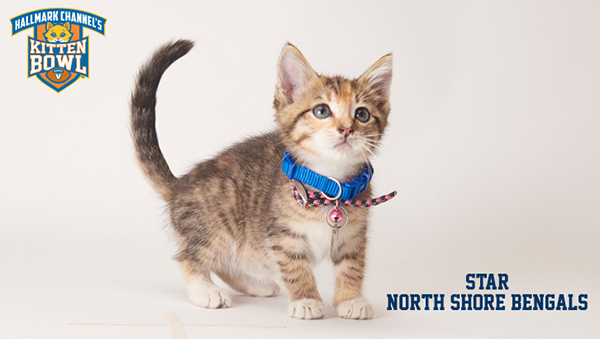 I have to admit, I became emotional giving Star to her adopters during the braodcast, but I know she's found the perfect family. And adoption is what it's all about.
As usual, Hallmark Channel made everything work beautifully, and my incredible colleagues at Animal League America coodinated Kitten Bowl Parties at 500 shelters and rescue groups across the country, generating thousands of adoptions, in addition to the 32 cat-letes who all found responsible, loving homes.
Kitten Bowl V was a win-win-win-win, and I thank everyone involved for making me part of it. We did it again!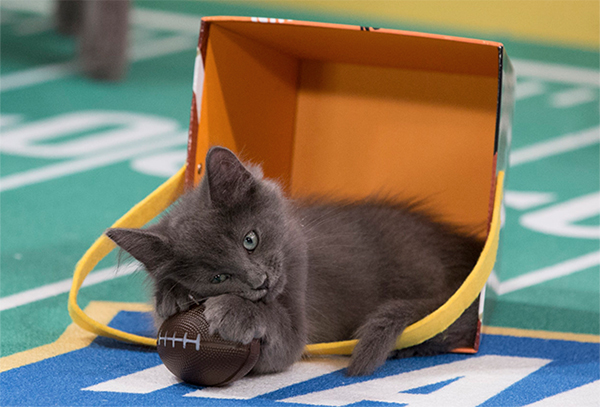 J.J. Swatts catching some zzzzzs.