Rescue in the Time of Covid And a celebration of women in animal welfare
Twelve months ago, few of us even thought about words like lockdown, quarantine, face mask, self-isolation, and social distancing. Today, of course, they're part of our everyday conversations. The global pandemic has changed so much in our world, some things for the better and other things, well, not so much. For me — on the bright side — being home has given me more time to bond with our resident cats, plus I'm able to spend lots of quality time with my fosters. For that, I'm grateful.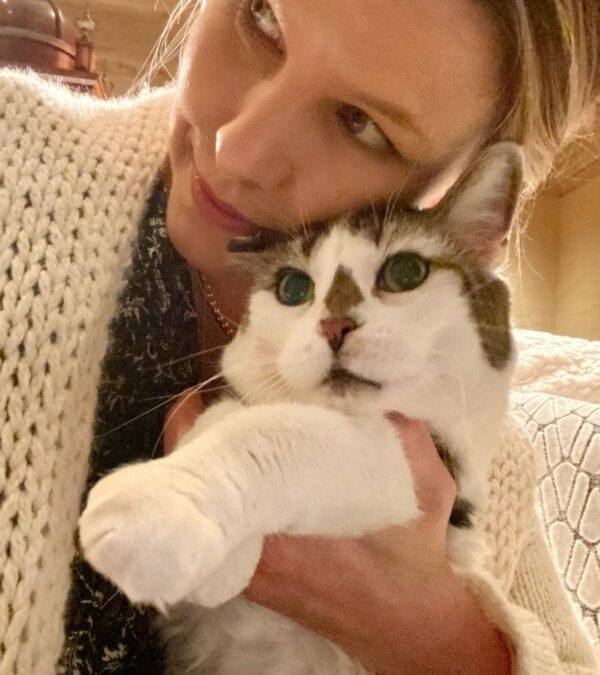 Special time with one of our sweet resident kitties, Walter Stern.
He is everything!
My house has not been foster-free since I started fostering nearly 10 years ago. There have always been kittens and young adults, of course, but now, because of Covid, the number of seniors and older adults is higher than ever. It's so sad that many of these cats need homes after the deaths of their humans. Macie Girl, below, is just one.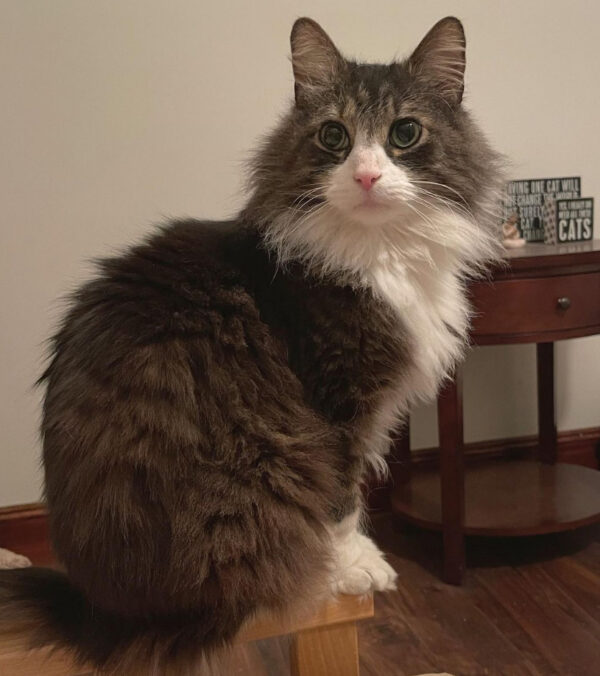 Macie Girl (above), a healthy, longhaired sweetheart, is 5 years old. She lost her human and came to me looking for another who would love her as much as her first one did. Looks like she got her wish, and then some! Even though I can't see Macie's face (below), I know she's smiling.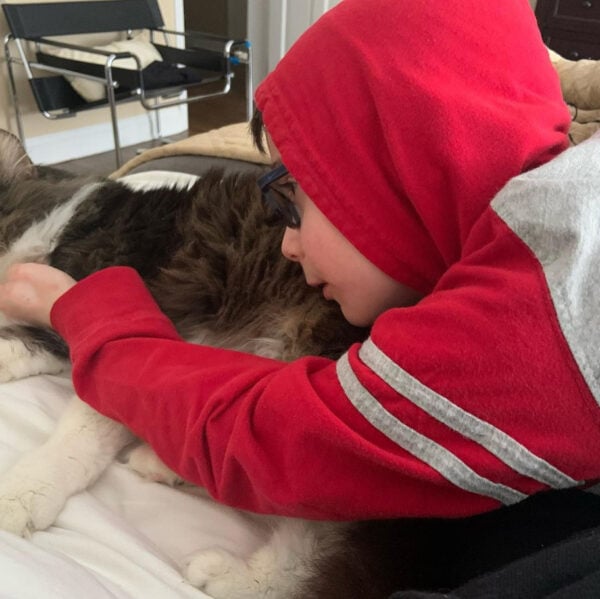 The past year has brought a marked increase in urgent cases of all kinds. Sadly, almost every time I open my foster email account, there's another desperate situation. Every case haunts me at night, but I'm only one person and unable to help everyone who emails. Unfortunately, we can't go to every location and rescue every animal in need, though my team tries to contact local people and direct them to help. I try to encourage people to take the initiative for the abandoned animals they find and then to follow through. There are times when I get upset that so many people don't want to put any work in and think all they have to do is hit the send button to rescue an animal. It takes a lot more than that; it takes commitment, resilience, and just plain gumption.
Which are traits shared by the countless women who have shaped animal welfare since its beginning. Because March is Women's History Month, I want to tell you about a few of the many heroic women who have led the movement and created a better world for animals. You probably know the "big names," so here are just a few of the less well-known but equally important women. (The list is very long and includes champions for wildlife like Jane Goodall and Dian Fossey, so it's hard to choose. I hope you'll do your own research and be as inspired.)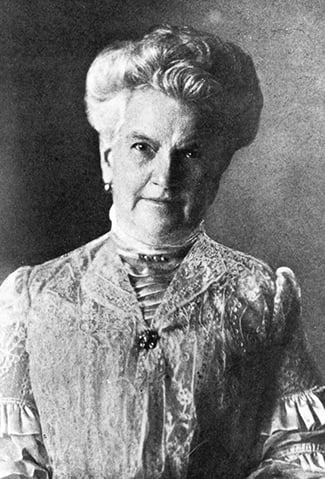 Photo courtesy Wikipedia.
Caroline Earle White (left) co-founded the Pennsylvania Society for the Prevention of Cruelty to Animals (PSPCA) in 1867. However, because she and her female colleagues were women, they were denied seats on that organization's board of directors. So, two years later, she and 30 likeminded women created the women's branch (WPSPCA), and also began the first animal shelter in the United States, which is still in operation in Bensalem, Penn., now called the Women's Animal Center. She was also an active antivivisectionist, founding the American Anti-Vivisection Society in 1883. Her work was inspired by Britain's Frances Power Cobbe, founder of the Society for the Protection of Animals Liable to Vivisection, in 1875.
In 1903, when Flora D'Auby Jenkins Kibbe (right) decided to open an animal shelter in Manhattan, she chose the corner of 38th Street and First Avenue for one reason: It was close to the East River where people tragically discarded their unwanted pets. Called Bideawee ("stay a while" in Scottish), the organization continues its work as a pioneer in modern animal sheltering and the no-kill shelter movement.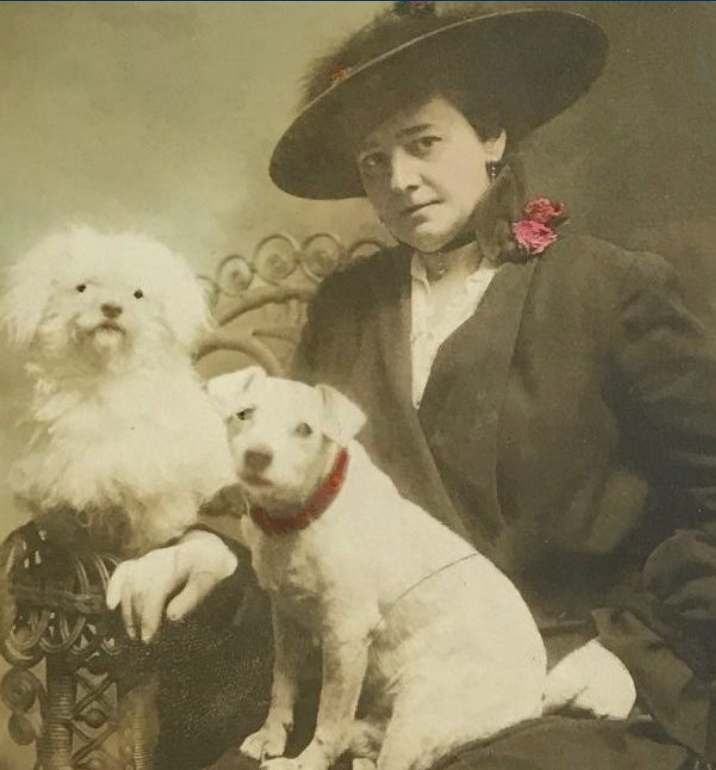 Photo courtesy Bideawee.org.
In 1927, Jessey Wade founded several animal welfare groups, including the Cats Protection League (now Cats Protection), in Britain. This highly respected organization, the largest dedicated to felines in the U.K., has found homes for 1.5 million cats while advocating for the rights of countless others. Like many other animal rights activists of her day, Wade was a vegetarian and was also involved in the suffragist movement, securing the right to vote for women in England and the U.S.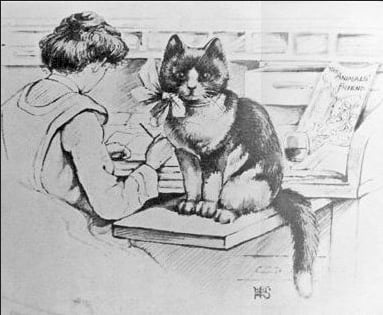 Photo courtesy Wikipedia.
At left  is an illustration, possibly of Wade and a cat named Tibby, from The Animals' Friend Cat Book, which Wade wrote in 1917. She fought for animals for more than 50 years, writing prolifically and championing humane education as well as the abolition of cruel sports.
North Shore Animal League America was founded on Long Island, in 1944, by a group of volunteers led by Marianne H. Sanders. Known as the North Shore Animal League and Dog Protective Association, Inc., the group began rescuing homeless animals in and around North Hempstead. From the start, the group dedicated itself to the principles of no-kill, even though it cost them lucrative town contracts.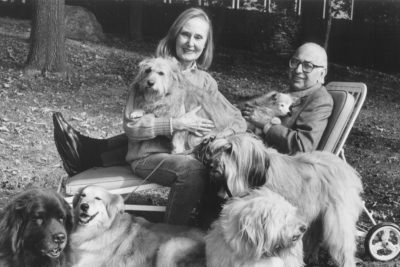 Another prominent woman in Animal League America's history was Elisabeth Lewyt (left), who with her husband, Alex, helped the organization develop its revolutionary advertising program and regain financial stability. The Lewyts recruited their neighbor, singer and dog-lover Perry Como, as the group's first celebrity spokesperson.
I'm humbled to work with so many inspiring women at Animal League America — and the men, too, of course. Whether we work independently or as part of an organization, it's important to remind ourselves that everyone involved in animal rescue is building on the legacies of these women, and so many others.
One upside of the pandemic is that more homeless animals than ever found new homes. I didn't know this until recently, but last year, for the first time ever, TIME magazine named a Pet of the Year, similar to its "person of the year." And who did the editors give this great honor to? Rescue pets, who have helped so many people stay sane, calm, and productive during one of the most stressful periods in modern history. For many, stay-at-home orders led to adopting a pet to love and stay at home with. I think TIME made a great choice. Based on my own experience, I feel that more people are open to adopting. Even my special-needs and senior fosters are all getting wonderful homes.
Several of my recent special-needs fosters are blind, which led many IG followers to ask why so many abandoned cats have damaged eyes that sometimes lead to blindness. The answer is simple: they lived outdoors, where their untreated eye infections due to respiratory issues caused blindness. One example is former foster Oliver, just 7 months old (below). After his successful eye removal, he went home to be loved and cherished.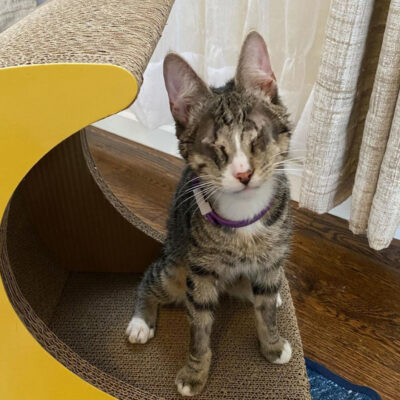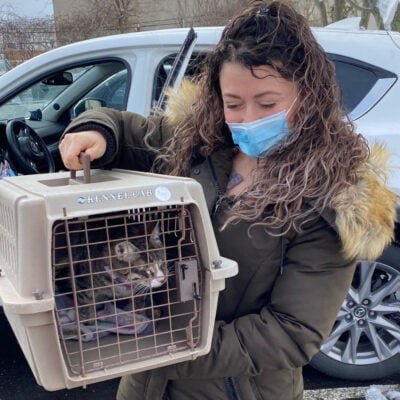 Foster Karli's story makes me very angry. About 4 years old, she was rescued from the outdoors and brought to a shelter and was immediately scanned for a microchip because she was so sweet and seemed to be lost. She indeed had a chip, and her humans were called. They said she was blind and had been gone for weeks and that they would swing by and pick her up from the shelter. Four months went by and they never picked her up! Karla, my wonderful colleague at Animal League America, pulled her from that shelter and brought her to me. We think her blindness is the result of a trauma to the face, possibly from a car. I promised her I would find her a family who would never let her outside again. A loving family adopted her and helped me keep that promise.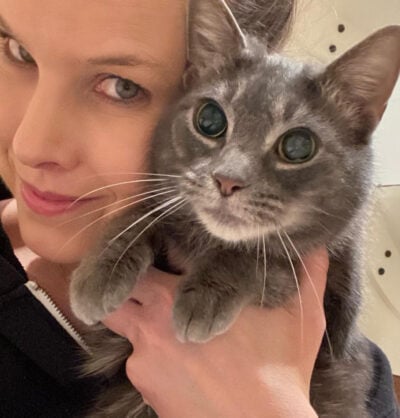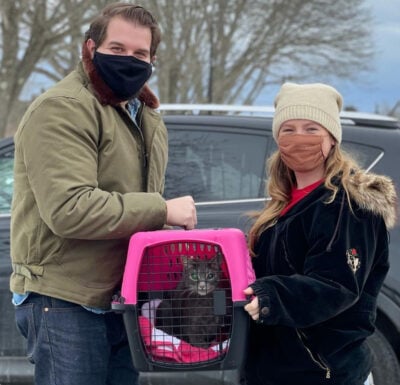 Karli, blind and beautiful, gets the fairytale ending she deserves.
Blind Sherlock is a handsome 5-year-old heartbreaker. A sweet old soul, he is engaging, fearless, and gentle. And being blind doesn't faze him at all. But it didn't have to be this way. He had his vision until a few months ago, when he was hit by a car. Nevertheless, he won the hearts of many IG followers, but only one couple was chosen to accept this charming bachelor's rose. And I couldn't be happier.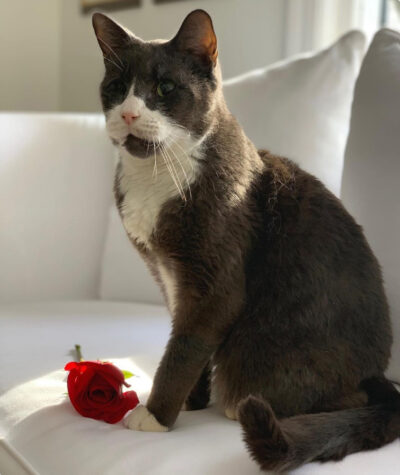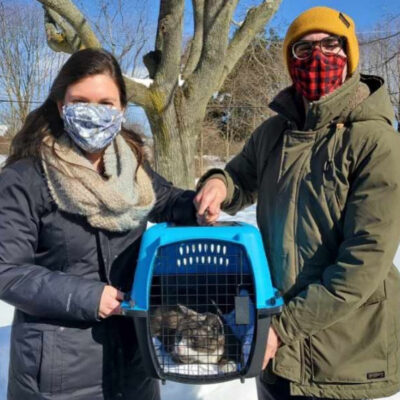 There is one obvious moral to these stories, and that's to keep cats indoors. Period! Life outdoors is filled with danger and disease for cats, and there is no good reason not to make every adoptable cat a house cat. In fact, I believe this so strongly that if you adopt from me or Animal League America, you must sign a contract agreeing that the cat will remain indoors only.
Life indoors, of course, requires adopters to play more with their cats to make sure they get the stimulation and exercise they need. But in my opinion, playing with cats is one of life's great joys. However, Covid has challenged all of us in the fitness department, including Helen Rose, whose commitment to exercise could use a little boost. Still, if she were any more beautiful could I stand it? I don't think so.
xo
Beth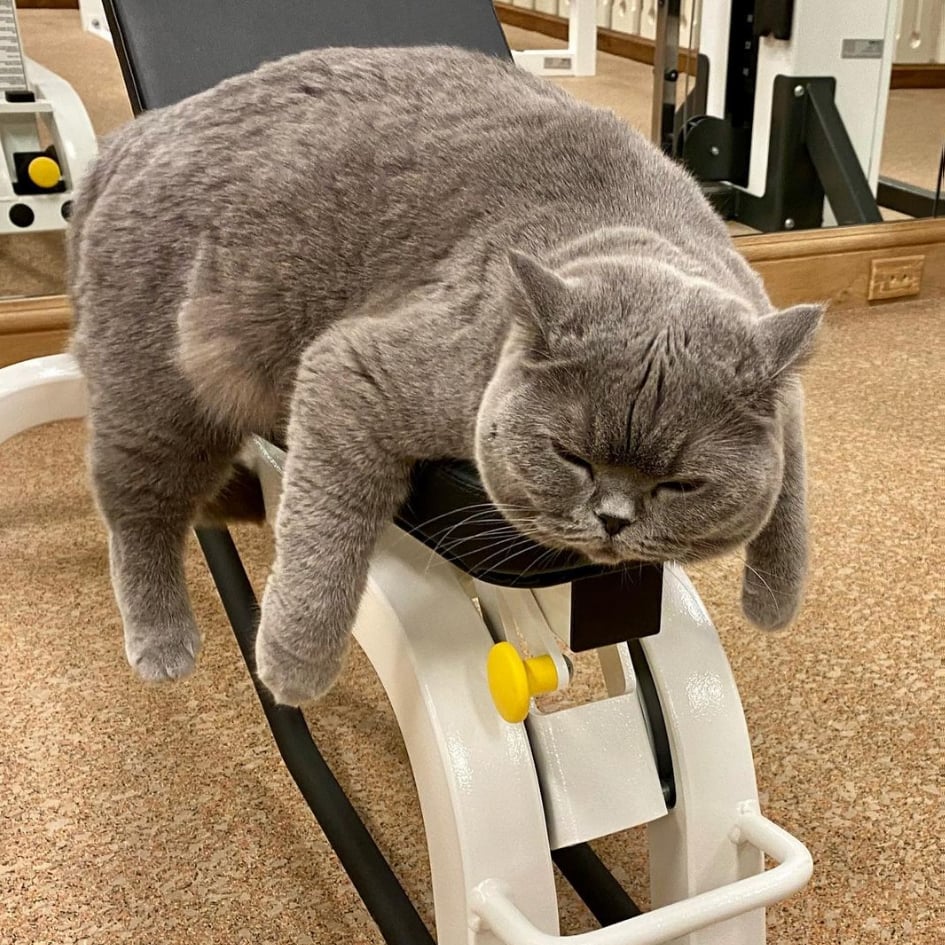 P.S. Besides being St. Patrick's Day, March 17, is also the feast day of another important woman, St. Gertrude of Nivelles (present-day Belgium), who lived from 621 to 659. St. Gertrude is said to be the patron saint of cats, though there is no evidence to support this. It seems that she and her sisters kept cats in their convent to deal with mice, which was probably a common practice at the time. From this bit of information, legend was born, and if you search online you'll find all kinds of whimsical images of St. Gertrude surrounded by plump and happy felines. I like to think that the legend has some basis in fact, and that St. Gertrude has a special place in her heart for all rescue felines, including my recent foster Gertrude of Oman. Amen.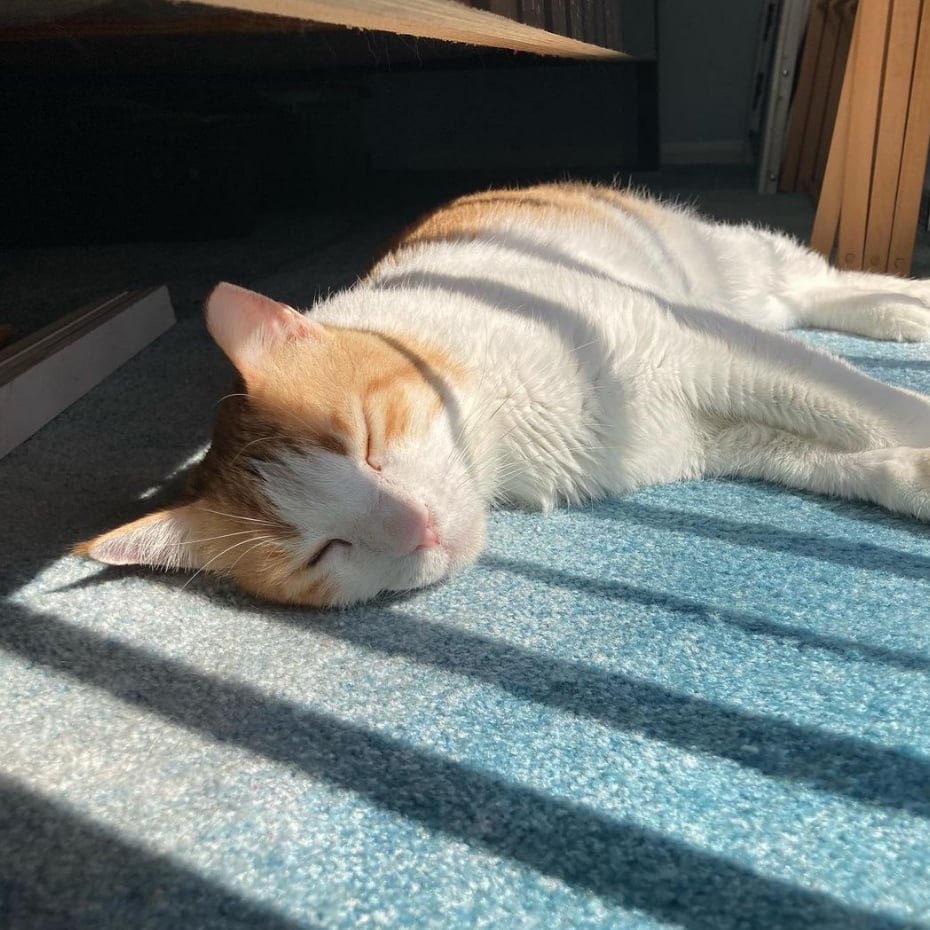 Gertie of Oman, adopted and thriving.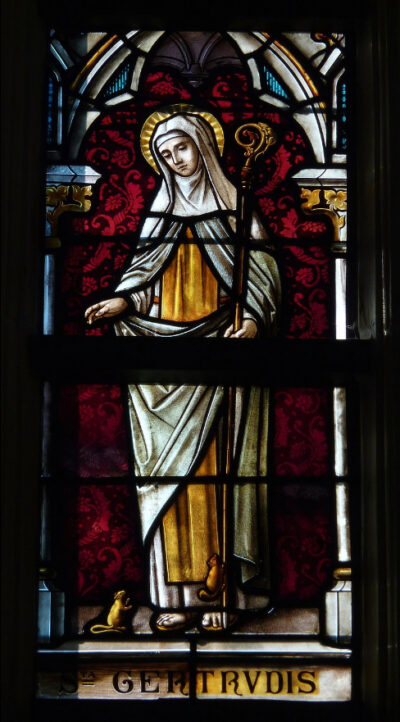 Photo courtesy Wikipedia.
Stained glass window of St. Gertrude of Nivelles, Basilica of Our Lady, Tongeren, Belgium.