The Second Sunday in May Mother's Day, Mother's Month, Mothers Always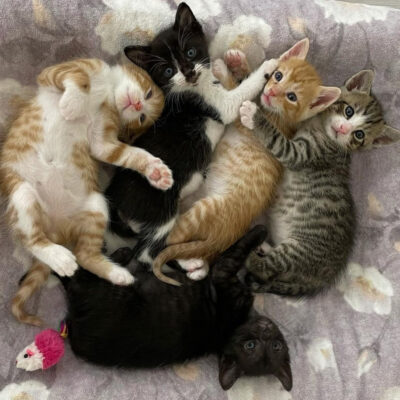 May is the perfect month to celebrate motherhood, because in spring, Mother Nature orchestrates rebirth everywhere, from trees, flowers, and hummingbirds to kittens, kittens, and more kittens!!
On May 9, 1914, President Woodrow Wilson signed a proclamation declaring the second Sunday in May as Mother's Day. Fewer than two months later, World War I began, and American mothers sent their sons off to the "war to end all wars" — which of course, it didn't.
The history of Mother's Day is as contradictory and surprising as history itself. In fact, Anna Jarvis, who is credited with founding the movement that led to Mother's Day, disavowed the holiday by the time she died at age 84 in 1948. It had become too commercialized, she said, and maybe she was right. I sometimes think maybe we've lost sight of what Mother's Day should mean.
I believe that Mama Florida has the right idea. She arrived in my Florida program via Gretchen Byrne, @bocaratona, a police officer friend who does rescue and adoption in Florida. Gretchen rescued Mama Florida from a very dangerous parking lot in a bad section of town. The kitty was so pregnant I thought she'd pop, and it didn't take long. On March 28, this pretty Tortie delivered four beautiful big kittens. And then a week later Gretchen called about an abandoned kitten dropped off at a local firehouse.
What to do? I said yes, of course. When the tiny black and white kitten arrived I placed him in a small pen, and he immediately started wailing. I gave him wet food mixed with kitten replacement milk but soon realized he was just sucking on it and not really eating. I got out the bottle and was about to start bottle feeding when I had an idea. I decided to put into practice what I'd learned from Dr Jackie Holdsworth @theveterinaryvoice and Long island Veterinary Specialists — namely, how to introduce a new kitten to a nursing mother cat.
First, and before making the introductions, it's crucial to test both mama and kitten for FeLV. When both tested negative, I began the introductions. I was very nervous about it at first, but Mama Florida, who is a true rock star, immediately welcomed the newcomer with open paws! (We named the kitten SunnyByrne for Gretchen!) Howard and I were so moved by how Mama Florida started grooming and feeding Sunny. Her maternal instincts took over, and it was equally precious to watch how the other kittens acted as if Sonny had always been a part of their little crew! It was absolutely heartwarming to watch this happen.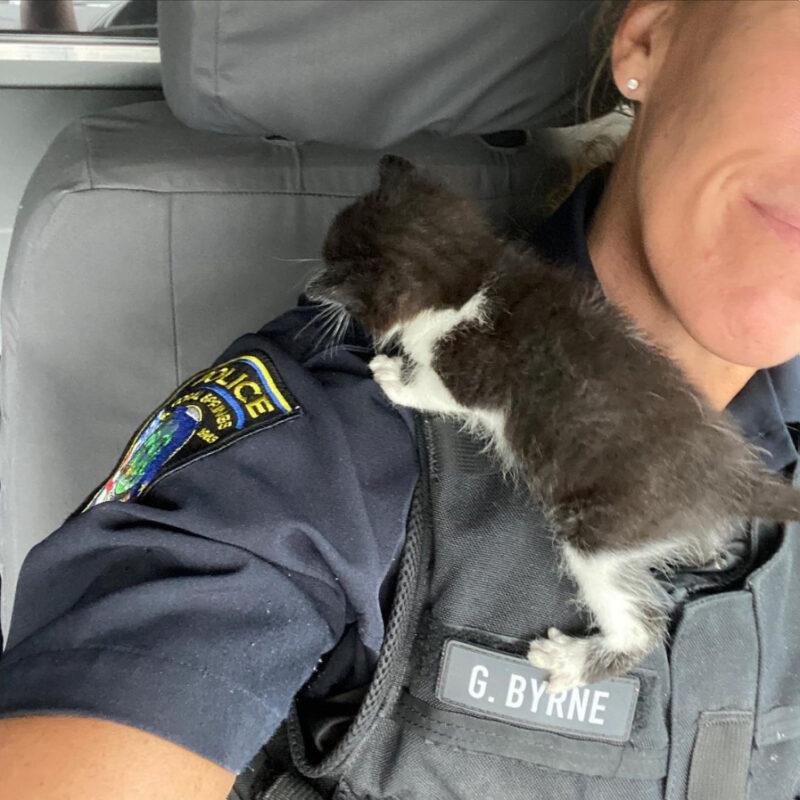 Sunny with Gretchen, who always provides a strong shoulder to lean on.
Mama Florida with her yummy babies, clockwise: Jessa, Mouse, Corky, Spicoli, and SunnyByrne, the Tuxedo.
Mama Florida, the face of a hero!
In a very true a sense, Mama Florida "adopted" Sunny into her little family. She is a great example of a foster mother, caring for and nurturing this baby without regard to whether he is "hers." Interspecies "adoptions" are not unusual in the nonhuman animal world, and why not? Humans adopt members of other species all the time: cats, dogs, goats, rabbits, and more! There are countless stories online about nonhuman animals adopting other species, including a dog who nursed a baby squirrel, an elephant who adopted a goat, and a 130-year-old giant male tortoise in Kenya who adopted a baby hippo orphaned in a tsunami. As I've said before, we can learn a lot about love from nonhuman animals.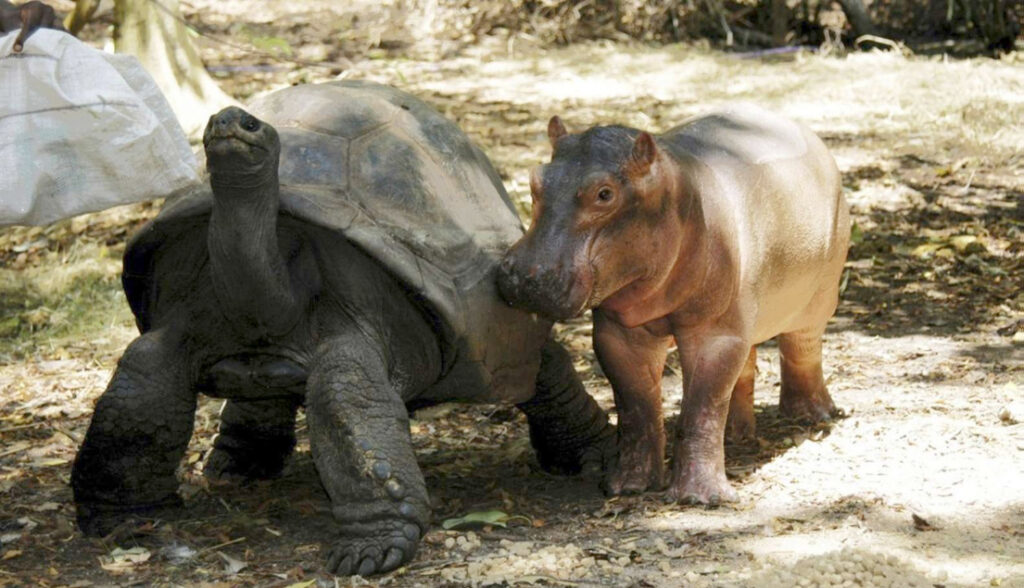 Photo: the dodo/Getty
Mzee, the tortoise, and Owen, the orphaned hippo, enjoying a day together.
Motherhood can sometimes be hard to define, but I know it when I see it, and what I've noticed lately is that there are all kinds of mothers and all kinds of mothering. For me, there's foster motherhood, one of the most satisfying things I've ever done. I'm so grateful that my life allows me to pursue this truly beautiful passion.
I love being busy, and fostering keeps me busy all the time. But right now, what with flying back and forth between New York and Florida — and with kitten season in full swing — I'm busier than ever. And of course, I love it.
I especially love caring for those whose special needs make them even more lovable. Alice and Maxine, two recent fosters, are inspiring examples of patience and spirit, two virtues that also show up in the wonderful families who adopted them.
A lovely grey Tabby, Alice was left outside by her family, got pregnant, and delivered her kittens alone in a disgusting area. My colleagues at North Shore Animal League America came to her rescue, and her four babies were quickly adopted. But it was clear that Alice had some sort of allergy that was seriously affecting her in every way. So she came to me, and we spent more than two months observing and monitoring her as we experimented with various meds and foods, all the while consulting with the doctors at Long Island Veterinary Specialists. We eventually determined that her allergies were most likely not food related, but the result of the poor environment she'd lived in. This is yet another reason I feel cats should live indoors!
I am so happy to share that all the bald spots have grown in, her fur is thick and smooth, and she's no longer scratching and biting her itchy spots. She was with us a long time, and I miss her.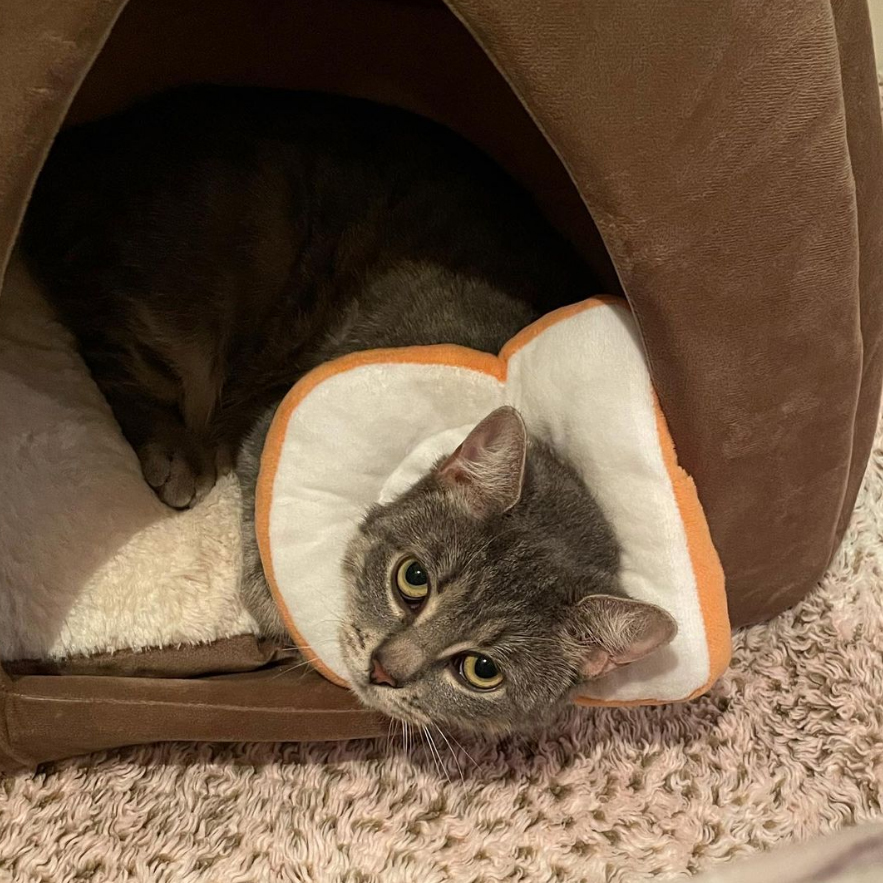 "Alice in Wonderbread."
"Alice woke up with bread head today."
I made lots of silly puns about Alice and her adorable bread cone, but as we worked to get to the bottom of her allergy this device prevented her from licking and scratching at herself and helped her heal. Through it all, she was such a good sport, the perfect example of grace under pressure.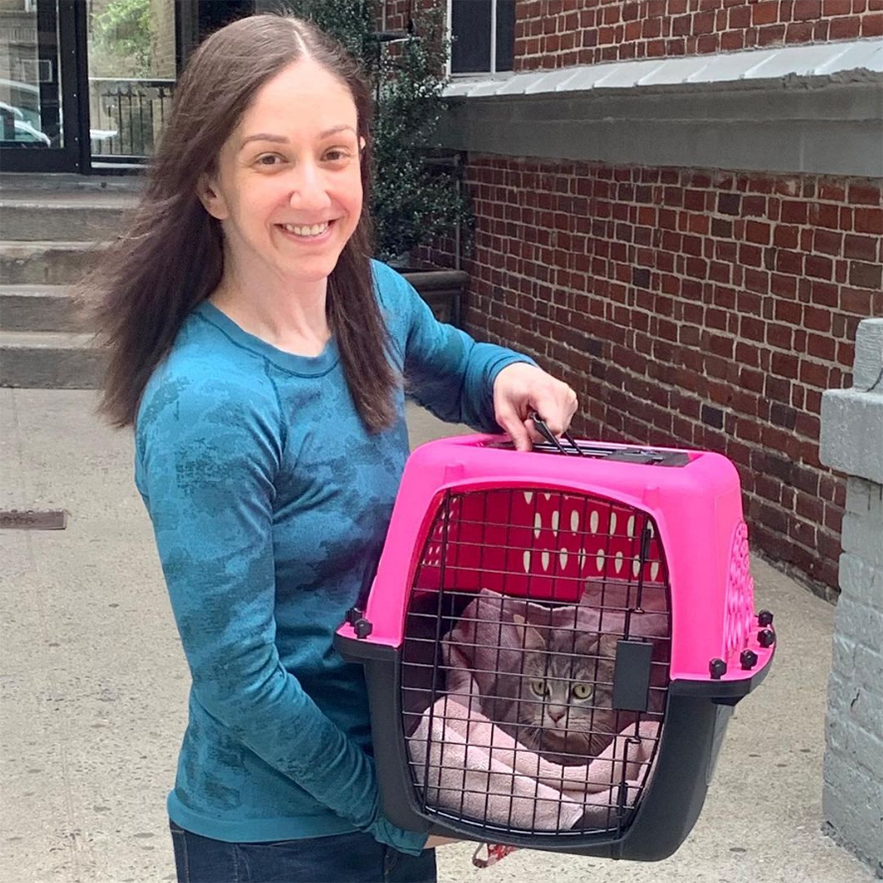 Beautiful Alice goes to her loving forever home.
And I couldn't be happier.
Another special-needs kitty is Maxine, below. She was rescued by a lovely man who nurtured and bottle-fed her for her first months of her life. He contacted me and said he had a special case, but he didn't realize that her condition was CH, cerebral hypoplasia, a neurological disorder that causes abnormal balance and coordination. Cats with CH often fall over and wobble, though they experience no pain. Her case is pretty severe, but she is able to use her litter box beautifully and eat from a bowl. Her only limitation is not being able to use stairs. Her loving adopters, below right, are well educated about CH kitties and she is thriving with her new family.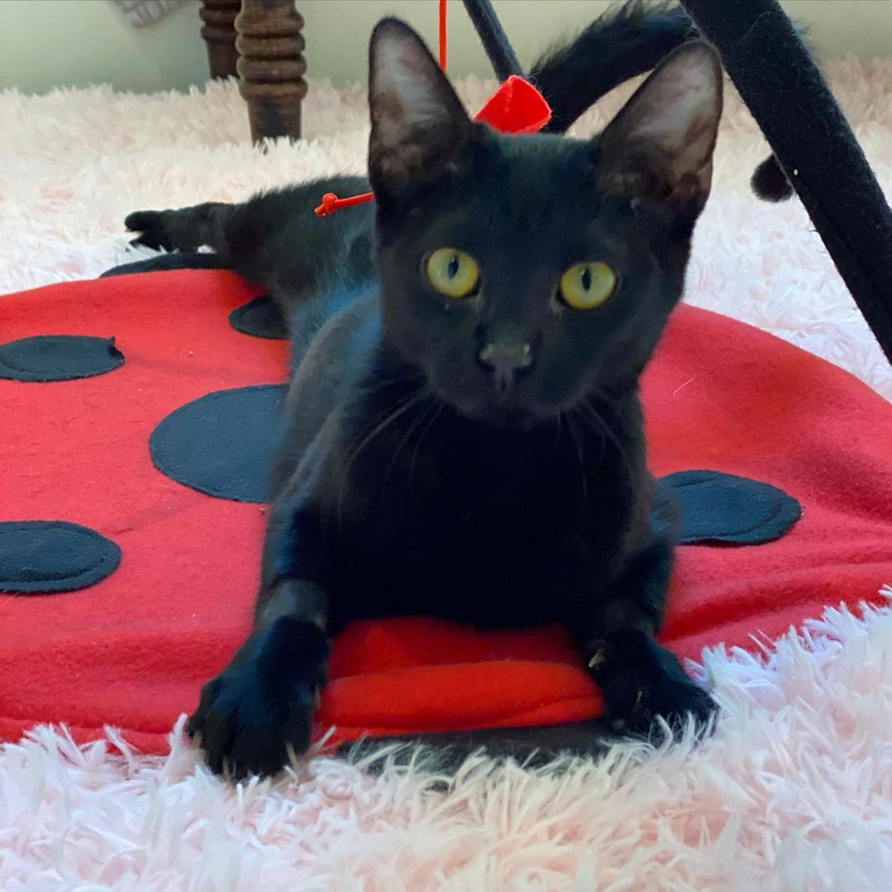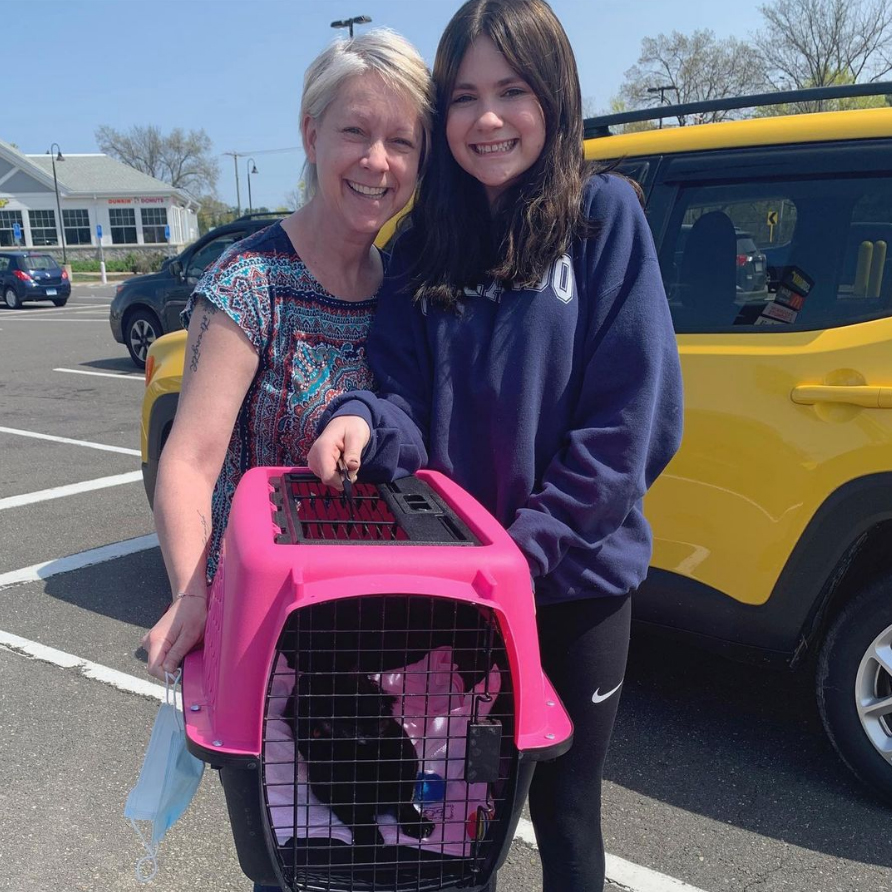 I recently had two sweet mother/daughter adoptions: Mama Daisy and her Buttercup and Mama Soleil and baby Skylar. Daisy and Buttercup, below, were found in the basement of an apartment building where Mama Daisy, just one year old, was giving birth. They are both utterly charming and are now enjoying life as Brooklyn and Chelsea with a couple who loves doting on them.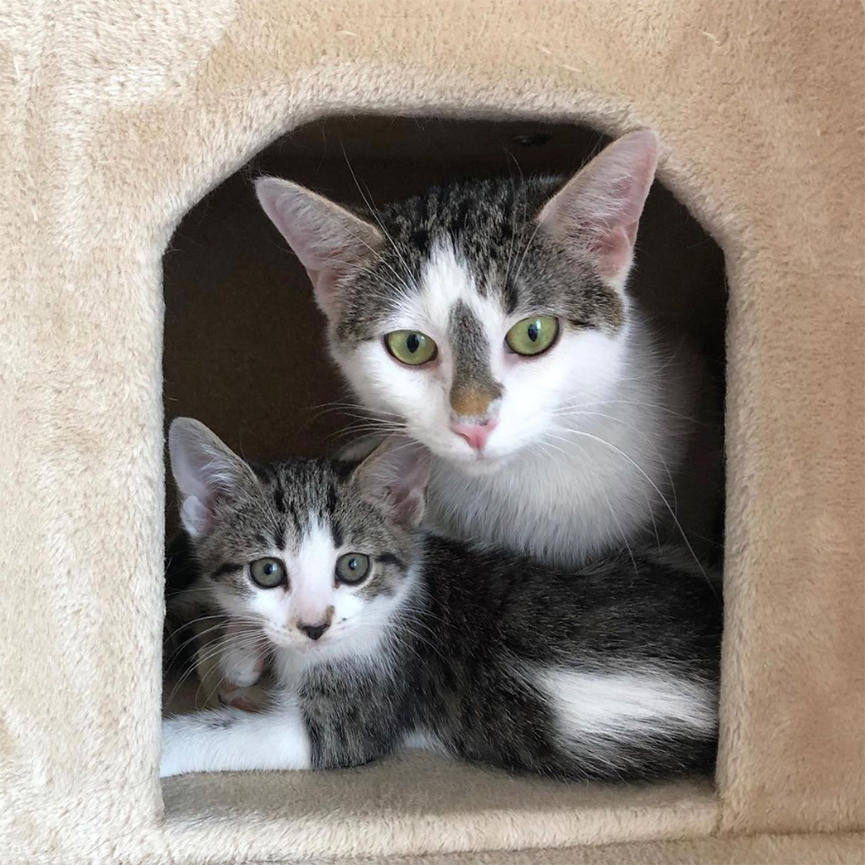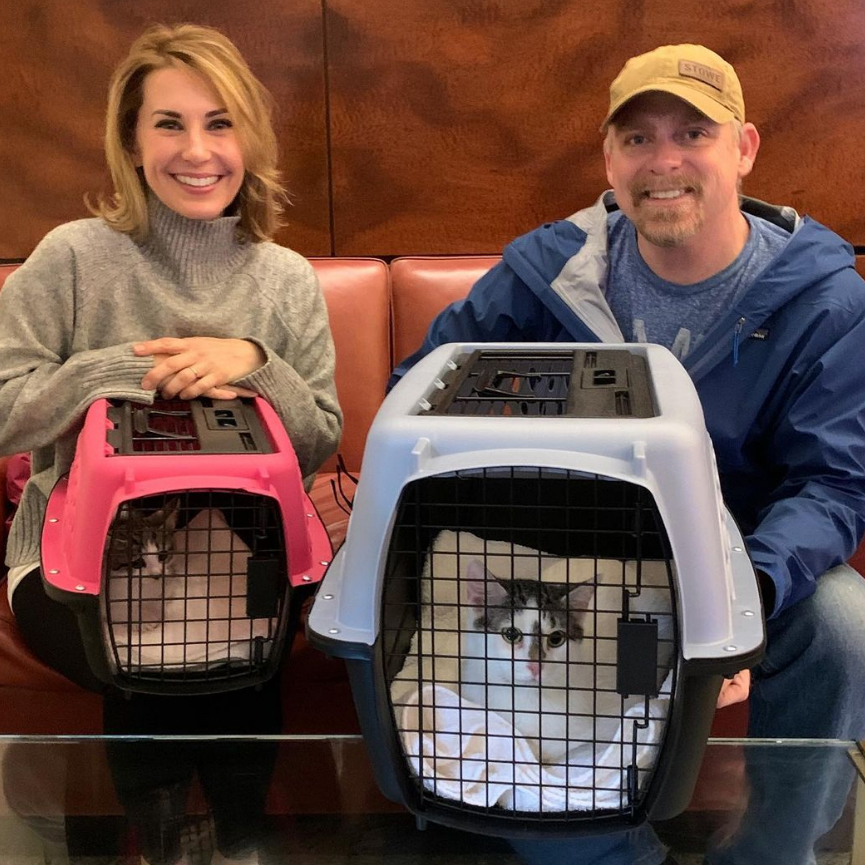 Mama Soleil and Skylar, below, have a more complicated story. They were trapped in a feral colony for TNR (trap, neuter/spay, release). After spay/neuter, ferals (aka community cats) get the tip of one ear surgically snipped ("tipped) so other trappers know they've been altered. I always view that ear tip as a badge of honor!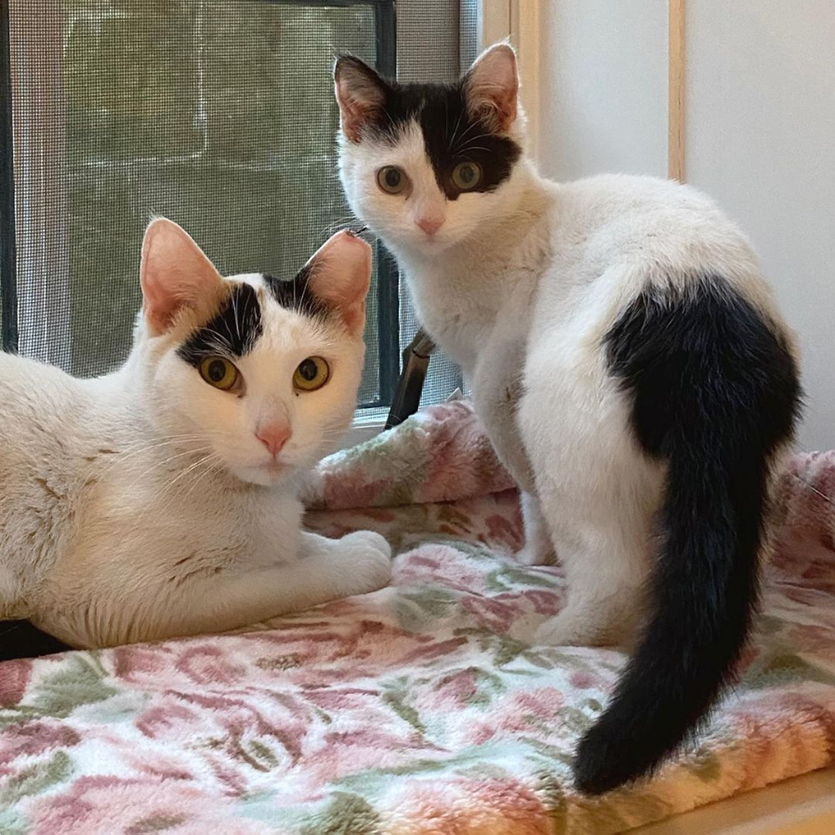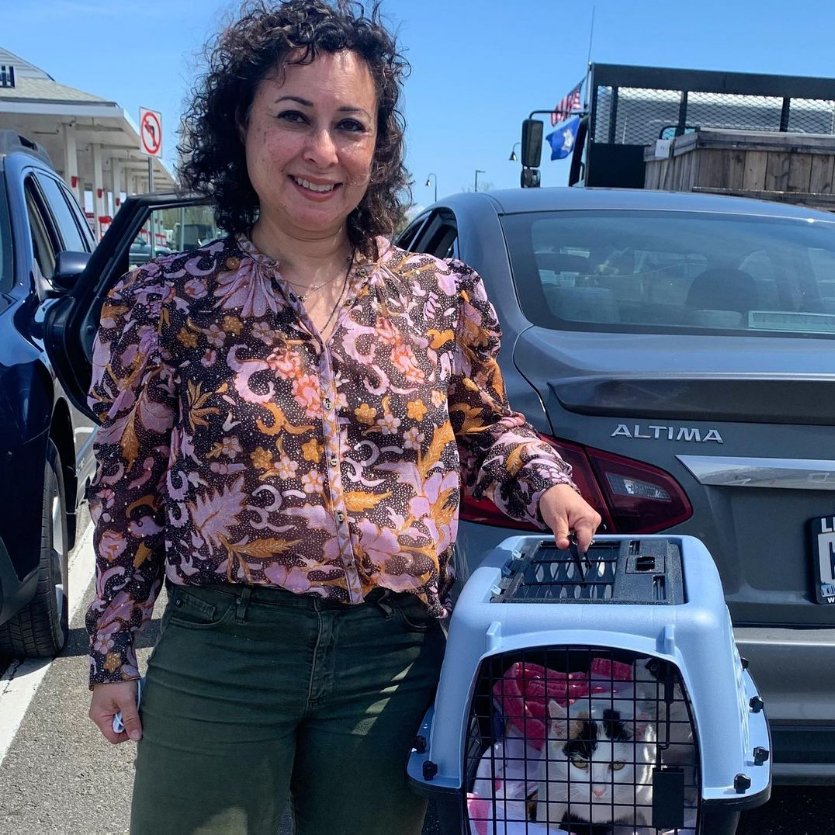 My colleagues at Animal League America realized that Soleil wasn't feral after all and that she'd most likely been dumped and found a location where food was provided. She'd actually had two other kittens besides Skylar: Izzy, and Alex, who were trapped several days later. These two adorable siblings, below, were anxious and needed socialization. I immediately enrolled them in the Stern School of Socialization, but when a woman with extensive feline socialization experience fell in love with them and wanted to adopt them, I said yes! They are currently continuing their "schooling" and by being adopted, have made room for the other nuggets who need me.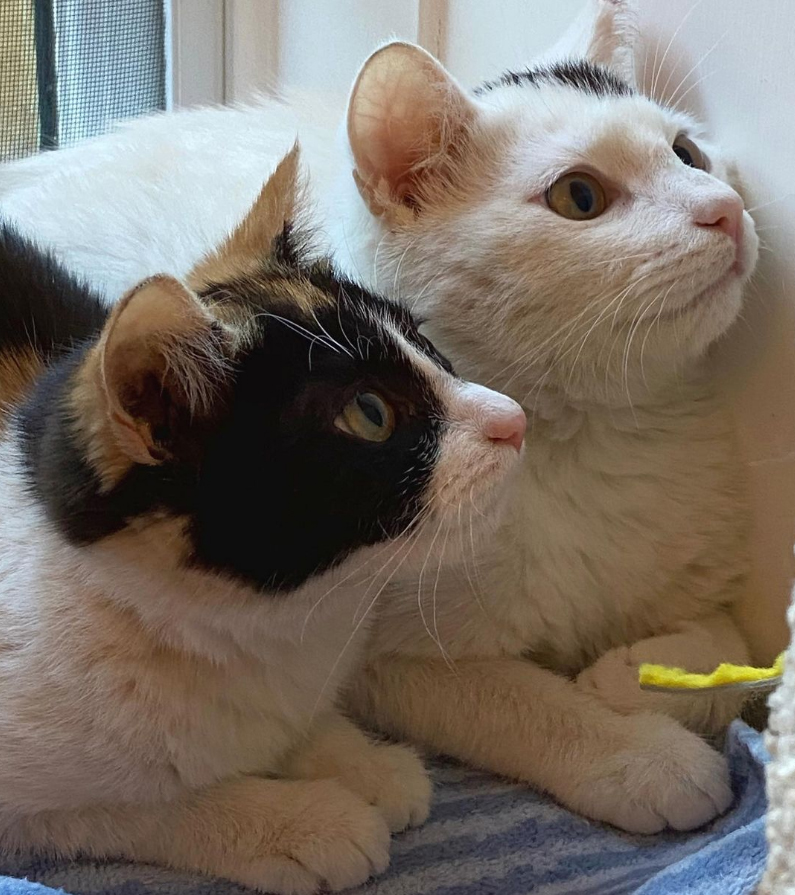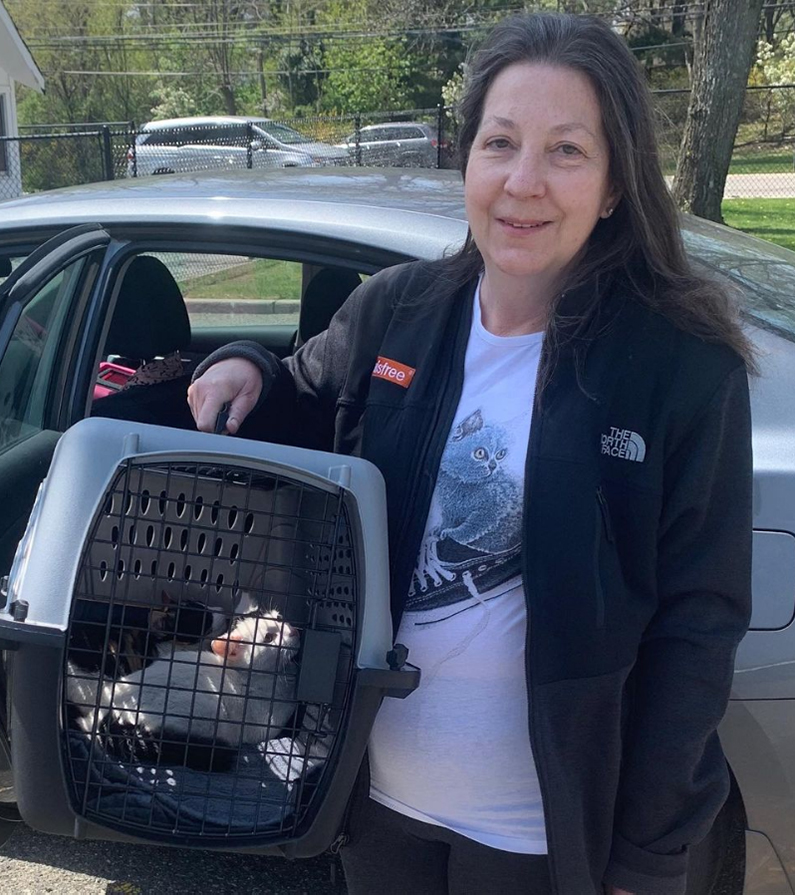 Rescuing feral kitties sometimes presents bittersweet challenges. Rose, Alexis, Stevie, and Jocelyn, snuggling below, are four adorable 7-week-old nuggets who were rescued with their feral mother and nurtured by two awesome people who followed all of our recommendations for their care. The kittens are beautifully socialized and will find homes as double adoptions. Mama was spayed and, after carefully assessing her, we realized that she is truly feral and would never be happy with people. She was released back into her feral colony, where wonderful volunteers will care for her and the others like her.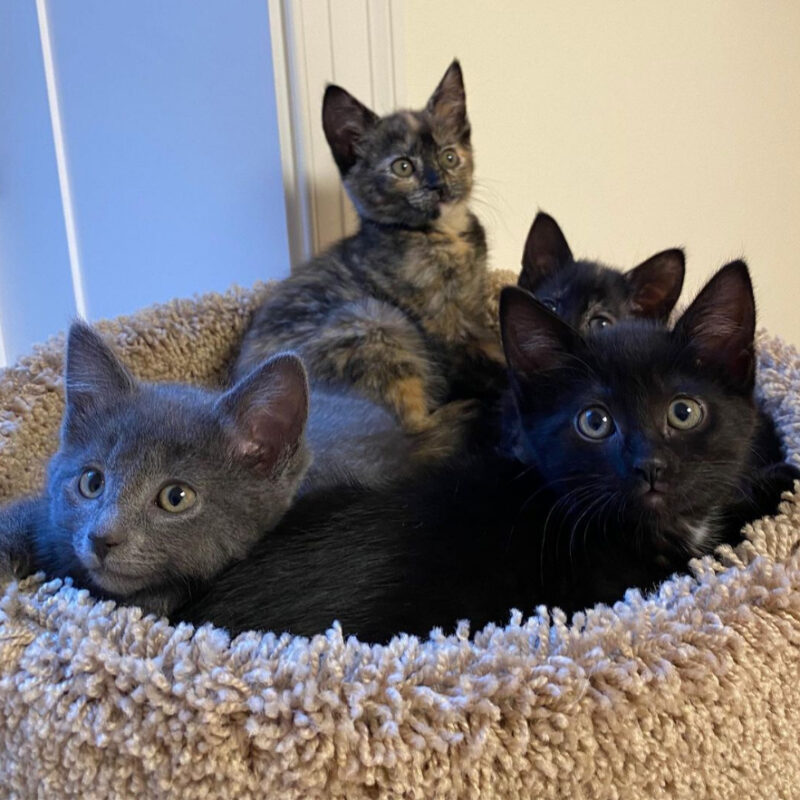 There were many other cats and kittens this Mother's Day Month, like 10-year-old Dolly, handsome boyfriend Junior, and sweet Ronnie, plus two kittens found under a car in Queens. And another new mother, Mama Boots, arrived with her five perfect Tabby nuggets, Herb, Curtis, Fox, Kaelee, and Colette, below.
Wildlife moms are busy this time of year, too. Last month I reposted this notice on my IG site from one of my favorite organizations, the Evelyn Alexander Wildlife Rescue Center of the Hamptons where I also volunteer. It definitely bears repeating here.
I'm so grateful to be part of the Wildlife Rescue Center, where I trained to do wildlife transport several years ago. It all began in November 2011, when Howard and I were strolling on the beach near our home and discovered a badly injured seagull. We secured the bird and called for help. The center quickly responded, and on November 27, 2011, I had the honor of releasing that bird back into the wild. Watching that healthy bird soar over the ocean was truly something I'll never forget! That's the moment I decided to become a wildlife volunteer. You can see a video of that release on YouTube.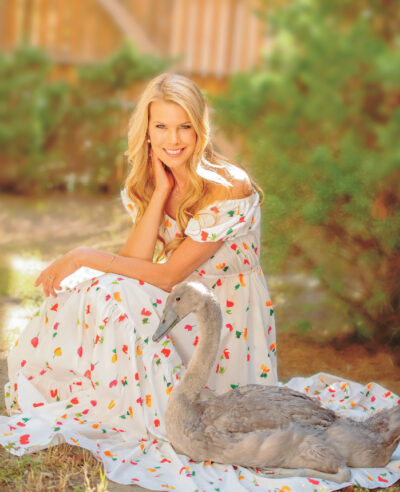 There have been other wildlife rescues since, and they're all so meaningful. If possible, I hope you'll get in touch with your local wildlife center and train to be a volunteer. Being able to help our wildlife neighbors is truly a beautiful way to connect to Mother Nature.
xo
Beth
I love this photo that Howard took of me and an elegant companion at the Evelyn Alexander Wildlife Center of the Hamptons.
P.S. My colleagues at North Shore Animal League America recently completed their 21st Annual Tour For Life®. Having to re-imagine this event due to the pandemic, they worked with partner shelters and rescue groups in 53 cities and 37 states to promote safe adoption events, which resulted in 2,159 animals finding their forever homes! Never resting on their laurels, they immediately launched their Global Pet Adoptathon®, in partnership with Purina®. Again using safe, socially distant adoptions, this unique event involves 2,000 shelters in the United States and 10 countries from Australia to Japan and from Thailand to Canada. To learn more, go to animalleague.org/petadoptathon.

Also, Animal League America is launching its third annual Giving Day fundraiser with a special virtual event on June 10th for those who donate. See heartwarming stories about some of the thousands of animals they saved during the past year. For more info on how you can join this virtual event, visit their Giving Day page.