Grief is Love Continuing Mourning for and with the pets we love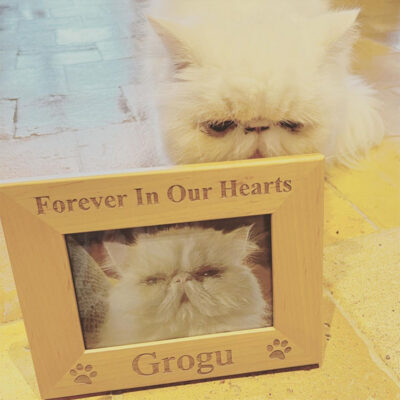 We know when they're happy — that crook in the tail. We know when they're angry — the flattened ears and the arched back. And we certainly know when they're scared or annoyed — hiss! Our cats have rich emotional lives and we've learned to understand their eloquent body language. So, after Grogu died on August 4, I wasn't surprised to see his best friend Yoda, grieving. But it broke my heart, just the same.
For the first week after Grogu left us, Yoda was in mourning. He was overeating, sleeping more, and spending a lot of time in the corner of the room where Grogu had been in distress and dying. It was Yoda who had alerted me and took me to Grogu when he was convulsing and suffering. There's no doubt that Yoda understood how much Grogu needed me.
They had a unique and beautiful bond from the second they met. It's as if they knew they were of the same mold: beautiful white Persians who were both neglected and abused by their first families and then rescued and loved by Howard and me.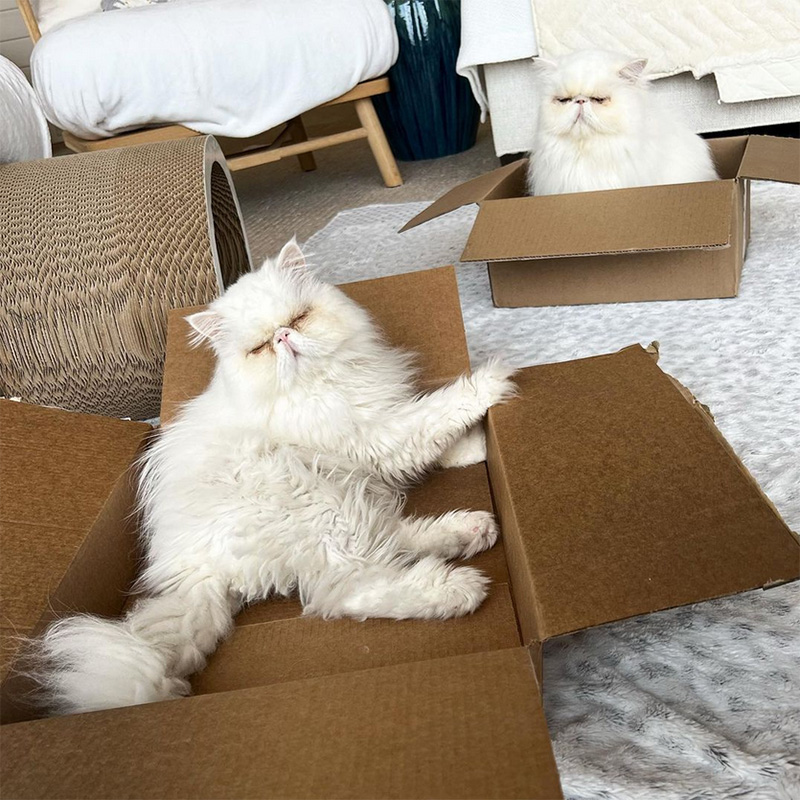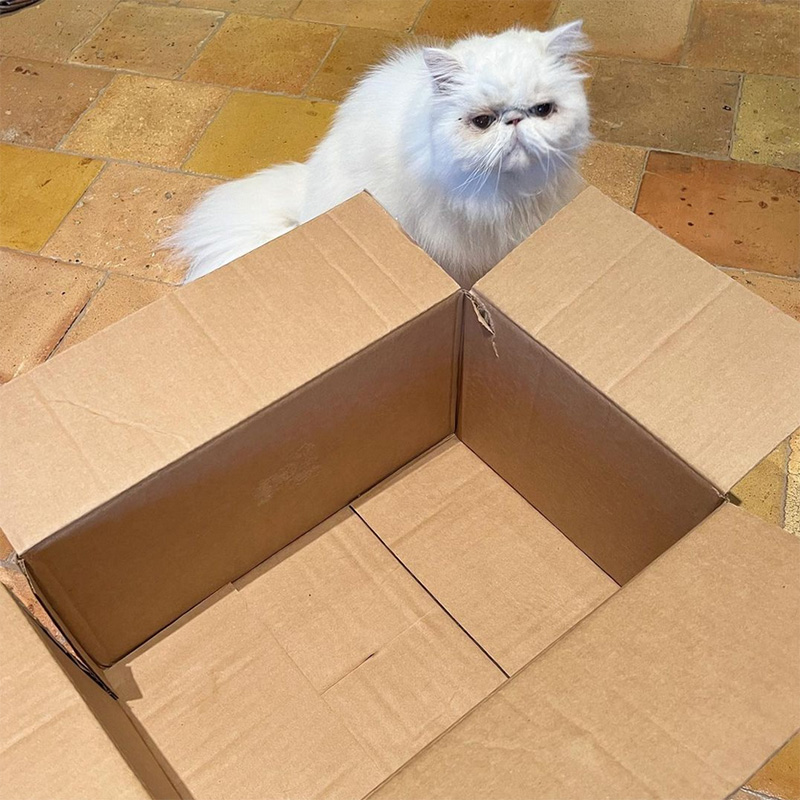 They were always together, and now I can't help but think that Yoda is still looking for Grogu, his box buddy.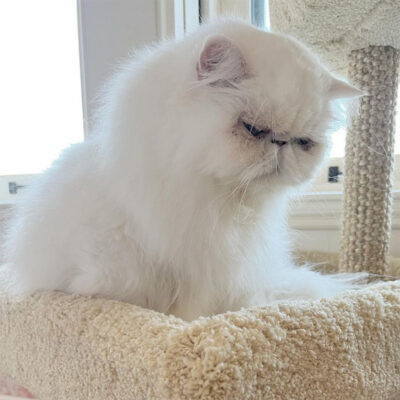 As I write this, it's about three weeks since Grogu died, and most of Yoda's mourning behavior has faded. Thank goodness. Still, he hasn't played since, and he just doesn't have the same kind of relationship with any of our other resident cats. We're giving him lots of extra attention, maintaining his routine, and keeping a close eye on him, which helps with our grieving, too.
Even if Yoda doesn't completely understand the concept of death, he definitely gets absence and how it disrupts the security that comes from routine. And that's also a big part of how we humans experience grief.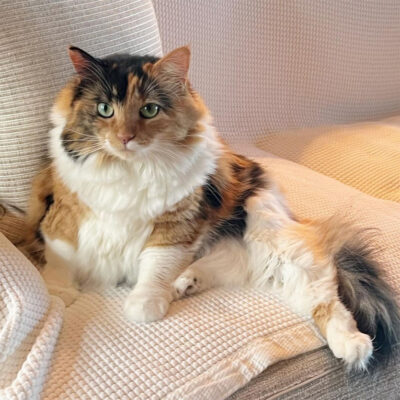 The Moosh was looking for little Grogu a lot, too. It's heart-wrenching to observe animals mourn the loss of each other, and no one can tell me they don't. I recently read that there's now more scientific evidence than ever showing that nonhuman animals, especially mammals who live in groups, have an awareness of death, experience grief, and often mourn their dead. In fact, there's a growing field of scientific study called "comparative thanatology" that focuses on how nonhuman animals respond to death.
I remember a famous story about a mother orca whale who carried her dead infant through icy water for many days before finally accepting the calf's death and letting go. And you've probably seen videos of African elephants mourning their dead and visiting their bones in a sort of ritual. In May, an article in The New York Times related how images of grieving Asian elephants, who are more reclusive than their African cousins, were caught on YouTube, including five instances when females carried the bodies of their dead calves.
Grief is one more profound way that we humans are connected to nonhuman animals. Love is another, because if nonhuman animals suffer loss as we do, then I think they must have loved the being who is suddenly gone.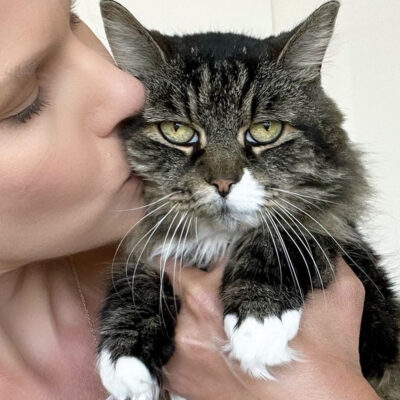 And I know that cats grieve the loss of their people, too, like poor, nine-year-old Tabullah. Her human recently passed away from Alzheimer's disease, and Tabullah came to me with many undiagnosed health issues. Her heart, her kidneys, her liver function…all not good. Tabullah will go back to my specialty vet to make sure her medicine is keeping her stabilized. I think the absence of her person adds to Tabullah's physical state. Disruption is difficult. Loss is hard.
I had a loving home all lined up for her, but they decided they weren't ready for a hospice case after losing their cat recently, which is understandable. Grief takes as long as it takes. But now, here I am, falling in love with Tabullah and I'm not quite sure my heart will be able to handle this again so soon after Grogu. I hope to find another wonderful adopter who has a huge heart for sweet Tabullah. She deserves it. All she wants is a lap and a sunny spot to sleep.
Most cats are like Tabullah; they require very little to make them happy. But for little Lolavie, it's a bit more complicated. I told you about her last month, how she spent the first five years of her life in a small cage, birthing kittens. It disgusts me to no end. She'd never felt a gentle human touch, and for her first three weeks with me, she rarely moved. She stayed in the middle shelf of her kitty tree all day and night. I was very concerned about her inability to accept human affection.
In the last week or so, she's made tremendous progress, and I'm happy to announce that she is now socializing, allowing me to pet and brush her, walking around everywhere, and following me! She plays with kitten toys and loves Mo. The other day, I caught her snuggling Olive, a new black kitten, and I wondered if by instinct, scent, or some sense we don't even know about, she was remembering and maybe grieving all those kittens of her own.
What Lolavie needed was enough time to understand that being a cat in a nice, safe environment with other sweet cats (and a funny rabbit) can be fun! She is happy. You can just observe a cat and feel their sadness or joy.
Left: A still taken from a video of Lolavie cozying up to a new kitten. Her purr was so loud I bet you can hear it just looking at her face.
People say they become forgetful in grief…can't remember phone numbers, the day of the week, can't focus enough to read their email. I know this feeling. It seems like the only thing you can remember is gone.
I think it helps to give yourself permission to grieve and to try to remember the sweet times. Looking at old photographs of when your pet was vibrant and healthy helps so much, sparking memories of the good life he/she enjoyed with you. My colleagues at NSALA have put together some helpful ideas for dealing with your loss.
Which is why September 22 is such a special day on my calendar. It's "Remember Me Thursday," and I'm honored to be one of the celebrity representatives of this event. Every year, the third Thursday of September is set aside to honor all the pets who never had a chance to live in a loving home, all those who are waiting in shelters right now, our own rescue pets, and for me, those whose lives we shared but are no longer with us. Grogu, Charlie Chunk, Leon Bear, Apple, Sophia, Bianca, and the pets of my childhood.
Courtesy newyorker.com
I've come to realize that grief is not something you "get over." Rather, it's an ongoing expression of love that changes and softens but never leaves. Not long ago, I happened upon this quote from V.S. Naipaul, who won the Nobel Prize in Literature in 2001. I think he defines grief perfectly.
xo
Beth
P.S. I'm happy to tell you about North Shore Animal League America's 2023 Calendar. I had a fantastic day meeting and posing with an assortment of darling dogs and cats for this calendar. I hope you'll order your copy (or copies?) now. They make wonderful holiday gifts and the proceeds benefit the continuing work at Bianca's Furry Friends Feline Adoption Center. Order yours at animalleague.org/2023calendar.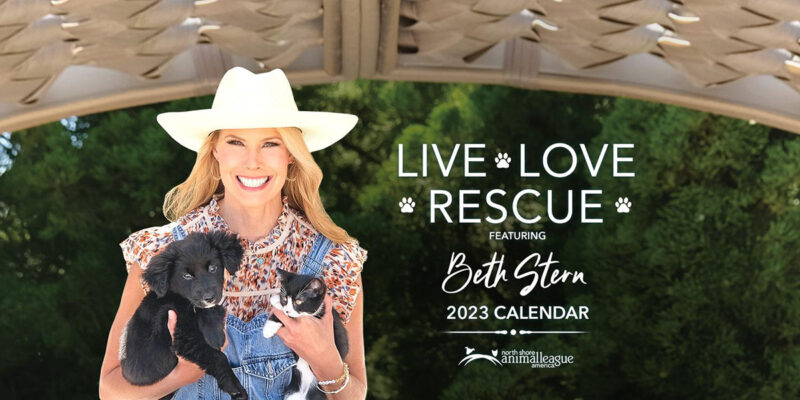 P.P.S. September is National Disaster Preparedness Month. With the floods, fires, and storms we're witnessing around the world these days, it's more important than ever to be ready to make quick, lifesaving decisions. Be sure your pets are ready, too. My colleagues at North Shore Animal League America have put together a detailed guide to help you keep your pet safe in an emergency.