Help Heal Generations of Neglect for a Boston Terrier Family
Recently rescued by Animal League America, this multi-generational trio of Boston Terriers is in need of emergency medical treatment. Six-year-old Sweetheart, one-year-old River, and three-month-old Winston share the same lineage and are all suffering from the same life-threatening, hereditary condition. What these family members also share is an affectionate disposition and easy-going nature, despite the challenging circumstances they have endured.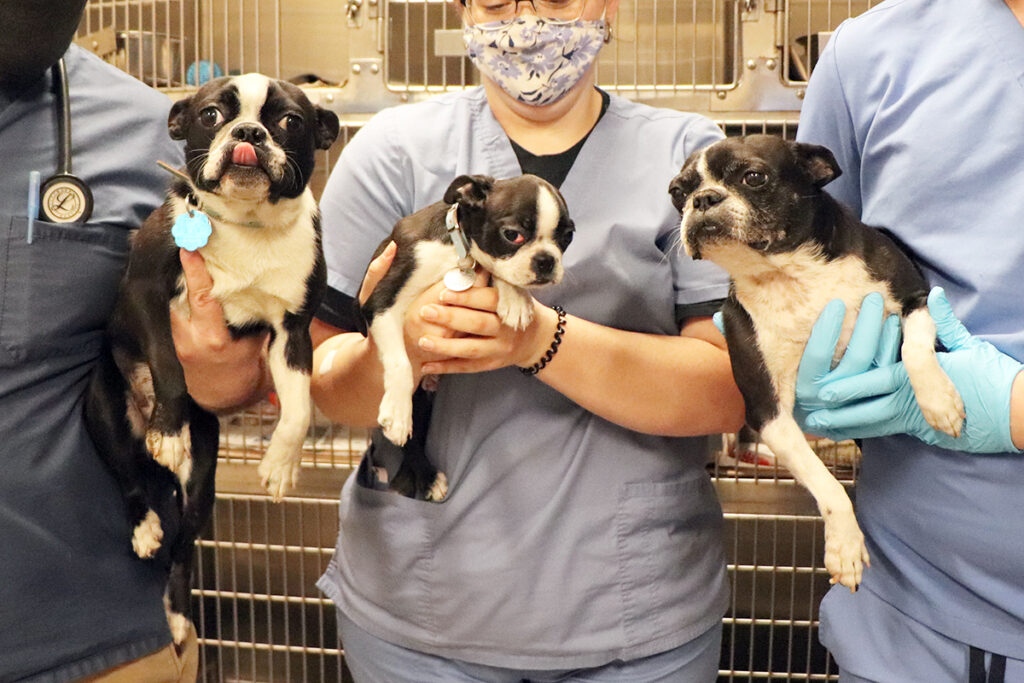 "Patent Ductus Arteriosus, or PDA, is a developmental problem of the heart," explains Dr. Gerard Laheney, Senior Veterinarian at North Shore Animal League America. "The temporary ductus arteriosus vessel is supposed to close after birth. With PDA, it fails to close and causes extra blood to flow to the lungs, and increased stress on the heart and lungs." Time is of the essence for these dogs, as the longer the condition is left untreated, the more likely it will result in permanent damage, including congestive heart failure.
Unfortunately, PDA is not the only condition that will need to be treated for these pups. Sweetheart also has a large, ulcerated tumor with concerning features on her perineum. Giving her anesthesia is too dangerous with a compromised heart, however, so her PDA must be addressed first. Winston's "cherry eye"— the prolapse of an eyelid gland — is a common occurrence among certain dog breeds, and will be corrected with a surgical procedure.
Receiving thorough veterinary care for the very first time, these adorable Terriers all exhibited the utmost patience and tolerance with their handling and examinations, seemingly grateful to finally be in healing hands. Treating the critical issues for Sweetheart, River, and Winston requires an enormous financial expenditure, in addition to an extraordinary amount of time and attention.