His Jaw is Broken, But Not His Spirit
When Eddie, a young Miniature Pinscher mix, arrived at our Port Washington, N.Y. campus on a Mobile Rescue Unit from Georgia, it was obvious that there was something very wrong with his jaw — it was pushed to one side of his face and there were teeth protruding from his mouth that were way out of place. Somehow he must have found a way to eat and stay alive. The staff could only guess that he was in dreadful pain and they handled him gently.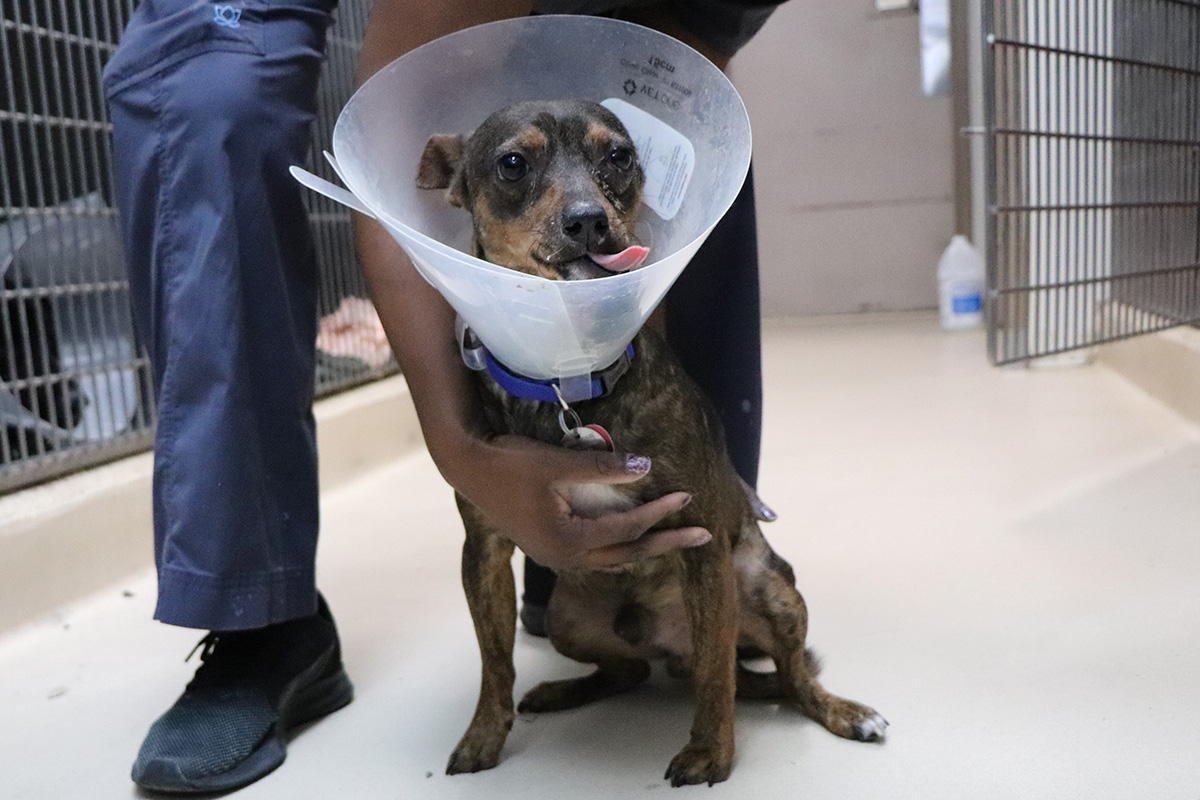 In addition to the problem with his jaw, Eddie also had a bright red and swollen-looking eye. This medical condition is called cherry eye. It develops because a tear gland in the dog's third eyelid becomes inflamed and slips out of the corner of the eye. This always needs to be fixed surgically because it can lower the eye's tear production, cause infection or ulcers, and even a hole in the eye.
Treating Eddie's eye was the first priority, and while Eddie was put on the schedule for his neuter surgery he would also get his cherry eye fixed at the same time. The veterinarians were also able to get x-rays of his skull and lower jaw while he was under sedation. They didn't want to cause him any further pain by attempting to manipulate the jaw when he was still awake.
"After looking at the x-rays, we diagnosed Eddie with a mandibular fracture on the left side of his mouth midway back between a few of his pre-molar teeth," said Dr. Mark Verdino, Senior Vice President and Chief of Veterinary Staff. "It could be the result of a trauma, but more likely it's from a dental abscess when one of the tooth roots became infected. It eroded the bone, which then gets weak, and you end up with a pathological fracture because normal chewing can actually break the jaw." How sad that because of neglect such a young dog had to go through the pain of a fracture that was never fixed.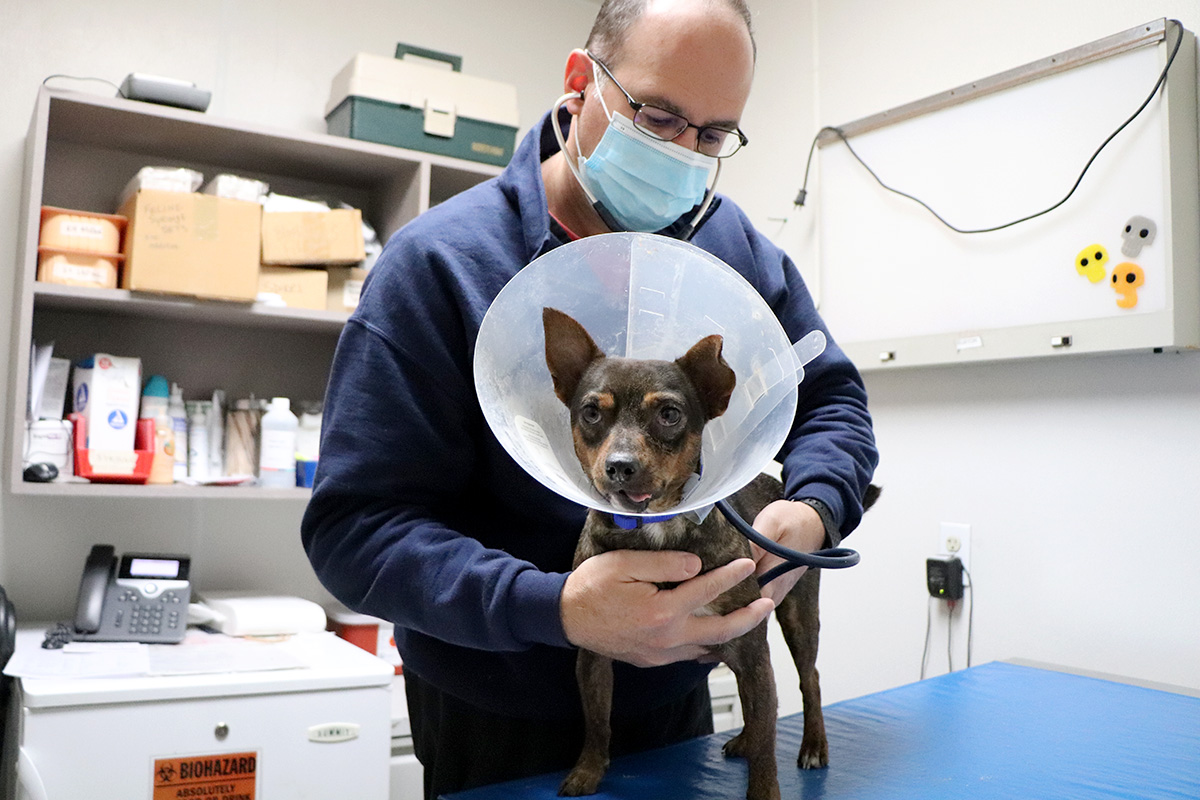 Even though it was an old fracture, the jaw is still so unstable and deviated that it was decided to pursue surgery as the best course of action to help poor Eddie. "We are going to try to fix it by cleaning up the bone, freshening it, and putting in a small bone graft," stated Dr. Verdino. "Then we place an external fixator or stabilization device that sits on the outside of the jaw. That will have to stay in place for about six to eight weeks."
So far, Eddie has shown that he will not give up and that his fighting spirit will get him through his next surgery and the two months of rehabilitation that will follow. He knows that the best is yet to come and is excited to experience the love of a happy home and a doting family for the very first time.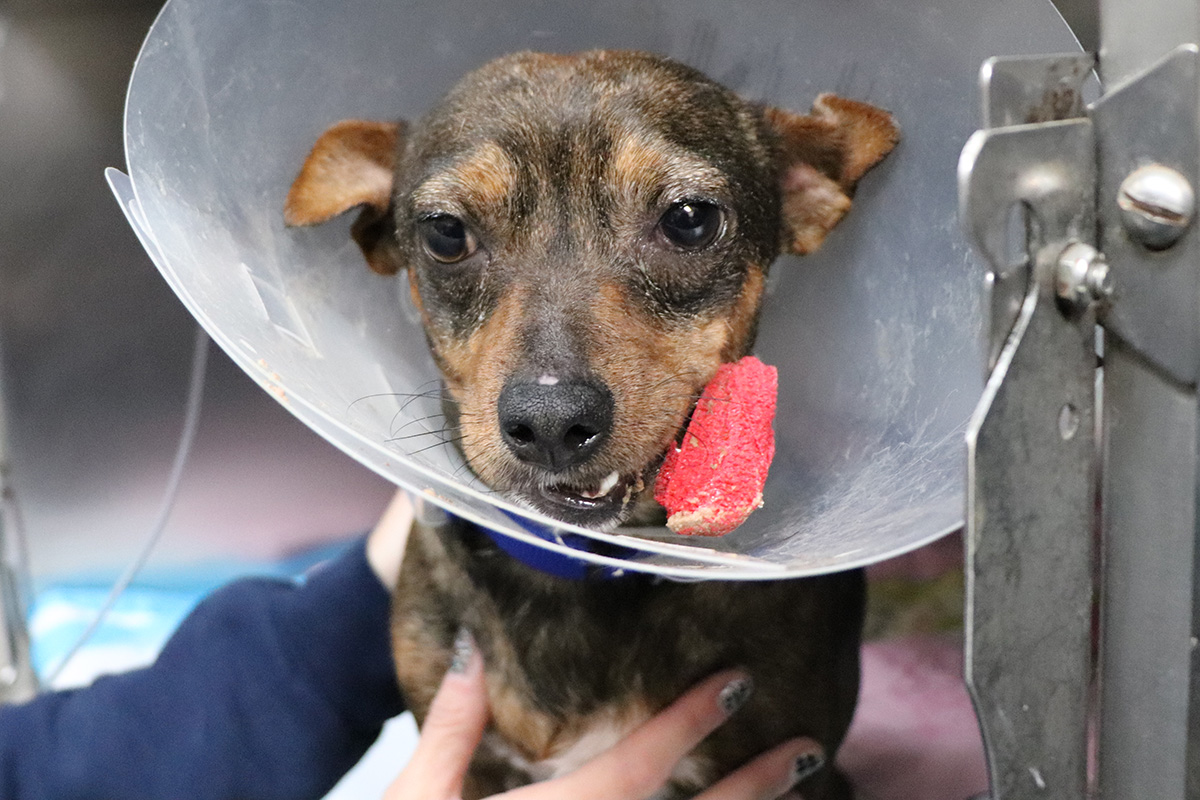 Sometimes it's difficult to predict the outcome of a surgery, but when the quality of an animal's life is at stake, Animal League America is willing to do whatever it takes to try. There is a possibility that the jaw bone will not grow back together and it stays separated. Once Eddie has the surgery, it will be a waiting game.
Eddie has a long journey ahead, thankfully as a member of our Help Me Heal Program he won't be alone. Through the generous support of our donors, Eddie will receive round-the-clock care and compassion to help him along the way. Your donation today can help Eddie and countless other injured and abandoned animals get the lifesaving care they need.