Puppy's Fragile Heart Needs Urgent Care
Max is only a couple months old, but his heart is already having to work overtime to keep him alive. Diagnosed with a severe heart murmur, Max will require surgery to repair his congenital defect. Will you help us heal Max's tender heart?
We were first notified of Max's condition by our shelter partner Lakeside Animal Rescue in Charleston, SC. His heart murmur was so pronounced, that it was quickly picked up during his initial examination. Knowing Max would need specialized care, Lakeside reached out for help, and then flew Max to New York, personally escorting him all the way to our Port Washington campus.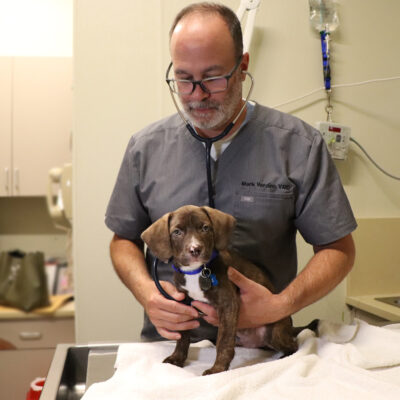 Further testing confirmed a diagnosis of pulmonic stenosis. "This condition is when the pulmonary artery—which is the heart's main artery to the lungs—doesn't form appropriately, so it is more narrow than it should be," explained Animal League America Chief of Veterinary Staff Dr. Mark Verdino. "When his heart tries to pump blood to the lungs, it has to work much harder. Max's condition is deemed fairly severe, at a grade five out of six."
All this adorable and wiggly pup knows is that he would like to run and play with all the visitors he encounters. Without treatment, however, Max could experience heart failure. "Typically the recommendation is to send a catheter up through his femoral artery into the heart and inflate a little balloon to stretch the valve out," said Dr. Verdino. "He will always have a heart murmur, but the goal is to give him a good quality of life and longevity."
The procedure to repair his heart has to wait until he gets a little older and his growth has plateaued. In the meantime, Max will be placed into a foster home, where he will be under a loving and careful watch so he doesn't overexert himself. Once his surgery is complete, he may still require medication, but we are hopeful Max will get to live the life of a playful puppy.
Though he has only been in the world for a handful of weeks, everyone at Animal League America knows that Max has so much joy to bring to the world, and that he will touch the lives of many people as he grows and finds his family. We can't provide critical treatment for animals like Max without your help. Please make a gift today so we can heal hearts and save lives.