Tiny Kitten Survives Deadly Impact but Faces an Uncertain Future
At only eight weeks old, tiny Puffin has survived a traumatic impact that might have killed even a larger cat.  No one knows for sure, but it's likely that Puffin was hit by a car in Brooklyn, NY.  It was a miracle that she survived and she needed intensive medical care immediately.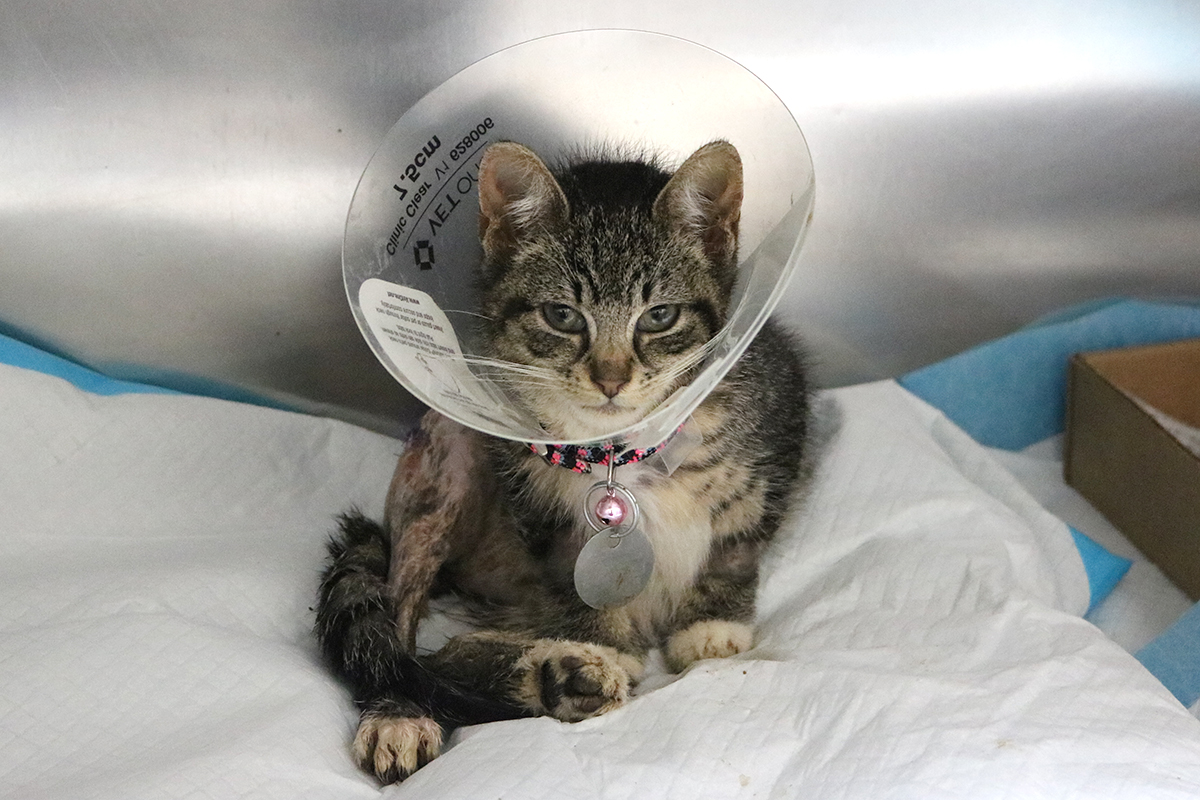 As soon as North Shore Animal League America's Rescue Team received the call, they raced to the Animal Care Centers to pick her up. On first examination, Puffin's right hind leg was lame. She was barely able to stand on her left hind leg and only in a sad-looking, hunched over position. The attending veterinarian at our Pet Health Centers ordered full body x-rays and luckily her lungs had not been affected and there were no other internal injuries.
"This was a pretty gruesome injury. The femur broke and came through the skin," said Dr. Mark Verdino, Senior Vice President and Chief of Veterinary Staff at Animal League America. "The open wound then became infected. The left hip was also dislocated. It would have taken a significant impact to cause both of these injuries."
Now, it was up to the veterinary staff to determine the best way to proceed to heal Puffin, given her multiple injuries. Something had to be done quickly. "If it wasn't for the dislocated left hip, we would have opted for an amputation of the right hind leg given the severity of the injury and the infection," stated Dr. Verdino. "However, if we amputated her right hind limb, she would have been left with only her abnormal left hind limb and may not have been able to walk. We opted to try the repair and aggressive antibiotic therapy."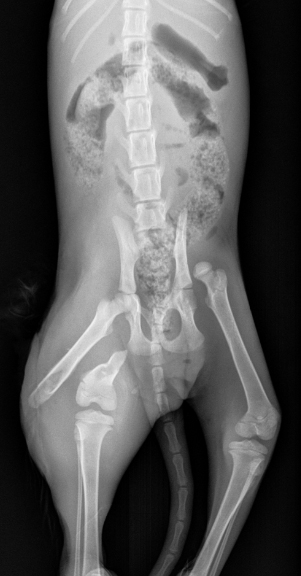 Before surgery.
After surgery.
It was a difficult surgery and doctors needed to realign the bones before placing a large pin and three wires to hold them together. Puffin is still recovering in the emergency care unit and she's starting to stand. The veterinarians all say she is so sweet, super cute, and such a good patient!