Sweet Sadie Looks to You For help
July 5, 2018, Port Washington, NY: 
Sadie gingerly stood on the examination table inside the Emergency Care Unit of North Shore Animal League America's Pet Health Centers as she was examined by Dr. Mark Verdino. You could see the discomfort in her eyes as the Senior Vice President and Chief of Veterinary Staff gently manipulated her mangled right hind leg and severely damaged left hip. He would go on to describe in detail the painful way this tiny puppy most likely sustained her injuries.
"Sadie came to us from a municipal shelter in Turks and Caicos. We were told that she arrived at their shelter unable to walk or bear any weight at all on her hind legs most likely the result of being hit by a car. Unfortunately, this isn't uncommon on the island. We've actually rescued several dogs who have suffered the same fate," Dr. Verdino said. "When she arrived here, the x-rays showed she had a badly fractured pelvis, which actually fractured right through the growth plate at the hip joint on the left side of her body. Because her right hind leg was also injured and she wasn't able to stand or walk, the leg became almost stuck in a fully extended, rigid position. She couldn't bend the leg at all when she first arrived."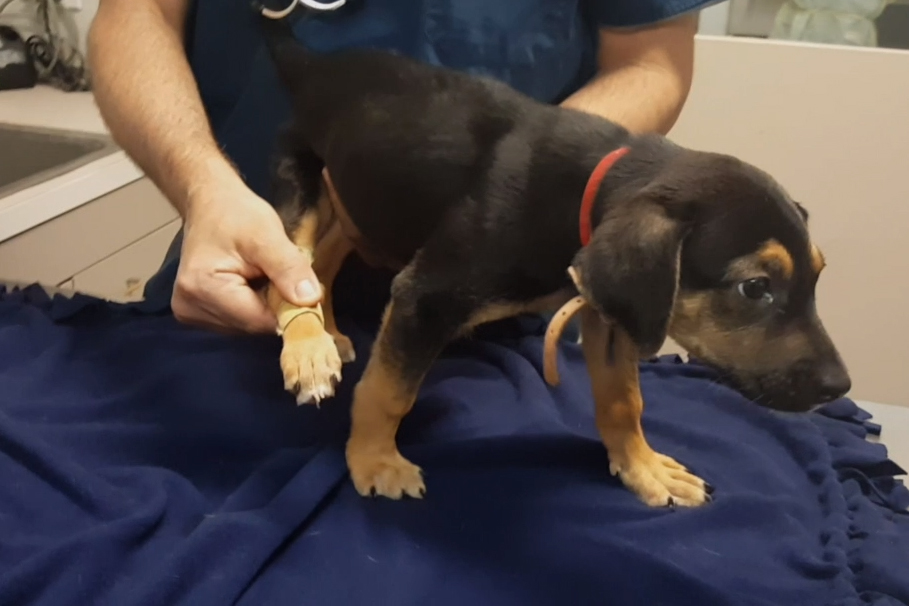 Since arriving at our no-kill campus, Sadie has been enrolled in our one-of-a-kind Help Me Heal Program in hopes that the compassionate care from our skilled veterinary team and the nurturing touch of Foster Care parents can help her recover from her devastating injuries. There's no questions that it will take countless hours of physical rehabilitation and strengthening her muscles in the aqua therapy pool inside our newly opened Pet Wellness Center before our veterinary team could say what's next for little Sadie. One thing is for certain, everyone involved in her recovery process will do everything in their power to get this little Shepherd mix back on her feet and into a responsible, loving home as quickly as possible.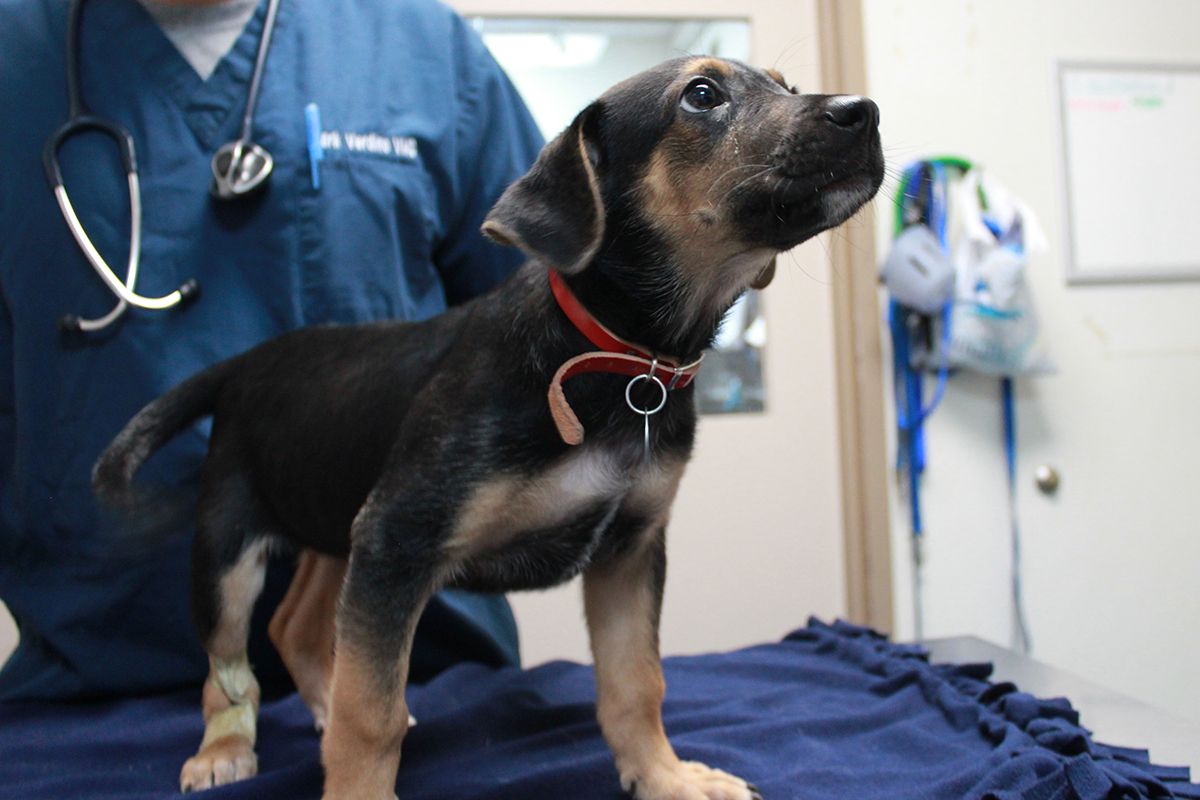 "The problem is that because she's still growing, things are going to change as we go along. Things could get better or they could get worse, but obviously we're hoping to see improvement on the right side first. The whole left side of her pelvis is shifted and because of that it's likely she's going to have persistent problems with it throughout her life unless we take some sort of action. She's not even a candidate for a hip replacement because the pelvis is so abnormal, so we have to take it step by step and then decide down the line when we know more. Our main focus right now is helping her build strength in her legs so she can fully bear weight."
Sadie's journey here may be a long one, full of highs and lows, ups and downs, but she will always be cared for at Animal League America's no-kill campus. Thanks to the support of our charitable donors, our Help Me Heal Program will provide her with a chance at a happy, healthy life with a family who cherishes her. Without that support, Sadie would have likely died alone in the street or been euthanized at an overcrowded municipal shelter due to the high cost to treating her severe injuries. For Sadie and the countless other animals we have helped to rehabilitate through the years because of this lifesaving program, we thank you for you continued commitment and generosity.