Sweet Catahoula Mix Needs Your Help Now
Abandoned by the only family she's ever known. Suffering from painful lesions covering her torso, neck and head. Given just days to live. This was the harsh reality faced by 8-month-old Sasha, a sweet and docile Catahoula mix recently rescued by North Shore Animal League America.
With the help of Precious Friends Puppy Rescue and Adoption, one of our loyal shelter partners in Tennessee, we were able to send one of our transplanted team members to save the life of this innocent puppy, who was scheduled to be euthanized within hours of our arrival. When she arrived, Christina Lovari, Animal League America's National Community Outreach Manager, saw a scared, young puppy in need of rescue. With Demodectic mange, an unsightly skin condition caused by parasitic mites, covering her most of her hairless body, it was obvious that Sasha needed the type of individualized, long-term medical care that only the world's largest no-kill rescue and adoption organization could provide.
"As soon as we got word she was scheduled to be euthanized we immediately made the decision to do whatever it took to save her life. She was left behind by her family and brought to the municipal shelter by the neighbors who found her," said Christina. "This puppy did nothing to deserve this and needed someone to step up and give her a second chance. I'm glad we were able to be the ones to do that for her."
After personally recovering Sasha from the shelter in Rutherford County, an outlying part of metropolitan Nashville, Christina drove her an hour and a half to the safety of our no-kill shelter partner in Clarksville. From there, the ailing pup was carefully loaded onto a Mobile Rescue Unit with other rescue animals from the area and transported back to our Port Washington, N.Y. campus. Once she arrived, she was immediately examined by Animal League America Veterinarian, Dr. Marina Tejada, inside our Alex Lewyt Veterinary Medical Center.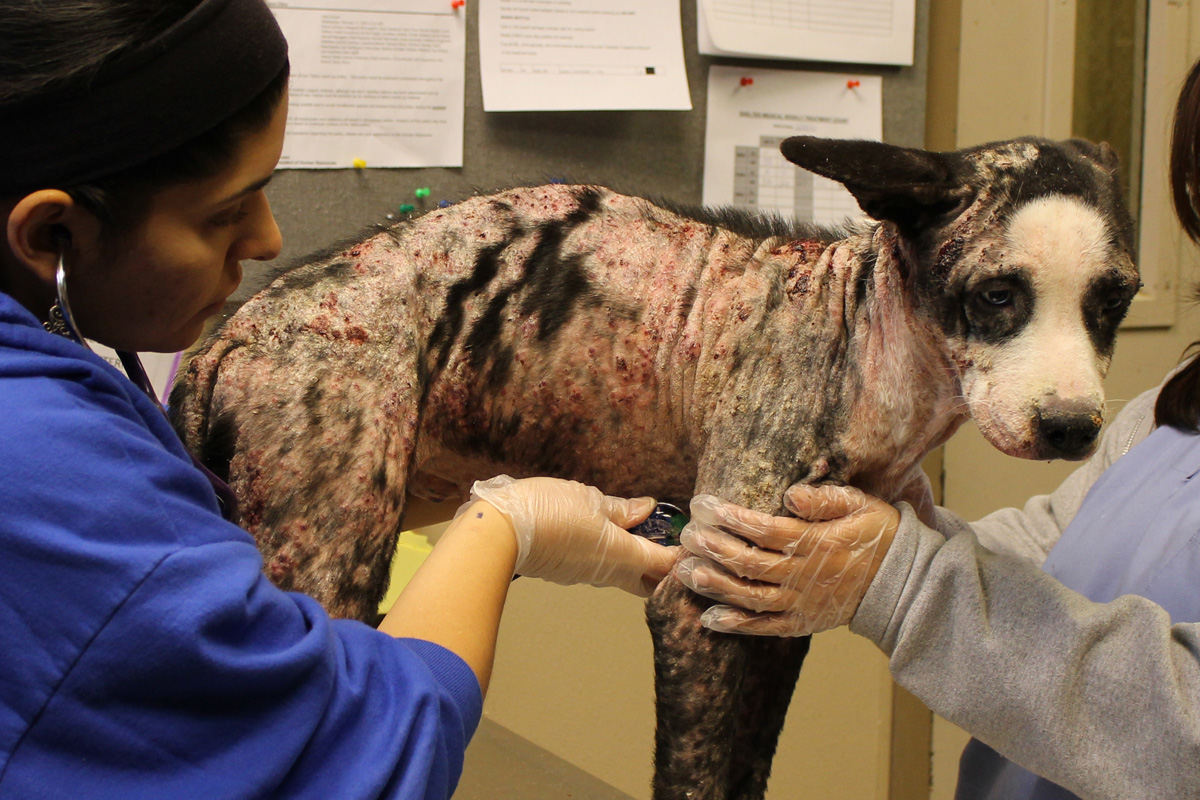 "Sasha has a very bad skin infection related to secondary Demodex mange. She now has bacteria and yeast overgrowth as a result to her skin being so infected. If that's not enough, this poor girl also has an upper respiratory infection and a heart murmur, which are unrelated to the skin condition," said Dr. Tejada. She estimates the puppy will need at least 4 to 6 weeks of around-the-clock medical care and plenty of visits to our top-notch grooming team for treatment baths before her coat begins to heal and the hair grows back.
"At this point she'll need several weeks of medicated baths to help decrease the bacteria growth and sooth the ulcerations she has on her skin. We'll also be giving her pain medication to ease her pain because she's very tender and sore. It's safe to say she has a long road to recovery ahead," she said.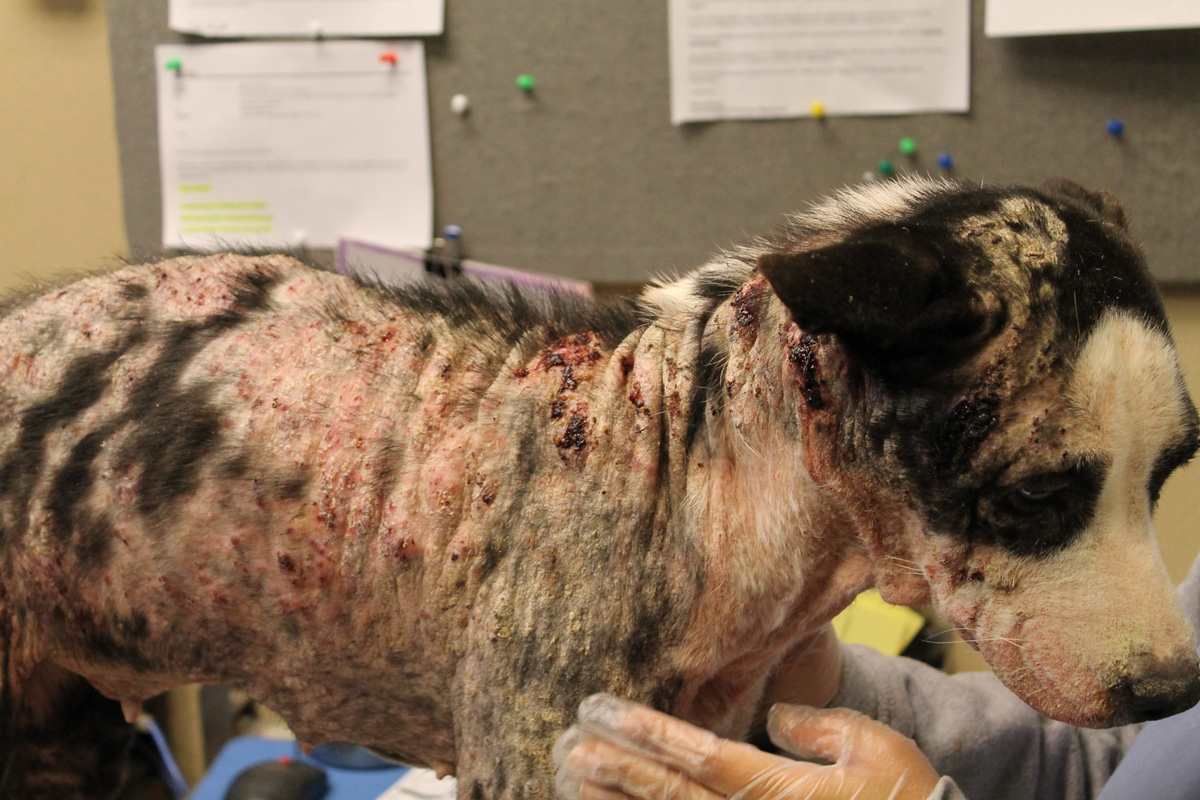 However long it takes for Sasha to recover from her ailments, she will be in the care of Animal League America's Help Me Heal Program. No longer will she have to worry about being in pain or being left all alone with nobody to care for her. Because of your support, Sasha and other companion animals just like her will receive the individualized, compassionate care that only our organization can provide.