As innovators in the no-kill movement with an unwavering commitment to rescue, nurture and adopt companion animals, North Shore Animal League America has tackled some tough rescues. Through our willingness to do whatever it takes to transform these hard-luck animals into happy, healthy adoptable pets, at some point we witness things that would make any animal lover sick to their stomach.
In mid-September, Animal League Shelter Director, Christina Travalja, received a phone call from local Police Department asking if the organization could spearhead another unique animal rescue mission. She was informed that there was an abandoned dog in a vestibule of an apartment building and asked if we could take it in for emergency medical care. Rescuing an abandoned dog isn't an uncommon thing for the people of the Animal League, but finding one suffering and so badly neglected that it's barely recognizable as a living animal, is.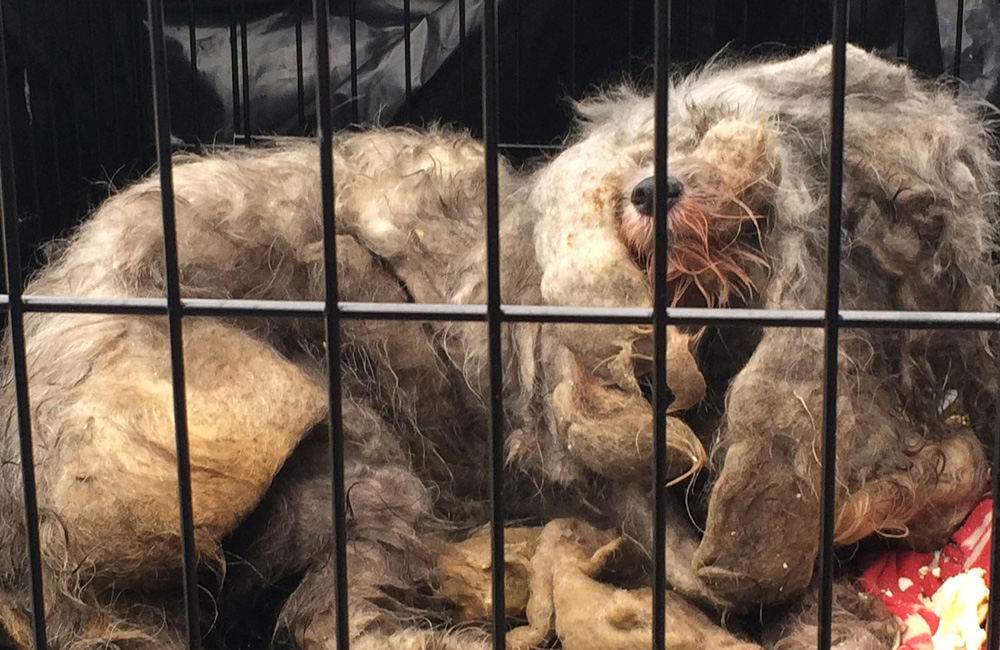 "When the police pulled up with the dog in a crate in the back of the pickup truck, I was the first one to see her. Without question, I can say that she was in the worst condition that I've ever seen an animal in before," Christina said. "It was truly heartbreaking."
Christina went to the back of the truck expecting to find a neglected dog, but what she saw inside of the crate draped with plastic garbage bags went far beyond that. A filthy, completely matted, bug-ridden gray coat covering the body of what she was told by police was a dog. Whether it was living or not was still to be determined. The coat was so thick and mangled that it made the animal nearly impossible to recognize, let alone decipher what type of condition it was in. As she got closer, she noticed the animal gingerly lift its head to look up at her. That's when she realized this dog was indeed alive and needed immediate care.
The dog, which an examination later determined to be an adult female schnauzer mix, was lying saturated in its own feces and urine. Christina said the stench that came from the crate was like nothing she's ever smelled, so the poor dog must have been living in this condition for an extended period of time. Not only was her hygiene effected by this extreme neglect, but it had taken a toll on her physical well-being. The 14-pound dog had a badly injured and severely infected front paw, which doctors believed it to be a result of her coat growing so tangled that it actually wrapped around the limb and cut circulation. If that wasn't bad enough, it was also discovered that she was suffering from muscle atrophy as a result of sitting stagnant in a cage all day.
"The minute we got her out of that crate I desperately wanted to convey to her that everything was going to be okay from that point forward," said Dr. Jessica Balter, who was the first veterinarian to examine the dog. "It quickly became clear that this was more than just a misunderstanding with regard to what constitutes proper pet care."
After her initial examination, the dog was placed in the care of Chief of Veterinary Staff, Dr. Mark Verdino, as well as a team of groomers and vet techs. The first step in rehabilitating this poor dog was to carefully remove her filthy coat and thoroughly clean her. This dog excavation of sorts, resulted in the removal of almost nine pounds of hair, cutting her nails, some of which were close to four inches long, and treating several wounds and lesions on her body that were a result of her sitting in her own waste for days on end. By the end of the process this little miracle not only had a fresh look, but this suddenly adorable, tiny Schnauzer was given a brand new name by Christina.
"I wanted her name be special, to represent her new beginning. I decided to name her "Zara," said Christina. The word is derived from the Arabic word, Zahra, which means flower/ to blossom. "She's obviously been through so much and hopefully this is the start of a brand new life for her."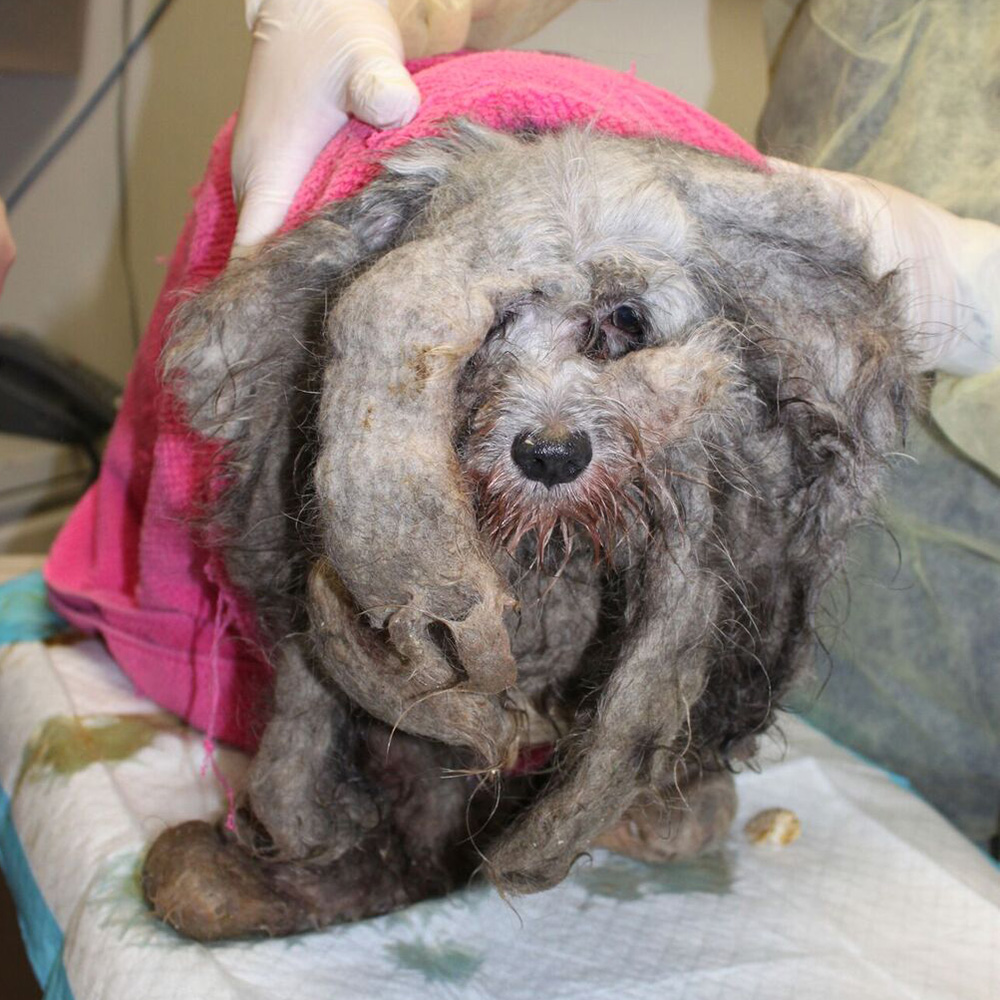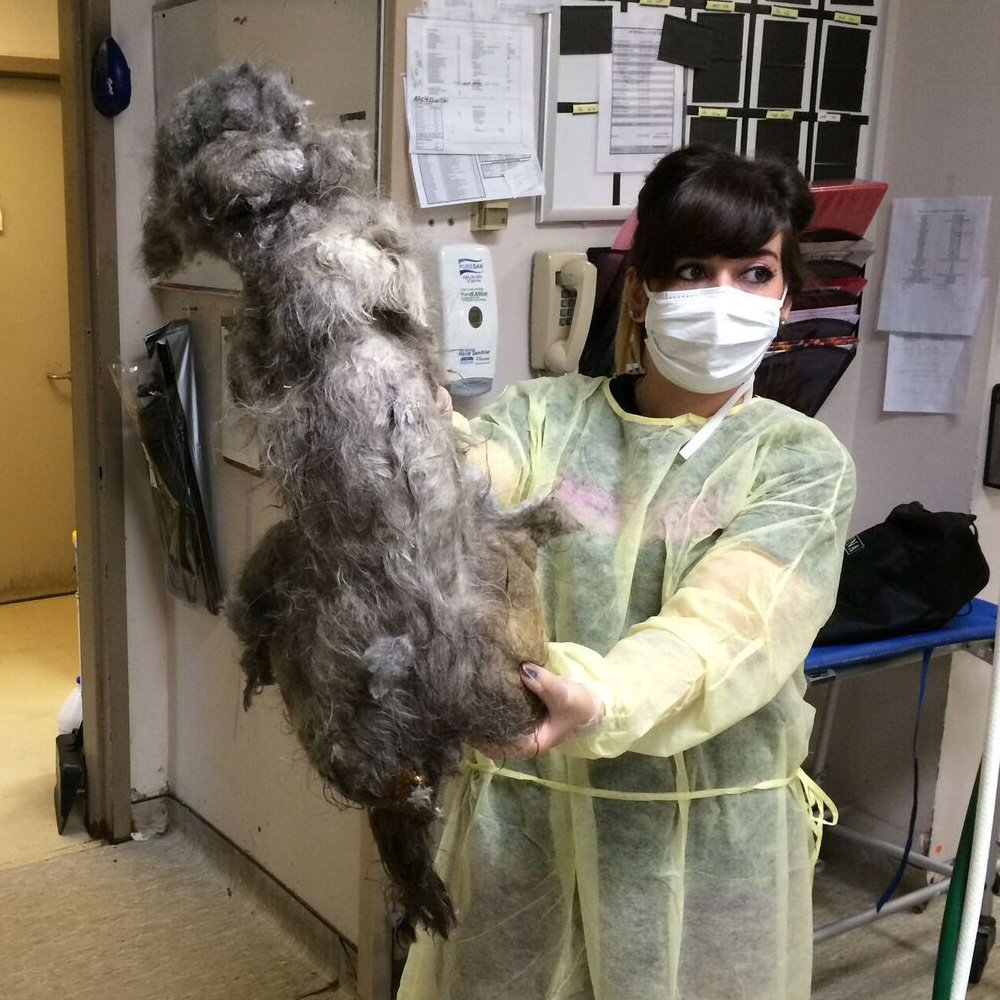 From the time she arrived in the back of that pickup truck, Zara officially had a new lease on life. It was here that she received state-of-the-art medical attention in our Emergency Care Unit. For two months, we observed as she slowly recovered, her physical and mental wounds slowly improving with every day that passed. Her badly infected front paw was treated with antibiotics and topical ointment and then wrapped in a stylish green bandage, with hopes that its condition would improve enough to save the limb.
As for the person or people who neglected this poor dog and left her in such horrific condition; they have been charged with animal cruelty. No longer does Zara have to sit stagnant in a cramped cage, covered in her own waste, just waiting for the day when the door is unhinged and she can be shown even the slightest bit of human compassion. She's in the care of the world's largest no-kill rescue, nurture, and adoption organization, and well on her way to much brighter days.