A day after Auton and 61 other dogs and puppies were rescued from the deplorable conditions of various puppy mills in the Midwest, the little Shi Tzu mix was nestled safely in the arms of Kennel Manager Rosie Tombolo. As she gently cradled him against her body on the short walk to his intake examination, Rosie noticed the adorable dog was struggling to breathe – letting out a steady wheezing sound that immediately raised a red flag with the veteran associate.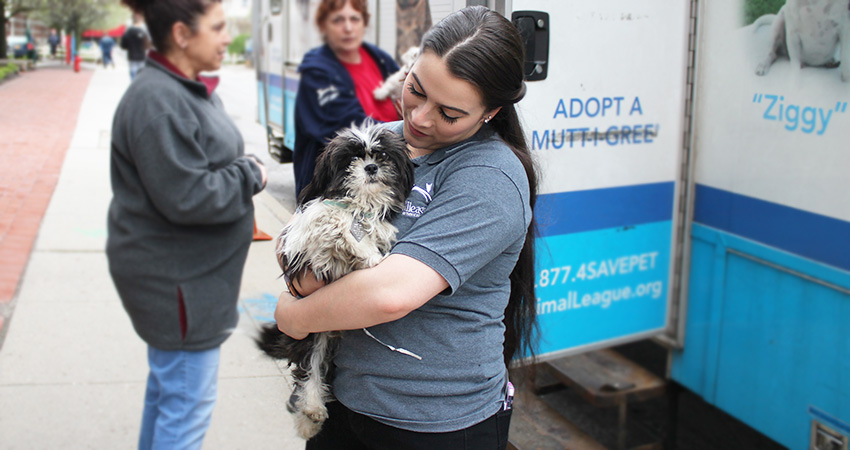 "I have been a part of countless puppy mill rescues and have helped to unload countless dogs from our rescue units when they arrive at our campus, but holding Auton and hearing him gasp for air was really concerning. I immediately went to one of our veterinarians and asked for him to be checked because I was truly worried about him," said Rosie recounting the day she met this little survivor.
After his initial examination sparked the concern of a respiratory infection, an x-ray confirmed this adorable pup was suffering from pneumonia. He was immediately started on medications to fight the infection and continuously monitored by our veterinarians. Although his condition did improve slightly, our medical staff noticed a persistent wheezing and abnormalities on follow up x-rays. A CT Scan of his chest later revealed that the 1 year old had a congenital defect called lobar emphysema – a rare disorder in which air becomes trapped inside one of the lung lobes. If left untreated, this condition would become life-threatening. Our veterinarians decided it was best to have Auton undergo surgery to remove the affected lobe once he was physically mature enough to withstand the serious procedure.
"The large airway that feeds his right front lung lobe is closed off" said Animal League America veterinarian Dr. Philip Litwack. "As a result, that lung lobe stays inflated and takes up a lot of space in his chest. This leaves less room for his healthy lung lobes to expand, making it more difficult for him to breathe. Without surgery to remove the abnormal lung lobe, its tiny air sacs may burst. Air would then enter the chest, preventing him from being able to breathe at all."