The Lifesaving Rites of Spring
On Monday, March 20, at 5:24 p.m., EDT, spring begins in the Northern Hemisphere. For me, the first day of spring is both wonderful and daunting: flowers, sunshine, and birdsong — a fresh and beautiful new start. And then, of course, there's kitten season. All that adorable new life…and all those sweet babies needing forever homes.
Kitten season is already in full swing at my house; it never actually stops. And neither does my commitment to each and every one of them, little nuggets like Tiny Timmy the Tuxedo, the teensiest in a litter of four. At the moment, he is the star of my IG and the favorite of his Mama Betty. Although she's a wonderful mother to all four of her kittens — Zaylee, Chicklet, Zipper, and Timmy — Betty and Timmy have a special bond and will go home as a double adoption when the time comes.
Another feline family, Mama Bliss and her rambunctious grey fuzzy boys, is thriving, too. They came to me snuggled in a box lined with newspaper and immediately made themselves at home. They haven't stopped playing and eating since they arrived.
In late February, six-month-old kitten Pashi (below) arrived from Budva, Montenegro, nearly 5,000 miles away! He has CH (Cerebellar Hypoplasia) and weighed only four pounds. CH is a neurological disorder that some kittens are born with that does not cause any pain. He wobbles when he walks and has no idea he is a bit different. In fact, he is a good eater and uses the litter box perfectly. I loved him immediately! He loves other cats and dogs and apparently bunnies, too. It didn't take long for a wonderful family to spot him and take him home where he'll get all the love he deserves every day of his life. When I think about his journey, it almost feels like a miracle.
Sadly, most pets aren't as lucky as Pashi, which is why I hope you'll do something special for the pets in your community on Thursday, March 23, which is National Cuddly Kitten Day and National Puppy Day. It just breaks my heart to think of all the puppies and kittens born homeless…or abused by monstrous humans…or bred in pet factories like puppy and kitten mills.
Last year, New York passed the Puppy Mill Pipeline Bill, which bans the retail sale of dogs, cats, and rabbits statewide. But this law doesn't go into effect until December 2024, and unless there's a comparable federal bill, puppy and kitten mills will continue. Since 2007, my partners at North Shore Animal League America (NSALA) have been working with other rescue organizations across the country to rescue puppies from dog factories. In February, their dedicated rescue team returned from Missouri breeding mills with 50 dogs and puppies both pure and mixed breeds, all of them experiencing a gentle world for the first time in their lives. My great colleagues at NSALA recently sent me updates on one of them, a Silky Terrier named Tillie.
"Though barely a year old herself, Tillie arrived pregnant. Given her young age and diminutive size, we knew that it was possible she could struggle with delivery. Thankfully, the first-time mom was in our loving and expert hands, where we could do our best to ensure that she would survive her labor. If she hadn't been rescued, this would have been only the first of many litters her body would have been put through. We didn't have to wait long. After a couple of weeks, Tillie safely gave birth to five puppies, though sadly one was stillborn. Innately protective, Tillie proved herself to be a helicopter parent, keeping an anxious watch over her brood. Her four puppies are all thriving, and in the coming weeks, as Tillie settles into the comfort and care in our Pet Health Centers Nursery, we hope she will begin to relax and realize her hard work is done. Tillie is worthy of a life where she can be the playful young pup she is. This sweet family has much to look forward to, and we will stay with them every step of the way until each one of them has the loving home they deserve."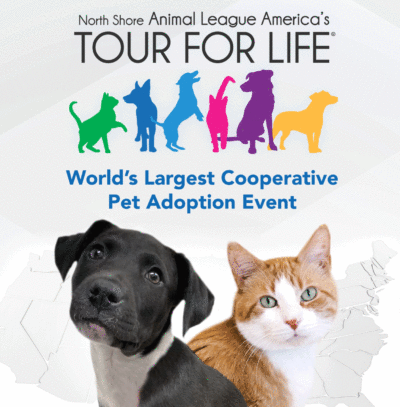 I'm so proud to be the spokesperson for NSALA, a progressive no-kill organization that reaches across the country and around the world to save animals like Tilly. For example, every spring since 2001, NSALA has organized a nationwide mobile adoption event called Tour For Life®. Since its launch, this event has coordinated with shelters from coast to coast to help more than 28,000 dogs, cats, puppies, and kittens find loving, responsible homes. This year, throughout March and April, we'll be collaborating with shelter and rescue partners in 66 communities in 39 states, as the world's largest cooperative pet adoption event takes place across the USA! To find a participating shelter near you, please visit animalLeague.org/tourforlife.
March is a busy month in the world of animal rescue. For one thing, it's Women's History Month, which is a good time to take a moment to honor all the incredible women who have led the animal welfare and rescue movement from the start…and continue to lead today. I wrote about some of them in my March 2021 Blog. They include St. Gertrude of Nevilles, considered the patron saint of cats, whose feast day is March 17.
March is also National Animal Poison Prevention Month. It's easy to forget how many things in our homes can be dangerous…and even deadly…for our pets. For instance, I love fresh flowers and was recently reminded that tulips, one of my favorites, are poisonous to cats. Here's a comprehensive list of toxic and non-toxic plants to help you keep your pets safe. 
And finally, March 28 is Respect Your Cat Day. This idea means so much to me because respecting anyone, including your pets, means loving and celebrating them for who they are, with all their quirks and flaws and failures as well as their charms. Take our Pebble, for example. She is unpredictable and can be downright naughty, even biting and pouncing on Helen Rose. Howard and I adopted Pebble because we were sure she'd be returned over and over if someone else adopted her. And still, I love her so much and try to respect her boundaries. She may not be kind all the time…she may bite my hand every so often…and her farts smell disgusting…but she's forever my girl.
xo
Beth
P.S. Pets like Pebble, whose personalities can be difficult, are often victims of animal cruelty. If I could do just one thing to make the world better for animals, I would end animal cruelty. Nothing hurts me more or makes me angrier. It's horrible to think about, but pets are often involved in instances of domestic violence. Studies show that an estimated one in three women and one in four men suffer physical and/or emotional abuse from partners. Seventy-one percent of women in domestic violence shelters report their abuser threatened, injured, or killed a pet. Abusers use pets to control, intimidate, threaten and humiliate their human victims, both children and adults. For many victims, pets are their only source of love and comfort. So it's not surprising that victims often refuse to leave their abusive homes because they have no way to take their beloved pets with them and are terrified of what will happen if they leave the pet behind. If you are in this situation, get help. The National Domestic Violence Hotline offers additional information about this and related issues.
If you know someone who is facing this awful choice and you can help, please offer to foster the pet. Also, urge your local domestic abuse shelters to adopt a pet-friendly policy. And finally, help educate your local animal shelter to recognize the signs of domestic abuse. The links between animal abuse, child abuse, and domestic violence are undeniable and heartbreaking.
Be safe,
xo
Beth