It doesn't happen often, but sometimes events in a single month can grab your attention and help you see what really matters in life. That was the kind of month I just had, and I want to tell you about it. I'll begin with a cat. (Big surprise, right?)
She — or I should say "they" — came to us on May 31 — a very pregnant Tabby who Howard named Mama Darlin', and her belly of nuggets-to-be, due to arrive about two weeks later. I've cared for so many kittens as a volunteer foster mom with Animal League America, but I've never had a foster give birth before my very eyes. This was going to be a first, and for the next days and weeks, Howard and I were on constant #coundowntobabies!
Mama Darlin', a classically beautiful Tabby, is just barely out of "kittenhood" herself, like countless other homeless feline mothers. Most cats are sexually mature at 4 or 6 months of age and can deliver as many as five kittens in one litter. Thus, we have "kitten season," when factors like rising temperatures and increased hours of daylight trigger reproduction and lead to millions of homeless kittens and their lost and desperate mothers.
The sonogram showed four babies in Mama Darlin's belly, so we knew what to expect, but we didn't know exactly when. What was obvious from the moment she arrived was this Tabby's amazing sweetness. She is one of the gentlest, most affectionate cats I've ever known. She immediately fell for Howard, rubbing his ankles and following him everywhere. But she was the same way with me, too. I think she knew we were there for her. She could depend on us.
This being kitten season, our house was already full of cats and kittens — Pippa Peanut, Pookie, Biscuit, Wally, Whitney, Wanda, and Wilma, and many more — plus our own Sophia, Bella, Leon Bear, Charlie Chunk, and of course, Yoda, aka "Cloud on a bed."
Then there were the five adorable kittens, shown below, who were rescued from a drainpipe. And later on, the four nuggets my incredible Animal League rescue partner Cindy Szuzdlo and I pulled out of a window well!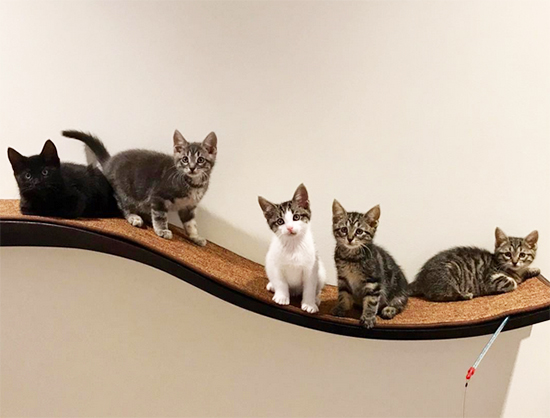 I couldn't begin to imagine how hard it must have been to deliver kittens under such deplorable conditions, not to mention the millions of others — in garages or dumpsters, under porches or in ditches beside busy highways. Without the network of compassion that brought her to me, that could have been Mama Darlin', alone and afraid. She is one of millions, a very lucky one, and precious to me. But there are so many others? How do they survive?
Tragically, many don't survive, or the kittens are rescued while the poor, fearful mother hides and then disappears, perhaps to undergo another pregnancy and then another, alone.
I was haunted by the thought of so much suffering — a vivid reminder of the absolute necessity of spay/neuter. We can rescue, foster, and adopt over and over, but if we don't prevent cats from getting pregnant, we've done only half the job and truly abandoned a major responsibility. This is just one reason my colleagues and I are so excited about Bianca's Furry Friends Feline Adoption Center, which will provide Animal League America with a new world of adoption and other valuable services for cats and kittens.
And then it was Mama Darlin's turn, on Sunday, June 18, Father's Day, of course! (I told you she adores Howard.)
The first one out (and later, the first to open his eyes) was a black kitten, and Howard and I were thrilled. We love black cats. Then came three adorable Tabbys. Throughout, Mama Darlin' was calm and brave and so appreciative of our presence and support. She really took comfort in the fact we were there rooting for her. It was amazing. And she's proven to be the best mama in the world, though there are moments when she looks exhausted and a little shell shocked to find herself the mother of four!
But they're healthy and growing, and Mama has even found time to play a little and be the kitten she still is. We are so proud of Mama Darlin' and grateful that we could show the births in real time on my Instagram account. It was beautiful.
I thought this was the surely highlight of my month, but then, on June 27, I met beautiful Julia Mason. Thanks to the Make-A-Wish Foundation and Animal League America, it was an unforgettable day. Together, we made wishes come true with a fantastic Kitten Party for Julia and her family, including her sister Maria. Animal League America did a magical job decorating and hosting the party.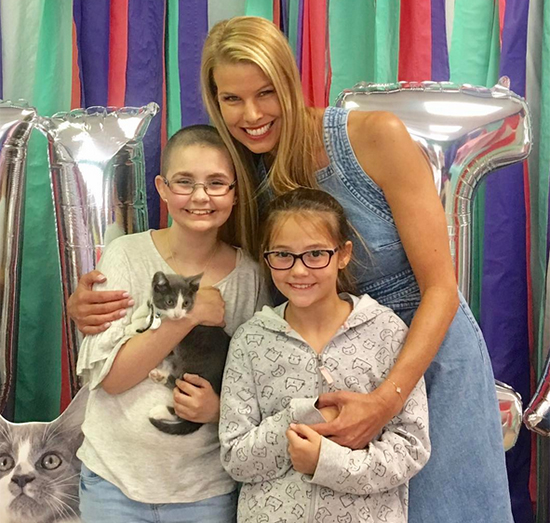 Julia has been a follower of my Instagram account for years, and she knew the names of every one of my fosters and was able to say the names of my resident cats faster than I could! And guess what? Her family adopted an adorable black and white kitten at North Shore, and Julia named him Cricket! I took Cricket home for the night so Julia and her family could take in Manhattan before they flew back to Mississippi with their new kitten, Cricket! We even worked in a visit to Howard's studio so he could meet this beautiful family, too.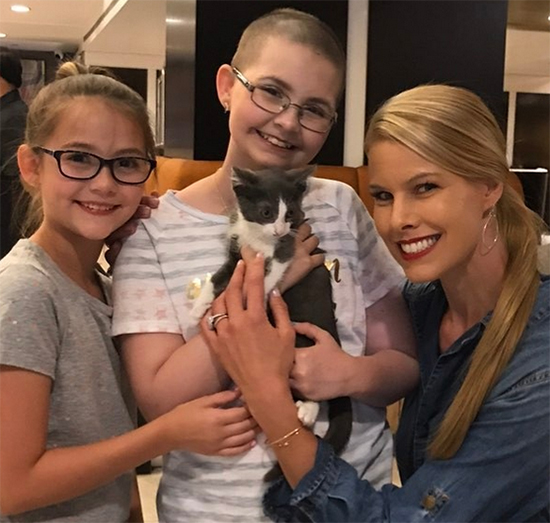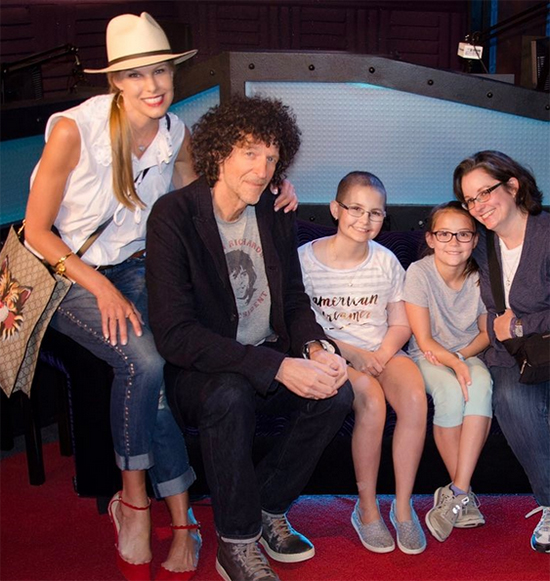 I remain honored and moved that Julia loves cats and kittens with her whole, beautiful heart. And that her wish was to meet me? Well, that means more than any words can say.
Xo
Beth
P.S. to Julia: I loved meeting you so much. You and your family are in my heart always. It's an honor to know you!!! I hope lots of my followers become your followers at @_cricketforever.