For an animal in need of urgent medical care, the journey to a safe haven can be a scary one. For Linguini, an adorable young Chihuahua mix, this was his journey at just eight weeks old when he was rescued and brought back to the safety of our no-kill campus.
Upon his arrival at our Alex Lewyt Veterinary Medical Center our staff noticed the fragile puppy was not only very young and understandably scared, but he had multiple congenital deformities to his face and mouth. Animal League America Senior Vice President and Chief of Veterinary Staff, Dr. Mark Verdino said Linguini's birth defects were causing the fragile pup to have a multitude of issues, especially while eating and drinking, that could create a potentially life-threatening situation.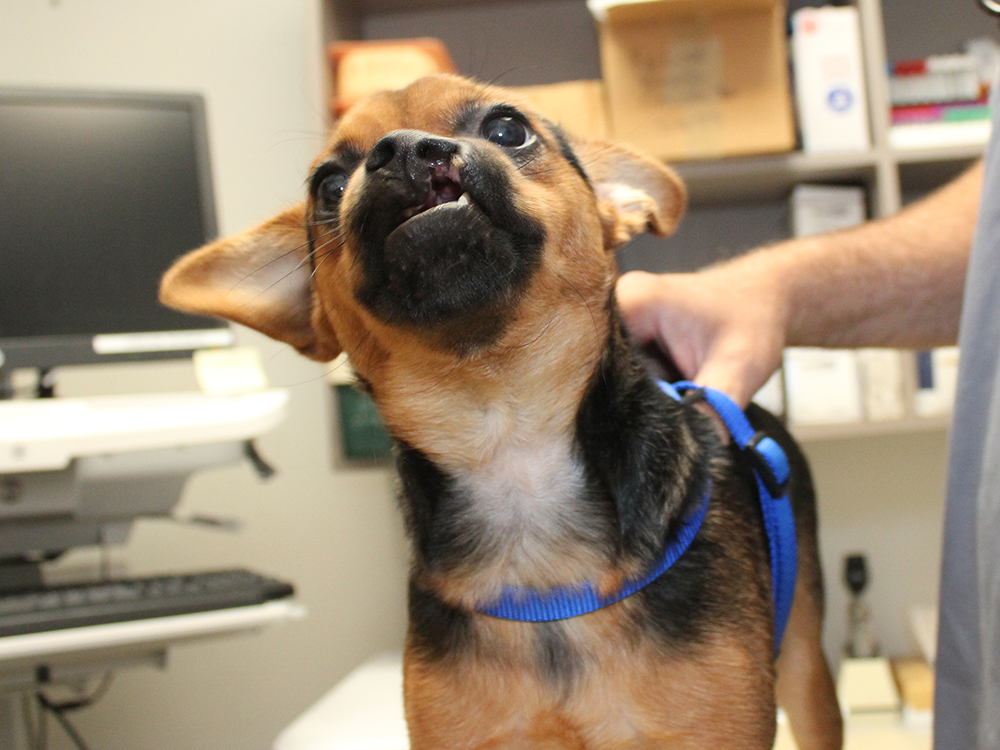 "Linguini was born with a cleft palate and a cleft lip. A cleft palate means there's a hole in the roof of his mouth that connects the oral cavity to the nasal cavity," said Dr. Verdino. "The problem with this condition is that it results in food, water, and anything else that goes into his mouth going up his nose, which can cause infections and aspirations. If he does inhale fluids and food he could ultimately end up with respiratory disease or pneumonia."
Doctor Verdino said the little pup, now eight months old, will soon undergo multiple delicate surgeries to repair his lip and palate. He said he and his team decided it was best for Linguini to mature and grow to his full size before putting him under anesthesia, so he was placed in our Foster Care Program with one of the veterinary assistants who works in the medical center for the last six months. There the otherwise rambunctious pup, full of life and vigor, was able to enjoy a somewhat normal life with a foster family who loved him unconditionally, while his little body grew strong enough to handle surgery.
"Because of the location and severity of the defects, as well as his fairly severe underbite, some of his teeth will need to be removed to allow for the defect to be repaired." said Dr. Verdino. "Overall his prognosis is good, but it will more than likely require multiple procedures to get him where we want him to be. He's such a happy, playful dog that we just want him to have a good quality of life since he's got a long life ahead of him."