When winter comes… How to provide safe shelter for "ferals" while winterizing all your pets.
His name is Rudy. He's technically homeless, but he eats several meals a day, usually beginning early at our house and then sauntering next door for another meal. He's no dummy, and he seems content with his life. Still, whenever I walk by our mudroom door and see a big orange head looking in, I open the door and ask him to join our indoor family. He always refuses, but I'll always keep asking!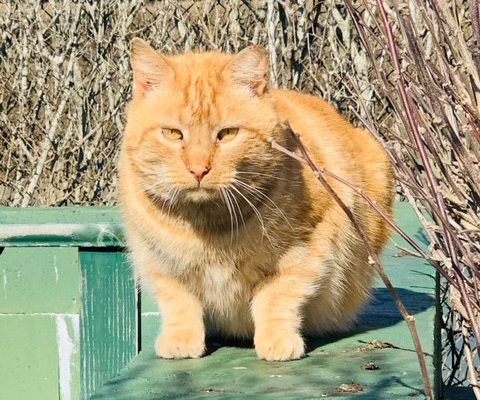 We've been feeding Rudy (above) for 5 years, so I assume he's about 6 or 7 years old. He was neutered as soon as my neighbor first saw him, and he has an ear tip, so the entire neighborhood knows he's "fixed."
Just like magnificent Muffin (below), our hissing princess who died a little more than a year ago, Rudy enjoys being spoiled by us and by our next-door neighbor. We've been sharing our feral outdoor kitties for more than 10 years now. Muffin was famous for her sass and independence, so much so that she developed legions of fans through my Instagram feed.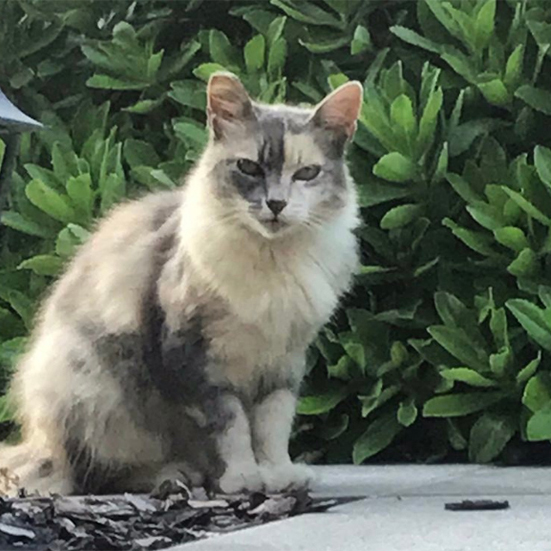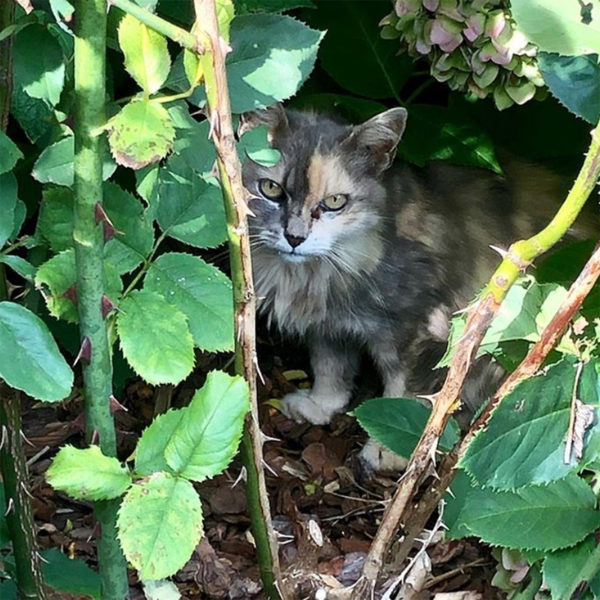 But despite her independence, I believe that she grew to trust me. Though she never let me hold her or even pet her, when she became sick she came to me and allowed me to touch her, pick her up, and rush her to the veterinarian. Of course, it was too late. But I treasure the thought that she finally trusted me enough to ask for help. She was my kitty in her own way.
I'm sure that Rudy encountered Muffin's haughty hiss more than once, but they knew how to coexist by always keeping their distance. Now, since Muffin is gone, we're seeing more and more of big Rudy. He is a funny guy. I'm glad he's with us — like Muffin, on his own terms.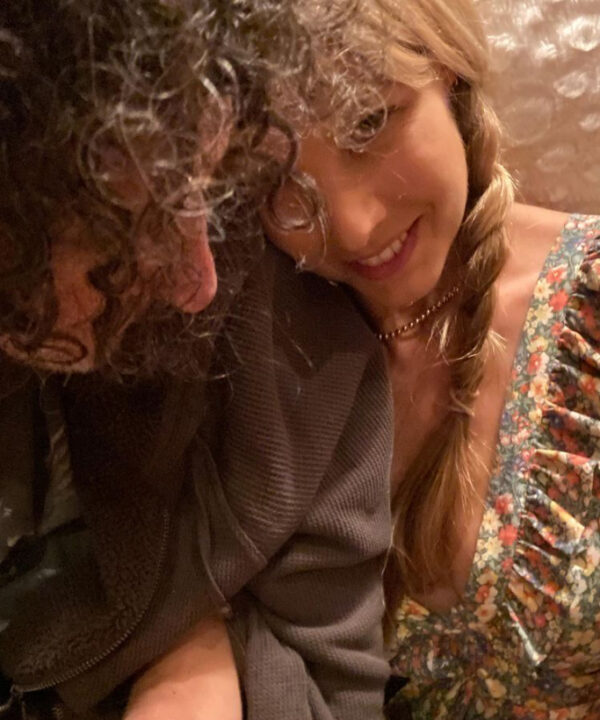 Our take on "shelter at home."
"Shelter at home." Those words have taken on a new and urgent meaning during 2020, and they resonate even more powerfully now as Covid cases skyrocket during this holiday season. Given that these holidays look and feel different from those of the past, I think it would be meaningful to create a new tradition that can involve the whole family while reinforcing the values of commitment to and compassion for homeless felines.
We've all experienced the ups and downs of sheltering at home this year, so wouldn't it be sweet to provide both shelters and homes for some homeless felines? If you don't have ferals of your own, you could donate your creation to a local rescue group that cares for community cats. Any gift that includes warmth, shelter, and safety is the best gift anyone could give, for both the recipient and the giver. (By the way, many organizations now refer to these kitties as community cats, rather than as ferals. I really like this idea, because it implies that their well-being is everyone's responsibility. And it is!)
During my many years fostering cats and kittens, I've learned that there's a big difference between timid and feral. Right now I'm socializing two shy kittens, ET (below left) and Elliot (below right). Forced cuddling and lots of kisses on the head are part of my socialization technique, and it works. Honestly, nothing makes me happier than helping nervous kittens feel safe and loved. I'm grateful to have helped dozens like ET and Elliot conquer their shyness, grow to trust humans, and find wonderful homes. It really is my purpose!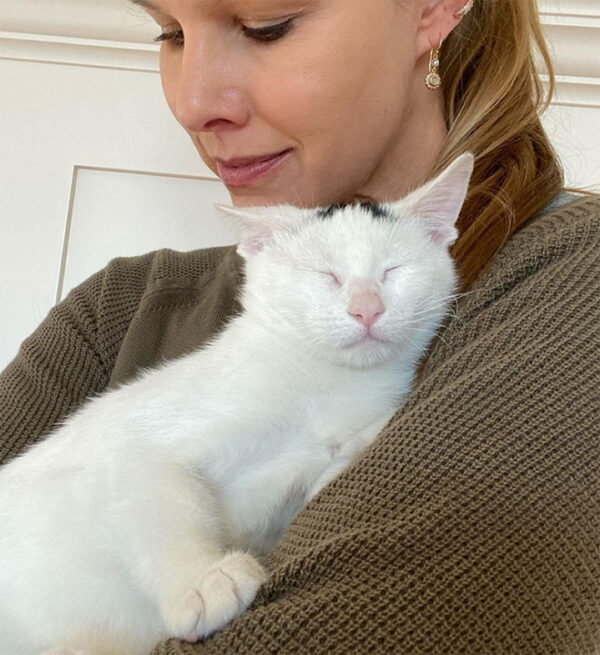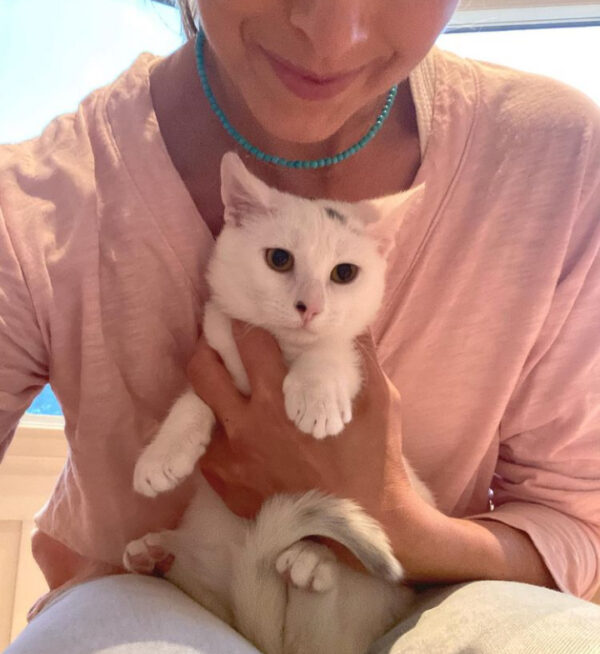 But for fearful felines who've had little or no contact with humans and are truly unable to feel safe indoors, a simple outdoor shelter may truly be home sweet home.
Several years ago, Howard and I enlisted the help of a friend to build "kitty villages" on our property (below). These set-ups offer a combination of small, cozy structures on two levels. I like putting some houses up higher in case of snow fall, so we included ramps for the cats to reach the higher houses. And they are heated, which makes them even more comfy.
But even if you're not a clever carpenter and don't know anyone who is, there's still a lot you can do to provide safe housing for your neighborhood strays and ferals. There are many excellent websites out there with detailed information about how to feed and care for community cats, with the first and most important tip always being: spay/neuter!
As for backyard shelters, you can buy them, of course, either online or locally. But there are also inexpensive DIY shelters to consider. Sylvia Ottaka, Senior Director of Rescue and Community Outreach at North Shore Animal League America, recommends two easy methods. Take a look at Sylvia's suggestions at animalleague.org/sylviasays.
And please remember to keep your own pets safe during winter. First of all, cats should be inside all the time, every season of the year, for their sake and for the sake of the environment. And during the winter months, any number of terrible things can happen to cats left to roam, from frost bite to being injured when they seek warmth in car engines. I covered this situation and others in my February 2018 blog called Pets and the Perils of Winter. I hope you'll take a look.
Plus, the experts at Animal League America's Pet Health Centers have put together an excellent Q&A called Winter Safety Tips to Keep Man's Best Friend Safe and Warm. Together, these resources will help ensure a safe winter and a healthy spring for your beloved pets.
The next time I sit down to write my blog, it will be 2021, and we'll have said so long to 2020 and sent it packing! I don't think I've ever been so happy to see a year end. But despite the global pandemic, many beautiful things happened in 2020 — moments that give me hope for the future. At the top of the list are all the precious little souls who came into my life — plus the good people who adopted them and gave them forever homes. In just the past couple of weeks, for example, I sent these sweet nuggets into their loving futures.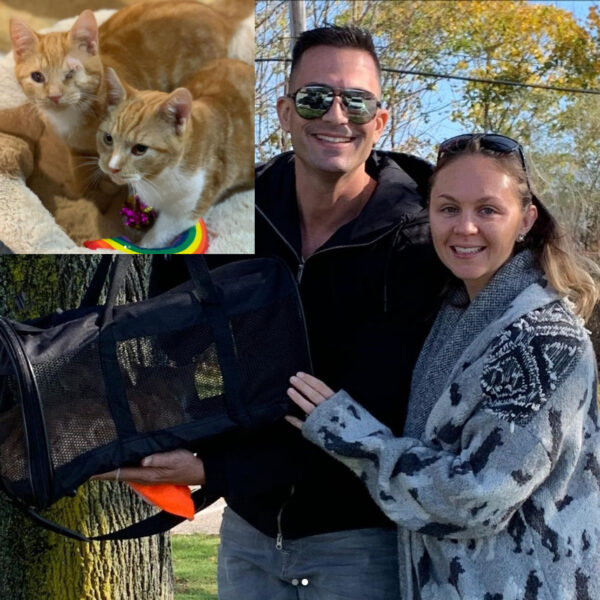 Inseparable PB and Jay (above left and in inset). While he was with me, Jay underwent successful eye removal, thanks to the wonderful Dr. Kim. Above right, 12-week-old Richmond and his new dad. Richmond was found unresponsive lying in a driveway in Richmond Hill, Queens. The home owner contacted me and brought him immediately to Animal League America where Dr. Mark Verdino and his awesome team nurtured him for several weeks while he recovered from a horrible kitten virus. I posted his story and photo and before he could even come to me, he was adopted!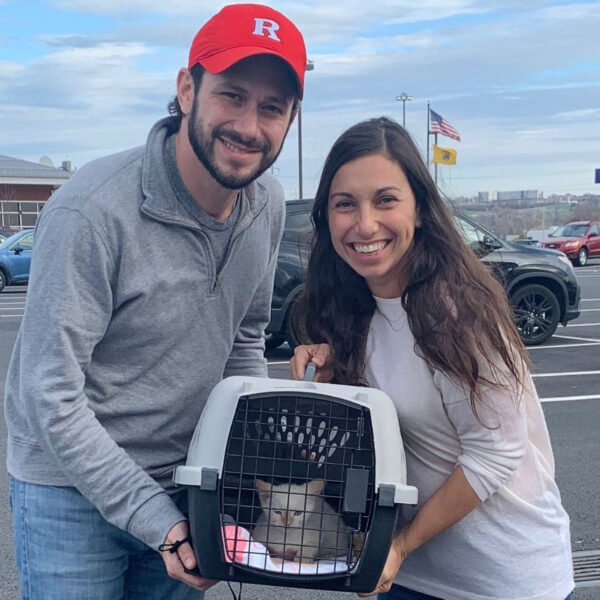 Tofu heading home to join my former foster Bodhi who has been mourning the loss of his older kitty brother Drake. Get to work, Tofu (now known as George). You've got some hearts to heal!!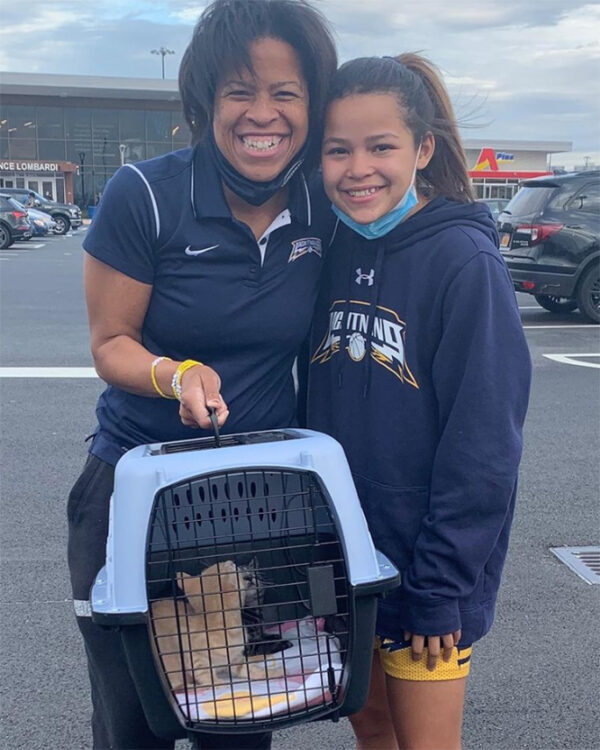 Tamale and Tiramisu meet their new mom and one of their adorable human sisters. Such sweetness!
And then there's this face. His name is November. He was found outside in the cold and brought into the incubator at Long Island Veterinary Specialists (LIVS), where he was bottle fed every two hours by Dr Jackie's fantastic team. He ate like a trooper and by November 8 he was a little chunk ball. He opened his eyes on November 12, and on November 18 he was discharged from LIVS and was on his way to a bottle feeder until he's ready for me. He already has the best collection of tiny sock sweaters. His face is hope itself. I love doing what I do.
Stay tuned!
xo
Beth
P.S. Coming soon: Details about Kitten Bowl VIII, which will air on the Hallmark Channel on Super Bowl Sunday, February 7 — proving that not even a pandemic can stop our daring cat-letes from having fun, stealing hearts, and finding homes.