Thanks to our ongoing partnership with National Mill Dog Rescue, now 50 dogs and puppies have a second chance at life after being saved from commercial breeding facilities in the Midwest. Witnessing this mission firsthand was Animal League America staff member and designer David Haliski. Usually capturing photographs of transport arrivals to our Port Washington, NY campus, this time David traveled with rescue team members Ted Moriates and Karla Agostinello on the Mobile Unit to Missouri and back.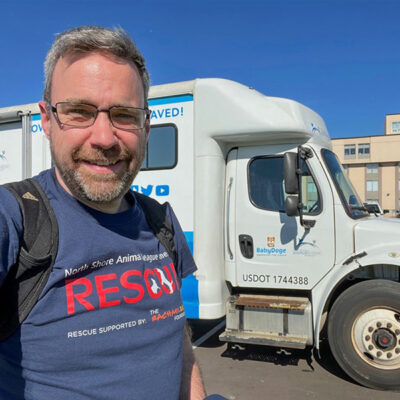 "I wasn't sure what to expect," David said, "but seeing the whole process is truly amazing." Even as they were driving the empty Mobile Unit west to pick up the animals, the team encountered numerous fellow animal advocates and supporters along the way. "People followed us on the expressway until we came to a rest stop, just so they could express their gratitude for what we do, and they wanted to donate on the spot," David recalled. "It was just beautiful. It solidified to me how important our mission is and how appreciated it is by communities outside of New York and across the country."
When the rescue team finally arrived in Missouri, 50 dogs including Yorkshire Terriers, Dachshunds, Shih Tzus and many others of varying ages and sizes were waiting. Dogs in commercial breeding facilities are often confined to small cages, denied proper medical care, and forced to produce litter after litter of puppies. It is a cruel existence and many animals require time to heal physically and emotionally. As they form bonds with their new human companions, however, their true personalities begin to emerge. David witnessed this transformation begin on the journey home.
As Ted Moriates, Animal League America Rescue Team Leader, explained, "All these animals may not have had the best start, but we are determined to make sure they have the best life." Upon finally arriving at North Shore Animal League America, the dogs and puppies certainly knew they were safe, even if some weren't quite ready to make eye contact yet. Most were content to nestle their faces into the arms of the volunteers who carried them off the Mobile Unit, with happy tail wags as evidence of their trust in us.
Each dog gets a thorough examination by our veterinary team and assessment by our Pet Behavior staff. The rescues are also groomed and given time to decompress and acclimate to a new setting where they receive the care, attention, and any medical procedures they require – including spay and neuter. And we don't stop nurturing each one until eventually they become a cherished member of a loving family. This heart-warming journey of transformation is a testament to the resilience and spirit of these amazing animals and the power of compassion to make a difference in their lives. "The world loves animals," David said, "They bring so much to us and they deserve to be saved."