As the temperatures dipped into single digits for the first time this year, our dedicated volunteers awaited the arrival of 50 small breed dogs — including Yorkies, Maltese, Pugs, Shih Tzus, Boston Terriers and Corgis — who were rescued from commercial breeding facilities throughout the Midwest.
Working in partnership with National Mill Dog Rescue, our Rescue Team transported these innocent animals on our state-of-the-art Mobile Unit to the safety of our no-kill campus in Port Washington, NY. The dogs were immediately wrapped in the waiting arms of our volunteers, where they experienced their first warm snuggle, as they were carried out of the frigid cold. Their lives are already changing for the better.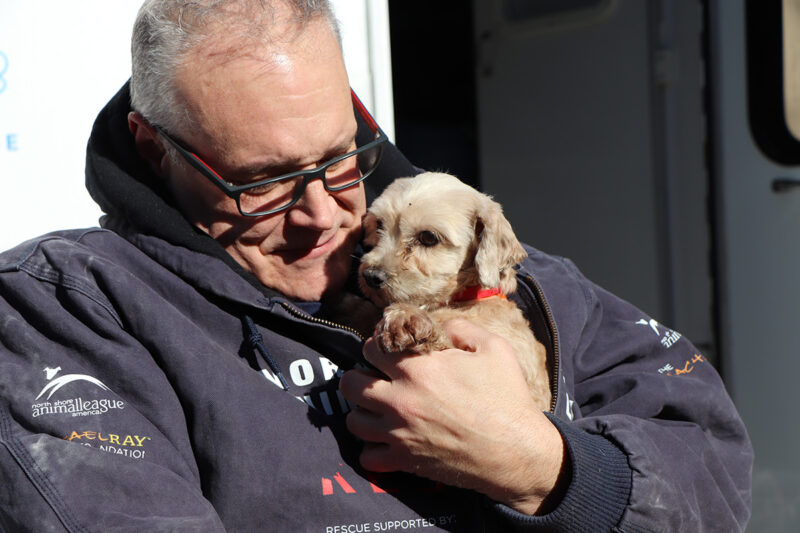 "All these guys are experiencing a whole bunch of firsts," noted Ted Moriates, Rescue Team Lead. "Their first beds. Their first cuddles. Their first foods they don't have to kind of fight for. Their first toys. This is all part of the process, making them social so they can become a really good pet."
Over the coming days, the dogs will receive thorough medical examinations and behavioral evaluations, as well as much-needed grooming. All to prepare them for adoption into responsible, nurturing homes.
Tragically, for many of these commercial breeding survivors this will be the first time they have experienced this kind of compassion, having only known the lowest standards of care and were subjected to horrific living conditions. Our mission to educate the public and help stop the cruelty of the commercial breeding industry is making a difference. Six states have now passed laws prohibiting the retail sale of puppies in pet stores, and over 400 municipalities across the US have passed similar bans.
There is much more to be done. As retail opportunities diminish for these commercial breeding facilities, their animals are at risk. In fact, National Mill Dog Rescue has seen twice the number of animals being surrendered over recent months. Now more than ever we need to work together to ensure these animals are not needlessly euthanized.
For our 50 new mutt-i-grees, they will soon have the chance to be cherished pets, and experience many more 'firsts' like an affectionate belly rub or the joy of chasing a tennis ball. With your support, we can give even more animals the better life they deserve.