The rescue team at the North Country Initiative Adirondack Cat Adoption Center (NCI) in Warren County, NY, does not shy away from a challenge. When they were informed of a large population of cats living in a salvage yard who needed their help, the team leapt into action. The environment, however, presented some unique challenges.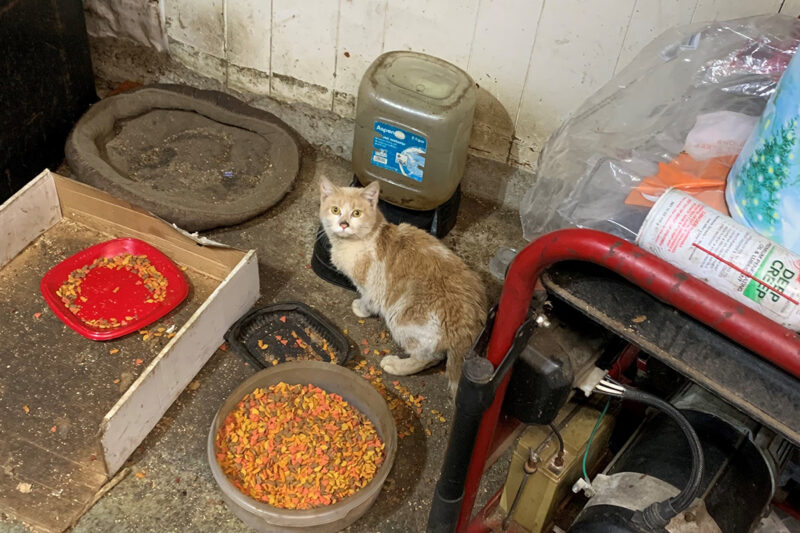 NCI employs a program of Trap, Neuter/Spay, Vaccinate and Return (TNVR) to humanely control the population of stray and feral cats and make sure they live healthy lives. Using TNVR, community cats living outside are trapped, neutered or spayed, left ear-tipped (the universal symbol of a sterilized cat), vaccinated, and returned to their outdoor home. Sometimes a cat's friendly behavior shows they were most likely once living in a home and either abandoned or lost. These cats can be placed into adopted families.
To begin assisting the junkyard cats, the NCI team needed to figure how many cats were there, if any were spayed/neutered or needed special medical help, and if there were any friendlies. NCI Director Deborah Oligny recalled, "All sites have differing variables. For this one, there is just so much junk everywhere, it gives the cats many different hiding spaces."
Though the elderly owner of the junkyard was cooperative, he had physical limitations. Thankfully he was able to follow instructions regarding when to withhold food from the cats prior to trapping and placing their food near the unset traps when directed. "On such a large site it is difficult to estimate the total number of cats," Deborah said. "We are guessing there's between 30 and 40. The first two visits are usually the easiest to trap. It gets more difficult from there because there's a higher potential for re-trapping cats. Also, some cats become afraid of the noise the trap makes, and they are fearful after seeing other cats get trapped."
Of the first 15 cats brought in, all were spayed or neutered, vaccinated, and given dewormer and flea control medication. Volunteer socializers work with all the cats to help determine their adoptability. Two showed the potential for adoption and their medical tests all came out clean. "They are acclimating to a cat habitat and will have a further vet assessment and a desperately needed bath," said Deborah. "We named them Candy Corn and Necco." The third day of trapping came with a surprise. One of the cats was pregnant! Fortunately, she was also deemed to be friendly. Perhaps the mom-to-be understands she now has access to everything she needs for a safe and healthy delivery?
It truly does take teamwork to protect the lives of homeless animals wherever they are. Now these precious felines – even living amid so much debris – know their lives are worthy and that people care.